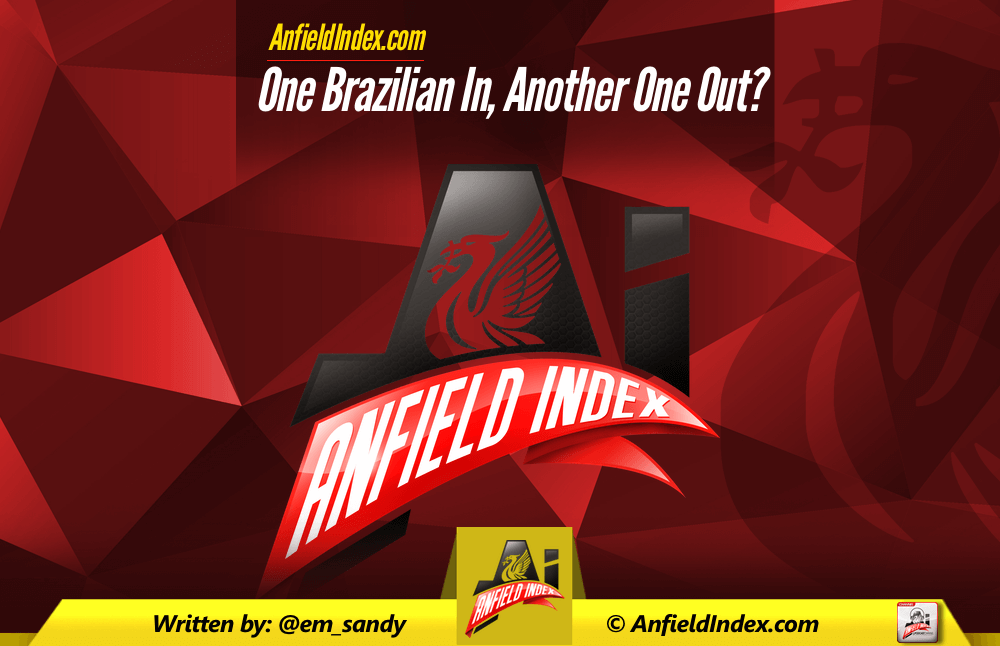 One Brazilian In, Another One Out?
The season's begun and with it comes more changes. A host of players in and a host of players out. And there's Brazilian fever all around Liverpool.
Liverpool's new signing, Roberto Firmino, has attracted excitement and hope whilst team-mate, Philippe Coutinho, continues to light up the Premier League.
An opening goal for the 'little magician' and a short, but encouraging debut from the new signing, it appears Liverpool's Brazilian flair is on the rise.

But at the other end of the scale, all the way back to the training ground, dismissed from the squad, is Lucas Leiva, clinging on to his Anfield career with little desire.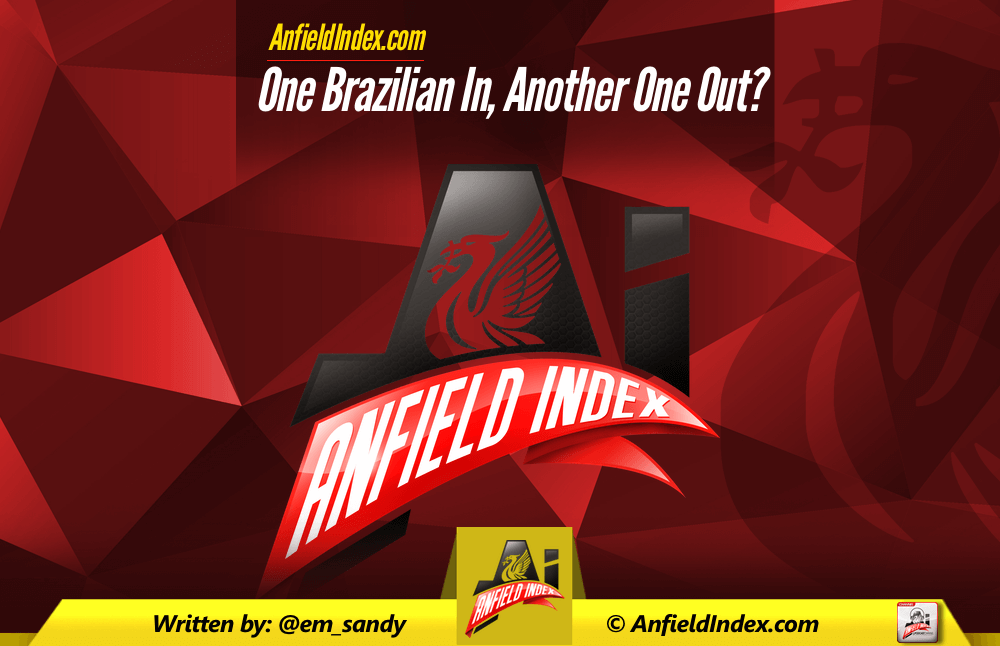 The midfielder is struggling with life at Liverpool with reports of disputes between himself and the boss. On paper, Lucas has still managed to notch up over 70 appearances in all competitions for the Reds since 2012 but it's clear he's been utilised as a back-up rather than a player in the fore-front of Rodgers' plans.
His recent exclusion from the travelling squad at Stoke City for the opening game of the 2015-16 season, is proof of his fall from favour. And whilst new boy Firmino is very much in Rodgers' plans, his Brazilian compatriot is drifting further from them.
Liverpool have only ever seen six Brazilians walk through the doors at Melwood and whilst Lucas has earned more appearances than all the others put together, he's never really cemented himself into the team like some of his other countrymen.
Roberto Firmino
The new signing has yet to make his full debut for the Reds yet after coming on as a second-half substitute in the opening fixture against Stoke City. However, his transfer fee of around £28m suggests the young attacking midfielder is something to get excited about.
He's been highly praised in his native country and his performances during the pre-season tour and in Copa America, have shown glimpses of what all the craze is about. He's got bags of talent, an amount of flair which isn't consistently seen at Liverpool and a reputation for quality.
After scoring a hat-trick in a behind closed doors match at Melwood on Monday, the Brazilian will be raring to get his name on the score sheet for Liverpool in the Premier League. He'll be expecting to make an appearance against Bournemouth on Monday night and could enjoy his first Premier League start.
Alexander Doni
The former keeper, Alexander Doni, joined Liverpool in 2011 from AS Roma after gaining very little experience in Europe. He was brought in as a squad keeper, an under-study to Pepe Reina.
But the Brazilian only ever made 4 appearances for Liverpool, during a career which was shadowed by heart problems and misfortune.
His only chance came in 2012 during a Premier League match against Newcastle when Pepe Reina was sent-off in the closing stages. Dalglish had already used his subs however and Doni, who was on the bench at the time, was prevented from coming on. With Reina's suspension lasting for three matches, Doni was set to play in the most important match of his career – an FA Cup Semi-Final clash against Everton. However, he managed to get himself sent-off in a League match against Blackburn the week before and his big chance came and went as fast as his faltering career.
In 2013, he finally admitted he'd had heart problems and that was holding him back in his career. He retired not long afterwards, failing to make it as a Liverpool player.
Philippe Coutinho
Without a doubt the most successful Brazilian to put on a red shirt is the 'little magician,' Philippe Coutinho.
Last season's LFC Player of the Year and PFA Player of the Year nominee, is currently Liverpool's brightest star and the versatile attacker has already kicked off his 2015-16 season with a bang.
Coutinho's thundering strike in the dying minutes gave the Reds victory on Sunday against Stoke City and was reminiscent of his displays last season. He lit the Premier League alight with some of the best goals of the entire campaign.
His goals against Manchester City in recent seasons have been vital in the chase for the title and a European place, whilst his last-minute curler against Bolton Wanderers and power drive against Blackburn Rovers kept Liverpool in the FA Cup.
He's got another exciting season ahead and with the Premier League's eye already on him, the Brazilian will be sure to continue to impress. The youngster has also started to make his mark on the national side; the future looks bright.
Diego Cavalieri
Another Brazilian keeper to fail at Liverpool, was Cavalieri. The keeper was brought in 2008 for £3.5m from Palmeiras as a back-up to Jose Reina.
He failed to make a single league appearance for the club however, only notching up 10 games before the summer of 2011.
He was never really in with a chance however, acting as back-up to successful keeper Reina. His contract eventually ran out in 2011, three weeks after making his final appearance against Trabzonspor in the Europa League.
Fabio Aurelio
Another successful Brazilian was fan-favourite, Fabio Aurelio. The left-back has been the only real success since the departure of John Arne Riise.
He scored some vital goals against Chelsea and Manchester United; thunderous strikes which beat both Edwin Van Der Sar and Petr Cech. If that's not enough to make you a friend of the Kop, then nothing is.
He was signed on a free in 2006 and went on to produce 104 appearances for the club before his contract expired in 2012. His career would've been far more successful had it not been for his serious and extensive injury suffering. In the years he played though, he impressed and has been a fan-favourite since.
Lucas Leiva
Lucas has managed to notch up 275 appearances for Liverpool since signing in 2007 for £5m and his position as holding midfielder proved important to the squad in past seasons. However, the Brazilian has never shown as much competence in the position as former team-mates Javier Mascherano and Xabi Alonso.
In recent seasons, he's been side-lined as Rodgers attempts to play a style of football which has no real place for an out-right holding midfielder. Instead, he chooses to play more attacking minded players in a deeper role – seen more recently in the forms of Jordan Henderson, James Milner and Emre Can.
While Lucas' future at the club is still unknown and what his capability is as a holding midfielder is still being questioned one thing that is for sure, is that neither manager nor player are happy with his current position at the club.