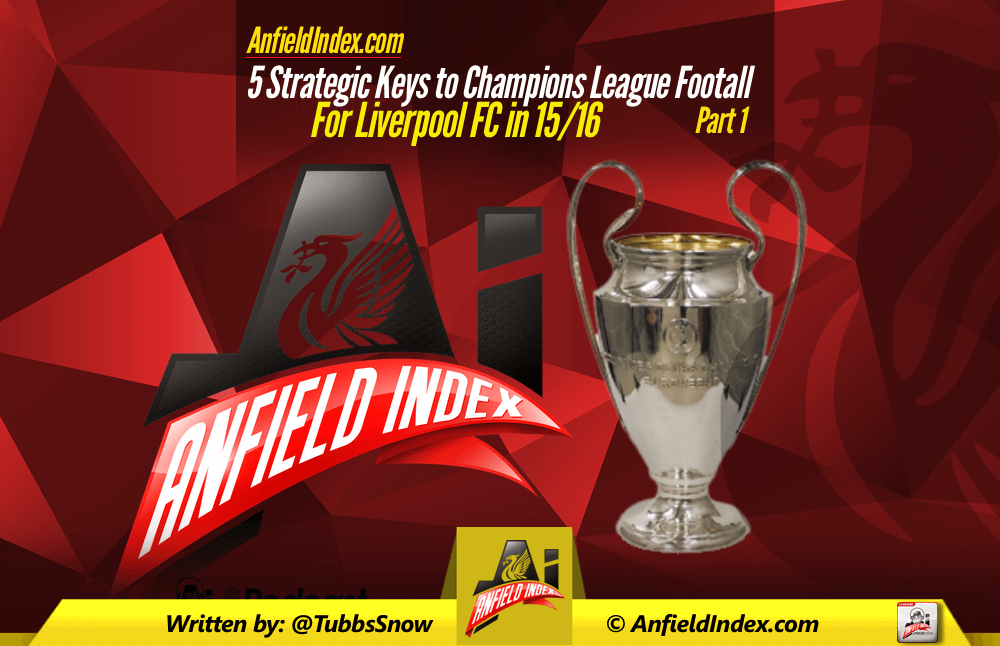 Liverpool FC 15/16 | 5 Strategic Keys to Champions League Football
PART 1 OF 2
Preface
As Liverpool fans close a chapter on last season, many are left to ponder if the club will come to rue a missed and golden opportunity, which in the grander context of British and European football, may well be the start of a new challenge in the English Premier League for upper mid-table clubs with Champions League ambitions. As our fierce rivals of the North-West faced a turbulent transition under the free-spending Woodward and disciplined philosophy of Van Gaal, Liverpool failed to capitalise on their own ascension and transition into a post-Suarez era, where their riches from the £75 million sale could have brought them significantly closer to becoming a consistent Champions League calibre club. A collection of inabilities and oversights culminated into a season of struggle; an oversight on not enhancing the coaching staff with stronger tactical and technical minds of Champions League pedigree, an inability to exploit the transfer market to sign overachieving gems and add true talent to deepen the squad in the face of injuries, an inability to seal a major CL-level attacker who would consolidate the geigenpressing system and the chronic underestimation of resolving Liverpool's defensive issues, all played their part. They talk about '6 pointer' fixtures but perhaps the loss to Manchester United at Anfield last season was the turning point in what could come to be seen as a '6 pointer' season.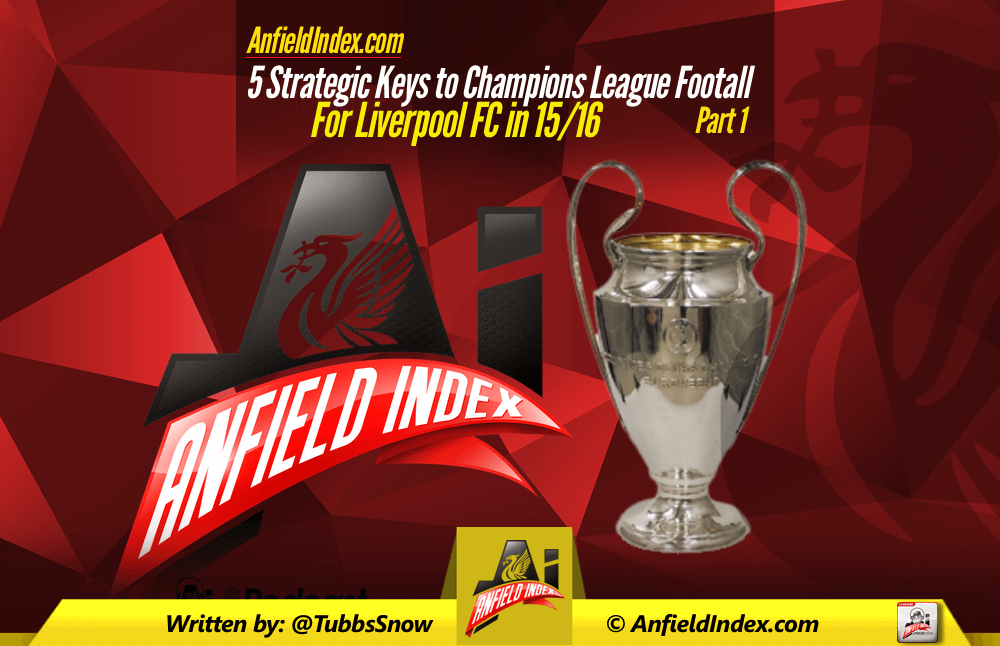 In closing the door on last season, and to truly make it a worthwhile endurance of struggle, determinism is the path to take and the club must use last season diagnostically to resolve their shortcomings and improve. In doing so, the club has reinvigorated their methods in their once-again-renewed aim for a top 4 finish in the league and to challenge for a trophy. So, let us take a brief peek at the fellow racers as they warm-up.

Chelsea: Under the ambitious Mourinho, Chelsea will serve to consolidate their title winning team into a serious contender for back-to-back league glory, whilst aiming to deepen their charge in the knock-out stages against the Spanish and German might in Europe.
Manchester City: At Manchester City, they sigh a relieved breath as the FFP regulations are eased and they refresh their all-star, aging EU squad with once-in-a-generation English talent and they aim to purge the disappointment of last season in an effort for any kind of winning progress.
Arsenal: In the promise of the Emirates era, now boasting consecutive FA Cup wins, Arsenal look adamant to leave their burdens of old as a new evidence-based incorporation of sports science into training, a freedom to now sign and retain elite players, and a jigsaw with but a few missing pieces, catalyses their hopeful road to glory in Wenger's twilight.
Manchester United: As a play-off for Champions League football looms, Manchester United are concocting a complete recipe — a truly dominant and versatile midfield that may unleash a Rooney revival, a tantalising talent in Depay and a youthful yet seasoned defence that may become steeled by the pleasant surprise of Sergio Romero and further additions to replace the outgoing De Gea & Di Maria — but can they physically and mentally cope with the pressure of maintaining their top 4 place whilst balancing their Champions League ambitions to reach the knockout stage?
Any sense of weakness and inability in United's ability to answer that question, as we displayed last season, must be seized upon by Rodgers' Liverpool — a Liverpool renewed by a faithful FSG who have outlaid large finances for major signings in Benteke and Firmino, a Liverpool renewed by expansive and ideological coaches under the hunger of technical expert Lijnders and mentorship of possession-favouring O'Driscoll, a Liverpool that aims to blood their young and fringe talent in the Europa League and a Liverpool hoping to trump Manchester United and Tottenham Hotspur to a top 4 finish and prove there was no '6 pointer' season.
As Liverpool triumphed over Stoke during Gameweek 1 of the 2015/16 season, they will soon be able to boast a win over the EPL team with the equal most Champions League winners, as Xherdan Shaqiri completes his transfer. Will Stoke one day change the future dynamic of the 'top 4' from a position even further below?
As the devil is in the details of the journey, let's explore five keys for Liverpool in how they can achieve their aims in their quest for Champion's League football with Part 1 focusing on two keys; excel and execute on vertical attacking and improving our positional discipline and ability in defensive transition.
Excel and Execute on Plan A — Vertical Football
"To play without fear, you have to play forward."
A high-octane, possession-based and attacking style of play seems immutable in Rodgers' philosophy, yet contrary to the admirations of possession purists, Rodgers will have to add new attacking patterns in order to get the best out of Christian Benteke's aerial ability. In adopting a fluid 4–1–4–1 formation, Liverpool fans may see an initial and strict high press in the opening phase of games with a focus on quick vertical passing through a narrow midfield in order to open up space in behind the opponent's defence — this is where the wide-drifting movements of attacking midfielders such as Firmino and the forward bursting, overlapping movements of Clyne and Moreno beyond their marker, can exploit spaces vacated by opposition wingers. Once in a prime position to deliver early and high-quality crosses, the team can embrace the aerial strength of Benteke, who can use his mobility in the box to exploit and blind-side any isolated markers at the near and far posts in a 1-v-1 aerial duel.
As an evolution of the seeds planted by Bielsa in the Chilean national team, this concept of verticality aims to strike an intriguing balance between two polar opposites — controlled possession and direct play. The aim is to attack with speed by playing forward passes quickly whilst the opposition's defence is destabilised in transitional moments, whilst in Liverpool's context, the signing of Benteke implies a desire to improve goal-scoring through a dynamic target man. While crossing is generally not an efficient method to goal, Benteke is one of the best headers of the ball up front in the league and Liverpool will have to improve their ability to create high-quality crossing opportunities when the opposition's defensive line is stretched and running towards their own goal.
Marcelo Bielsa as coach of the Chilean national football team.
Diamond Overloads: Additionally, Benteke also excels as a back-to-goal striker in the middle to final 3rd of the pitch, as he can pressure any central defenders pushing to occupy him and thus create space for wide runners to exploit; an alternate pattern to which this concept of verticality in attack can be used. For this to function, it demands four key motions:
a back-to-goal Benteke quickly approaching and linking effectively with the advancing Henderson, Milner and one of Coutinho or Firmino, as Benteke can act as an outlet for a wall pass (a quick touch and go pass to a close midfielder as a centre-back pressures him from behind) and this quartet can create a diamond-shaped passing overload,
with their dominating shape, close control and short passing, the quartet can intricately and quickly pass their way out of the inadequate pressure of the defending opposition, before utilising the dribbling ability, intelligent movements and use of pace from the supporting attackers and the attacking full-backs, on the side closest to this diamond-shaped passing overload,
if there is insufficient space or the lack of a co-ordinated run on the side closest to the diamond overload, the midfielder in possession must have the vision, speed and passing ability to switch the play to a free 3rd man on the opposite wing,
following these motions, Liverpool will have a spatial attacking advantage over the opposition to now penetrate the final 3rd, as the defence is stretched, destabilised and recovering back towards their own goal whilst the advancing, free wide attacker can cut inside to threaten a shot on goal or move provide an early, high quality cross to Benteke
This demands rigorous teamwork as each player will need to quickly react to spatial cues to allow this pattern of attacking play to be lethal and effective.
Defending to Attack via Fast Breaks: In accord with this, the use of a medium defensive block in a staggered four-man midfield when without possession will likely be imperative to both a) allow for a more thorough and stable coverage of space to more passively soak up defensive pressure in our own half and re-collect possession, and b) act as an 'attacking-minded' defensive set up that can quickly turn defence into attack as creative forward passers in deeper areas, such as Sakho and Coutinho, can either play incisive forward passes or carry the ball a significant distance in fast breaks. As Rodgers proclaims both the eclectic skill set of Benteke as an aerial threat and mobile finisher in transition, along with the potential to enhance his game further, he may very well become the focal point of Liverpool's fast breaks; whether to hold up the ball to allow advancing attackers time and space or to be the final point in the pattern to score a goal with his own advancing movement off the shoulder of defenders.
The entire aim of these attacking patterns of play will be to enhance our ability to play vertical football that capitalises on the dynamic strengths of Benteke and allow us to score more goals via new creative methods.
Improve Positional Discipline and Ability in Defensive Transition
"We were one man, moving in line, at the right time, in all directions." — Franco Baresi
Rodgers' Liverpool teams suffer from the chronic label of being a poor defensive team; a team that lacks a strong and autotelic sense of positional discipline and one that is vulnerable in defensive transitions as their midfield becomes easily destabilised and bypassed after failed attempts to counter-press. This inevitably places pressure on the deepest defensive line, forcing them to concede higher-quality scoring opportunities for opposition teams.
From an objective and mathematical perspective, it is easy to assess that Liverpool can sustainably increase their chance of a top 4 finish through improving their goal difference by conceding fewer goals, but the problem starts in the lack of a strong and active defensive culture in the team's tactical approach to various defensive phases of the game. As the now much-maligned Sacchi professed in his pursuit for footballing perfection, the emotional attraction of the game came in attacking intelligence and imagination that was predicated on a balanced and sound defence; the premise for successful posterity. It's important to recognise that defending is an active phase of the game that involves controlling space via synergistic movement of all eleven players. It is both a psychological and physical exercise that requires diligent practice on the training ground and the adoption of a totaalvoetbal–like understanding and application of zonal defending and total pressing. In applying this, Rodgers needs to ensure that Liverpool defensively improve in two key areas of play throughout the season; a) the phase immediately after a failed counter-press in defensive transition and b) defending the half-space.
In these two cases, Liverpool can improve the positional discipline and shape of their midfield through a variety of key defensive tactics that are suitable for any of the 4–1–4–1/4–2–3–1/4–3–3 formations. These include:
Pressuring the Space, Not the Man: improving their initial preparation to press by ignoring the ball as a reference point and collectively moving towards the space where the ball will eventually arrive, cutting of passing lanes to wider areas and forcing the play into a narrow central area
Overload Midfield, Force Play Narrow: utilising our inverted wide forwards or wider midfielders to tuck interiorly into central areas of midfield to close off passing lanes in between the lines, akin to the famed defensive shape of Atletico Madrid, and isolate the ball carrier
Lower Pressing: use deep-attacking or high-midfield pressing only, to recognise spatial cues and enforce a 2-v-1 press on the ball carrier or player receiving the pass and aggressively jockey/tackle, regain possession or force them backwards
Compact & Resilient Zonal Marking in Midfield — Occupying Space = Occupying Men: apply 'shadow play' by utilising our midfielders to maintain positional discipline within narrow and compact zones, ensure they collectively anticipate the forward movements of advancing opposition attackers and pass off marking and defensive responsibilities to fellow midfielders as attackers move between zones, and attempt to shift them away and back towards their goal by applying pressure when possible and ensuring their space is always be occupied
High Defensive Line: enforce a high defensive line to compress the vertical space and restrict opportunities for vertical passes to be played and hence stifle the opposition's ability to play through-balls and long balls, via threatening the offside trap
Width in Defence: a flat back four to cover attacks from the wings
Arrigo Sacchi and his famous Milan team that featured the likes of Donadoni, Maldini, Baresi, Van Basten, Rijkaard and Gullit.
A second key improvement that can allow Liverpool to enhance their ability in these two defensive phases of play, is to play and integrate a central defensive midfielder into their midfield core. In the Rodgers era, Liverpool have neglected the dynamic and elite CDM destroyer or shield that was previously staple to consistently dominant Liverpool teams, as was seen under Mascherano and Hamann. In the recent past, the club has moved towards a profile of all-rounded, technical midfielders in the box-to-box mould instead, which has added versatility to the attacking side of the game – as was seen with Allen for a high possession style of play, with Coutinho as a dribbling playmaker for a geigenpressing system and with Henderson for a box-to-box type player. As a result, it becomes vital to improve the decision-making and positional sense of the midfield dynamic which will be occupied by the likes of Henderson, Milner, Can and Firmino — who, despite their high work rates and aggressive pressing, are more adept in attacking phases and manoeuvres rather than excelling in the subtle sensibilities of defending and ball retention.
The role of a defensive midfielder is dynamic and the name is, in a way, a misnomer as the role importantly combines a defensive and attacking role in one through both a) physically shielding the defensive line and destroying play through highly entropic tackling and through closing off passing lanes, and b) controlling the attacking tempo of the game through recycling of possession, retention of the ball under pressure and distributing to more creative attacking players. The vitality of the role has been deemed essential to many as the likes of Mourinho and Guardiola have predicated their strategic successes and title wins on the quality of player that occupies their #6 positions — from Makélélé and Busquets to Matić and Lahm. If Liverpool can transform Emre Çan into a dynamic defensive midfield shield whilst ensuring the fitness and form of Joe Allen throughout the season, then the lack of a strict CDM profile in their midfield ranks may be mitigated. However, if the club can seize the opportunity to replace the outgoing Lucas Leiva with an elite, dynamic CDM destroyer — as the likes of Maxime Gonalons, Matias Kranevitter and Lucas Romero are still available despite heated interest from top European teams — the fluency of both their defensive strategy and attacking play will be enhanced for the long term.
Stay tuned for Part 2!