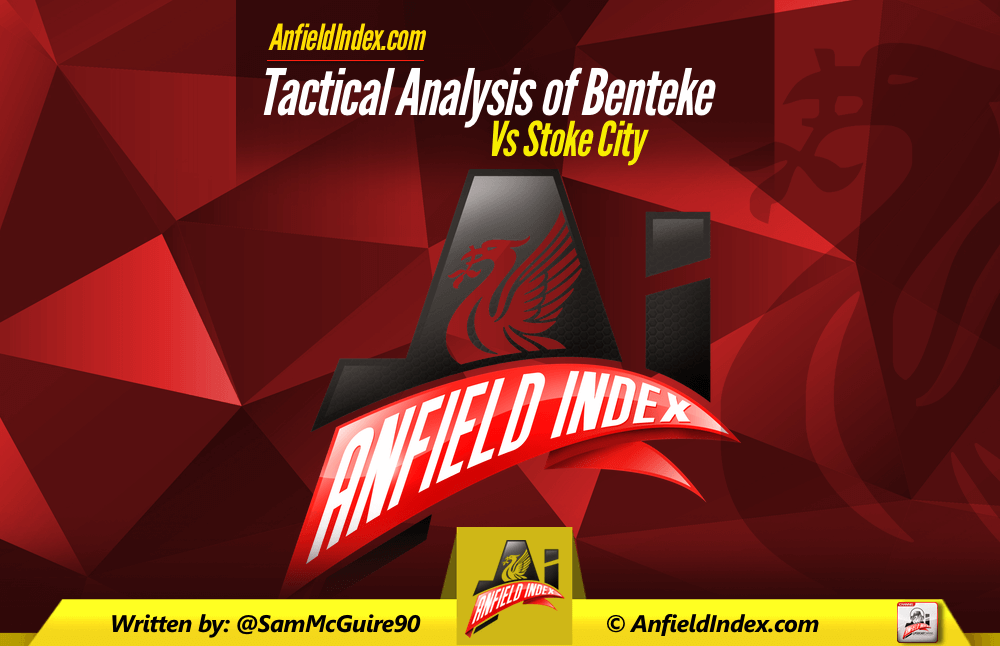 A Tactical Analysis of Christian Benteke vs Stoke
Christian Benteke was the topic of much debate this summer amongst Liverpool fans, myself included.
I wasn't sure if his style would suit how I pictured Liverpool playing, I had my concerns about his goalscoring record when you scratched beneath the surface of it and what worried me most was his lack of movement in games I'd seen him play for Belgium. He didn't seem to click with the likes of Eden Hazard, Kevin De Bruyne and Dries Mertens and this worried me because those three players are currently better than the three we had supplying Benteke in Jordon Ibe, Philippe Coutinho and Adam Lallana.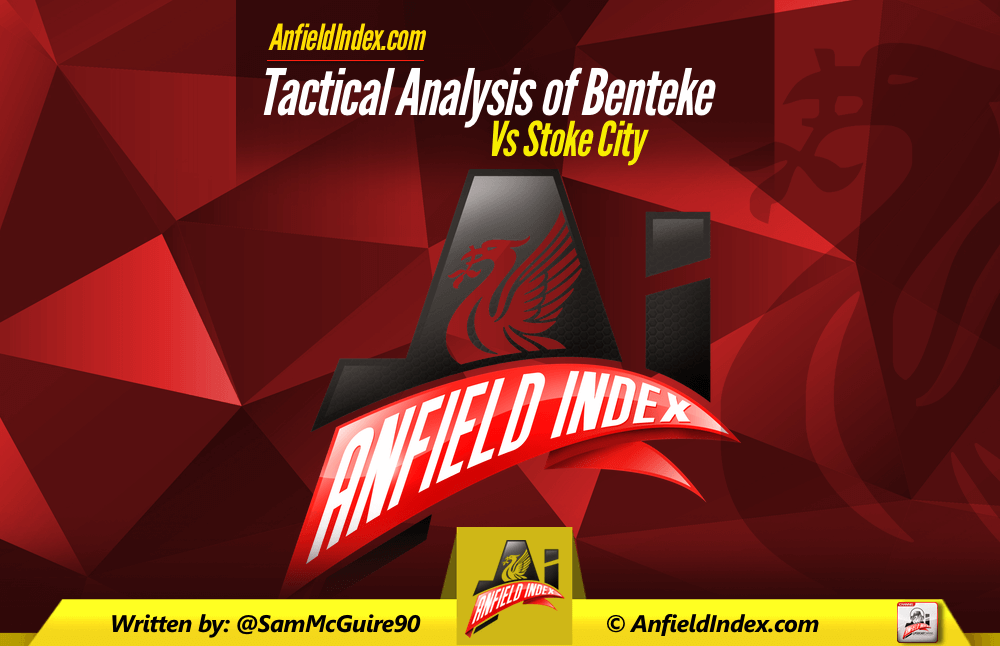 I'm not going to lie, I spent most of the summer worrying about the fact we were going to spend over £30million on a player that may not click. I never doubted his ability, he showed at Aston Villa he was more than capable of scoring but that's when they played to his strengths. Having mentioned what I'd see at international level I just wasn't sure he'd adapt.
I know he's only played one game and that shouldn't be enough to quell all of my concerns but I was really impressed with our new number 9 against Stoke. During the first half when we were playing passes to his head instead of his feet I shook my head and felt myself shrink into my seat a little bit more. The one thing on my mind for that period was 'I fucking hope we don't intend to do this every week'. One moment in particular stands out when Jordan Henderson had pushed further forward and a pass to Benteke's feet was on but instead he fizzed it to his head and all the forward could do was head it up into the air. Another moment early on in the match was when Benteke had dropped a little deep with a centre-back behind him yet Martin Skrtel lofted the ball forward, the big striker managed to flick the ball forward but there was nobody there and it looked like a wasted pass.
These types of passes will continue whilst the team adjusts to Benteke and vice versa.
As the game progressed though I started to see more of what Benteke will bring to the side and why when the team is firing on all cylinders he may be a huge player for us.
Coutinho chance
Coutinho picks the ball and as soon as this happens Christian Benteke is peeling away to the Brazilians left. This means the Stoke City left centre-back has to come across to the right hand side to follow the run of the Belgian and opens up even more space for Coutinho to drive into. This isn't a big wow moment but some strikers there would have moved to their right so they were on their best side which would have either meant Coutinho ran into a crowd or had to go onto his weak side. This kind of unselfish movement from Benteke will help the talented players behind him.
Emre Can Pass
Emre Can drives into midfield and Benteke comes deep before turning the defender. This gives Emre Can more room to thread a pass through but also shows how intelligent he is to drop to bring a deep defensive line forward so Liverpool can exploit the space in behind. On this occasion, like a few others on the day, Benteke isn't quick enough to get on the end of the pass but the idea and the movement was there. He drags the right sided centre-back into an area he doesn't want to be which then opens up a space not only in behind but between the two Stoke centre backs which on this occasion Emre Can is able to put the ball in between.
Henderson missed cross
This attack starts with Benteke dropping deep and playing a one-two with Coutinho. He dropped into the space infront of the defence and no Stoke player followed him. For this moment Liverpool have an added man in midfield and helps them build an attack with Coutinho having to push a pass forward.
As Coutinho lays the ball off to Henderson you can see Liverpool have three men in the space ahead of the Stoke backline in Jordon Ibe, Christian Benteke and James Milner. In the next shot you see Milner getting ready to play the ball to Henderson who had carried on his run after originally passing to Milner. Benteke at this point has positioned himself on the shoulder of Glen Johnson.  This is a clever move by Liverpool as the overload the Stoke left hand side and the movement of all involved pulled the defence apart. The Stoke right centre back, Geoff Cameron is slow to push on to Henderson because of the threat of Benteke.
What surprised me was the fact Benteke didn't just rush to the back post when Henderson picks the ball up like so many forwards do and it's easy to block the cross. Instead he makes the run across Johnson and had the ball by Henderson been better he would have had a tap in. What you can't see is the fact Benteke feints to go to the back post before cutting across Johnson who hadn't seen him.
James Milner cross
In this instance Benteke has peeled away to the back post having isolated Glen Johnson. Had the James Milner cross been stood up to the back post you'd like to think Benteke would've attacked it. Just something you would imagine many strikers to do but this shows how he changes his game up. He's just as happy to cut across the defender as he is to move to the back post and this makes it difficult for defenders to pick him up.
Philippe Coutinho Goal
Much like the chance Coutinho had earlier on, Benteke starts central and makes his way to the left of Coutinho. This time the movement of Benteke is matched by the movement of Roberto Firmino. Geoff Cameron has to follow the run of Benteke and although it's not much it opens space up which Coutinho eventually fires the ball into to score. Likewise the Stoke left centre-back, Marc Munisea isn't able to push onto Coutinho and close the shot down because of the run from Firmino and also the chance Coutinho makes the pass to Milner who could drive into the area and pull it back to either Benteke or Firmino.
It's a well worked team goal without the many passes you associate with a team goal.
It's this type of movement and chances created from it that makes me think Benteke may surprise a few, including myself. He's not a selfish striker, he's enough of a presence to make defenders second guess what to do and he's not as static as he'd showed in matches for Belgium. I'm excited to see what this frontline can do when Sturridge returns.