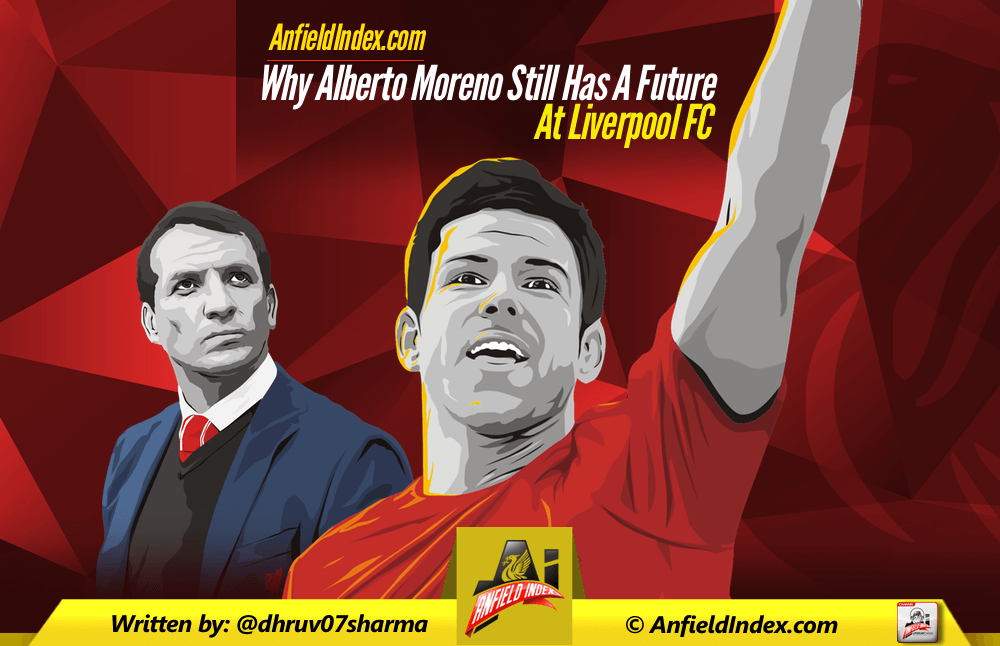 Why Alberto Moreno Still Has a Future at Liverpool FC
Liverpool started their Premier League campaign with a solid but unspectacular display at Stoke. Three points in the bag, on we go. Bournemouth are up next. Despite a very lukewarm performance in general, Rodgers will be happy with the clean sheet that the defence just about managed to keep.
One person who shone in particular was the young Joe Gomez, who despite a couple of errors also had a solid debut at one of the most difficult grounds to visit in the Premier League. But this has led to the many forgetting the pacy Spanish left-back Alberto Moreno. The man who was supposed to be our long awaited answer to all our left-back problems. A young, quick and technically brilliant full back with an eye for goal. That was just what we needed and perhaps still will.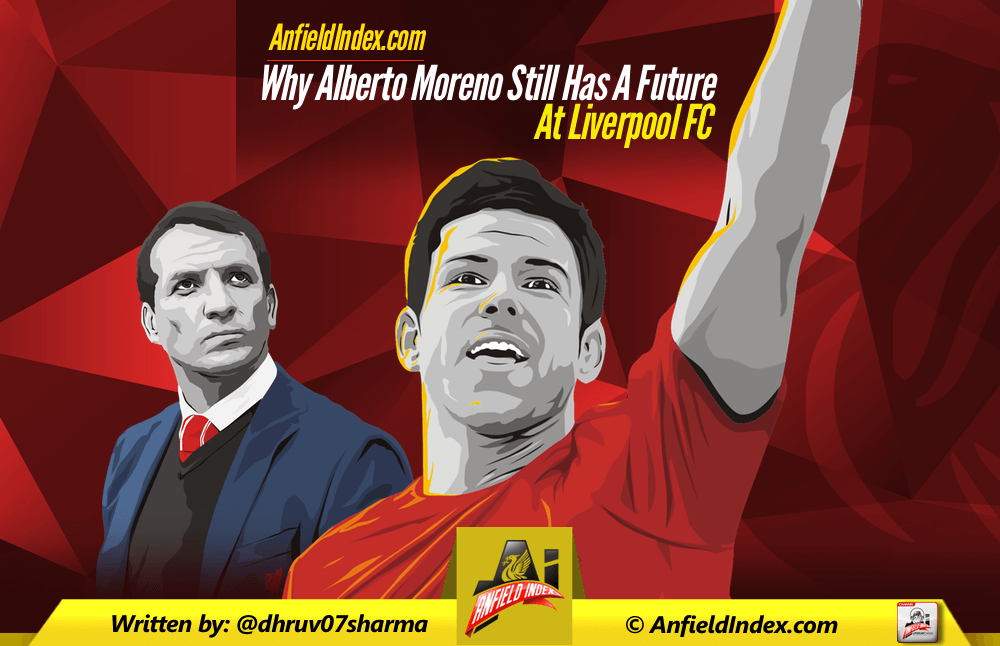 But first lets set the record straight: Joe Gomez is an impressive young defender who has (fingers crossed) a brilliant career ahead of him. He is calm and assured in possession and has decent pace. His performances in pre-season were a pleasant surprise to many Liverpool supporters. With his confident performances, coupled with injuries to Moreno, it is clear to see why Rodgers opted to start the 18 years instead of the Spaniard. But if Liverpool are to succeed these season, the full-backs will have to play an essential role in attack and not just defence. While Joe Gomez is solid defensively, what he offers in attack is limited. Also, given that he plays as a left-back means that he cannot use his stronger right foot to put in balls into the box. Meanwhile Moreno is multi-dimensional while going forward with good crossing ability and a decent shot on him.
However, no player perhaps had as much a mixed time as Moreno did last season. While the goal at White Hart Lane was a noticeable high, the errors at Newcastle and City were an unfortunate low. In short: the Spaniard showed flashes of brilliance but was pegged down more often than not, due to his unfamiliarity with the English game. The Spaniard is also easy to bully due to his small frame. But, when the Spaniard plays, he plays with a certain sense style and flair that are uncommon among other full-backs in the Premier League. His contribution going forward is immense. According to Squawka, the Spaniard created 33 chances in league matches last season. Teammate and fellow new arrival Adam Lallana only managed to 32. That gives an insight into the Moreno's action packed playing style.
At their strongest, Liverpool are likely to line-up in the manner given below. With the inclusion of Coutinho and Firmino as inside forwards, Liverpool's attack will hardly have any natural width to it. As was the case when Firmino came on for Ibe at Stoke, Liverpool largely lacked crosses and balls in from wider areas. With the inclusion of Benteke in the team, no natural width can prove to be detrimental for the big Belgian. The two Brazilians are best when they play centrally and more likely to feed off the big number nine than be the providers for him.
Liverpool thus need natural width, or rather players who can cross the ball into the box. This is because no matter how good Benteke is with the ball at his feet, his best attribute is heading the ball. No crosses inside the box will handicap the Belgian and thus minimise his affect . This is where the full-backs are quintessential to Liverpool's success this season. Both Clyne and Moreno can cross the ball pretty well and thus they can turn into providers for Benteke and make sure that he uses his best attribute to the fullest. Such a setup with Moreno, does not burden the two Brazilians to provide crosses from their respective flanks, instead, it allows them to play in their best possible positions and thus create a box shaped midfield that did ever so well for Liverpool last season.
It's important to note that starting Gomez might be the best option in the short term. But sooner rather than later there will be a period when the defender needs time away from the first team. Hopefully, Moreno can seize his chance then and put in better and more reliable performances than last season. His ability to attack is going to prove very important this season. 2015/16 will be his second full season in English football, hopefully he can step up to the physicality of the English football and can act as a regular supply line for Big Ben.