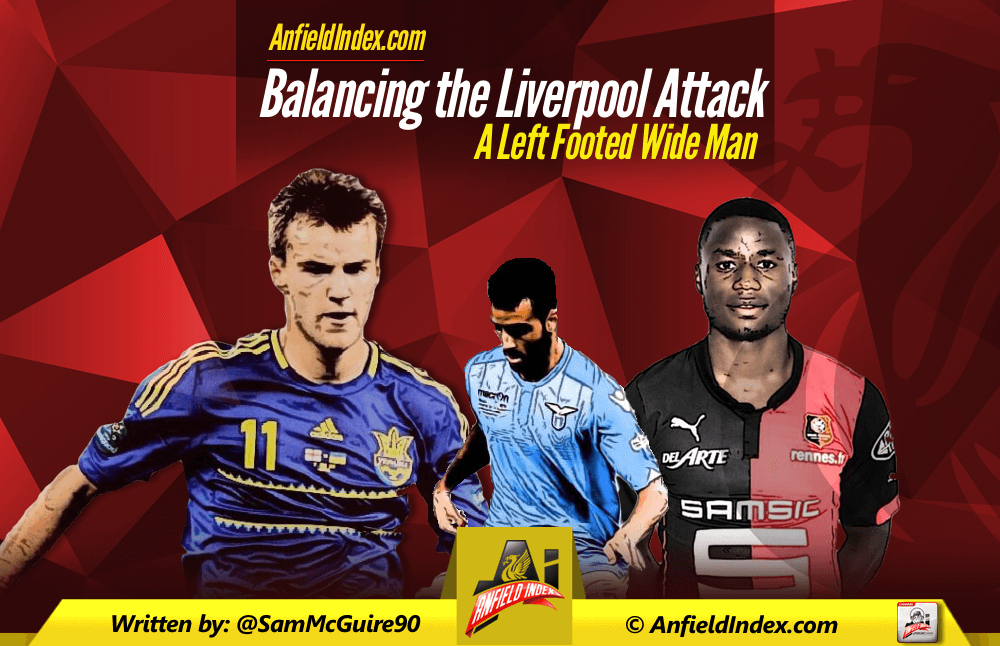 Balancing the Liverpool Attack - A Left Footed Wide Man
Balance is often misused in footballing terms. I've heard commentators use balance as if it needs to be a mirror image. If a team has an attacking right winger they should have an attacking left winger too for 'balance'. That's not always the case. Sometimes balance is about the team accommodating the attacking right winger by having a left winger that drops into the midfield or cuts infield.
This article is not a knee jerk reaction to the Stoke game. Many said after that game we offered very little down the left and although Adam Lallana didn't have the greatest of games I do think he was instructed to tuck inside and add another body to the midfield as it was important not to lose that battle and Jordon Ibe was tasked with stretching the Stoke defence by staying out wide. Many have said we wasted our left side that day, I just think we played a little conservative.
This is all well and good and Liverpool have an abundance of players to do the job Lallana did, when I say that I mean cutting inside to join the attacks. Many of our attackers are right footed so when used on the left their instinct is to cut inside. We also have players who can drift from their position but what we lack and have done for a while is a left sided equivalent of Jordon Ibe. A left footed player capable of playing on the left and comfortable beating their man on the outside. Not only that but they'd be able to play on the right and drift in which creates space for Nathaniel Clyne to overlap. It's of my opinion this would add another dimension to the Liverpool attack.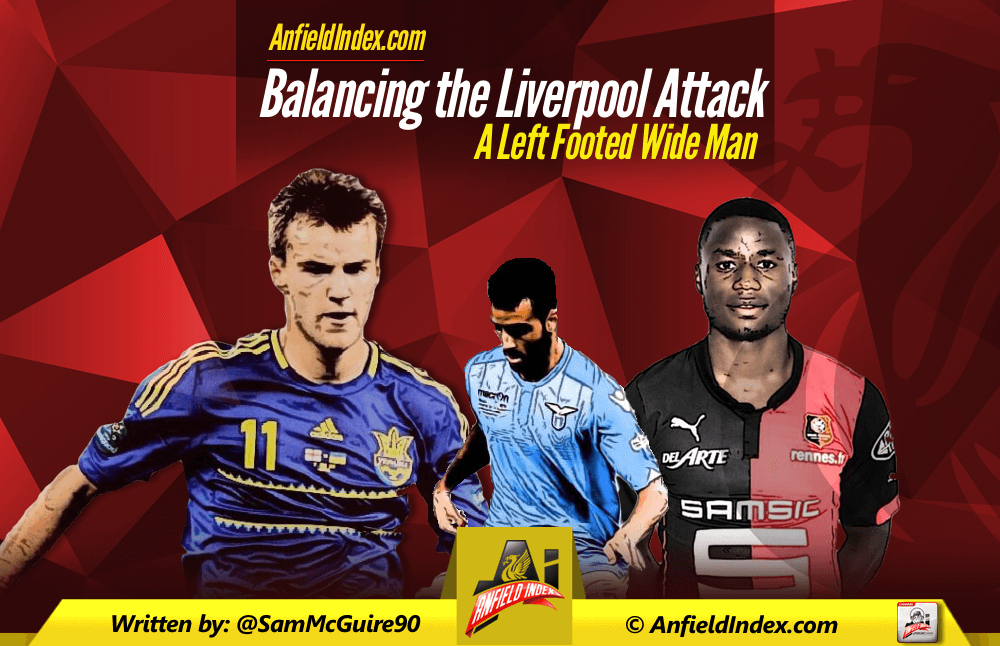 I'm not for one moment saying use them as out and out wingers but the option would be nice to have. Look at Barcelona for an example; they have Messi as a right inside forward and Neymar as a left inside forward but from time to time they'll switch sides and beat their man on the outside. It's just a variation of play they can use if needed. Liverpool don't really have that at their disposal right now. I wouldn't call our wide players predictable but defenders know they're all predominately right footed.
With this in mind I have been looking at left footed players who not only have pace but they score goals, assist and they also have that confident style of play we expect to see from Liverpool attackers. Good with the ball at their feet, able to beat a man with pace or skill and more importantly, they're all realistic. Well, I consider them to be so.
Felipe Anderson
I know we are already spoilt for choice with Coutinho and Firmino but Imagine adding a third musketeer (Brazilian) to the equation. The magic of Coutinho, the German efficiency of Firmino both complimented by the explosiveness of Felipe Anderson. It's a recipe to break down any defence in the Premier League.
The Lazio attacker is only 22 years old and is coming off his best season to date. He managed to score 10 goals and get another 5 assists last season playing across the front line. He has an impressive 75% pass success rate and a surprising 2 tackles won per game.
When looking at attackers these days I look at their tackles won to see if they engage the defenders as this usually means they press the ball which is what Liverpool want from their wide players.
Felipe can strike the ball with either foot and can operate on either flank. This makes him difficult to mark for full-backs as he can beat you on the outside but also cut in on them. The old saying "show them onto their weaker foot" doesn't really count with this guy. Imagine Raheem Sterling with a left foot and you'll get the idea.
He works with players that are good in the air in Miroslav Klose and a powerful striker in Balde Kieta and the Brazilian's game doesn't seem to suffer. He just keeps putting the ball into the dangerous area for these players to attack.
I'd consider him realistic due to the fact he plays for Lazio and although they had a good season last year the prospect of playing in the Premier League alongside Coutinho and Firmino may tempt him.
Andriy Yarmolenko
The Ukrainian poster boy seems to have been around for eternity but he's still only 25. Throughout his career at Kyiv he's amassed 176 appearances and scored 70 goals, which is an impressive 1 goal every 2.5 games. People will say it's only the Ukrainian League but he's a wide forward and still has to not only finish these chances but get into the positions to even get the chances. He's also scored 19 in 49 for Ukraine which shows he can replicate his goal scoring ability at International level. He also, over the past three seasons, has an average of 1.7 tackles and that includes European games with his club. Not a bad record.
He's a little different to the aforementioned Felipe Anderson. He's talented but not as explosive as the Brazilian. He's quick and has a burst of acceleration which means he can take it up a step or two to get past defenders on the outside but he's also got a touch of class that means he can take it past these players with a flick of the heel in a similar fashion to Firmino. He's like a left footed, less talented Firmino. Efficient and effective.
I think he's attainable. He's supposedly not interested in signing a new deal and has been linked with moves to Bayer Leverkusen and, erm, Stoke City.
Paul-Georges Ntep
The Rennes forward. Unfortunately he's currently injured but it was rumoured that he had a trip to Melwood in May and met with Brendan Rodgers. Nothing come from it but it's encouraging that he was looked at.
This guy is dynamite.
He's quick, confident, powerful and has a touch of arrogance that all great players have these days. If you YouTube a clip from last season he rounds the Goalkeeper, stops the ball on the line, gets down to his knees and head the ball home. The type of move I'm certain we all tried as kids just to show off. This guy did it in a match. You know from that move alone he's got that bit of bite about him that we miss. No pun intended.
He can use both feet but he's left footed and what a left foot he's got. He may not look like much but he puts himself about and he's like a left footed advanced Jordon Ibe for those that haven't seen him play. The 23 year old has scored 30 goals in 90 games playing as a winger for Auxerre and Rennes, hardly known for being prolific yet he's scoring the goals. He's highly rated in France and the French journalists expect him to make a push for the French Euro 2016 squad.
Again, Liverpool are a step up from Rennes. PSG may be rivals for his signature but they're pretty stocked in the midfield department and with their unlimited resources they could afford to look abroad.
These are three players I think would balance out the Liverpool attack. We'd not only have wonderfully talented skilful players but we'd have pace on either flank with players that can beat a man every which way Sunday. Many will list Daniel Sturridge as a potential wide player of this ilk but do we want to waste our best striker out wide? I certainly don't. As a child playing Top Trumps you'd stumble across a card that was superior in every aspect. That could be the Liverpool attack if balanced properly. We're nearly there as it is.