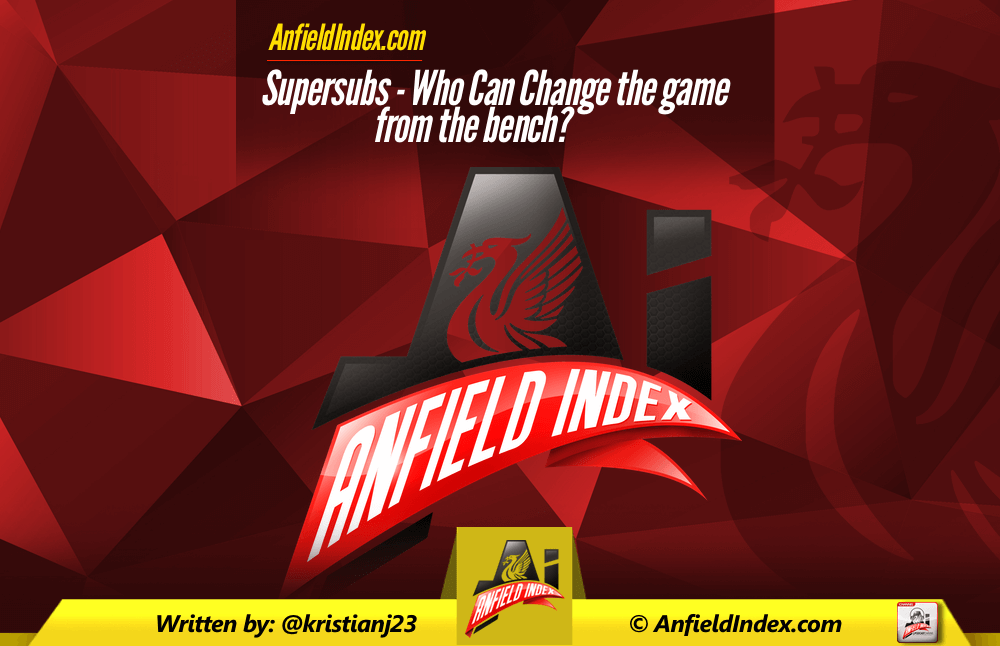 Supersubs – Who Can Change the Game From the Bench?

The 1-0 win over Stoke City on the opening day of the season was a nervous, tense affair. With 85 minutes on the clock, it looked as though Liverpool were going to come away with just a point. Not a bad result by any means, but in the end the Reds snatched all three points thanks to the options available to Brendan Rodgers from the bench.
The ability to call upon the services of Emre Can and Roberto Firmino at Stoke is proof that Liverpool can now turn a game in their favour with the quality of players at their disposal.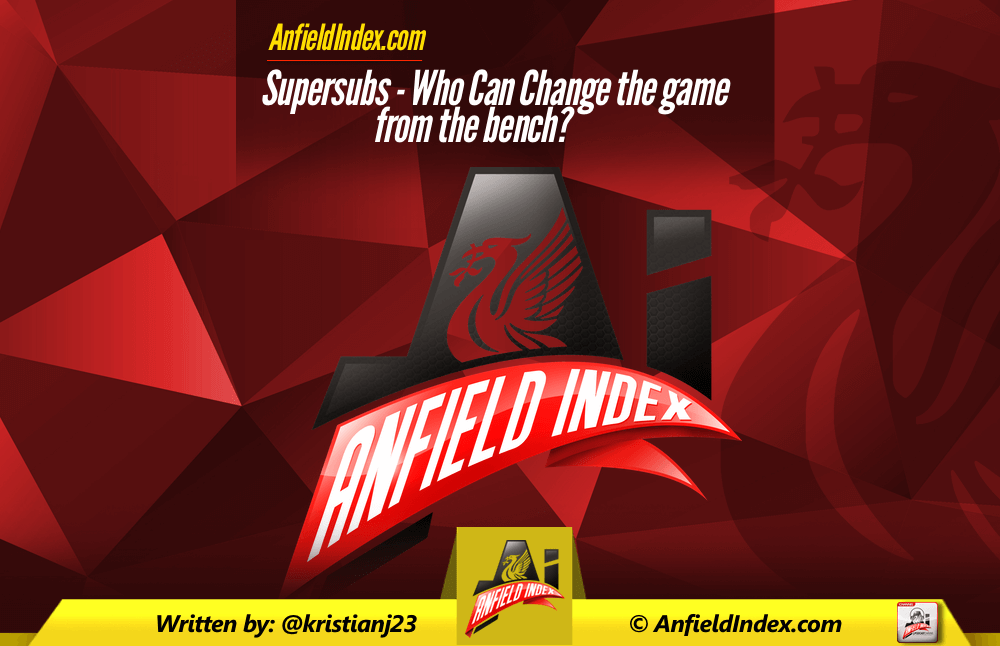 1) Emre Can
The man who arguably changed the game at the Britannia Stadium. Can's introduction pushed Philippe Coutinho into a position further forward, from where the little magician scored his 30-yard stunner.
There has been plenty of clamour for Can to start in Liverpool's midfield this season and the shouts have only grown louder following his impressive cameo at Stoke. When he was shifted into midfield in the 2-1 FA Cup Quarter-Final victory at Bolton Wanderers last season, Can again proved to be the catalyst for two late goals.
Having had an extended break in the aftermath of Germany's 2015 UEFA European Under-21 Championship involvement, he may well find his minutes limited in the early stages of the season.
Nonetheless, with his drive from midfield and considerable power, Can could provide an invaluable second-half substitute for Rodgers to deploy on a regular basis.
2) Jordon Ibe
Once Roberto Firmino and Coutinho are up to speed, it is hard to envisage Jordon Ibe starting many league games for Liverpool.
This may benefit Liverpool and Ibe though. Too often have we seen youngsters burdened with the responsibility of being the main man for Liverpool.
Raheem Sterling was a prime example last season. He's undoubtedly a brilliant footballer, but the task of dragging Liverpool along was too much for the 20-year-old in the end, with his end-of-season form dropping away alarmingly.
With a number of established professionals at the club, Ibe will be allowed to develop his game in his own time and contribute in short bursts rather than burn out midway through the season.
Moreover, he is a full-back's nightmare; tricky, pacey and direct. Introducing the 19-year-old to face weary defenders late on in games could provide a devastating alternative.
3) Adam Lallana
There are likely to be a number of times this season when Liverpool need a late goal to beat a stubborn, dogged side. When teams defend deep at Anfield, the pace of Jordon Ibe may well prove to be a blunt instrument.
In Adam Lallana, Rodgers has a solution up his sleeve. The 27-year-old certainly has his weaknesses – a chronic lack of pace and strength being chief culprits. However, his ability to unlock a defence with a delicate drop of the shoulder or a Cruyff turn is not to be sniffed at.
Both were utilised in breaking the deadlock at home to West Bromwich Albion last season and with a number of sides sure to defend deep and in numbers at Anfield this season, Lallana's intricate footwork may dig the Reds out of a hole on more than one occasion.
4) Danny Ings
Goals. That's what Danny Ings was brought to Liverpool to provide. The 22-year-old has the added bonus of coming in as Liverpool's third or even fourth-choice striker too, meaning there's very little pressure on him.
Too many times last season, Brendan Rodgers was left exasperated after turning to his bench for inspiration. Mario Balotelli, Rickie Lambert and Fabio Borini quite simply didn't score enough goals to warrant a place in the side.
The season before was a similar story. Who can forget Iago Aspas' ill-fated substitute appearance in the harrowing 2-0 loss at home to Chelsea?
Ings scored 11 goals in a mediocre Burnley side last season. If he can contribute half that number off the bench for the Reds this campaign, he'll be off to a good start.
5) Daniel Sturridge
Liverpool's forgotten man could return as early as mid-September if reports are to be believed. We've been here before though – waiting for the Messiah to return, only to have our hopes dashed by injury after injury.
This time, however, Sturridge has the luxury of not being the saviour that we all turn to in our hour of need. The purchases of Christian Benteke and Roberto Firmino will allow Sturridge to slowly but surely edge his way back into the first-team picture.
Liverpool won't make the same mistakes this time and are sure to ease Sturridge back to full fitness with a number of substitute appearances. Unleashing him on the 70-minute mark in a tight game will strike fear into the heart of any Premier League defence and who better to sway the game in Liverpool's favour?
There are plenty of players that haven't even been mentioned. Neither Lazar Markovic nor Divock Origi are likely to find themselves involved from the start in the league, but their explosive natures could provide the difference.
For the first time in his tenure as Liverpool boss, Rodgers has a number of options to choose from. Don't be surprised if there are plenty of late winners this season.