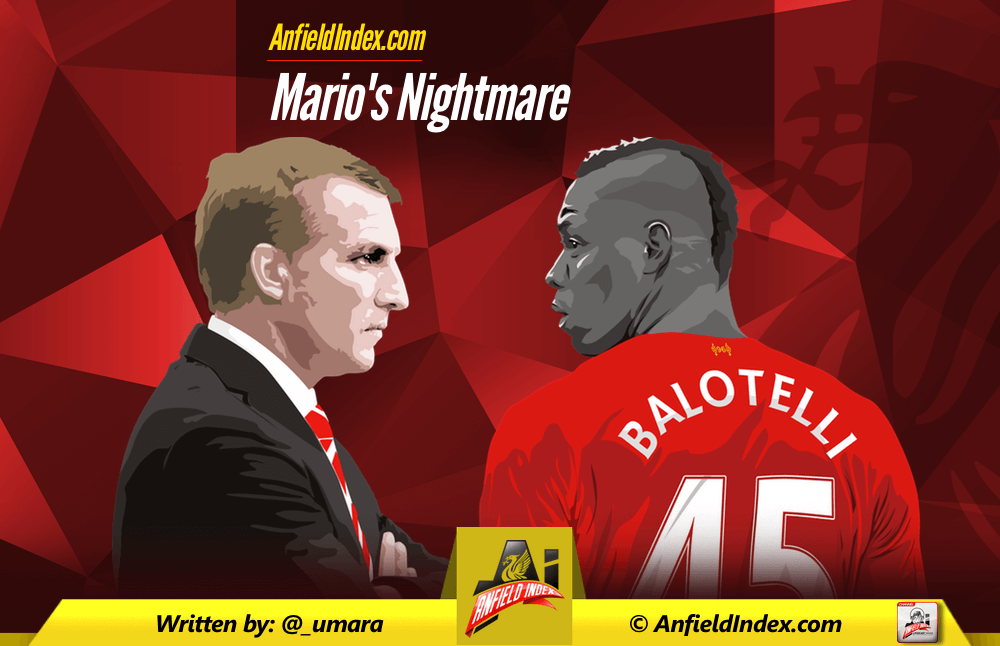 Mario's Red Nightmare
When Mario Balotelli signed for Liverpool last year, to say opinion was divided would be an understatement. Some thought it was disaster waiting to happen whilst others believed it would be Mario's time to shine. Loved by an adoring, famously loyal fan base, he would finally show the world his talent on a football pitch. Become a hero. A Liverpool legend. Fast forward twelve months and the issues are different and opinion is still divided. Last season saw the Italian make sixteen appearances for the Reds with just a solitary goal to his name; the winner against Tottenham at Anfield in February. Add a penalty versus Besiktas in the Europa League and that is about the extent of his contributions on the pitch. Suffice to say that things have not worked out for him at Liverpool and the fairy tale remained just that.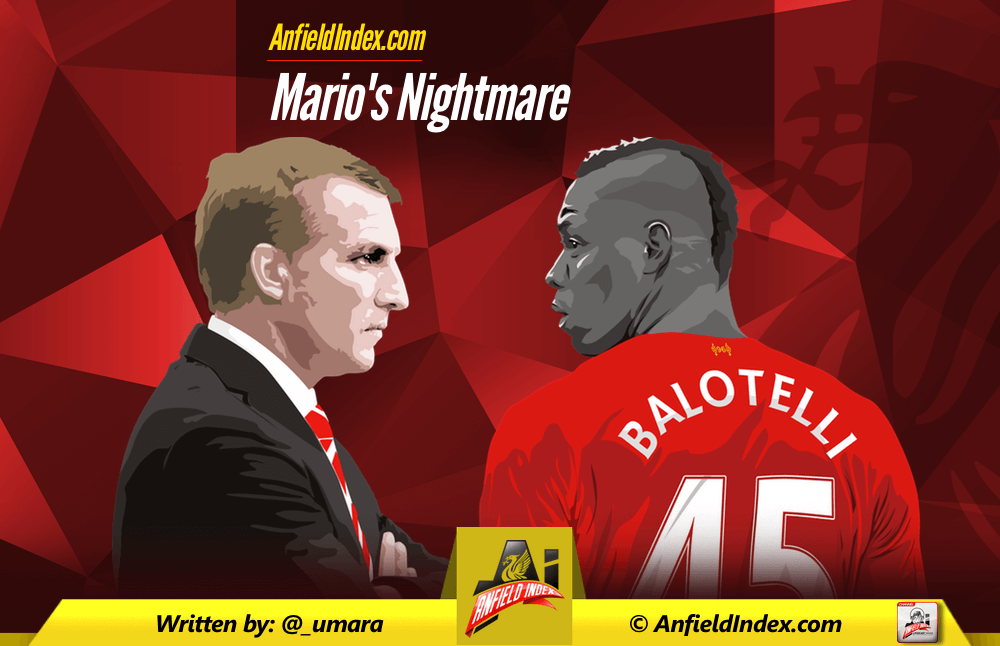 His failure at the club can be attributed to several reasons and depend upon your view of him, the club or the manager. Fans opposed to him, accuse him of being lazy and not trying hard enough to play Brendan Rodgers' pressing style of football. Some have said that his immobility renders him unable to make the runs of players such as Daniel Sturridge or Luis Suarez, therefore leaving him lacking in goals. Others have suggested that he is completely disinterested in playing football altogether and would rather be a celebrity than focus on his role in the team; play the joker, have a laugh, drive fast cars, spend lots of money and generally be a rebel. For me, however, all of the aforementioned criticisms of Mario are hypocritical because the critics are doing exactly what they accuse Mario of; being lazy. It is easy to make the same condemnations again and again rather than make an effort to at least consider all angles.

There is no doubting that Balotelli has had a colourful past and when Liverpool signed him, it undoubtedly screamed of panic. The summer transfer window was closing and Liverpool had not replaced Luis Suarez. Ironically, just a few weeks prior to the transfer's completion, Brendan Rodgers famously, rather vehemently, denied that Balotelli would not be joining the club. Lo and behold, he joined. Whether it was a committee signing or not, the fact that Rodgers was denying that anything was taking place behind the scenes seemed odd. Was he publicly trying to show the committee that he was in charge? Or was the transfer completed overnight and he really did not know? Either way it showed a worrying lack of communication at the club and left the Reds boss slightly red faced. Rodgers then went on to tell the press that every player "was assessed" and that Mario was a "calculated risk". So it looked like all eventualities had been considered before he came to the club and there was a plan in place for the complex character. Excellent.
As time went on, however, it became apparent that this was not the case. Except for the game at White Hart Lane where Liverpool beat Tottenham 3-0 with Balotelli and Sturridge playing together, the former was always played as a lone striker. Despite past history and the player himself admitting that he preferred playing with a partner, he was isolated upfront. Everyone is unique and footballers are no different when it comes to their playing style. Some like the freedom of playing alone and some enjoy playing with other strikers who can make runs and allow them the space to score goals. I am not saying that Balotelli would have scored twenty goals had he played alongside someone, but the manager cannot put his hand on his heart and say that he did everything to allow him to flourish in his role. The strikers were available (albeit not the best) but never picked. We will never know what difference a good partnership may have made to Balotelli's game. It may not have, but we simply cannot say that all options were covered to try and get the best out of him.
Slowly, the managers frustrations over Mario started to play out in the media. In some of Brendan Rodgers' post match interviews he would comment on the strikers lack of effort saying he needed to try harder. In some of Liverpool's lack-lustre, and rather shameful, performances last season, it appeared that Balotelli was the only one who looked passionate and showed a will to win. Rather than question the performance of one man, at times, it was the whole team that needed scrutinising. Yet he was quite willingly used as a scapegoat, showing an utter lack of professionalism on the managers part. No other top managers criticise their own players in the press as was Mario by Rodgers. What possible good could come out of publicly putting down your own player? Other than to detract attention from other shortcomings.
Another apparent lack of planning by the club/manager, was the handling of Balotelli's "bad behaviour". When he was bought, he came with baggage. The whole world knew that he would be difficult work and the club was fully aware of this when they brought him in too. After Rodgers was grilled in the press about Mario's past, it was said that he would adhere to the clubs "intensive code of conduct" and certain points were understood to have been included in his contract. As Mario is still in contract with us, it means that he has not breached its terms, so what seems to be the problem here? No one really knows what goes on behind closed doors at Melwood so we cannot say for definite one way or the other who is right or wrong. Stories of disrespect to coaching staff, not remembering teammates names, friends accompanying him to training, not eating with the team, antics during training sessions or general attitude problems have now surfaced. What I have an issue with is that all of this is made public. This is where the club are at fault. It has been made abundantly clear that Balotelli is not wanted at Liverpool so why the public disgracing of him? If the club are looking to sell him on, who will ever want to buy him? And even if a club does comes in with an offer we will be looking to lose the vast majority of the £16m we paid for him. If a club is looking to offload a player with "difficulties", why would it then proceed to detail every flaw known to man in that player in the media? Is that good business sense? For owners who pride themselves on being shrewd businessmen, it is perplexing to say the least.
Whatever the story behind Mario Balotelli and Liverpool, there are sure signs that he has been treated unfairly, whether it be on or off the pitch. No player deserves to have their manager question their commitment or be banished from the rest of his teammates to train alone. And he certainly does not deserve to have all of this played out in the media. Any issues could and should have been dealt with as privately as possible to save both Mario and the club the bad publicity generated. As it stands, Brendan Rodgers has an unwanted player on his hands and though some of us may feel he has much more to offer, it seems as thought the Italians time is up at Anfield and I, for one, cannot help but feel what might have been.