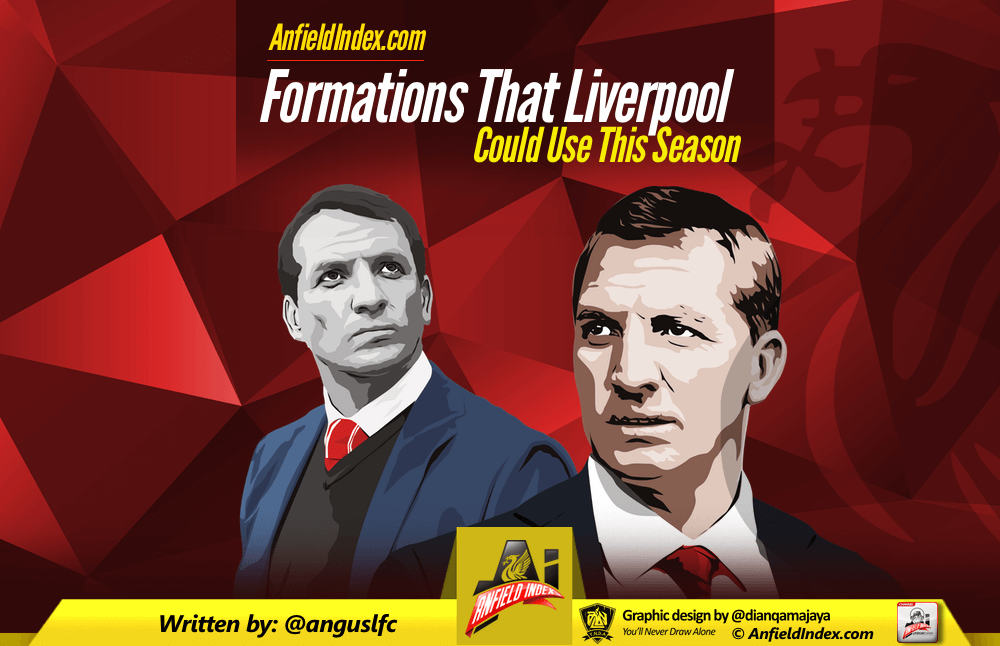 Formations That Liverpool Could Use This Season
In the opening game of the season away to Stoke City Brendan Rodgers decided to play a 4-2-3-1 formation. The blunt and boring performance that followed may have been caused by early season rustiness and Stoke away being a challenging fixture. However it will cause debate as to what is the best formation for Liverpool to deploy this season.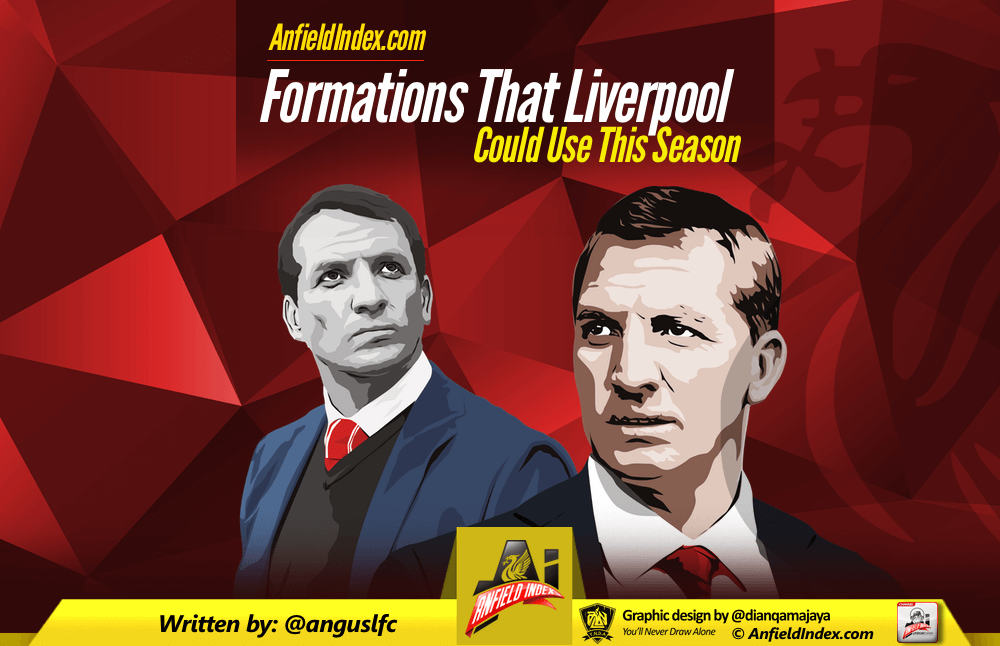 I will analyse the strength's and weaknesses of a few of these options.

4-2-3-1
A major strength of this formation is that it keeps star player Coutinho in the centre of the pitch where he is able to have his greatest influence.
If Rodgers opts for Jordan Ibe to play as a right-sided attacking midfielder along with Clyne there is a good chance they could provide Benteke with chances, especially as 51% of Liverpool's attacks were launched from this side against Stoke (30% central, 18% left).
However if Ibe pulls out too wide and the central striker (likely Benteke) is closely marked then it can be difficult for Coutinho to effectively start attacking moves. Against Stoke the Brazilian appeared isolated in possession at times. Consequently Liverpool only managed a total of 8 shots all game.
Furthermore relying on Ibe as Liverpool's only genuine wide attacker is a risk, as his performances are likely to be inconsistent this season, and that may persuade Rodgers to move away from a 4-2-3-1 formation.
In this formation Milner and Henderson play a defensive role, and are able to put in high energy performances for a full 90 minutes. (They made the first and second most pressing actions against Stoke). This provides a good "engine" for the side. However neither of these players are natural defensive midfielders and Lucas Leiva (Liverpool's only natural defensive midfielder) is a noticeable downgrade from the two England internationals and could even be sold before the end of the transfer window.
Emre Can is one of Liverpool's outstanding performers yet it is unlikely that vice-captain Milner or captain Henderson will be dropped in this formation, relegating him to the bench. It would be preferable to find a formation that accompanies all three players.
Verdict: Potentially blunt in attack and questionable from a defensive midfield perspective
4-3-3
The formation that Rodgers eventually switched to against Stoke with Can replacing the (again) ineffective Lallana. The substation changed the game. Can's presence allowed Henderson and Milner to occupy a more advanced role which caused greater chance creation.
In this Q and A James Pearce reminds fans it's the formation that Rodgers said he would likely deploy.
It is quite possible that Jordan Ibe could keep Firmino and Lallana out of the side as he will be required to provide some width if Coutinho occupies the wide left position. Alternatively Origi could be added as a right sided forward or Sturridge when fit. Coutinho could also drop deeper allowing Firmino a starring role.
A problem with this formation is that unless Moreno is reinstalled into the team Joe Gomez (a natural CB) and Phillipe Coutinho (natural AM) will offer very little width on the left side. Furthermore it could be seen as a waste to push the Brazilian out wide and fellow countryman Firmino could well be forced to the bench. When Sturridge recovers from injury either he or Benteke will have to occupy a bench role.
Verdict: The midfield and defence look good but the system doesn't seem to get the best out of the attacking options.
4-3-2-1
Similar to the 4-3-3 formation, the midfield and defence remain the same. However, the major difference is the wide forwards are moved to a central position. This will suit the Brazilian pair of Coutinho and Firmino. If link up play between those two begins to flourish then it is this formation that could best utilise the pair.
As with the 4-3-3 formation this system allows all three of Milner, Can and Henderson to start, something most Liverpool fans would welcome.
Verdict: If it can get the best out of both Coutinho and Firmino it could be a preferred option.
4-2-2 diamond
This formation accommodates both of Liverpool's highly talented Brazilians with Coutinho playing in a familiar central attacking midfield role and Firmino playing off the striker. Alternatively Liverpool could chose to play Firmino in Coutinho's role and bring in Origi, Ings or fitness allowing, Daniel Sturridge. Also, Coutinho has experience playing on the side of the diamond, which would allow Henderson to fill the DM role.
James Milner and Jordan Henderson are both accomplished crossers of the ball and will be able to provide good service from those areas having both played wide many times in their careers. Furthermore, their impressive stamina and work rate will allow the full-backs to get forward and provide genuine width.
Of all the formations this seems most likely to be able to accompany both Sturridge and Benteke, and it is unlikely that Rodgers would want to drop either of those players. Crucially, with four strikers in the squad, the probability that a sole striker is used all season is unlikely.
Verdict: Potential for magic between Coutinho/Firmino and Benteke/Sturridge, solid in midfield and defence. The obvious choice.
Conclusion
Although much of the criticism Rodgers faces is fair, one area where he really excels is with his formational work. In his time as Liverpool manager he has used 4-3-3, 4-4-2 diamond and 4-2-3-1 formations successfully. His willingness to change formation almost saved Liverpool's season last year as a change to a 3-4-3 / 5-3-2 formation led to a 13 game unbeaten streak starting in December.
Inevitable injuries and the fact that Rodgers has a large squad with players adept in a number of positions will mean that we are likely to see a number of different formations again this year.
With strong competition for 4th place, utilising a number of formations effectively could just provide the difference.