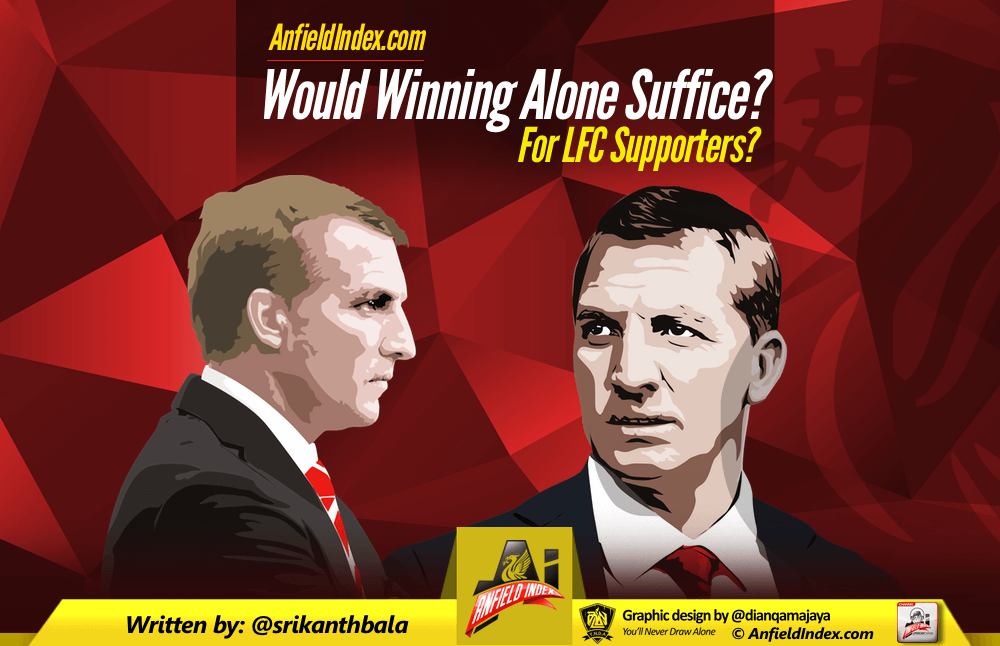 Would Winning Alone Suffice?
If one reads the title of this piece, it would not be too far fetched to assume that readers might think they have entered an Arsenal/Chelsea fans blog site by accident, as this is a topic which has been a bug bear for Arsenal fans during their trophy drought ridden years. The terms 'winning ugly', 'winning at all costs', 'beautiful football', 'passing the ball into the net' 'park the bus' etc. are jibes which are often involved in such discussions.
So, does this topic matter to Liverpool fans? Would winning alone suffice? Or is how we win is equally important? Do such expectations change as the season progresses? There are a lot of such questions floating in my mind currently and I am not sure if this piece would actually answer any/all of these satisfactorily.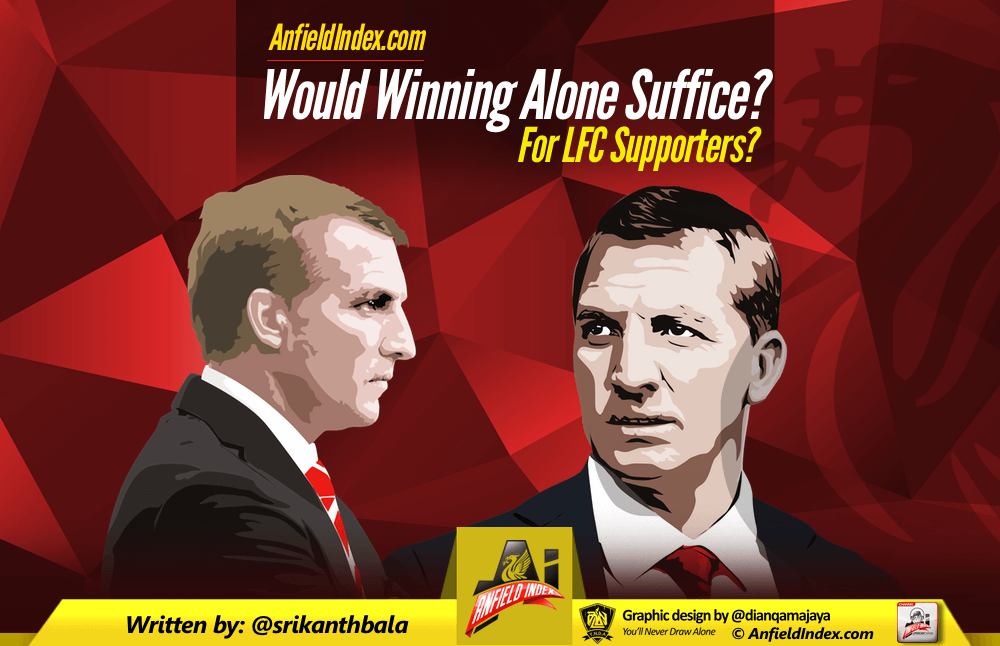 Premise 1 : Winning alone would suffice, how we win is not (as) important
There would be a significant percentage of the fan base aligned to this viewpoint. Liverpool fans have seen lots of other clubs win trophies, even though that team might not have been the best team in that tournament. But such teams identify the opportune big moments and do what it takes to win such moments. Moments helpfully coined as '6 pointer' by Sky Sports.
So let us assume this is a valid premise, then there are couple of follow up questions which spring to mind.
Is the current manager the best available manager to fulfill the premise?
What happened to the philosophy espoused during the past 3 years? Where does it stand with respect to our performances in our opening two games?
"I thought he was a real handful tonight. His hold-up play is outstanding, he has a wonderful touch for a big guy and he can control the game."
The above quote is from Brendan Rodgers on Christian Benteke's good performance against Bournemouth. Taking nothing away from a solid home debut from Benteke, the quote above would have been unthinkable in any of the previous three years of the Brendan Rodgers era. One could argue that the manager has refined his vision principles, or more aptly is adopting a 'horses for courses' philosophy, but Brendan Rodgers is also known as a stickler for his principles on playing style.
The juxtaposition between the manager being unable to find a striker to fit the exact proposed style for that fee vis-a-vis the manager tweaking his preferred style to fit a preferred player will be interesting to watch over the coming months as it re-ignites the player vs system/philosophy again.
Another interesting (or horrendous, as suitable) thought on a personal level is would a manager like Tony Pulis be more suited towards achieving the stated premise, considering his enviable record in sustaining sides in the Premier League. Not for one moment am I saying our football is as dire as what we usually see from sides managed by Tony Pulis, or that I am ignoring the copious amount of money spent by Pulis to keep Stoke in the Premier League. I am just wondering about the right fit for the premise at hand and it is a thought process which will keep me interested as our season progresses.
Premise 2 : How we win equally matters
The second premise is one with which our current manager identifies himself with. On multiple occasions, the manager has talked about playing an attractive style of football with controlled possession. Other tenets of Rodgers' philosophy include giving a chance to young players ('if you are good enough, you are old enough' , 'running through barbed fences') and giving the players a stage to express and perform.
Few of the open ended questions on this premise include :
Do our opening two performances have an identity resonance with what the manager has espoused during the last three seasons? Or do we just put it down to early season blues and lack of synergy between the new signings?
Are players like Henderson, for example, presented with the best stage to show his inherent strengths when played as the deepest midfielder? Are players like Coutinho able to perform to the best of their abilities in a wider position. Is this a debate about functionality vs grandeur even a valid one?
Does it do proper justice to the way we setup with two wide players when both of them are always comfortable in gravitating towards the central positions?
Does the spirit of meritocracy still exist? For example, how does Lallana play the full 90 minutes on the back of two such performances? The argument of lack of options holds no good, when Danny Ings/Origi have not got a look in from the bench and a player like Markovic does not even make the match day squad.
Then there are questions which bring both the premises into a direct conflict, such as
How long would one accept good performances without results to accompany it? (First half of 2012/13 season for example)
How long can we sustain results without performances justifying the result? (The long unbeaten run during the second half of last season)
At the moment, it might be difficult to answer many, or in fact any of the questions stated above with any degree of conviction. In fact I would go on to say that the above mentioned questions are actually 'thoughts expressed aloud' with no definite answers available at this exact moment of time.
There is a valid argument if fans state that this article is 'jumping on the back of the manager' or is at least '5 weeks early', and I am willing to accept their point of view. I would just be happy if we think about this as the season progresses and debate it, if need be.
Liverpool FC. Onwards. Upwards.