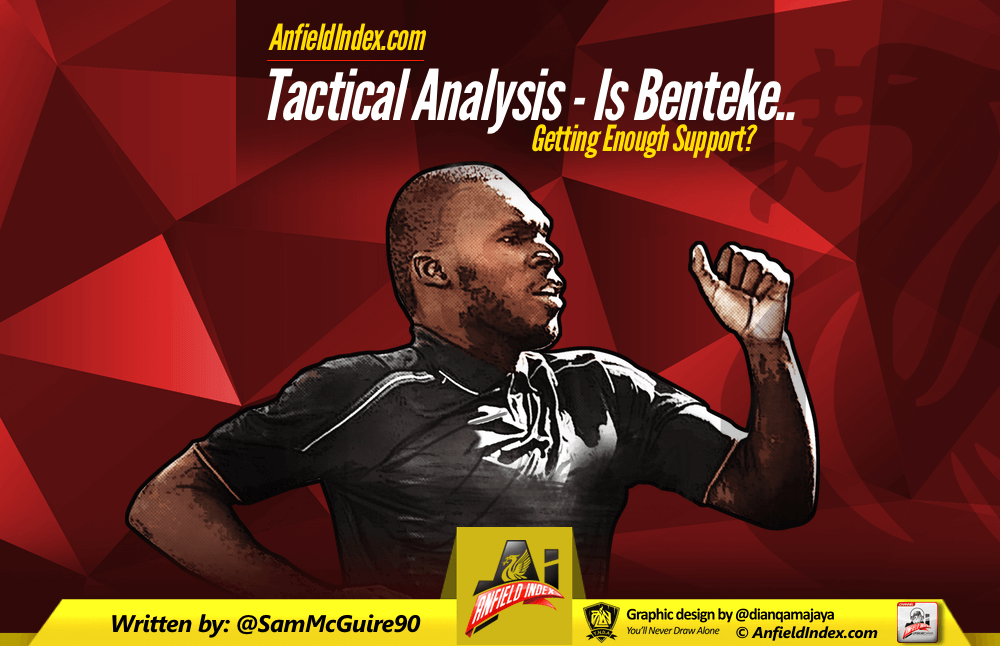 Tactical Analysis - Is Benteke Getting Enough Support?
Liverpool weren't reliant on a wonder goal this week but yet again it was an underwhelming performance in which the Reds were the victors coming out with a 1-0 win against newly promoted Bournemouth.
It wasn't one for the neutrals to appreciate but Liverpool got the job done and now have six points from six. Results wise it's hard to complain. Two wins and two clean sheets would've been the priority for Brendan and his side when the fixtures were announced.
After the Stoke game last week I did a tactical piece on Christian Benteke and his superb movement. Once again last night he was just as good, if not better, when off the ball; but instead of looking at the big Belgian I decided to look at the support he was getting. It's still a work in progress and we're missing a fit Roberto Firmino and Daniel Sturridge but are there signs it could work already.

Benteke flick on
Martin Skrtel lofted the ball forward after Benteke had offered himself. You see the Bournemouth defence not even following Benteke so he's got a free header. Coutinho, who started on the right of the three behind Benteke, has drifted inside to anticipate the header from Benteke. Lallana who started centrally picked up a position in the half space (space between defence and midfield) and like Benteke hadn't been tracked.
This is a few seconds after the original screenshot. Benteke knocked the header down to Lallana who drove forward with the ball before laying it off to Coutinho. The little Brazilian has five Bournemouth players surrounding him and this has left Daniels, their left-back, with both Lallana and Benteke in his area. Ideally in this scenario Lallana would cut accross Daniels and Benteke would be freed up to go on the outside. However Lallana doesn't make that move and Coutinho plays a pass to Benteke inside of Daniels which pushes the number nine a little wide.
Once again you'll see in this screenshot Jordon Ibe staying wide to stretch Bournemouth in theory but their right-back had tucked inside at this stage so Ibe could have moved inside and gave Phil a passing option much like he did later on in the game.
You'll also notice lack of red bodies coming from midfield. There's no way Bournemouth should be able to have five players converging on Coutinho. One or two should be tracking runners from our midfield if we had any.
The ball from Coutinho pushed Benteke a little wide but he won a corner off the retreating Daniels. It's a little alarming that only now are we seeing James Milner coming into the picture and Nathaniel Clyne on the right hand side. Liverpool may have three players supporting Benteke here but Bournemouth have seven players in their area and it's all a little compact. Midfielders can't retreat and double up as centre-backs if Milner is another 10 yards further forward. If we're going to go long to Benteke from time to time the midfield in general needs to be further forward to support the attackers otherwise they're not involved in building the play or supporting the place.
Slow to support
Henderson won the ball in midfield and drove forward before trying to pick Ibe out with a pass wide left.  It was intercepted and quickly turned into a Bournemouth counter attack and culminated in a corner for them.
Here you may argue they had a counter attack so pushing any more players forward would have been a bad idea but why is Henderson having to try to push a pass to Ibe? Even a pass to Benteke in this situation is a difficult one but Liverpool haven't got the players in the middle of the pitch. The distance between Benteke and Milner in this picture is about 40 yards.
Jordon Ibe tactic?
As I alluded to earlier Jordon Ibe kept the width on the left for Liverpool most of the night. He seemed hesitant to cut inside and join attacks and I'm not sure if this was a tactic or not. In the first picture you'll see the number 33 almost getting chalk on his boots. The ball has been played long and Benteke is the target. In the next picture you'll see the ball with Coutinho after Benteke had won it and played it to our Brazilian. Once again it's glaringly obvious we're lacking support from midfield and Jordon Ibe isn't on screen despite the play progressing. If you're going to keep one of your attacking players really wide you need the central midfielders to make up for it by making late runs from deep. We didn't do much of that so the width and space Ibe created was  wasted.
Good subs
At this stage we've used all three of our substitutes and the momentum has swung in our favour. In this above image Liverpool have seven players in the Bournemouth half. Alberto Moreno is keeping the width on the left much like Ibe was, you've got Clyne as the outlet on the right. Firmino just off Benteke and a midfield three of Emre Can, James Milner and Adam Lallana.
Liverpool have worked the space well and Clyne has acres of space on the right which Emre Can is able to see and execute a delicate lofted pass into the England right-back's path.
Play has moved on in the above picture and the impressive Nathaniel Clyne has put a good cross into the box. Firmino had gambled near post and taken a centre-back with him which allowed Benteke a good 4/5 yards on the closest players to him. He's unfortunate not to score as Boruc tips the ball onto the bar but Bournemouth looked stretched in this situation and not only because of the quickness of our play.
With Firmino occupying defenders it gave Benteke more space. With runners from deep in Lallana and Milner (who is just off screen) it meant the Bournemouth defence couldn't just cluster together as they had in other attacks as there was a chance of a pull back and finally Moreno had drifted infield and had Benteke let that run (I'm happy he didn't, all strikers should be attacking that ball) then Moreno would've had the ball at his feet about 10 yards from goal with only the keeper to beat.
Liverpool do have the players and tactics to support Benteke but they're being a little conservative in their play in these opening two games and many will say rightly so. Benteke has surprised me and created lots of space we just haven't exploited. As I've mentioned in previous pieces online Liverpool need goals from midfield and for this to happen there needs to be more of a gamble from deep otherwise all the good  movement from Benteke will be for nothing.