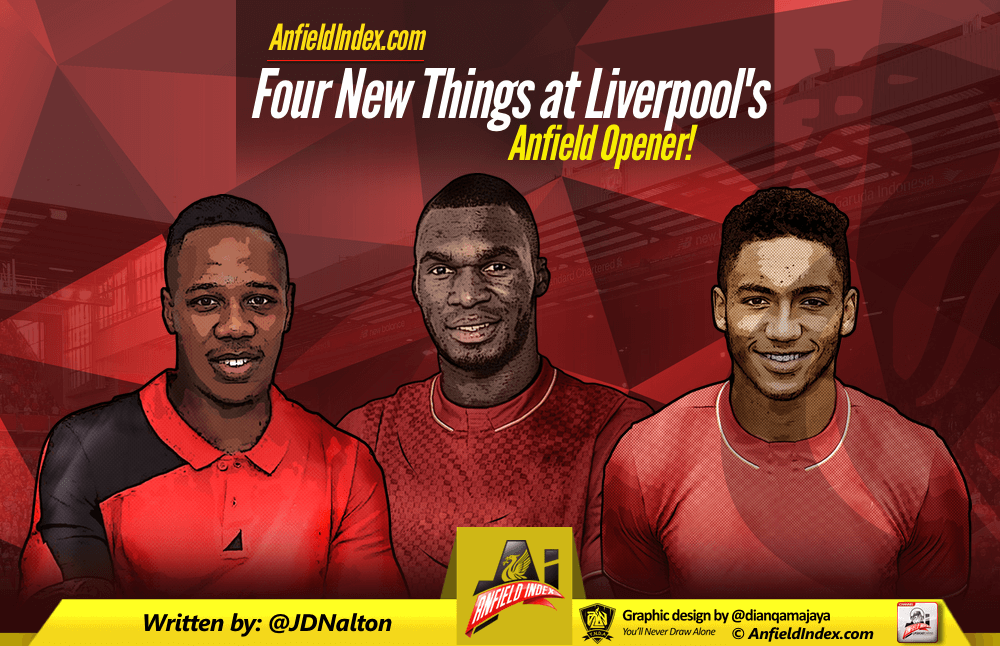 Four New Things At Liverpool's Anfield Opener

New Stand
Anfield's new main stand looms behind the current one, as fans exchange stories about how it will be moved into place, where it came from and what it will be called.
Like the mythical beast in that episode of Father Ted, much of the evening's talk concerned the new structure, and the fact that the owner and chairman were present at the stadium only increased the speculation.
"You can't move it if the wind is over 60mph."
"It's made out of studs from Jimmy Case's old boots, melted down and rebuilt."
"Martin Skrtel works nights, guarding the construction yard."
"It doesn't have any eyebrows, except on Saturdays."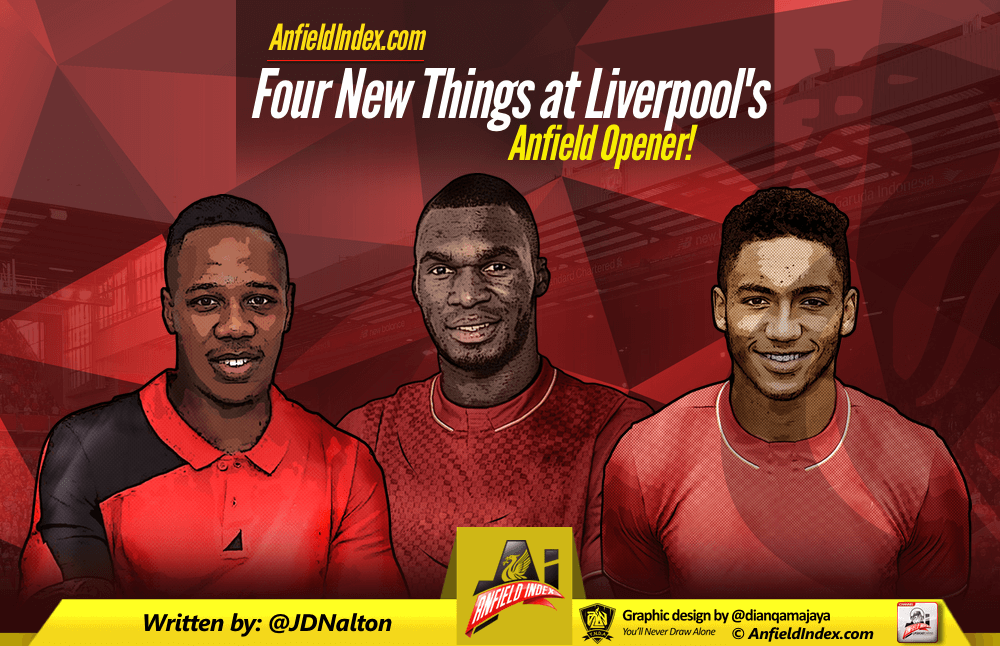 New Trainers
From the pre-match warm-up to those ingenious set piece routines; if there were doubts that the new back-room staff would change things at Liverpool, then they are slowly being allayed.
The two one-nil wins help, but even without the victories the influence of Gary McAllister, Sean O'Driscoll, and if you look carefully, Pepijn Lijnders, is there to see.
From the training ground to the pitch. The players now practice more team-based drills on the Anfield turf before the game, as opposed to the individual drills of the last few seasons.
Gone is the one-on-one shooting against the substitute keeper, and in its place is an attacking build up drill in which the six non-defensive players take part. The shot on goal only comes after several passes, crosses, or headed knock-downs between the players.
During the game, O'Driscoll occasionally ventures from the bench to the touchline to issue instructions off his own back, and McAllister prepares the subs with numerous instructions and visual aids.
Pepijn Lijnders once said: "Consistency in performance is only possible when there is performance consistently. And performance only starts with careful planning, preparing the team and individual development."
It may sound a bit like corporate speak, but there is plenty of planning, preparation, and Pepijn going on in this side at the moment.
New Striker
Questions were raised when Christian Benteke signed for Liverpool. Questions which were mainly driven by the large fee paid to Aston Villa, but also by a belief that he wouldn't fit into the Liverpool style, whatever that is/was.
In his handful of appearances for the club so far, he has shown he can 'play football' which, for some reason, was not expected of a footballer who cost £32.5 million.
He is more than just a hold-up player. He will look to make runs behind the defence, and it's only a matter of time before Philippe Coutinho finds one of these runs with a through ball.
As well as this he can bring others into the game in a variety of ways, including using his strength and heading ability as advertised.
On his home début he demonstrated the ability to play a good cross-field ball, but also demonstrated the ability to play a bad one. More importantly, however, he showed good movement and anticipation to get on the end of Jordan Henderson's wicked cross to poke home Liverpool's winner – his first goal for the club.
If he can combine Fabio Borini's infamous movement, Mario Balotelli's skill and hold-up play, and the Southampton version of Rickie Lambert; he might just be the striker Liverpool were looking for.
New Balance… at Full Back
You could probably write a few books on Liverpool's full-backs. Not since the 1980s have Liverpool had a star at full-back, and the days of steady players such as Steve Nicol, Steve Finnan and Alvaro Arbeloa seem so long ago.
While it is too early to make statements such as 'Liverpool have finally sorted out their full-back positions', Liverpool might have finally sorted out their full-back positions.
The wildcard at left back, Joe Gomez, offers the solidity of a centre back in the full-back position. Despite being just eighteen years of age, he brings some much needed composure to the back four at vital times in games, and also adds a balance across the pitch.
Another new signing, Nathaniel Clyne, has been a revelation on the right already. Contributing significantly in both the attacking and defensive phases of games, the Englishman looks to have both the solidity in the tackle and the forward thinking instincts required of a modern full-back.
Clyne's attacking down the right is perfectly balanced by Gomez's slightly more conservative approach on the left. The left back has been optimistically compared with Paolo Maldini, but he is currently more like a right footed version of Eric Abidal.
Abidal played left back for Barcelona's great team under Pep Guardiola, which allowed Daniel Alves to do his right-wing forward thing with Messi and those other players. Gomez offers Liverpool a similar safety net, as he often forms a back three with Lovren and Skrtel when the side have the ball.
On top of this, Alberto Moreno came on late in the game against Bournemouth and looked like the best left-winger in Europe. That'll do.