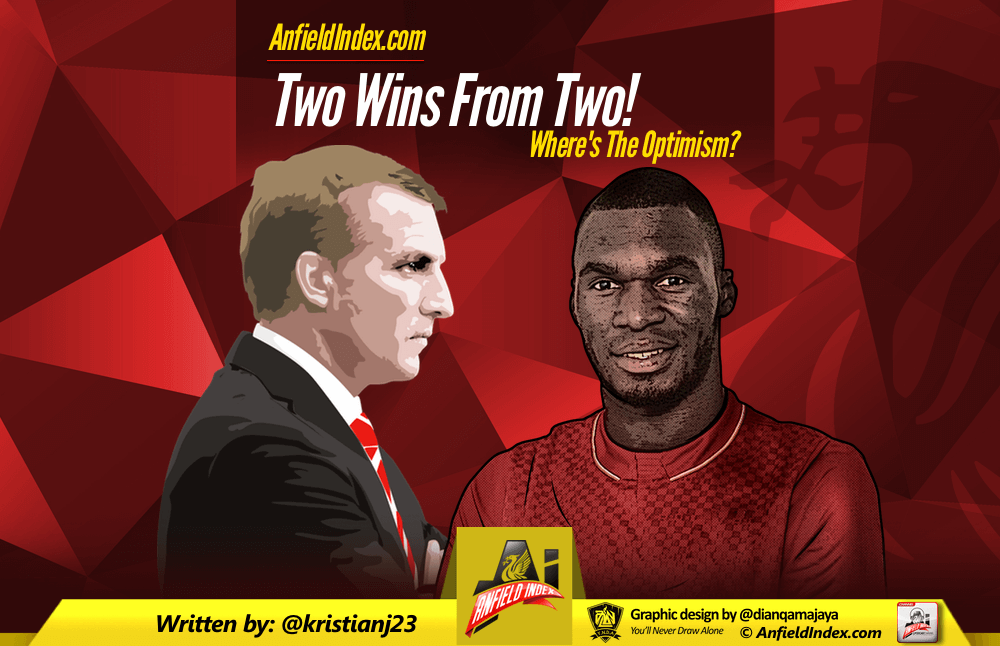 Two Wins From Two – Where's The Optimism?
We're two games into the 2015-16 Premier League season and Liverpool have a 100% record, keeping two clean sheets in the process, yet there are still plenty who are intent on grumbling about something or other.
"Crap that, wasn't it," I overheard one Liverpool fan say as they left Anfield on Monday night. There were quite a few others muttering similar opinions. Others even had the temerity to ring radio phone-ins and demand the manager be sacked. Don't even get me started on the 'Rodgers Out' brigade on Twitter.
Two games. Two wins. It's not been pretty, but cheer up a little chaps.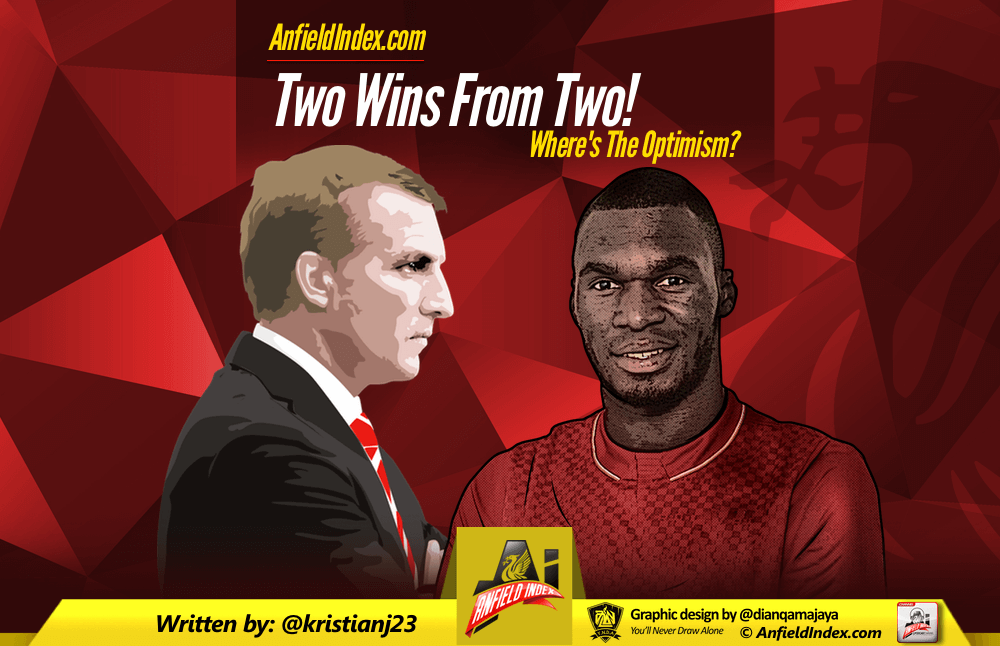 Manchester United have done exactly the same and only mustered three shots on target across 180 minutes against Spurs and Aston Villa, but many people are talking about how it's a sign of a good team picking up points while playing poorly. Why can't the same be said of Liverpool?
Arsenal, meanwhile, were very, very Arsenal and lost 2-0 at home to a side with a 16-year-old lad running the game from central midfield, while Chelsea are 16th. 16th! But then again, it's all the team doctor's fault.
In fact, the only two sides to have had an unequivocally successful start in terms of points and performances are Manchester City and Leicester City. Man City have Sergio Aguero, so that instantly means they have a ridiculously unfair advantage over anyone else in the league, and as much as we all like cuddly old Claudio Ranieri, Leicester are bound to fall away at some point.
Even so, the Reds are level on points with City, United and the mighty Leicester and have managed to win their opening two games in a storm of tricky circumstances. Instead of being negative, why don't we look on the bright side?
We've picked up two wins from two matches with our best player, Philippe Coutinho, being unfit. Roberto Firmino has hardly kicked a ball so far. Just imagine when he's up and running.
There has hardly been a mention of Daniel Sturridge yet either. That's the Sturridge who scored 21 league goals in 2013-14. The Sturridge who scored more goals (36) in his first 50 Liverpool appearances than Luis Suarez, Fernando Torres or Robbie Fowler could manage. The Sturridge who has scored 40 Liverpool goals in just 55 games.
Brendan's lads showed bags full of character (yes, I went there…) by beating Stoke City 1-0 while four new faces were blooded at the Britannia and the group (and again, sorry) were resolute in seeing out the final 40 minutes of the win over Bournemouth after the captain limped off injured.
Even though we've seen two rather gritty displays, there have been a number of reassuring performances. Nathaniel Clyne looks like a proper right-back and Joe Gomez performed the minor miracle of stopping Jon Walters scoring against Liverpool, which he has always seemed to do in years gone by.
Whisper it quietly, but even Dejan Lovren has been decent. No frills, no jaw-dropping defensive masterclasses, but solid. That'll do nicely Dejan, more of the same please.
And then there's Christian Benteke. Many are yet to be convinced by him, but he kept up his impressive Premier League strike-rate of a goal every two games in the victory over Bournemouth. More broadly speaking, his all-round game on Monday was befitting a proper centre-forward. He won the game for us while having a seven-out-of-ten performance.
Yet even now, more than 12 months on, any talk surrounding Liverpool is never too far from a reference to that season when we scored loads of goals, were really exciting and nearly won the league.
"Yeah we won, but we weren't 4-0 up inside 20 minutes like we were against Arsenal."
Believe it or not, Liverpool weren't amazing from start to finish in 2013-14. The first two games of that season bore a number of similarities to what we've seen in the last couple of weeks.
A moment of magic at the death to help us beat Stoke on the opening day. That time it came from Simon Mignolet's penalty save. Two weeks ago, we were celebrating Coutinho's winner in a similar fashion.
A hard-fought 1-0 victory in the second game, courtesy of our centre-forward. Then it was Sturridge, on Monday Benteke.
The subsequent game was a draw against a top-four rival in Man Utd. The current Reds side face Arsenal next.
We may not go on to be as brilliant as we were then and we haven't set the world alight in our opening two games this season, but there's plenty of reason to be optimistic. Why don't you give it a try? It's a good laugh, y'know.