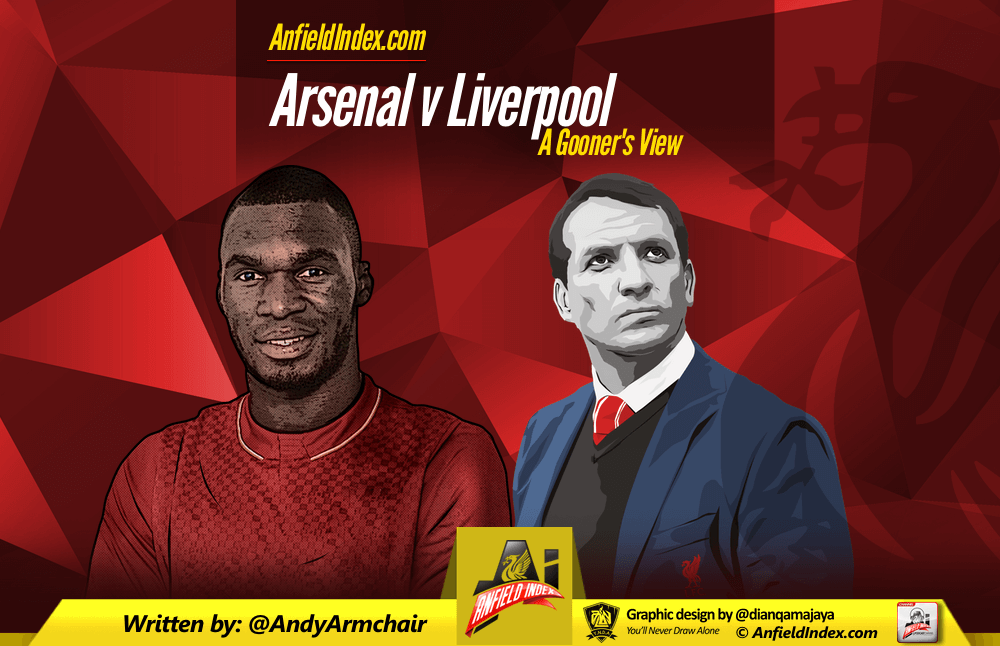 Arsenal v Liverpool: a Gooner's view
As a prelude to the upcoming Arsenal v Liverpool match at The Emirates on August 24, I thought I'd try and give us Reds fans a slightly different perspective on what is a big game for both clubs by speaking to Arsenal fan, Stephen Lewis. I've known Steve for around ten years and can not only vouch for his knowledge and understanding of the game, but also his fairness in assessing players, teams and matches. So, we sat down for a discussion and I asked him for some of his thoughts.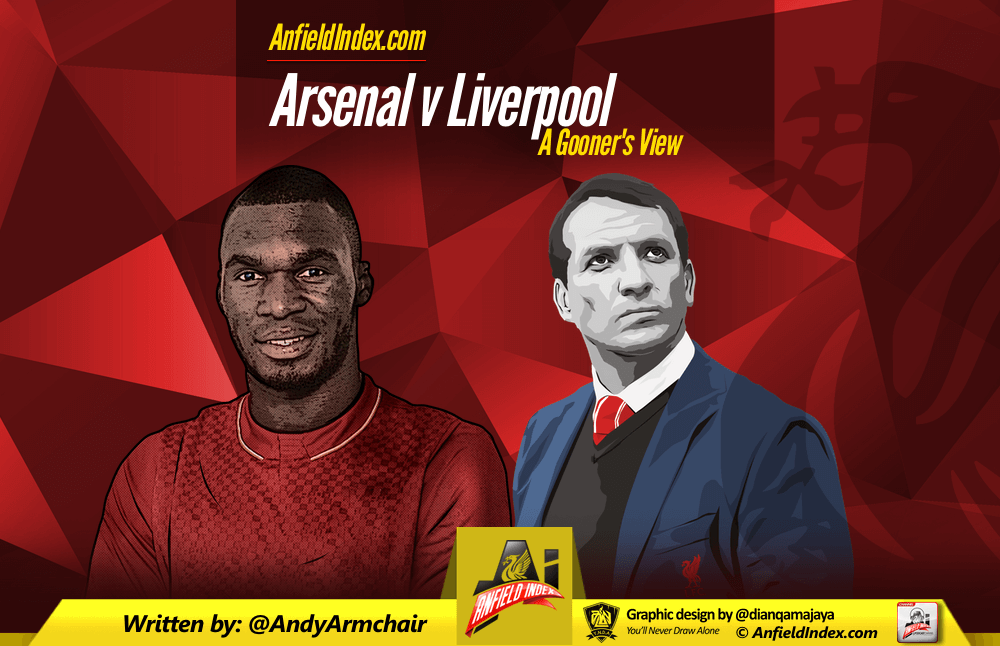 What do you think Arsenal's transfer business so far this window?

"Happy, at the minute, though hoping that it's not concluded. Very pleased at getting Petr Cech (despite the clangers against West Ham), but ideally would like the remaining spine of the team improving. However, I'd be content if centre-backs stay as they are, but we need a defensive midfielder so that we're not too reliant on Francis Coquelin. We could also do with a quality alternative to Olivier Giroud…Karim Benzema would do nicely!"
What do you think Liverpool's transfer business this summer?
"I think in Nathaniel Clyne, you've brought in a good, solid right-back for a very reasonable fee. Milner's a good player and a good signing – one that I'd have been happy for Arsenal to get. Christian Benteke should do quite well and probably get around 15 to 20 Premier League goals, though I do understand the reservations many Liverpool fans had with his style of play and whether he'd be suited. Having said that, when Daniel Sturridge is fit, I'm not sure how they'll work as a pair or both be kept happy if one is left on the bench. In all honesty, I can't really comment on Roberto Firmino as I haven't seen enough of him, although I am genuinely excited to see how he'll do in the Premier League. From what I've seen so far, Joe Gomez looks a fine investment and Danny Ings should be as well."
Are you feeling confident ahead of the game against Liverpool?
"I feel confident Arsenal will win the game, although it's only fair to point out that I felt extremely confident ahead of the West Ham game and look what happened then. Initially, I felt tentative about facing Liverpool, but after watching the Bournemouth game, you looked a bit toothless in attack and your midfield balance doesn't look right; especially as you seem to be trying to accommodate Adam Lallana. Whilst you might look after Giroud ok, I think we'll win the midfield battle and Santi Cazorla will have the most influence by being able to dictate the pace of the game."
Do you feel the midfield battle will hold the key to this game?
"Yes. That and potentially the options to change a game from the bench are in Arsenal's favour with people like Theo Walcott and Alex Oxlade-Chamberlain. Judging by Liverpool's first two games this season, I feel there will be gaps in your midfield that Alexis Sanchez, Aaron Ramsey and Mesut Özil can exploit; especially if Jordan Henderson is missing. I expect Cazorla to have the most touches of any player on the pitch and it'll be his role to orchestrate the attacks with his incisive passing."
What about the threat of Benteke?
"Hopefully, the Aston Villa 2015 FA Cup Final Benteke turns up and not the Benteke of the opening day of the 2013/14 season. His strength and aerial ability are an obvious threat to us, but I can see him cutting an isolated figure up front because of the temptation of going long too often and how I see the midfield battle going."
Finally then, what's your score prediction?
"If I had to put my money where my mouth is, I'd say 2-0 to Arsenal. But you'll probably go and beat us 3-0 now!"
So there you have it; the views of the upcoming Arsenal game through the eyes of a Gooner. It's always interesting to get an opposition fan's thoughts and opinions, to add perspective, if nothing else. Certainly, it can be a curious insight of how rival fans see our team – our strengths and weaknesses, as well as if any of their ideas on our current set up match our own. I'd like to thank Steve for his time and hopefully we can turn his score prediction around.