Six points in six, Liverpool stand near the top of the table two fixtures into the new season. Admittedly, the level of competition has ranged from mid-table to newly-promoted for the Reds. The narrative of the campaign so far, however, is top teams struggling against weaker opposition. Arsenal can, of course, count themselves among that group, having a mediocre 1-0-1 start to 2015. Skating past Palace after a 2-0 defeat to the Hammers is much less than a stellar start. It's early days, but Arsenal don't look any closer to sorting themselves out than Liverpool scoring two goals in a match.
Episode Two of the Liverpool's Ridiculous Away Schedule Show commences Monday.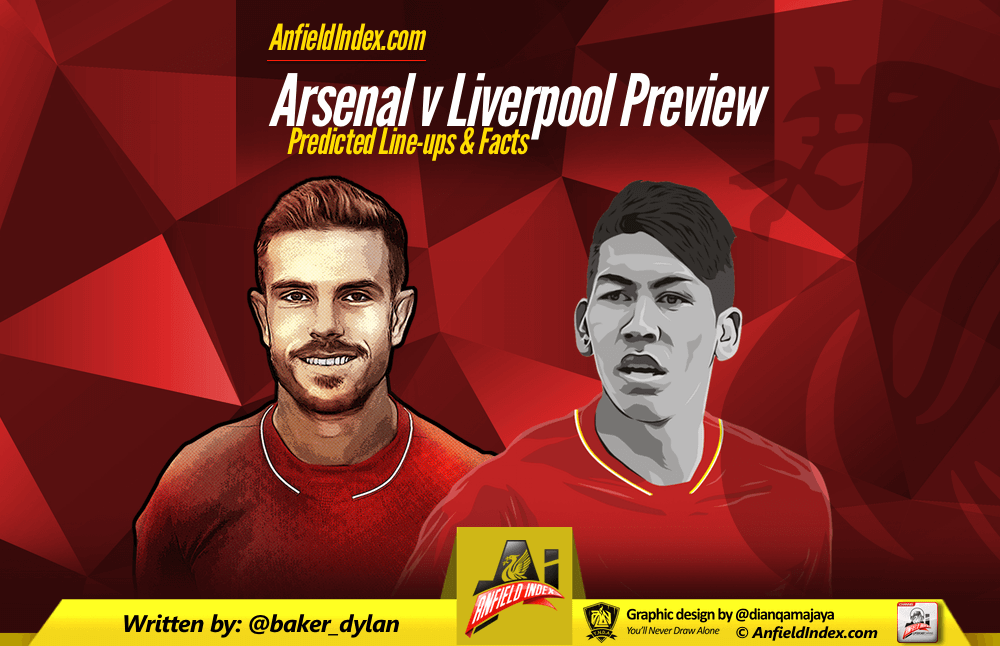 Where Things Stand
Liverpool still have some issues to get sorted out, but so far all looks well. Or, at least, most things look well: two clean sheets and two wins is hard to scoff at. But for the first time since 2013, the Reds are led on the frontline by a target man: one Christian Benteke. The only player in the midfield that's used to playing with a big centre forward is Adam Lallana, who's surely hoping for a better start to the 2015/16 campaign than last year.
There's clearly a disconnect between the attacking midfield and the big Belgian up front, but that's not stopped the Reds from picking up two wins in their first two outings this year. A gritty victory against Stoke City and a shaky one at home to AFC Bournemouth (a match which I did not preview; for all four consistent readers, sincerest apologies) have been the showcase performances this season. The lack of goals is a trend spilling over from last season. Liverpool will have to start putting in better performances in front of goal to continue winning this season.
But that indictment isn't an indication of overall play. Encouraging performances by new captain Jordan Henderson and new signing James Milner have brightened up the deep midfield play. Emre Can in a deep-lying midfield role has been overwhelmingly refreshing, since he actually protects the back line. Dejan Lovren hasn't been tragic (almost, almost impressive, which is both a surprise and a delight). Simon Mignolet has kept up his 2015 form rather than the performances from the first half of 2014/15. And don't get me started on Joe Gomez: full-back solidarity from the left with Clyne more comfortable going forward on the right is a sight Liverpool fans have been waiting years to see.
Arsenal, on the other hand, aren't looking as clean-cut as last year's late title contenders. Conceding three goals in their first two matches against West Ham and Crystal Palace isn't anything to write home about. Petr Cech is still shaking off the rust of Chelsea's bench while the attacking movement is good right up until the part where the ball goes in the net. Though the electric Hector Bellerin came back from injury against Palace, there's been little spark going forward.
Now, some will say, "Hey Dylan, Arsenal won their last match with two goals scored!" And that's fair, really. But anyone who wants to follow that statement with "…and we looked really convincing doing it!" hasn't been watching the matches since the Community Shield victory against Chelsea. Without question, there's been improvement in the Gunners' side since gameweek one, but some key factors will have to fall into place before the Liverpool match on Monday if Arsenal want to relish all three points.
The fitness of Alexis Sanchez is absolutely key. If he can play an hour on Monday, then there should be some real fear struck into the Reds. The Chilean, coming off an impressive home-country cup victory during the Copa America, is simply continuing his form from last season. A staple in the Arsenal side all year, Liverpool fans surely felt the pain of missing out on that transfer.
But even if the attack is fluid once again, the defence will have to improve. There's no question that Cech is an incredible goalkeeper, but he'll need to regain his form before Arsenal have a fighting chance. The goals against West Ham were almost entirely on the Czech man. If he's playing behind the big German Per Mertesacker, who has lost a step on top of his historical lack of pace, and Laurent Koscielny, who's been dying for a quicker partner, then Cech will have to be in top form.
Talking Point: Centre Forwards
Benteke has his first goal, and in front of the home crowd as well. But the very reasonable argument that it should have been disallowed, which was confirmed by the league this week, means that some improvement from the Belgian is necessary to take away all the points on Monday. The pressure doesn't fall entirely on Benteke, of course: the midfield behind him needs to play to his strengths. And the striker has shown that he's willing to provide movement behind the opposing back line that's more attuned to Coutinho's play style. With the size of Arsenal's Mertesacker, he'll have to beat the German international with his surprising pace while simultaneously trying to overpower Koscielny. Whichever battle he predominantly chooses to fight, he'll have to win it in order for Liverpool to see victory.
For Arsenal's centre forward battle, Olivier Giroud will have to keep the pressure off himself as much as possible. Though that meaty French forehead (thanks Arlo White) has seen plenty of goals, Liverpool are slowly gaining back their pressing game that won such fortuitous results in 2013/14. Giroud has a great flick-on pass in his locker, but with a midfield that mainly looks to create he'll have to press forward more in this fixture. With the exception of Alexis Sanchez, the midfield comprises of creators Mesut Ozil and Santi Cazorla while Aaron Ramsey roams and Francis Coquelin defends. More incisive movement from Giroud will help win this match for Arsenal, but each year the Frenchmen looks more and more like a pass-oriented centre forward. Though effective, he may find trouble with that method against an apparently-invigorated Liverpool defence.
Predicted Line-ups
Arsenal
There shouldn't be much change in the Arsenal line-up on Monday. Wenger will rightly place his trust in new veteran goalkeeper Cech, but consistent performance like his first two weeks at the Emirates will earn him a bench spot soon. The Czech must improve in this match. In front of him will be the the ever-present Mertesacker and Koscielny, with Nacho Monreal and the rejuvenated Bellerin at full-back.
Coquelin should return as the holding midfielder, as he has consistently been for Wenger since spring-time. Ramsey will most likely be the other deep midfielder to free Cazorla up to create in the midfield. Walcott will sit on the bench while Giroud takes up the striking mantle, at least in the beginning. Liverpool will need to be aware of his pace coming into the match in the second half. Alexis and Ozil will likely retain their wide roles, interchanging as they see fit.
Liverpool
I fear Brendan Rodgers won't learn from his mistakes with injured players this week. Henderson is doubtful, but "doubtful" usually means "match fit" for Rodgers. Henderson will likely retain his starting spot with the injured Allen still unable to take the pitch. The only way he doesn't make it into the first XI is if the manager starts Lucas as a holding midfielder and slots Can into a more forward role. Instead, the midfield will likely be the same as it has, with Can holding and Milner and Henderson interchanging as the match progresses.
Mignolet is, of course, in goal. Rodgers won't break the success of the Lovren-Gomez tandem on the left, and Clyne should continue playing right-back in front of Martin Skrtel. The attack is the only area that's likely to see a major change. As previously mentioned, Benteke has the ability to take advantage of both Mertesacker and Koscielny in different ways. Coutinho is a no-brainer, and I expect Firmino to get his first full debut for the Reds against Arsenal.
Baker Forecast
There's little chance this match ends with a win to either club. Neither side has enough attacking prowess this early in the season to secure victory, and neither has a back line that's solid enough to prevent at least a goal. Calling a 1-1 draw for this big match early in the season. With Sanchez still regaining fitness, Cazorla will score for the Gunners first. Coutinho will most likely bail the Reds out once again with a stunner from 20 yards to equalise late in the match.
The "Super Andy Wales" Fun Fact Section
From March 1994 to August 2000, Liverpool never lost a match against the Gunners, home and away (11-3-0)
Liverpool have also never lost to Arsenal in the Champions League, winning their only matchup in the 2008 quarter-finals against the Gunners 5-3 on aggregate.
Nicholas Anelka (ARS 1999-2000, LIV 2001), Jermaine Pennant (ARS 1999-2005, LIV 2005-2009), Yossi Benayoun (LIV 2007-2010, ARS 2011-2012), and Kolo Toure (ARS 2002-2009, LIV 2013-Present) are some of the most recent players to have played for both Arsenal and Liverpool.
If Liverpool make a title challenge this season and win it, Kolo Toure will be the first Premier League player to have won three league titles with three different teams (Arsenal 2003/04, Manchester City 2009/10).
Some of the largest margins of victory in Liverpool-Arsenal history (8-0, 6-0) have been won by Arsenal during the 1930s.
(Courtesy LFCOnline.com and BleacherReport.com)