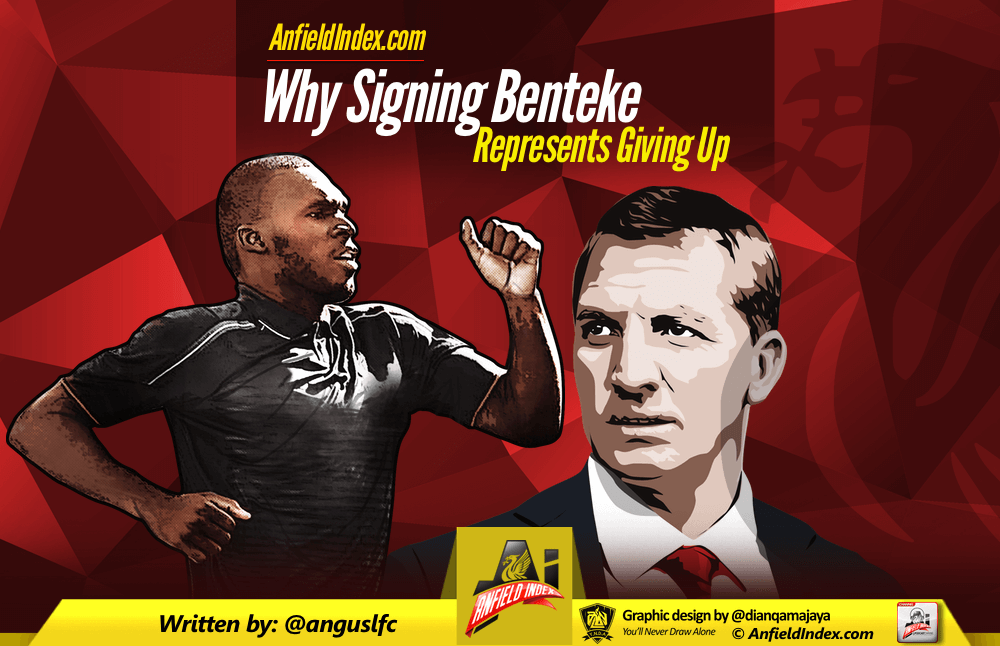 Why Signing Benteke Represents Giving Up
When it was first confirmed that Liverpool's interest in Christian Benteke was not going to waver, the news was mostly met wih despair from Liverpool fans. He represented everything that they didn't want from a new signing. A target man from a lower league team with an expensive buyout clause that everyone knew would eventually be triggered.
Though inevitably after the player signed and his first (non-competitive) appearance approached, the fans warmed to the idea. It's the same optimism that made Liverpool fans think Andy Carroll would be a success at the club, and more recently Rickie Lambert. When he scored that stunning volley against Swindon the transformation was complete, he will be a success after all.
An opinion that isn't baseless. Benteke did come with a certain pedigree. 43 goals in 98 Premier League appearances is the definition of Premier League "proven". He was a full international too for Belgium – a strong side.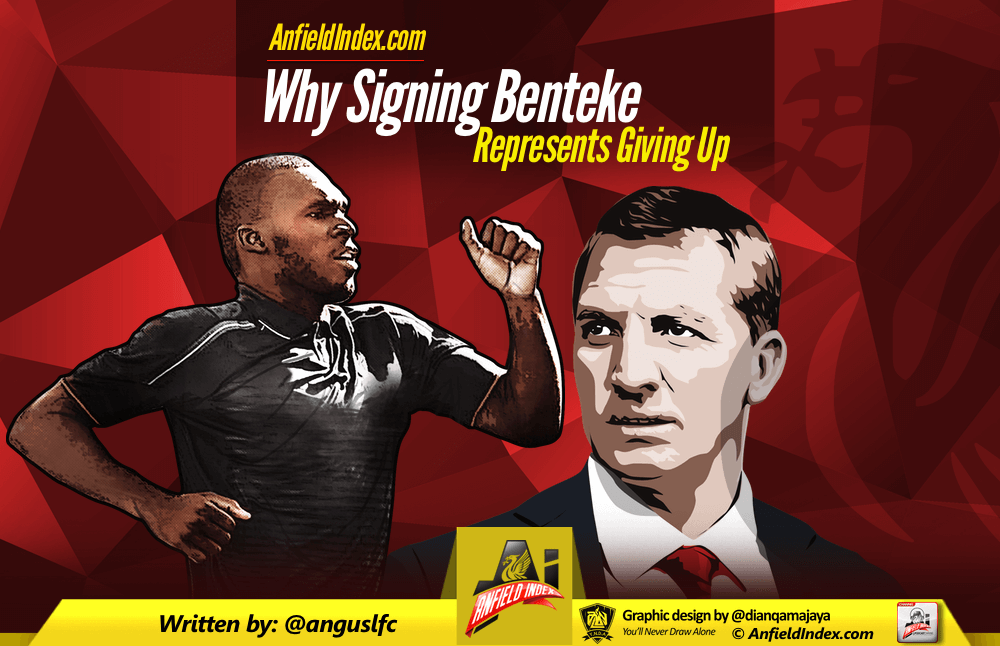 Benteke Success Irrelevant
However the ultimate success of the 24 year old is somewhat irrelevant. His signing represents more than just plugging a gap in the Liverpool squad. Identified as the number one target from the beginning of the window, this was Brendan Rodgers' choice and not a transfer committee signing. What this, and the early season games show us, is that Rodgers is moving on from an ideal of play that he has tried so desperately to implement in his first 3 seasons at Anfield.
Flash-back to the 2nd of Febuary 2014 and Liverpool are at the beginning of what would become a (near) title charge. One-nil up away to West Brom, Kolo Toure receives the ball under pressure. He turns, plays a blind pass and gifts a one-on-one opportunity to Victor Anichebe, which he duly slots away.
In the post match interview Rodgers refused to place blame on his defender. "I will never criticise any player, especially a defender who has the courage and the bravery to accept and receive the ball". He possessed a back five of Mignolet, Skrtel, Toure, Flanagan and Cissoko, who all lack technical and passing ability but he regimentally stuck to a short passing style of play. Some would say admirably, others foolishly.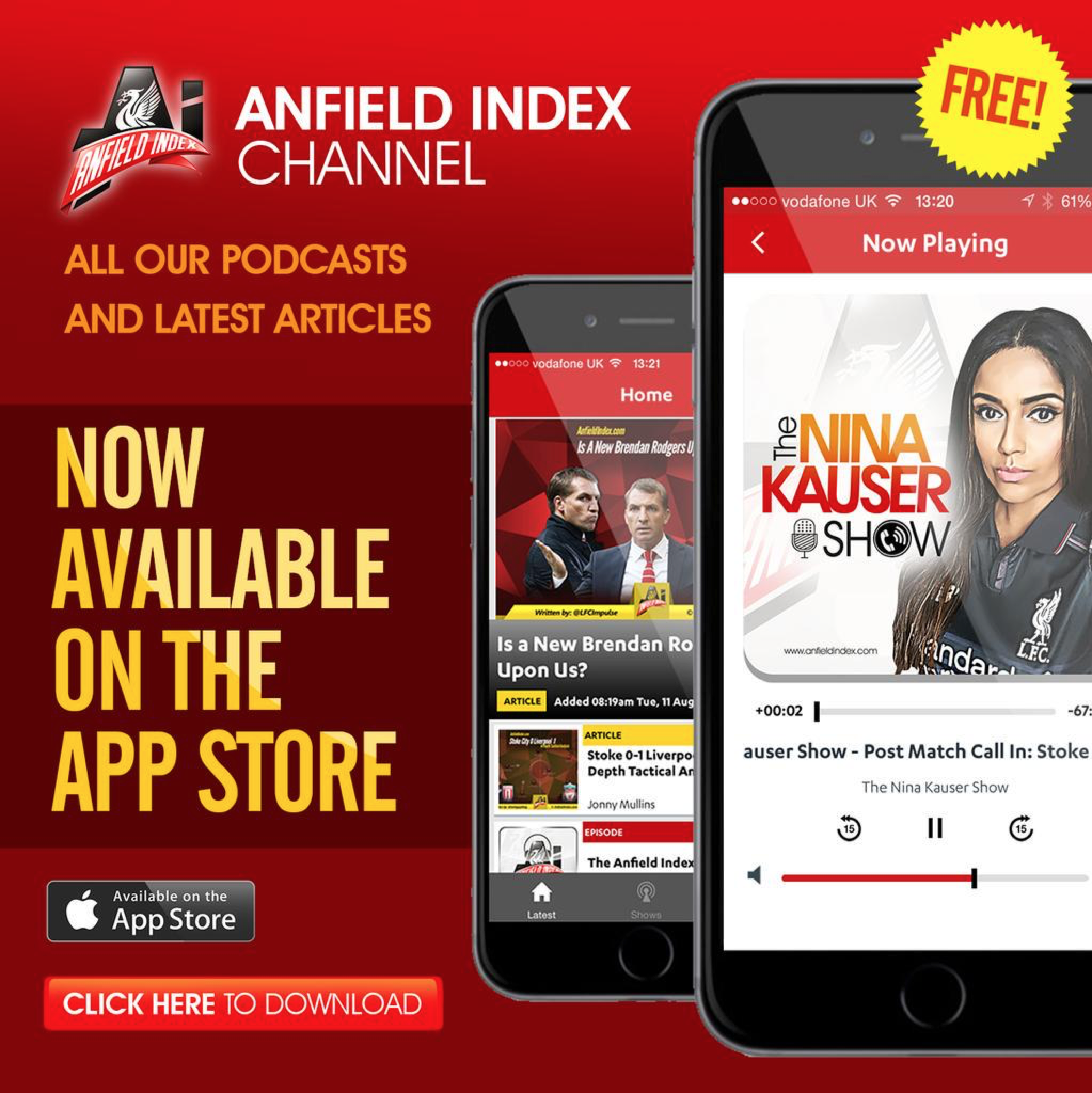 Change In Play
If you contrast the passing style of Mignolet from that game in 2013 to the opening fixture of the 2025/16 season you can see there has been a deliberate change. Against West Brom Mignolet played 5 balls that crossed the half way line. The distribution predominantly (and successfully) was directed at Liverpool's right-back Jon Flanagan as well as a number of short passes to the centre-backs Skrtel and Toure. The passing success rate from Mignolet in that game was 59%.
However against Stoke we see that 10 passes are made that cross the halfway line. There is only one ball played to a full-back and the passing success rate from Mignolet is just 41%.
This briefly shows the change in the style of play that Benteke has brought with him since his move from Aston Villa in early August. The outlet that he provides due to his aerial ability is often utilised.
There could be a fair suggestion that the change in distribution is as much to do with Mignolet as Benteke, given his poor distribution qualities. These were optimised on Boxing Day 2014 where he regained his place after an injury to Brad Jones (now playing for Bradford in League 1). Mignolet took so long on the ball on one occasion he allowed it to cross the touchline and gift Burnley a corner.
Despite a remarkable turn in form in the New Year the assumption was that Liverpool would sign a GK that would be able to genuinely challenge for the number one spot. Instead Liverpool fans got Adam Bogdan.
It will be a disappointment to many that Liverpool seem to have given up on finding a genuine sweeper keeper. An addition that can at times make 10 outfield players 11. Not even raising their heads at the possibility of signing Victor Valdes who was recently a free agent, speaks volumes.
And the move away from a short passing play extends to the centre-backs. After long deliberation Martin Skrtel recently signed a new three-year contract that will keep him at the club until the summer of 2018.
The Slovakian has never been known for his passing ability and distribution from the defence usually has to go through whoever is partnering the Slovakian.
The persistence with a goalkeeper who is not adept at playing a sweeper role and a non-ball playing defender seems to show an uninspiring move away from the ideal of a short, high paced, patient passing game.
To many it will be a matter of opinion which style of play is best, however I would dismiss this suggestion.
Any modern team that has ambitions of being a top-level side looks to play, at the very least, a mixed style of play. The ability to play a way out of danger is essential. Therefore moving towards a more direct style of play is dangerous. There seems to be an admission that Brendan Rodgers doesn't believe that he has the players or capability to turn Liverpool into one of the world's top club sides.
This seems remarkable for a team that only two years ago he led to within three games of the Premier League title. But is Rodgers just being realistic?
Liverpool Lack Financial Power
In this brilliant article from Paul Tomkins he paints a rather bleak picture for Liverpool fans.
To greatly summarise: Liverpool don't have the spending power to properly challenge. Only City, Chelsea and United are able to propel themselves into the "Title Zone" (a total squad value required to win the League). Liverpool never really gets that close.
Given the spending policy of FSG to buy young players with resale value, the hope will be that a team of young talents could blossom and break the mould, however this seems unlikely. Losing a player who was recently shortlisted as a top three player in Europe is one thing, but Raheem Sterling's departure should send some alarm bells ringing. To say that his motive was purely monetary is wrong. The reality is that Manchester City is a team that consistently challenges for the title. They are able to sign a £32m defender (Mangala) and when he doesn't hit the ground running sign a £28.5m replacement a year later (Otamendi). Liverpool simply can't do that.
The reasonable conclusion is that the Liverpool team will never have enough players coming to the peak of their powers at any one time to achieve any great success.
Time to give up?
So, what is the end game? Should Liverpool fans call it a day and instead channel their interest into the Great British Bake Off?
Of course not. There are still positive signs for sure. Despite entering talks at the end of last season where many Liverpool fans thought Rodgers could be fired his position at the club has only seemed to have been strengthened. A number of the coaching staff have been dismissed on his instruction and replaced with his own choices.
Furthermore Rodgers has controversially favoured signings that he authorised himself over those made by the transfer committee. The starkest example is persisting with the much-maligned Dejan Lovren ahead of top performer Mamadou Sakho. Recently Tony Barrett of The Times revealed the full list of signings.
It goes a long way to explaining the exclusion of further squad members Alberto Moreno and Lazar Markovic, the latter a £20m signing who now struggles to make the bench.
What this shows is that it is still very much possible that Brendan Rodgers has a vision intact which he will be allowed to continue.
Furthermore signings such as the £32m on Benteke and £29m on Roberto Firmino show that ambition remains.
Still, it could be said that Rodgers is playing his own players (those that he trusts) in desperation for results, and keeping his job, rather than as part of any long-term ethos. Additionally the big money singings being brought in are largely just recycling transfer fees received. Liverpool's net spend this season is only £23.46m.
So where do Liverpool go from here?
The aim now must be to qualify for the Champions League consistently. A huge chance to do this has already been missed given that last season Liverpool allowed a very average Manchester United side to finish 4th . United can absorb the loss of one season out of the Champions League, but two years out of Europe's top competition would have been interesting. Since then United have missed out on many transfer targets but still have strengthened, particularly in midfield with the arrival of Morgan Schneiderlin and Bastian Schweinsteiger and most now favour United to finish above Liverpool.
Last season's calamity has seemed to adjust the short-term goals of the club. A fear that trying to play the football that propelled Liverpool to the top of the league could cause another equally disastrous year as the one that followed. The dream of consistently challenging for the title is gone, and Liverpool will again simply be aiming for Champions League qualification, the target for Rodgers when he took charge of the club.
In many ways it's back to square one.