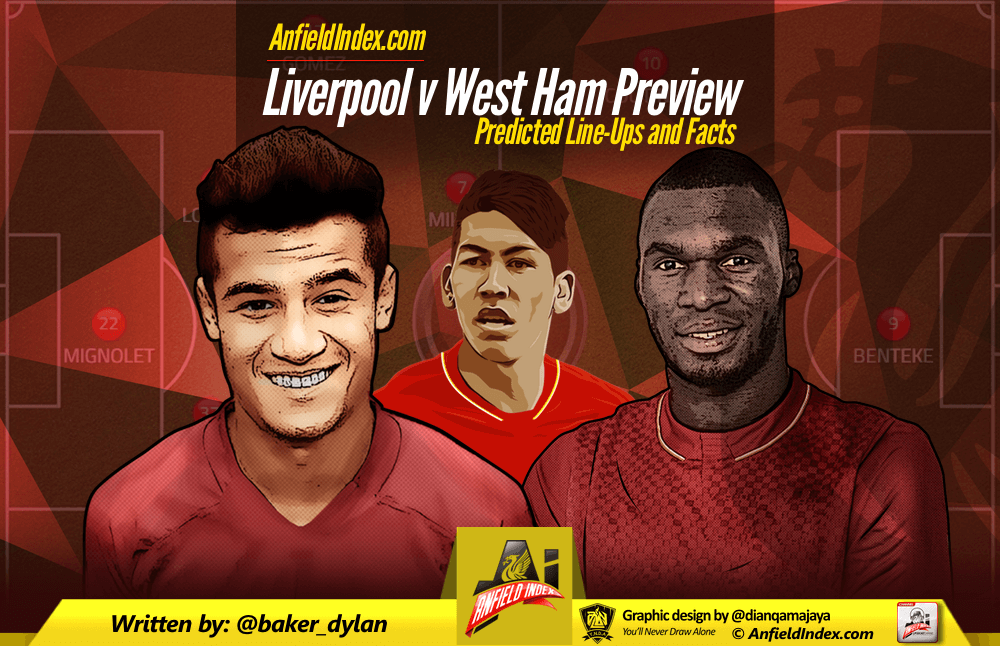 Liverpool v West Ham Preview | Predicted Line-Ups and Facts
Seven not-so-pretty points in Liverpool's first three matches is a promising start.  The new signings are starting to gel with the rest of the team.  Six new faces in the first XI and a new formation have created a different atmosphere at the beginning of this season, and the train of success doesn't seem to be slowing down.  After a stunning opening-day victory against Arsenal, West Ham have lost their luster.  Since the first fixture, the Hammers have conceded six goals and don't look like they're close to stopping the bleeding.  A big turnaround will be required by new manager Slaven Bilic if he wants to see his London-based club win back their early form.  Brendan Rodgers, on the other hand, will use the Monday night draw against Arsenal as further proof that change is not yet required.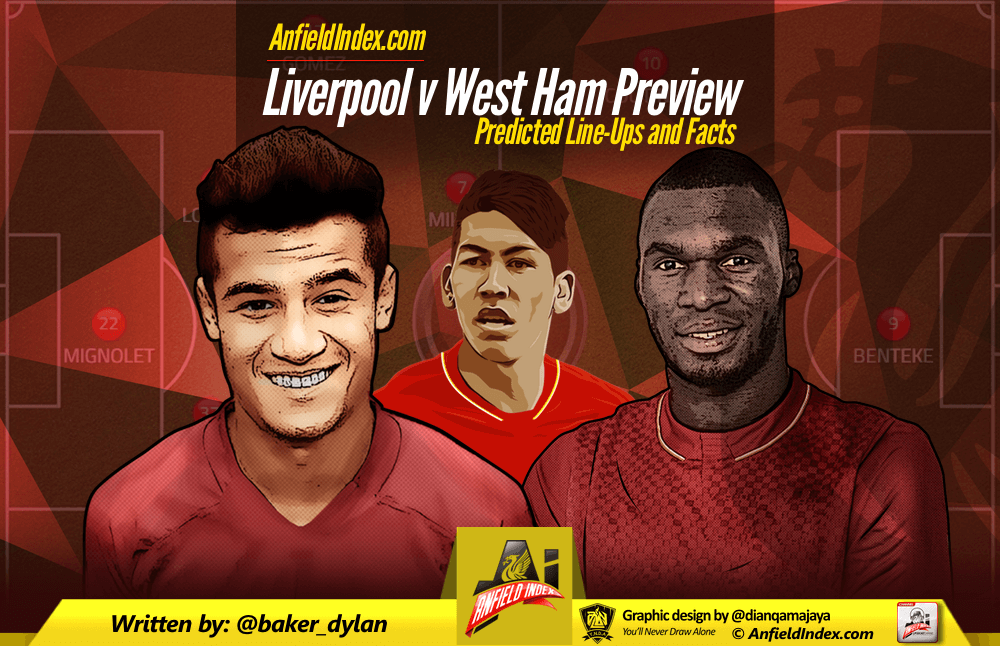 Where Things Stand
While there's room to improve on Merseyside, Liverpool fans must feel much more comfortable at the moment than they did last year.  Though not perfect, there's solidity in the defence that hasn't been seen for a few seasons.  Joe Gomez has proved for the third week running that his presence on the left side is a revelation.  A mobile centre-back playing at left-back has given the previously troublesome Dejan Lovren a crutch to support himself with.  Rodgers seems more and more convinced that Lovren is the player to have going forward.  If that remains true, then Gomez's performance must remain top-notch.  As he settles into each match more comfortably than the last, the likelihood of his career continuing is strong.

The same can be said for the attack, in terms of comfort between the players.  New boy Roberto Firmino was given his first start in a Liverpool jersey, and performed admirably before being subbed off at the hour mark.  Though some of his choices have been poor, big Christian Benteke has looked willing to mix his style of play to suit the likes of Firmino and Phillipe Coutinho as well.  The biggest worry going into the new campaign was whether the midfield was prepared to play with a true centre forward like Benteke.  Instead, the Belgian and the midfield players seem to have met in the middle.
The players aren't the only ones to impress, however.  While still moving some of Liverpool's key players out of position (Coutinho, Firmino, Can on occasion), manager Brendan Rodgers has found a system that has helped start the season much more positively.  By playing two engines in midfield (typically James Milner and Jordan Henderson), the ball can be played forward quickly to the attacking midfielders that look to create immediately.  The balance at full-back has been very relieving, as new signing Nathaniel Clyne bombs on while Gomez rarely ranges forward.  Benteke provides a centre piece around which the entire midfield can revolve.  All in all, Rodgers has a well-polished tactical plan; something Liverpool fans have always wanted.
West Ham have been getting good performances out of their new attacking players.  So long as Kevin Nolan has been off the pitch, new manager Slaven Bilic has been able to play a similar 4-3-3 system to what Liverpool have established.  Though new signing Dmitri Payet drops deeper into space than forward Mauro Zarate, keeping the Hammers' best players forward has been crucial to their goal-scoring efforts.  While Liverpool have only netted twice, West Ham have popped off six goals in their first three fixtures.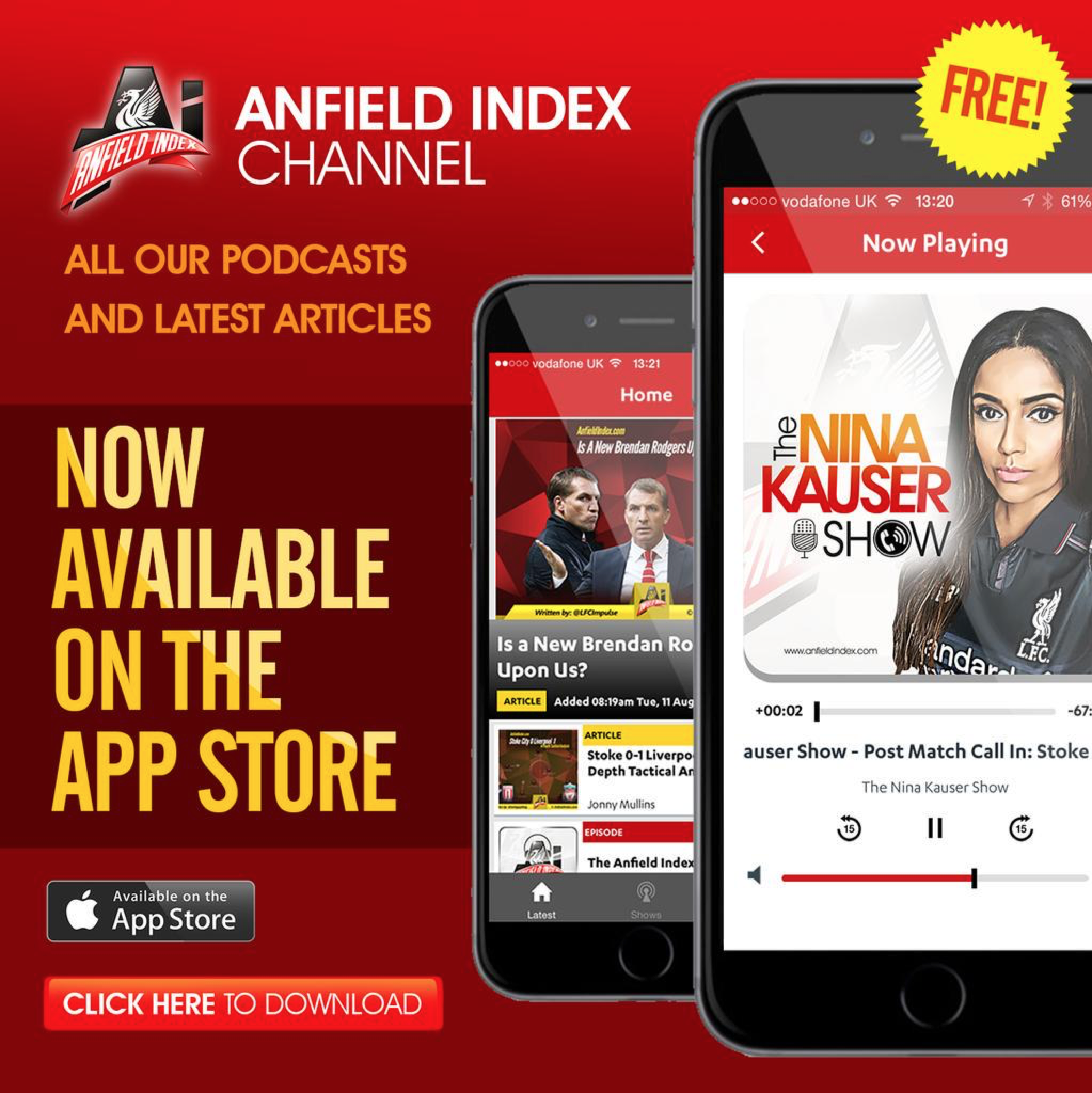 The creativity of Payet coupled with the deadly striking ability of Diafra Sakho has been pleasant to watch, but the goals have come from everywhere.  Lead scorer Cheickou Kouyate has transitioned back into central midfield now that the squad's defenders are all healthy.  Though Sakho has yet to find the back of the net in the league, he's scored twice in the UEFA qualifiers.  Instead, Zarate, Payet, Mark Noble, and since-transferred Modibo Maiga have pitched in the league scoring tallies.
Though those numbers would usually mean a good start to the season, West Ham's defence desperately needs to get sorted out before Saturday if there's any hope for points against Liverpool.  Though the Arsenal opener saw the Hammers keep a clean sheet, they've allowed more than they've scored since then.  Dropping 1-2 to a surprisingly tidy Leicester City and granting AFC Bournemouth their first Premier League victory ever are not good omens on the outset of the weekend.  While Winston Reid, Carl Jenkinson, and Aaron Cresswell remain after the end of last season, new centre-back Angelo Ogbonna has slotted in a little uncomfortably.  Include Jenkinson's complete lack of form in the 2015 season, and the back line is in need of assistance.
Talking Point: The Table
Both sides here will be taking interest in their league table positions before kick-off on Saturday.  For Liverpool, who are steadily maintaining a third place spot, maintenance of form will be crucial.  After the debacle that was the beginning of last season, the Reds need to keep up their good start for several reasons.  Fans are looking forward to a resurgent season after the transfer window.  The squad is already showing signs of confidence, but it needs to be built upon even more.  Brendan Rodgers literally can't afford failure right now.
West Ham, on the other hand, will look at how they began last season and begin to wonder where they're screwing up right now.  Holders of a Champions League spot at Christmas, the Hammers find themselves in eleventh place on the outset of the weekend.  Bilic, who is renowned for his own brutal play style as a former defender, will need to inspire a lacklustre back line before there will be any more success for him in England.  Otherwise, eleventh might be the highest West Ham achieve this season.
Predicted Line-Ups
Liverpool
As previously mentioned, there should be little change in the squad from last week.  Henderson is still nursing his foot after being pulled off in the second week and might miss another match.  Though young Jordan Rossiter impressed when he came on as a substitution, Lucas Leiva might be getting another start before he's shipped off to Besiktas.  Can will continue to play forward with Milner, especially after the two worked well together against Arsenal.
The back line is unchanged since the opening day: Skrtel and Lovren centre-backs, Gomez and Clyne full-backs.  Gomez needs to maintain his form on the left, especially since Payet likes to switch to that side on occasion.  Firmino gets another start, and hopefully a full 90 depending on his fitness level.  Coutinho and Benteke remain as well.
The midfield for West Ham should see some revamping after the injury of several forwards.  With Andy Carroll and Enner Valencia unavailable since the summer and Mauro Zarate joining that list this week, Bilic will need to reorganise a little.  A 4-3-2-1 similar to what was used against Bournemouth will probably be employed again.  Sakho will remain up top.  The forward desperately needs to find the back of the net, but that might be questionable after a niggling injury nearly kept him out until after the international break.  Payet and Mark Noble will slot behind him, looking to run past on occasion.
Since Kevin Nolan's contract was terminated by mutual consent earlier in the week, a central midfield three of Reece Oxford, Kouyate, and new signing Pedro Obiang will look to protect the back line.  Coupled with the fact that the Hammers come to Anfield this weekend, and Bilic will know that a strong defensive setup will be required if there's any hope for consolation.  Kouyate will only range forward and probe when in possession while Oxford and Obiang will drop deeper to cover counterattacks.
The back line, which needs to be figured out, only shows one change as well.  Tompkins will replace Jenkinson this match after a howler against Bournemouth.  The final result: a red card for the young right-back.  Reid and Ogbonna will remain partners and attempt to build their partnership.  Cresswell takes the left while Adrian finds his way back to the first XI.
Baker Forecast
What's the only thing Liverpool fans have been waiting for this year?  We've seen clean sheets, we've seen goals, and we've seen good performances against top competition.  All that's left is the first big win of the year.  Since the West Ham defence has been run ragged so far this season, Liverpool have a prime opportunity to reach into the sack and pull out some goals.  The finishing has been subpar so far, but this should be the match that turns that around.  Coupled with the grudges surely held by the Reds against the Hammers from last season, and this fixture could be messy for the Londoners.  3-1 to the Reds in this one, right in front of the Anfield crowd.
The "Super Andy Wales" Fun Fact Section
Liverpool have only lost to West Ham United three times at home in the history of either club (1928, 1954, 1963)
On the whole, Liverpool have won more matches away to West Ham (22-15-21)
The prized possessions of the Liverpool squad were sold to West Ham in recent years (Andy Carroll, Stewart Downing).
On the other hand, club legend Javier Mascherano was purchased by Liverpool from West Ham in the 2008 summer transfer window.
Club legend Steven Gerrard, recently departed for the LA Galaxy, made his 700

th

 appearance against West Ham last season on 31st January, 2015.
At Anfield, the Reds are unbeaten against West Ham in the last 41 fixtures, with 30 won and 11 drawn.  In that span, they've conceded just 16 goals.
(Courtesy LFCOnline.com and ESPNFC.com)