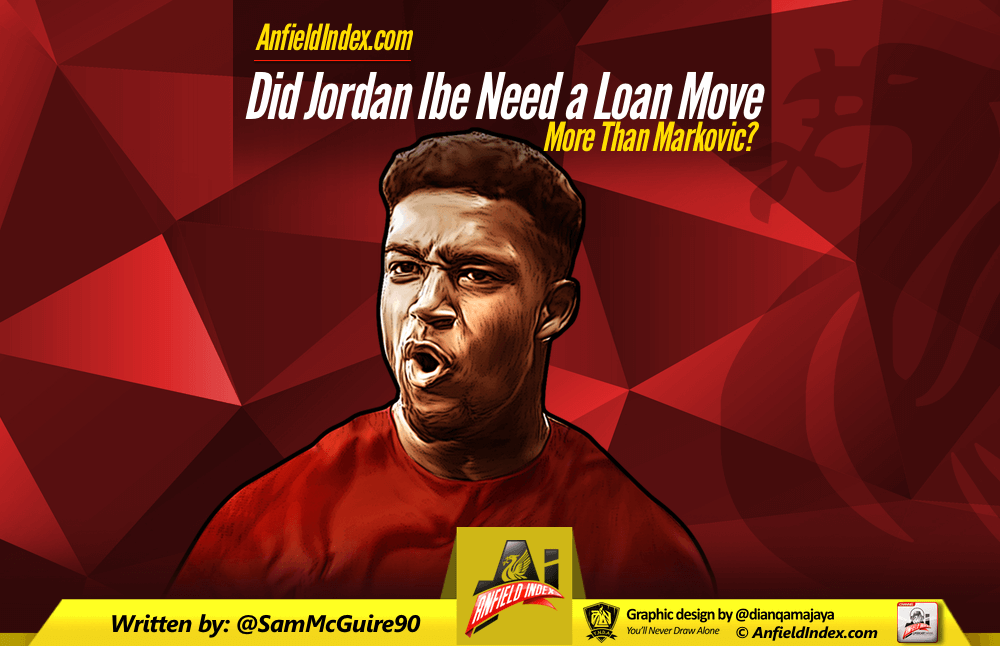 Did Jordon Ibe Need a Loan Move More Than Markovic?

Realism and fantasy are often blurred when casting judgement over a player that plays for your club. In a quixotic world Jordon Ibe would be a starter, he'd be single handedly winning games and we as fans would be laughing at the fact Manchester City paid £49 million for an inferior player. In the realistic world though that isn't the case. Raheem Sterling seems to be at home on the Manchester City left whereas Jordon Ibe lost his starting place to Roberto Firmino in the 0-0 draw against Arsenal.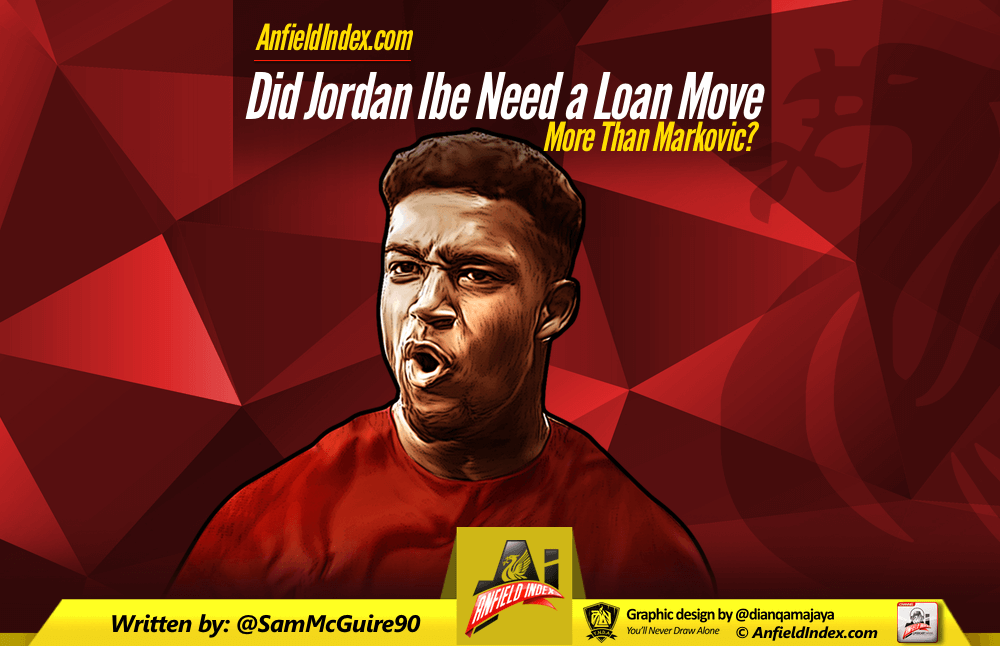 This isn't a knock on Jordon Ibe either. There's no shame in missing out because a Brazilian international is selected ahead of you. He's talented, no doubting that, but the unrealistic expectations placed on his young shoulders may hinder his progress. Liverpool fans want to be right about  Jordon Ibe, you just have to look at the overreaction when Ibe scored that left footed pile driver in pre season.
I held a few reservations over selling Raheem Sterling in the summer but I was assured by the many that we had somebody better in our mitts. Jordon Ibe. He was just as good as the now departed Sterling, if not better by all accounts.
"Sterling doesn't even have a left foot."
"He must be worth £59 million." and so on.
We as fans needs to adapt our expectations from fantasy to reality.
At Jordon Ibe's current age Raheem Sterling had played for Liverpool for well over a season and was integral in our push for the title. That sort of experience can't really be replicated without the player experiencing it themselves. So Raheem Sterling is already 18 months ahead with his development yet fans expect Jordon Ibe to catch up with this overnight?
For players to develop at such a rate they need to be playing weekly regardless of form because a young player will be inconsistent. You just have to persist with them and hope they live up to the expectations and hype placed upon them.
The likes of Cristiano Ronaldo, Wayne Rooney, Eden Hazard, Lionel Messi and Neymar. All of these players were exposed to first team football at a young age and their clubs persisted with them because their talent was obvious. All of those players will have had forgettable matches but it's about the long term, not the short term. Likewise Gareth Bale didn't have the best of starts with Spurs but when he was the same age as Jordon Ibe he played 23 Premier League Games and 38 games in all competitions and eventually Spurs reaped the benefits of persisting with the Welshman.  Can we honestly see Jordon Ibe starting 23 Premier League games this season?
Excluding the latter, all of these players were exceptional talents, Jordon Ibe isn't. Is he good enough to be keeping Adam Lallana, Roberto Firmino and Phillipe Coutinho out of the side? The answer for me is a resounding no. You could also argue whether or not he'd get game time ahead of Danny Ings and Divock Origi. Compare this to Raheem Sterling who at the time of his rise to prominence only had to keep Victor Moses out of the side. So although I said these young players need game time it doesn't have to be with their parent club, they just need to be playing regular football.
We all remember his performance in the derby, that came off the back of the loan to Derby where he'd been playing regularly and played his way into form. That was 6 months in the Championship, I'd be excited to see how he'd return after a season in the Premier League.
That explosive Jordon Ibe tailed off a little bit and in the opening two games of this season he wasn't as influential as he'd have liked to be. Then against Arsenal he had a mere 11 touches and if memory serves me right he lost the ball half of the time. He looks a little shy on confidence and the only way to improve is playing minutes. With Firmino nearing full match fitness, Daniel Sturridge training again and Lallana returning in 2 weeks chances are we change the formation and a midfield spot disappears. Playing cup games isn't enough for Ibe's development and a loan would've been beneficial at this stage.
However the news then broke that Lazar Markovic is on his way to Fenerbache on a season long loan. Many fans seem to think this is a wise move. I'm not of that thought. My feelings on this is we, Liverpool FC, have already spent £20 million on the Serbian International. We've invested a lot of money into him and it's for the long term. His first season wasn't the best and he's already depreciated in value, so keeping him and playing him in cup games or to fill in for injuries isn't going to do his value anymore harm and it gives him the opportunity to play his way into the first team. He's a young player and an adjustment period should have been afforded to him. His value could only really rise if he stayed at Liverpool whereas a loan move doesn't always turn out as expected.
In this scenario Jordon Ibe gets a year playing first team football and Lazar Markovic gets another chance at aiding the Liverpool first team. If he doesn't impress then next season we can sell him after giving him two seasons and Jordon Ibe comes back with even more experience. It's not win-win but it could've worked out for Liverpool.
I can understand why Liverpool have loaned out Markovic and look set to keep Jordon Ibe but I'm feeling a little hesitant about it. This has nothing to do with if you're pro or anti Rodgers, it's just looking at it from a developmental aspect. We only paid £20 million for Markovic after he excelled playing 49 games in one season for Benfica, 32 of which were starts. That's the sort of season Jordon Ibe may need if he's to really make that next step, we were all fortunate enough to witness the impact it had on Sterling's short lived Liverpool career.