Football never fails to surprise me. Only five days ago the Reds put in a monumental team effort against Arsenal to pick up a well deserved point, with many thinking we were unlucky not to come away with more. Today we have been embarrassed at Anfield against a side who hadn't won here in fifty years. The tough outer defensive shell was cracked and our nice, soft middle was on show for the world to see. Whisper this, but maybe Brendan Rodgers' Reds aren't so resilient? Our season is not over despite the overreactions on social media, but it is going to be interesting to see how Liverpool respond away at Old Trafford without Phillipe Coutinho, who was sent off today for two bookable offences.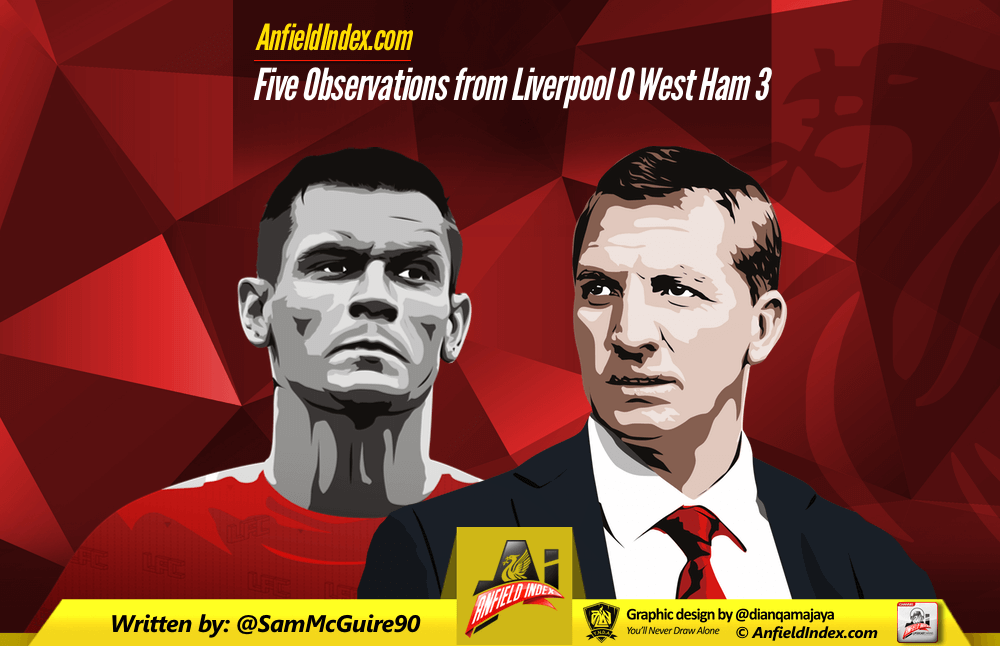 Why are Liverpool lining up against West Ham the same way they did against Arsenal? Two completely different opponents. In one game you are rarely going to see the ball and are expected to dominate space, whilst in the other you are going to have most of the ball and be expected to break into space. A football team isn't a skeleton key. One team doesn't fit all. You use the squad at your disposal to counteract the opposition. You may have needed legs against Arsenal but against West Ham, surely you need creativity? Why not have Lucas on the bench and Coutinho deeper in midfield?
Brendan Rodgers does not trust his defence. I don't care what he says, if you need to play a back three AND two sitting midfielders when you're 2-0 down then you don't trust your defence. I don't mind the back three as a formation but when you are up against one striker in a counter attacking side and you have 70% possession, it's overkill.
Liverpool are impotent. Brendan Rodgers needs to stop ignoring those junk emails and buy some Viagra because the current Liverpool team has nothing upfront whatsoever. We may only be in game four of the season but we have had nothing there since Luis Suarez left despite trying 5/6 strikers with different players in behind. It is the first time we have faced a team that sat deep and it gave me flashbacks to the majority of last season. For all the attacking talent we have on our books there is a disconnect between midfield and attack.
The ghosts of last season have not been exorcised. After last season came to an end, I decided to write a review of the defence (which can be found here). It details how 53% of the time Liverpool conceded two they went on to concede another. They crumbled. I also detailed how keeping a clean sheet does not represent a solid defence, what really matters is how the defence copes when they do concede. Hence the three early clean sheets were a false dawn, judging by today's performance. As Marco Lopes said on Twitter, "unless you're playing one of the top four, how is it acceptable to need 3+ goals to win at home?" Has that not been an issue for Brendan Rodgers ever since he took over at Liverpool; needing goals to beat the inferior sides? Manchester City don't need goals to win.
Dejan Lovren was too confident. He has undone all of his good work from the opening three games against West Ham. Why were his performances acceptable in those games? Simply put he was doing the simple things right and Joe Gomez was playing out of his skin. Against West Ham we saw Gomez have a poor game by his high standards, which is understandable given his inexperience and age. Consistency comes with experience but we also saw Dejan Lovren trying to overcomplicate things. His step-overs and driving into midfield lead to him being disposed and ultimately being out of position on three/four occasions. For West Ham's second goal he decided to do everything in his power to keep the ball in play, even though it resulted in the Hammers easily winning the ball. He had three opportunities to play the ball out of play and failed to do so.