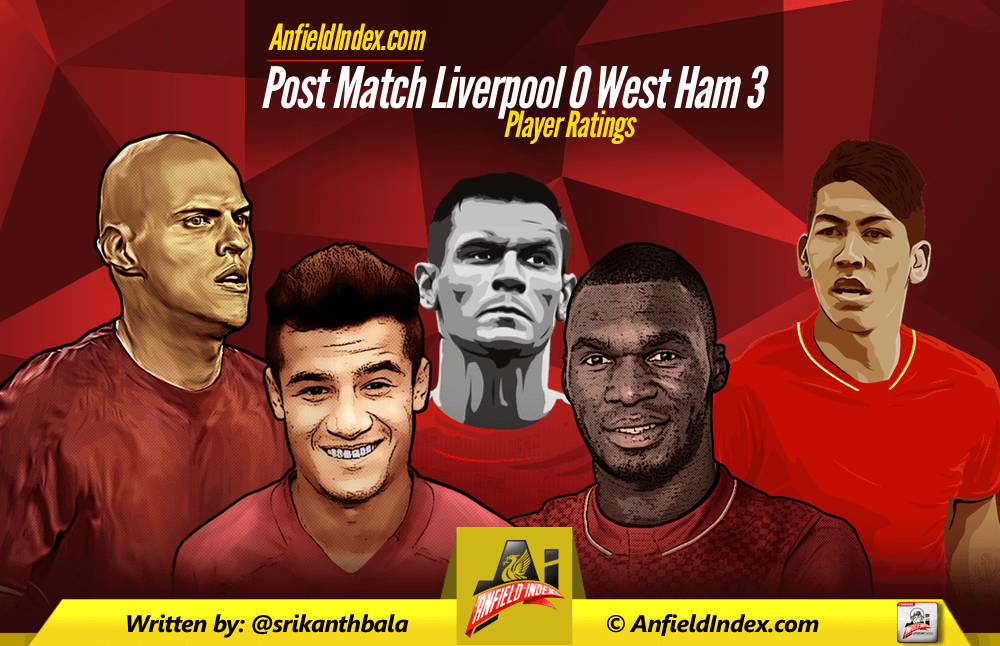 Liverpool 0 - West Ham United 3: Player Ratings
Liverpool suffered a shocking home defeat against West Ham United, their first home loss of the season. Liverpool were severely lacking in all departments of the game and suffered a deserved loss.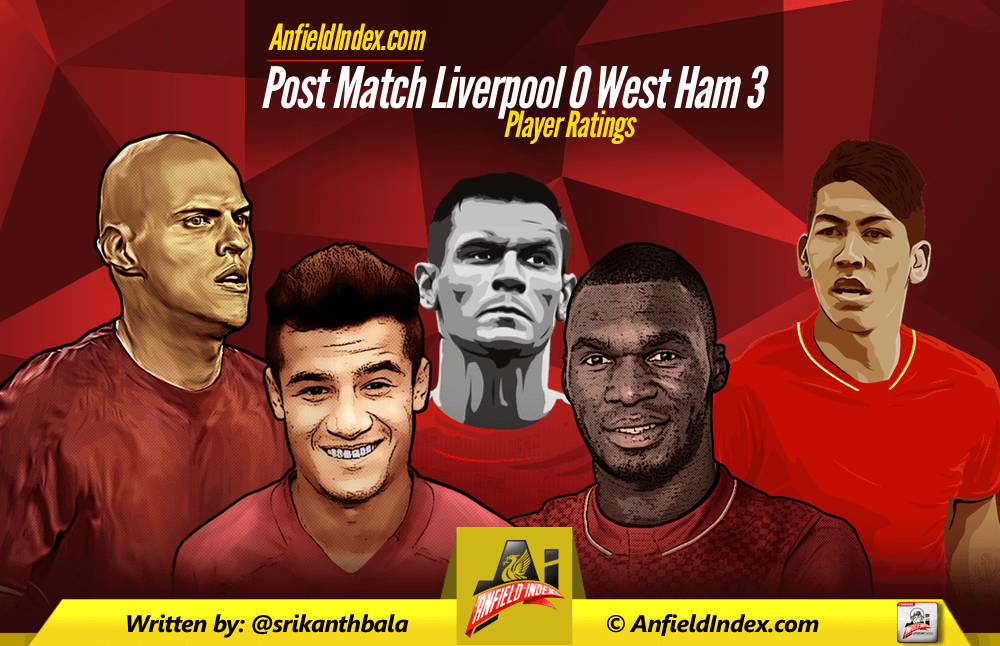 Simon Mignolet – 5  When it comes, it comes by the truckloads. Mignolet conceded his first goals of the season as the defence in front of him collapsed into smithereens. Mignolet could not be faulted for any of the goals though.

Nathaniel Clyne – 5.5 One the shining lights in the dysfunctional defensive performance. Was always available as an outlet in the attacking phase. Always tracked back to cover his position in defense. Basically, fulfilled his job duties when not many players could claim that tonight.
Martin Skrtel – 4.5 Clearly his worst performance amongst the 4 games. His defensive organization was awry, his poor clearance led to the opening goal and exhibited his frustrating traits of dropping back, rather than closing down on his man far too often. A night to forget
Dejan Lovren – 4 Lovren looks to have boarded a time machine and gone back to 2014/15 season as the performance in this game was riddled with mistakes. Was directly responsible for the second goal and was often caught out of position, leaving other players to cover up his fallacies. Shame that this game might just wipe out all the accumulated goodwill.
Joe Gomez (77′) – 4.5 Joe Gomez proved tonight he was indeed a young kid learning the trades of the game rather than the 'Maldini' hype he has been subjected to. As before his attacking contributions were minimal, and his defensive contributions dipped as he was caught out for the opening goal. As a young kid, fluctuations in performances are to be expected.
Lucas Leiva – 5 Lucas Leiva was rarely seen making worthwhile contributions today, compared to his above average performance against Arsenal. Liverpool were constantly overrun during counter attacks, and hence was surprising to see him last the distance.
Emre Can (45′)- 5 – A totally unexpected substitution, as one could argue he could have provided the drive from midfield in the second half. His passing was a bit off the mark though and thus could not influence the game except couple of his surging runs.
James Milner – 5.5 – The Captain on the day put in a shift expected out of him, but sadly that is where it ended. A tireless performance, but goals would be handy from midfield.
Firmino (61′) – 5 – Firmino had a mixed outing on his second start for the club. A thundering effort from his left foot rattling the post was hopefully a sign of things to come. Unfortunately that was tempered by some appalling passing in the final third, especially that pass to Clyne.
Coutinho (Red Card) – 4.5 – A total off day for the magician to prove that he is mortal too. Nothing worked for him, and two debatable silly offences meant an early shower before he joins the Brazil squad.
Benteke – 5 – Tough to rate the Belgian's performance as he was literally scrapping for the morsels. Absolutely isolated during the game with no support from the midfield. This needs urgent attention to prevent another Balotelli like scenario
Substitutions:
Alberto Moreno – 5 – Came into the game in the second half as a wing back, allowing him to make his energetic runs forward. Shame that the red card foiled the plan, but this marked 3 consecutive solid substitute appearances.
Danny Ings – 4.5 – A long awaited debut, with no worthwhile contributions as Liverpool ceased dominating the ball as the second half wore on. Better games await the former Burnley man.
Jordan Ibe – N/A – Played the last 10 minutes, too less a time to affect the game tonight