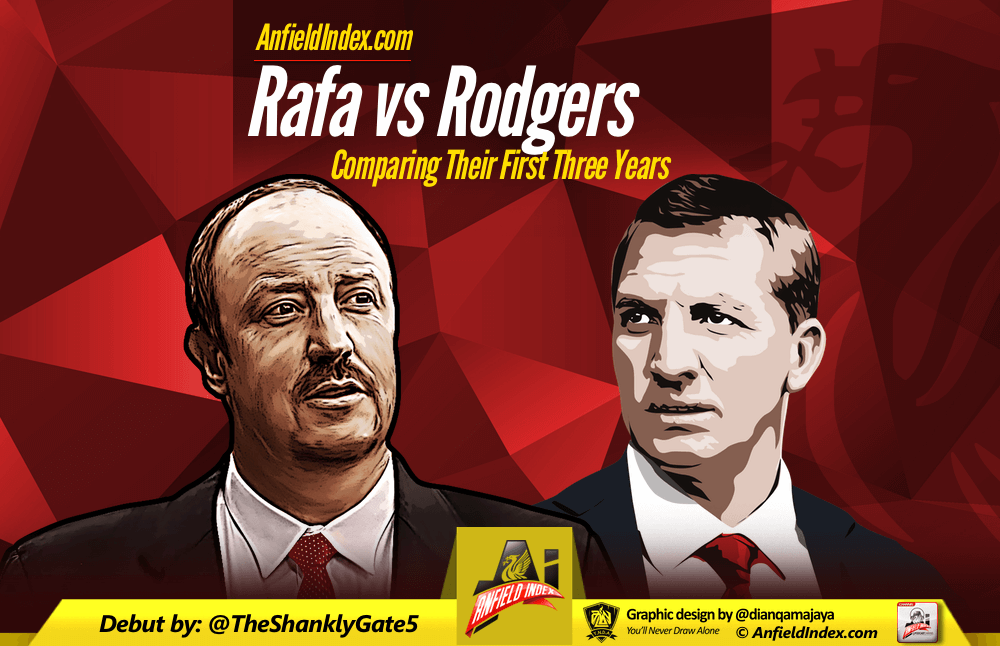 Rafa vs Rodgers - Comparing Their First Three Years
Brendan has just begun his fourth season as manager and his first three years have been full of great expectations with limited success. It is hard to pinpoint exactly how well Rodgers has performed whilst in charge. In three seasons under Rodgers, the Reds have finished in 7th, 2nd and 6th, with two cup semi-finals and two unsuccessful European run-outs. Perhaps if the 2013/14 season ended up differently and Steven Gerrard was seen lifting the Barclays Premier League trophy, we would all sing the praises of our manager. However, some fans continue to question just how secure Rodgers future is in the top job. So with Rodgers being the most consistent presence at the helm since Rafa Benitez, who was loved by the majority of fans, how do the first three years of the two managers' tenure at Anfield compare?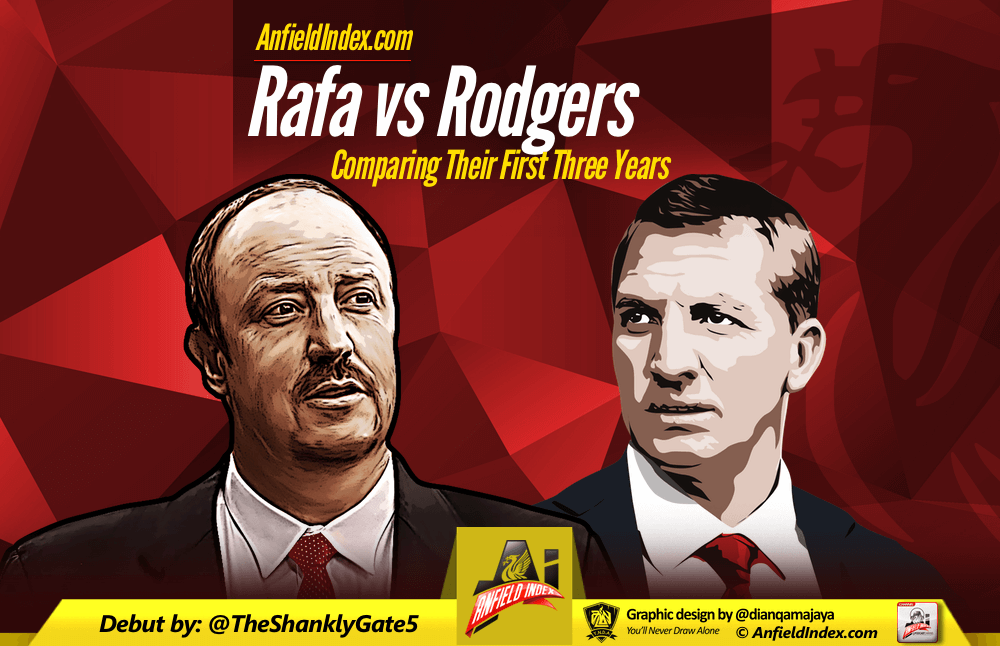 Results and cup success
The obvious way to compare the success of the two managers is to look at where the team finished at the end of the three seasons. In the three seasons between 2004-05 and 2006-07, Rafa led the Reds to a 5th place and two 3rd places. Additionally, the Spaniard secured the Champions League in his debut season, as well as winning the FA Cup and the Community Shield in the following years. Two major cups and two top-4 finishes in his first three seasons makes good reading for Benitez, especially when you consider that due to the Reds' success in the 2004-05 Champions League, they qualified for the competition the following year when finishing outside of the top 4. In the owners and fans' view, Benitez was succeeding and was meeting his targets.

Rodgers on the other hand has been less successful in the cup competitions in his first three years at the club. Two cup semi-finals last season were the best that Liverpool have performed in these competitions under the Ulsterman. In Europe, the Reds have also struggled, being knocked out in the Round of 32 in the 2012/13 season Europa League, and last year's voyage in to the Champions League ending at the group stage despite a favourable draw. Finally, a 6th and 7th place in the Premier League sort of outweigh the positives from the 2013/14 season that almost ended with Liverpool being the league champions. Results wise, Rodgers has struggled compared to Benitez.
However, when you see that Liverpool earned 208 points in the three years under Benitez, at a rate of 1.82 points per game, and Rodgers gained 207 points at a rate of 1.81 points per game, the two managers were almost identical in terms of league results. This shows that other factors have affected the success of the two managers.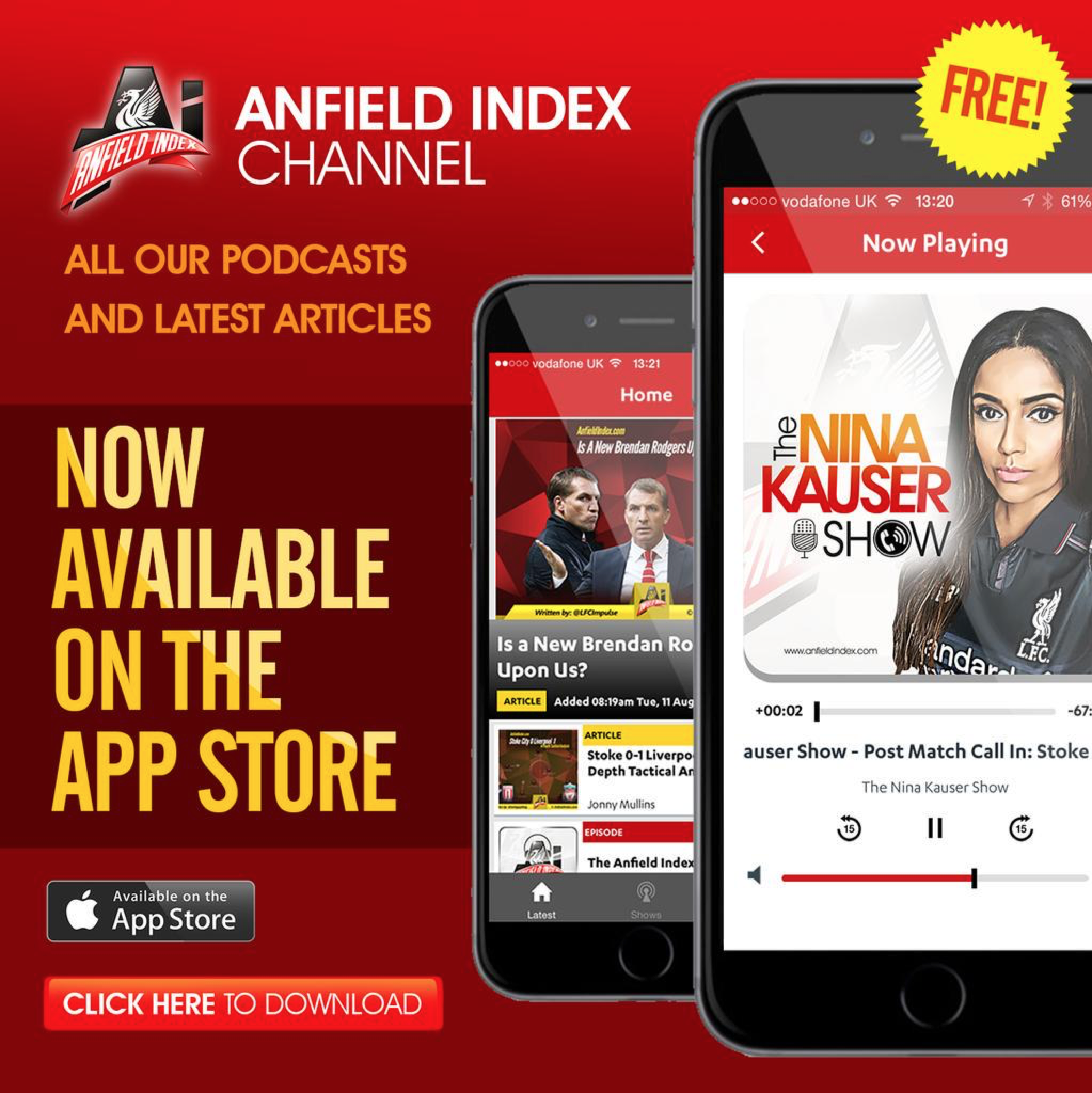 So what are these other factors?
How many points to get in to the top-4?
Over the last 10 years, teams have improved and due to the new TV rights deals the money available to clubs for transfers and other facilities has massively increased. This has led to a wider gap in quality between the top teams in the BPL and the mid-table and relegation teams. It is now harder than ever for a new team to break in to the top 6 and virtually unthinkable that a mid-table team could break in to the top 4.
When Rafael Benitez was in charge, he knew that he had to aim at 60-70 points over the season to ensure a place in the top 4. As you can see below, in the Spaniards first three seasons, the 4th place team had 61, 67, and 68 points respectively. On the other hand, in Rodgers first three seasons the 4th placed team have earned 73, 79, and 70 points respectively. This jump means that for the Reds to get in to the top 4 currently, Rodgers needs to win around 10-12 points more than Rafa had to during his tenure to meet his objectives.
Rafa Benitez                                                        Brendan Rodgers
Everton – 61 (2004/05)                                            Arsenal – 73 (2012/13)
Arsenal – 67 (2005/06)                                            Arsenal – 79 (2013/14)
Arsenal – 68 (2006/07)                                            Man Utd – 70 (2014/15)
A 10 point jump is massive. That's four losses that have got to be changed in to three wins and a draw to make up the deficit. To put that in to context, the points totals that Rodgers has managed in his three seasons would have been enough to qualify for the Champions League in the 2004/05 season. This has to be considered when looking at whether Rafa actually achieved more than Rodgers. To put it in to context, out of the points that Liverpool earned in Benitez' first three seasons, only the 82 points the Reds earned in 2005/06 would have put them in the top 4 in any of the three seasons where Rodgers was in charge.
Squad inherited
Another factor that needs to be considered is the state of the squad that the two managers took over. For Benitez, taking over from Gerard Houllier, he was tasked with a squad with an average age of 25.2 with a number of injury-prone players. With the likes of Sami Hyypia, Jamie Carragher, Steven Gerrard, Jerzy Dudek and John Arne Riise, Benitez had a team with a number of very good players that provided a strong spine to the team. However, Benitez's biggest issue was that Michael Owen, who had a contract that was fast running out, wanted to leave. Losing the top goalscorer for the previous seven seasons will hit any club hard. Furthermore, a lack of quality in depth was an issue for Benitez with Florent Sinama-Pongolle and Anthony Le Tallec, both 19, often playing bench or back-up roles.
The Liverpool team that was left to Rodgers in 2012 consisted of a 26 man squad with an average age of 26.1 years. Although a slightly older average squad age than Benitez, Rodgers was left with several key players who were in to their 30's and moving towards their retirement. Carragher (34), Gerrard (32), and Kuyt (32) had all been key to the Liverpool team in previous years. Despite all three of these players being older, they still were quality, Rodgers just needed to be aware that they would need replacing soon. However, the likes of Luis Suarez, an improving Jordan Henderson and a blossoming Raheem Sterling were all positives that could be drawn from the squad Rodgers inherited.
The squads that the two managers were given were very different and would have contributed to the different success the two had. Arguably, Rafael Benitez was given a squad with a stronger side. A number of key players in their prime helped the manager during his first year at the club. Rodgers was given a squad with a lot of potential in players such as Shelvey, Sterling and Henderson, but there was a lack of established leaders other than Gerrard and Carragher.
Spending power of top 4 rivals
The massive increase in revenue and therefore transfer fees needs to be considered as well when comparing the two. In the time between Benitez leaving the club in 2010 and Rodgers joining in 2012, Chelsea, Manchester City and Liverpool all broke their record transfer fees for Fernando Torres, Sergio Aguero and Andy Carroll respectively. The massive increase in transfer fees has had a massive effect on worldwide football, and this has made Rodgers' job vastly different to Benitez's.
In 2006/07, Benitez's third year in charge, Liverpool's main competitors for the top 4 (Arsenal, Chelsea, United & Spurs) spent a total of £119m; Liverpool spent £23m. On the other hand, in the summer prior to the start of the 2014/15 season, Rodgers' third year in charge, the top 4 spent £256m between them. In the same summer, Liverpool spent £90m.
So there is a clear argument that Liverpool's rivals are spending much more during Rodgers' tenure than when Benitez was in charge. Manchester City's billionaire Abu Dhabi owners are a massive reason for this as other teams are forced to spend big in order to keep up. However, the argument is not that easy as Rodgers has also had a lot more money to spend on improving the team.
What can be said, is that with Manchester City now being a financial powerhouse, and Chelsea, Arsenal and Manchester United also free-spending, the Reds' rivals are strengthening each and every year and it means that it is harder for Brendan Rodgers to compete with them. Despite Rodgers having a lot more money to spend on new transfers than Benitez, Liverpool are still behind their rivals in terms of transfer budgets and wages on offer. This means that the club finishing within the top 4 is arguably a harder job now then it was a decade ago. This makes Rodgers' three league finishes more impressive, however, with Benitez delivering three consecutive seasons in the Champions League and further cup success, Benitez delivered more success to the club. 
Transfers
Overall, during Benitez's first three years at the club he signed 22 first team players for a combined total of approximately £78.5million. After subtracting sales, this equals an average net spend of £14.5million per season.
Rodgers has already spent £290m on 24 players at an average of £35m net spend per season. At over £20m higher net spend per season, Rodgers has spent much more of the owners' money pursuing his targets. However, this again needs to be put in to context as we have previously said, all clubs are spending more now than they were 10 years ago.
Notable transfers
     Rafa Benitez                                                                    Brendan Rodgers
Xabi Alonso – £10.7m                                                        Adam Lallana – £25m
Dirk Kuyt – £9m                                                                 Dejan Lovren – £20m
Luis Garcia – £6m                                                             Mario Balotelli – £16m
Pepe Reina – £6m                                                             Daniel Sturridge – £12m
Daniel Agger – £5.8m                                                        Philippe Coutinho – £8.6m
When you look at the players the two managers have purchased, there are some differences in the transfer policies. Benitez's highest priced signing between 2004-07 was Xabi Alonso at £10.7m. In fact, Alonso was the only player to cost over £10m for Benitez in his first three years. On the other hand, Rodgers had spent over £10m on 11 players prior to June 2015 with Adam Lallana being the most expensive at £25million. This perhaps shows that Rodgers is aiming at recruiting more expensive players who have a lot of potential. The signings of Alberto Moreno, Lazar Markovic and Divock Origi show this. However, disappointingly, only Coutinho, Sturridge, and Emre Can could be seen as excellent signings from Rodgers' tenure with a number of others yet to live up to their potential. With almost £25m wasted on Fabio Borini, Luis Alberto and Iago Aspas, it is fair to say Rodgers has disappointed in the transfer market.
Benitez on the other hand was focused more on purchasing already established players for reasonable prices. The signings of Dirk Kuyt (26) for £9m, Luis Garcia (26) for £6m and Craig Bellamy (27) for £6m also shows this. Additionally, the signings of Xabi Alonso, Pepe Reina, Peter Crouch, Daniel Agger and Alvaro Arbeloa could all be considered as very good signings who improved the team. When compared to the failures of Rodgers' transfers, Benitez shined in his transfer policy and this was a quality that endeared him to fans.
Conclusion
Benitez had a very successful first three years at the club with consecutive Champions League qualifications alongside winning the FA Cup and Champions League. This won him plaudits from fans and the owners were happy with him. Also considering that Benitez was very good in terms of money spent on transfers, the Spaniard was given time to improve results during a tough period in 2008. Eventually, a power struggle between Benitez and the new owners Gillet and Hicks led to the dismissal of the manager.
With there not appearing to be any changes to the owners of the club any time soon, it appears that only Rodgers can decide whether his future could reach the six year mark. FSG have shown that they support the manager with the backing in the transfer market this summer, so signs are good for Rodgers. However, last season was a massive disappointment after the 2nd place in the previous season. Performances were below par and transfers failed which led to blaming Rodgers. An upheaval in backroom staff is a start to improving this, but Liverpool need to have a good season with either cup success or a top-4 finish to ensure that Rodgers will be at the helm next June.
Benitez brought more success to Liverpool FC than Rodgers has so far. The current Real Madrid manager was also the better manager in terms of transfers and made a number of astute signings compared to the small number of successful Rodgers transfers. With this, Rodgers has not yet reached the level that Benitez did. But with some encouraging signings in this summer and the backing of the board, Rodgers could end up delivering similar success to what Rafael Benitez delivered with fans hopeful of future cup and league success. With Benitez achieving a 4th place league finish and two 5th round cup runs in his fourth year in charge, can Rodgers better this?