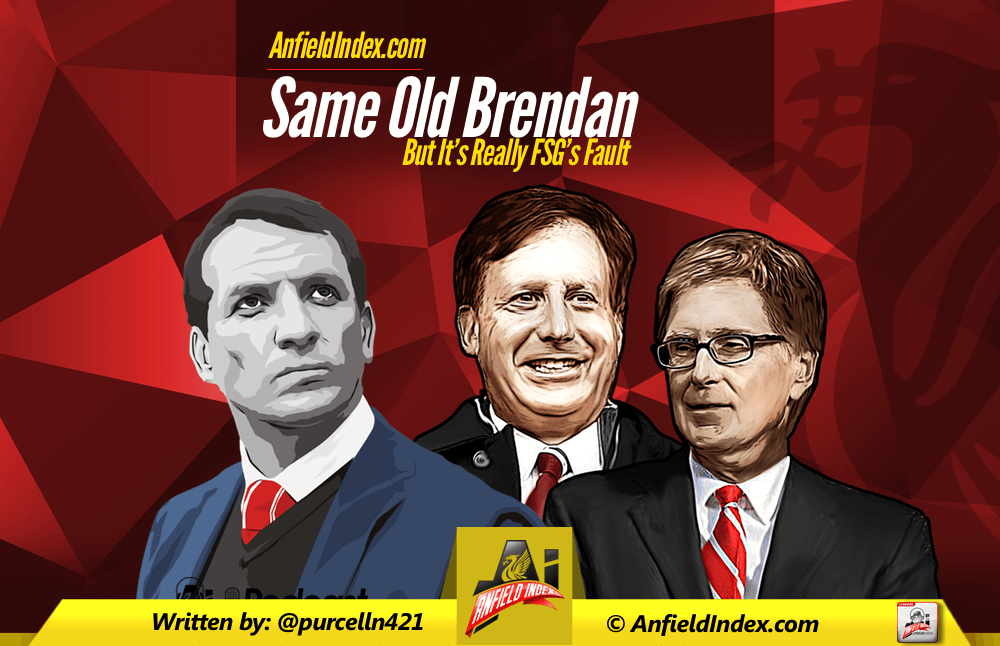 Same Old Brendan, But It's Really FSG's Fault

Before I start let me premise this article by saying I know its only four games into the new season. I accept there are injuries and some new players to fully settle into the squad/club. It's early days and none of the big clubs, bar Manchester City, have had a good start and there's a long way to go in the season.
Now that's out of the way!
I'm all for positivity and confidence. Men who oozed confidence built our great club. Shankly, Paisley, Fagan, Moran, Dalglish to name but a few. Men who knew the club. What it stood for. What the fans stood for. How to play the game in a manner that we all adored while watching players that we were proud to support. There was a pattern, a system, a style and a passion to the football that typified the passion to which we love our club. Every part of the club was pulling in the same direction for the same ultimate goal, winning trophies and dominating domestically and in Europe. We are criticised by others for looking into our history too much, speaking about past triumphs and living in another era. Well this is exactly what we should be doing as a club at the moment.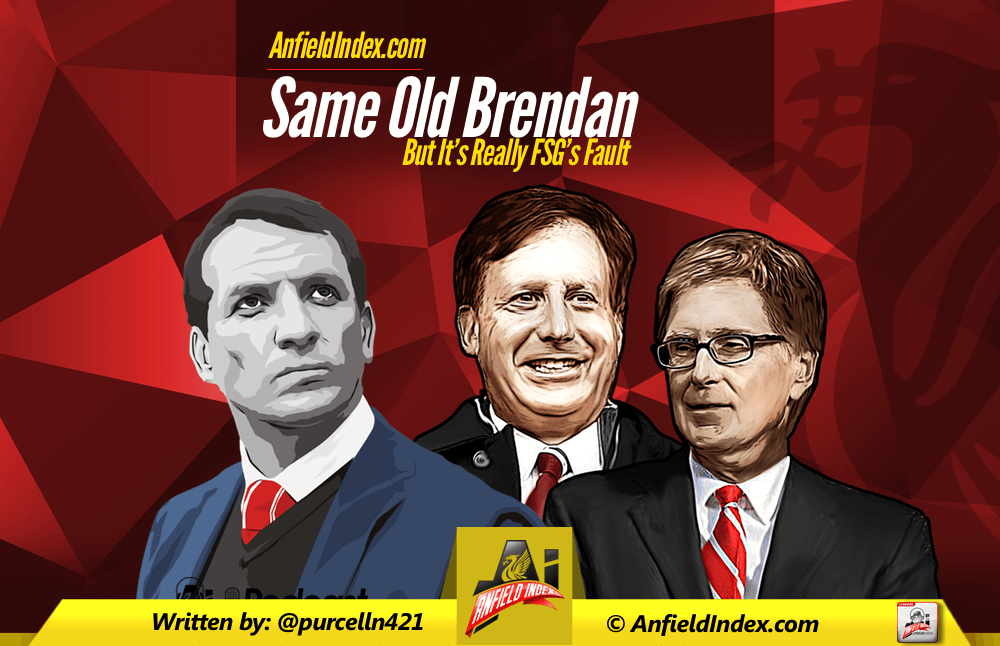 I write this the day after West Ham embarrassed Liverpool at Anfield. Not for the first time the players and coaching staff failed to live up to the hope and expectation spoken about before the game. Grand statements in the media of resurgences in players' form, extra defensive coaching sessions to solve last season's issues and an attacking style that would bring us back to 13/14 when we nearly won the Premier League. What did it all amount to? Nothing. Embarrassment. Yet another terrible performance by team. There was massive disbelief by people on social media as to how this could have happened. The question I ask is why are people so surprised? It's been like this ever since Luis Suarez left and has never been fixed by Brendan Rodgers. A poor system, no style, no pattern and no passion plus a squad with massive gaps after so much money already spent. The same system being used that failed miserably last season with one player upfront isolated without support and service. It would have made little difference if it had been Mario Balotelli up front yesterday instead of Benteke as the outcome was similar. To play at home to West Ham with only one recognised striker and than substitute a midfielder for a left-back at half-time while two goals down sums up the shocking attitude of our manager. Let me say this is not just a criticism of Saturday's game it's been a symptom of our team for over 12 months even after the huge investment in the summer little seems to have changed. Can anyone who has watched Liverpool in the last 12 months honestly say things have changed in a positive way?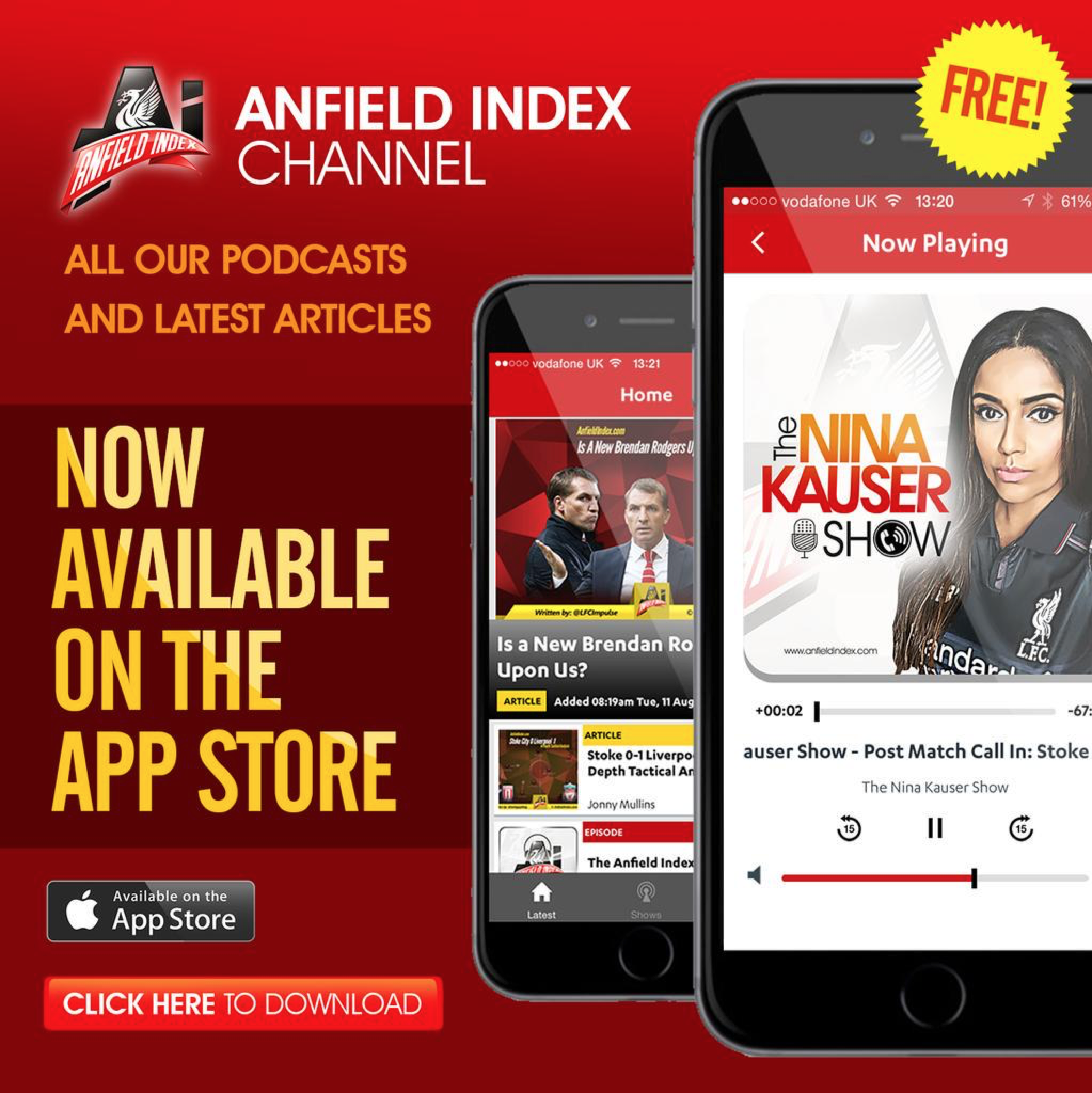 In the summer, as we all know, Brendan was lucky to keep his job. The media was fed information that things would change; Brendan had learned his lesson and things would be different. A new coaching staff would help and put us back on the right track. In fairness to FSG they backed their man with some very big buys and while the jury is still out on most the main issues still remain. A terrible defence in which Brendan still picks our worse defender, a dis-jointed midfield where Lucas was at the point of leaving until Henderson got injured, an attack that looks inept with little sign of a goal scoring threat and the choosing of Brendan's 'favourites' destroys the confidence of others or sends them out on loan. In his interview before the Arsenal game last Monday night Brendan was asked about the inclusion of Lucas in the team in defensive midfield. He answered, "Lucas is the best defensive midfielder at the club". An astonishing statement from a man whose supposed to be a good enough to manage our team. Lucas is a very popular player amongst fans and players but is he really good enough? Really? His legs are gone and he should have been replaced and an upgrade bought a long time ago. Another issue is the freezing out of the so-called committee signings by Brendan. Vast amounts of money spent on players who are cast aside with their confidence destroyed and the picking of Lallana and Lovren. Does this sound familiar? Yes it's the same as last season. Nothing has fundamentally changed. The fan base is even more split and becoming angrier by the day.
I could go on and on and on about Brendan's failings. We all know what they are and I have written extensively about them in previous articles, but in the end the buck stops with FSG. John Henry, Tom Werner and Mike Gordon have allowed this farce to continue with their support for Brendan. I respect they're backing the manager but surely they can see the ego and attitude of the manager hasn't changed and he is still failing to grasp the major issues at our club? Obviously Brendan won't be sacked immediately and will be given more time to address the problems but given the evidence so far it seems he has learned nothing and is still doing the same things. The next few games will tell us everything and will determine the ultimate outcome. I just hope FSG aren't like the other sheep that follow the crowd and don't analyse what's really going on. That's my point about looking back at our history. No more committees buying players the manager refuses to play. No more manager playing games with players careers' and destroying their confidence. No more ego and spoofing in the media by the manager saying all is great. No more failures full stop. A unified fan base behind the club/team. One team. One squad. All pulling in the same direction with the full support of the fans with the one aim. Success. A simplified model for a modern era please gents.