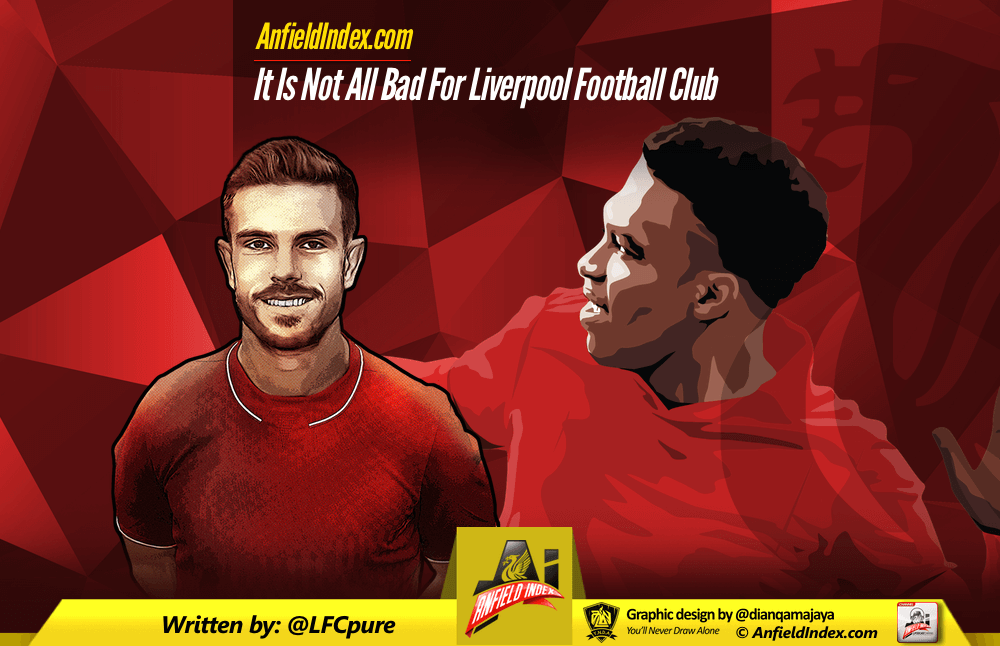 It Is Not All Bad For Liverpool Football Club
Saturday morning, the buzz around Liverpool Football Club was huge; if we were to win vs West Ham United we would be on 10 points from 12 without a single league defeat. The game was seen as a huge opportunity to go into the international break on a massive high. Unfortunately, a poor performance was all that was in store and suddenly Liverpool appeared to be back in a crisis with 'Rodgers Out' trending on Twitter.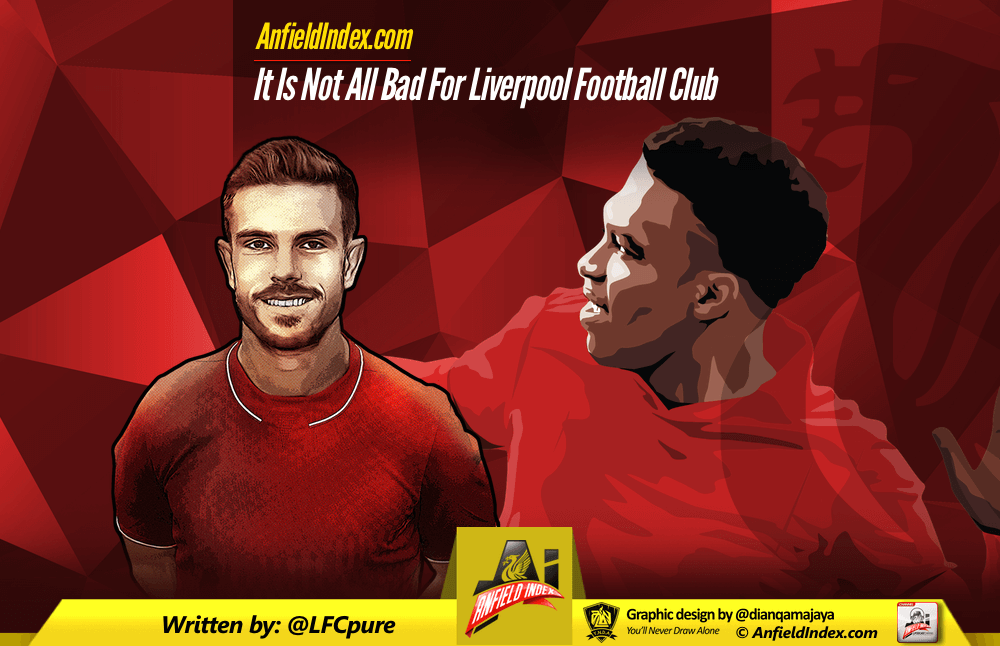 This is not a healthy way to run/support a football club; you can't go week to week, waiting for Rodgers to make a mistake. The buzz around social media was massive and when the team sheet was put out everyone was happy with it. Lovren and Skrtel had been solid in the three games prior, Milner looked like a revelation, Gomez and Emre Can were being massively complimented and within 90 minutes, people were saying it was a shocking team choice, Lovren shouldn't be starting and that we shouldn't have played with a defensive midfielder at home versus West Ham.
Reviewing the first four games, I believe there are a lot more positives to take and be excited about than negatives. But there are some negatives of course, firstly, that result was coming, we had been fortunate against both Bournemouth and Arsenal and benefited from questionable decisions. Overall we have only averaged 3.5 shots on target per game, which for a club of Liverpool's stature and the type of footballing philosophy demanded, is rather disappointing.
As well as this, a further thing of concern is a lack of leadership. During these last two seasons, Liverpool have shown an inability to come back from losing positions. Since the start of the 2014/15 season, Liverpool have picked up five points from losing positions. There is a lack of character there, men that can pick up the pieces and drive the team forward. This is a cause for huge concern and something that really needs to be addressed because although we would all love to lead from start to finish it is not always plausible, and so we need to figure out a way to break teams down that sit and hold.
And of course, the other negative: no Phillipe Coutinho against Manchester United.
Enough of the negatives, away from the performance, interviews and individuals stats, the key stat in the Barclays Premier League is points – 7 points from 12. This may seem a low amount but it is key to put it into the context of: who have we played, what are our ambitions, what is it compared to our main rivals. I will answer my opinion of those three categories.
Firstly, Liverpool have been given a hard start, including two away games vs Arsenal and Stoke, in those games last season our stats were (W-0 D-0 L-2 GF-2 GA- 10 Pts. 0) compare that to this seasons (W-1 D-1 L-0 GF-1 GA-0 Pts.4), although this is only two games, it shows, if nothing else, a more settled and solid defence, with 10 fewer conceded goals.
Secondly, our ambitions, Liverpool realistically are not going to win the league this year, our target should be a cup and top 4. Over the last six seasons the average amount of points needed for top 4 was 76 but that was also because of a rarity season where Arsenal got 79 points but finished 4th. Overall it was nearer to the low 70's. Over the course of 38 games, our target should be to average two points per game (38 x 2= 76). Of course there have only been four games but we are so far on target for that.
Finally, compare this to our rivals. Our main rivals for 4th are Arsenal and Manchester United, who are both also on 7 points. There are many parallels between our season and Arsenal's, both lost at home to West Ham, both nervously won two matches against teams that are not expected to be challenging for Europe. And of course we drew to each other in a game where we dominated one half, and they dominated the other. Manchester United hadn't really been tested in their first three games and yesterday was the first time a team attacked them and as a result they lost to a fantastic side Swansea. One thing is clear, our games vs Manchester United will give us a good idea of what our ambitions should be and the same can be said likewise of Manchester United.
The next positive is our defence that are now suddenly the worse thing in the world again. Summed up, three clean sheets in four. Very impressive, away to a brilliant Stoke side, managed by Hughes who has them playing some very dangerous football. Home to Bournemouth, and for anyone that watched Eddie Howe's team last season would know they are very much an attacking side, and so it was another brilliant clean sheet. And finally, away to Arsenal : Sanchez, Cazorla, Giroud, Ramsey and Ozil. As far as I am concerned, that is impressive. After that game against Arsenal, there was so much hype around our defence. Skrtel has a fantastic 7.25 rating on WhoScored, and he is averaging 2.8 interceptions, and 8.8 clearances. The performance of the back line was magnificent against Arsenal, and Arsenal really struggled to make any kind of chances. And when they did, Mignolet was there (Mignolet deserves a lot of credit; 12 clean sheets in 2015, more than any other keeper). I refuse to accept that after one performance that Lovren and Gomez should be dropped for Sakho and Moreno, and I love Sakho as much as the next man.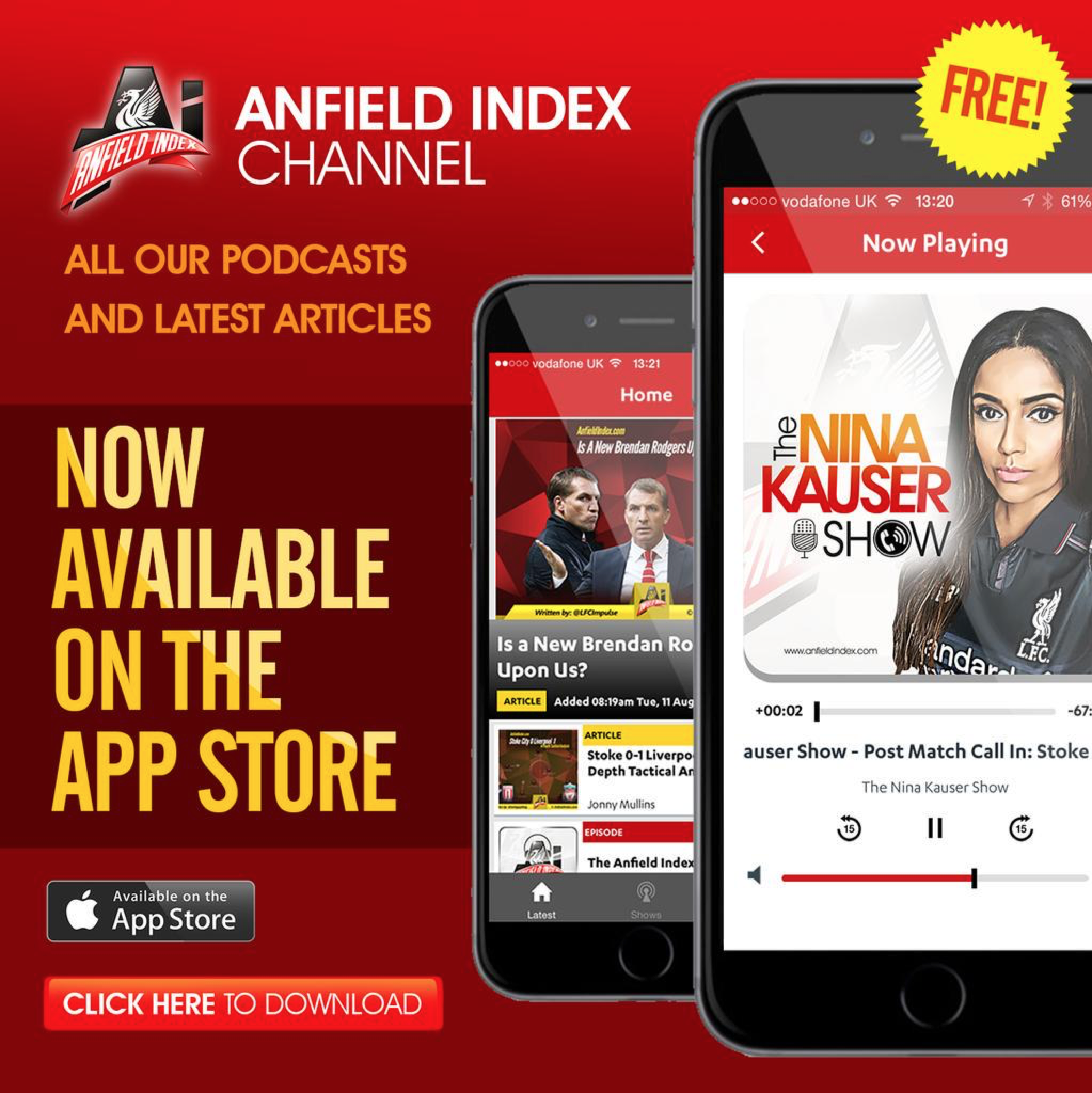 Next positive are two players coming back from injuries soon: Sturridge and Henderson. The idea of a Benteke and Sturridge front line is one to get even the most pessimistic fans a bit hopeful. A huge frustration from the first four games for me was Liverpool's inability in getting the second ball and that is all down to anticipation. Benteke has been fantastic since joining, and is averaging 10.3 aerial duels per game. And on numerous occasions he is flicking the ball behind the back line or knocking it down into space only to see that he has to chase his own flick on. Once we get Sturridge back, those flicks behind defences could very well be picked up by the pacey Sturridge. As well as this, Benteke occupies defenders and drags them out of position, similar to Suarez which is important as Sturridge is so clever at finding the space. Away from the partnership with Benteke, Sturridge, is as good as a £40 million signing, I would go as far as saying that a fully fit Sturridge is our best player. In the last two seasons, our ability to finish has been painful, last season we scored 49 goals less than the season before. Of course, Suarez absence has to be taken into account, but Liverpool's 52 goals last season meant that there were six teams that scored more. Goals win you games, and that is why strikers cost so much. Daniel Sturridge is lethal in front of goal, in 44 starts and 11 sub appearances; Sturridge has scored 35 league goals, which is phenomenal as well as this Sturridge equalled Torres' record of 33 goals in 50 Premier League games for Liverpool, and Fernando wasn't too bad.
Of course as well as this Henderson is due to come back, Milner appeared to be the only man pressing against West Ham. Brenden Rodgers' Liverpool are very much based on a high pressing game, something that we missed on Saturday and that was very likely due to the absence of Jordan Henderson, whose game is built around his endless energy and high level pressing. With Henderson and Milner in midfield it means that teams do not get as much time on the ball, less time to play those clinal passes or even keep possession and so hopefully our Captain is back for the Manchester United game. As well as that, we missed Henderson's passing game vs West Ham, Emre Can had a poor performance with a 71% passing accuracy, he seemed lost against the fantastic Payet, but that does not mean he should be as widely criticised, he is young and he is a fantastic player that we are lucky to have.
Finally, something which seems to be affecting all the team due to the earlier start to the season is that teams look a bit rusty and Liverpool will only continue to get better with minutes played. Players like Firmino, Benteke and Clyne will continue to improve and gel with the rest of the team. This is why it is not all doom and gloom, we look strong defensively, we have a phenomenal striker and our captain to return and the players that are already playing will continue to improve, and so instead of lambasting Rodgers and sending abuse to our players, how about, being there to lift them up, to improve their confidence. Istanbul, did we boo? No. We are not Arsenal, we are Liverpool Football Club, get behind the team, and remember: We Go Again.