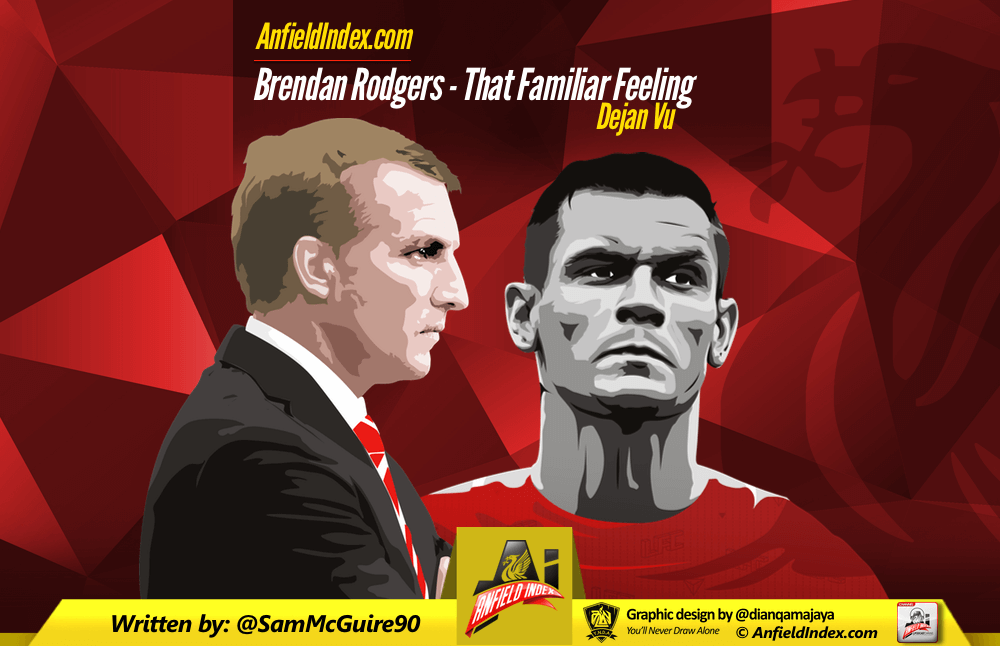 Brendan Rodgers - That Familiar Feeling, Dejan Vu

The scars of 2014/2015 season had not even healed properly just yet but West Ham showed a complete lack of disregard to this fact when they faced the Reds at Anfield, coming away 3-0 victors. Old wounds have been reopened and the window is no longer open so Liverpool aren't able to buy another Roberto Firmino bandage.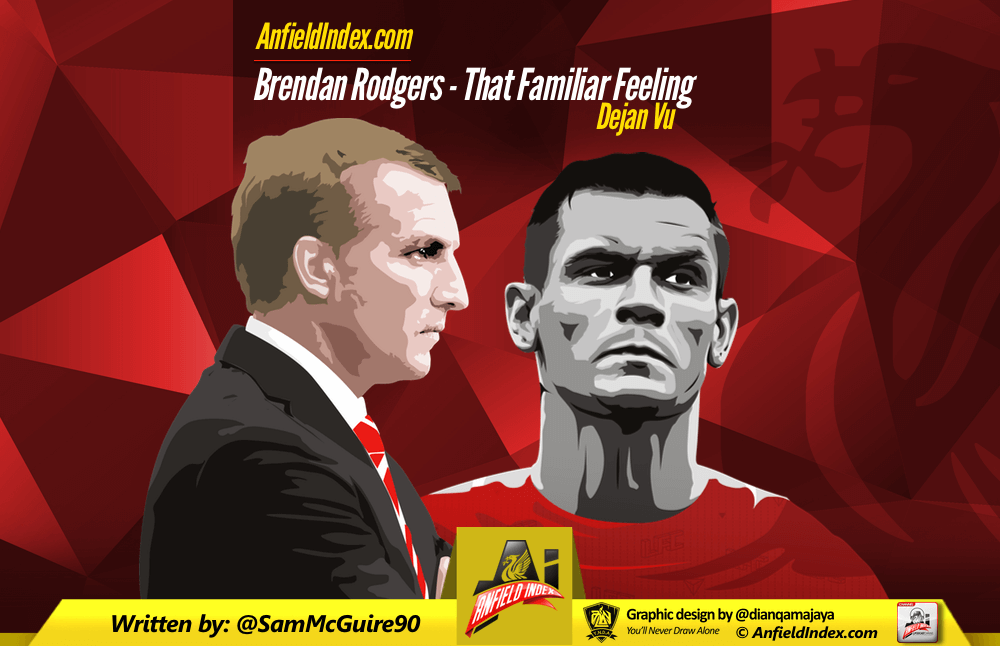 Pre game there was a buzz on Twitter. West Ham were depleted, they were missing 5/6 first team players and had their 4th choice striker leading the line in Diafra Sakho. Certain fans expected this would be the game that Liverpool finally clicked. The first half performance against Arsenal wet the appetite and this would be the main course. However, I was a little cautious having seen how Slaven Bilic had his West Ham side line up against Arsenal in a surprise 2-0 win for the Hammers. I expected Liverpool to see the ball, I said pre game I thought West Ham would allow us to have 60-70% (the Reds ended up with 63%) and I thought West Ham would be fairly compact and make it difficult for Liverpool to play through.
They were.
There were plenty of unanswered questions from the defeat but firstly you have to ask why Liverpool named an unchanged side from the side that put in an admirable performance against Arsenal to pick up a 0-0 draw. Two different oppositions so you line up differently, don't you? Why would a side that had a mere 35% of the possession at the Emirates be identical to a side that was always going to have over 60% possession at Anfield. As I said in an article not long after the defeat, a football team isn't a skeleton key. One side doesn't fit all, so why pretend like it does?
I realise Lucas may only be staying under the premise he's getting more first team football but he's professional enough to understand his strengths aren't the ones we need against West Ham. In what world do Liverpool need a defensively minded full-back in Joe Gomez and a holding midfielder starting at home to a team we should be beating comfortably.
You need creative players central and deep to make things happen, if you have Coutinho in central midfield then West Ham will be tempted to engage him as they know he can do damage from deep. However, Liverpool had Lucas Leiva there who tried countless times to just loft the ball over the top to Benteke and I think every pass he tried was over hit. It was also telling that West Ham didn't fear Lucas, he was allowed to bring the ball to almost the edge of the area without getting engaged by a West Ham defender. Thus playing into their tactics of sitting deep. We didn't do anything to stretch them.
This is even more bizarre when you consider Liverpool had the right idea on paper.
"The key was exploiting the sides, and the gaps. We didn't take that onto the field"
– Brendan Rodgers after the match.
I'm not sure what happened but that wasn't evident on the pitch or even in the line up.
West Ham had a centre-back in James Tomkins playing right-back. Did we really get at him with pace even once?  Why not play Jordon Ibe on the Liverpool left or even Alberto Moreno from the start? Both pacey, both direct and both would've stretched the West Ham backline which would eventually create chances for Liverpool. For examples of this just look at how we played against Bournemouth. Jordon Ibe hugged the touchline in that game and it meant their right-back couldn't drift inside which left a space between right-back and right centre-back that James Milner drove into from time to time.
Jordon Ibe against Bournemouth. Bournemouth defended pretty deep against Liverpool and had two lines of 4 yet Ibe kept his position.
Average positions vs Bournemouth.
Average position vs West Ham. Stark contrast between the two as against West Ham Liverpool pretty much vacated the left hand side. Considering it was a makeshift right-back as aforementioned you'd assume that's were Liverpool would concentrate their attacks.
Deja Vu
Something else I found alarming against West Ham was how familair this all felt. No not Dejan Lovren being over confident on the ball and costing the team a goal but how Brendan Rodgers boycotted a system he'd put so much emphasis on during pre season at half time. This is the Brendan Rodgers from last season. As soon as one tactic is figured out we change the whole thing instead of simply tweaking it. I had thought the appointments of Sean O'Driscoll and Pep Ljinders would stop these dramatic changes in system but going off the West Ham game they haven't, yet.
Two individual errors shouldn't be enough for Liverpool to change their entire system, surely? That screams to me you don't trust your centre-backs enough to sub a defensively minded left-back for an attacking one, even when you're 2-0 down and chasing a game. Instead Liverpool went to a back three with Joe Gomez moving from left-back to right centre-back, an awful lot of expectation on his shoulders. The difference between this back three and the one from last season is the 14/15 variation had two ball players, Mamadou Sakho and Emre Can, who'd build play from the back whereas this three didn't want the ball anywhere near them. Coupled with the fact the midfield 2 of Milner and Lucas isn't the most creative and you could see why Liverpool had sterile possession for large parts of the second half.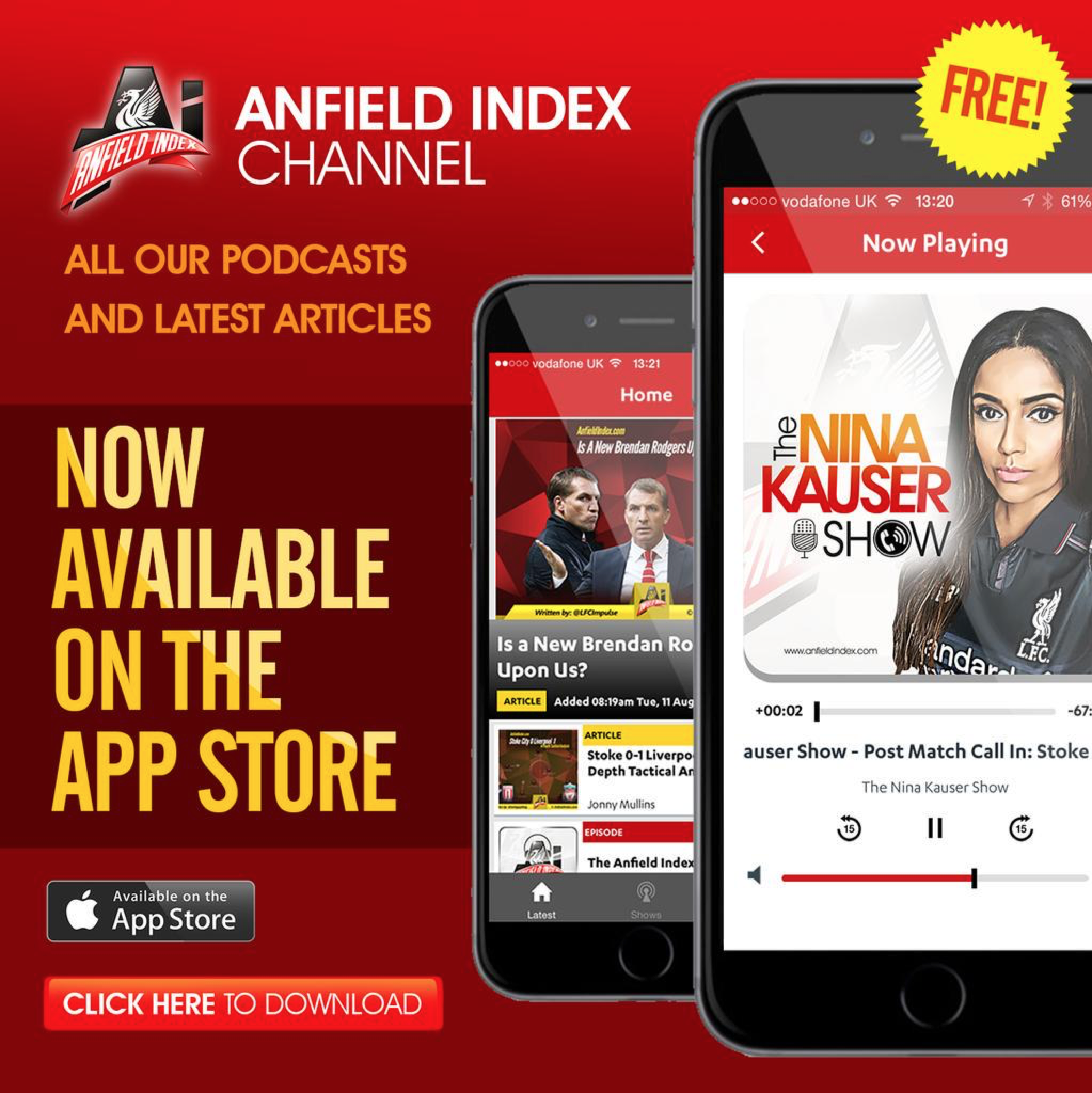 The first game Liverpool play a high line in and we start to see the cracks of the previous three years appearing yet again. It's a concern. The resilient Reds of the previous three games seemed a lifetime away as West Ham finished the rout off in added time. This was the first real test of this new found resiliency so many spoke of before the game. During last season 53% of the time Liverpool conceded 2 they went on to concede more. So this game was the litmus test for me. Rarely troubled by West Ham I wanted to see if Liverpool would be able to keep it at 2-0. They weren't. So to me that says the defensive issues aren't fixed and you shouldn't really buy into clean sheets, after all under Rodgers Liverpool average 14 clean sheets per season yet concede 47 goals, for comparison, Stoke kept 8 clean sheets last season yet only conceded 45  goals.
I for one hope Liverpool learn from this defeat and use it to find ways to break down sides that come to Anfield and sit deep like West Ham did. It's our Achilles heel and has been for some time. Of the 8 teams that came to Anfield last season and sat deep we only took 3 points from Newcastle, QPR and West Brom and one point against Hull and Sunderland. This is were Liverpool need to improve if they're to finish top four.