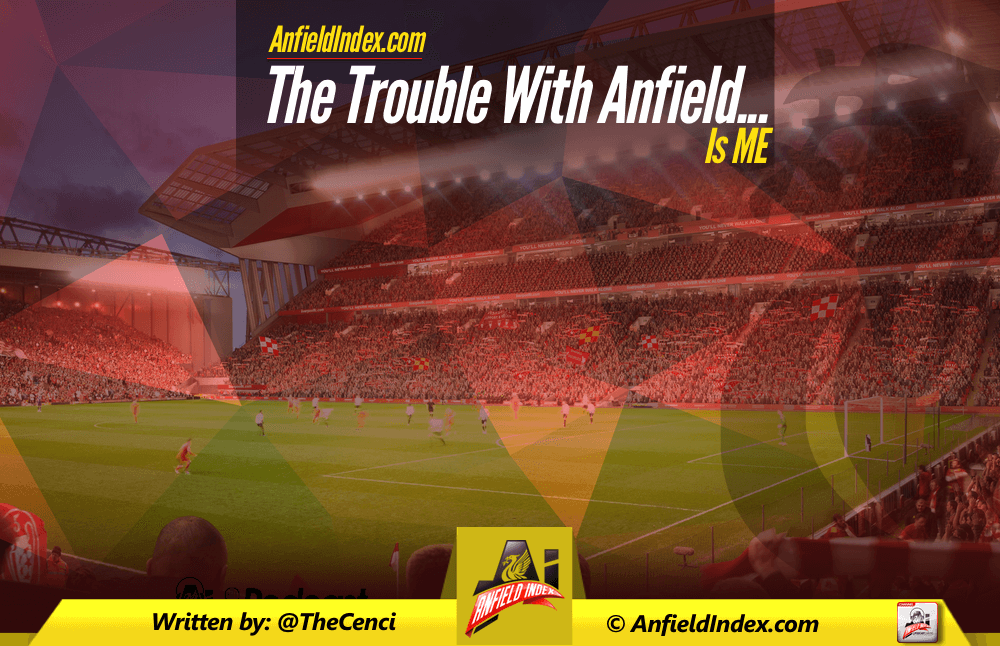 The Trouble With Anfield... Is Me
'The word fanatic has been used many times. I think it's more than fanaticism. It's a religion to them. The thousands who come here come to worship, it's a sort of shrine, it isn't a football ground.' – Bill Shankly
Makes you think, doesn't it?
Last season, I took my niece to her first ever Liverpool game. She was 15, not especially interested in Liverpool or, indeed, football, but had heard of the Kop and wanted to see what it was like. There was also something to do with Daniel Sturridge too but I didn't examine that motive too intently. Anyway, she enjoyed the day, enjoyed torturing me with her music on the drive back and said she would like to go back 'at some point.' Not exactly commitment.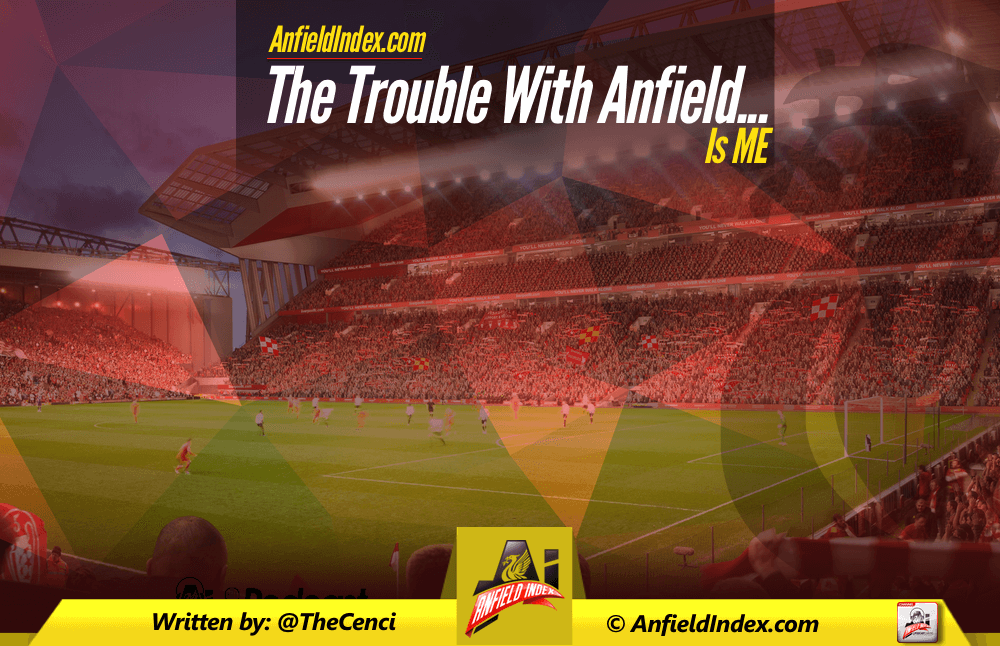 I have other friends who have been to one game too – just to see what it's like. They've nodded around the stands, sang You'll Never Walk Alone, sat through the game and gone home with a tick on the Bucket List.  Anfield – done.
Anfield is something to see at least once.
The ground itself usually takes people by surprise. It's smaller than most others. Very compact with the front rows being mere metres from the pitch. The players can hear you. I can testify that, following one goalless and soulless draw against Birmingham, John Arne Riise could here every word I gave him as he trotted over for an ill-advised round of applause. I won't repeat them here. Not due to the expletive count on this site, but as they soon lost their structure as individual words and ended up in some sort of jam of vowels as I shrieked at his careworn face. What I gained in passion I lost in coherence.
Anfield is also beautiful. I never want to leave there and fought against the 'but we need to compete' and 'if it were up to people like you we'd still be in 1892 in front of ten people and a dog' crowd when it looked like we were moving across Anfield Road. On European nights it's unrivaled and the envy of the continent, but it's not just the sight of the place, it's the feel of it too. On its good days nothing can generate that intangible sense of greatness, of difference, of, well, Liverpool. It gets into your bones. When Anfield shakes, so does the world.
But it's not always like that. In fact it's seldom like that. Nowadays, we turn up, we watch, we go home again as we would a night out at the pictures. People blame each other for this but sometimes the crowd just aren't arsed. The frowns when someone starts singing on their own. The snickering when no one joins in. The 'Jesus, lad. It's only Bournemouth, not Real Madrid' when someone goes off on one. We sit and watch and wait and wonder where the atmosphere has gone.
And you know who's to blame for this? You are. Not me. You.
Well, alright, me too.
There are times when people just aren't up for it. Pre-match drinking can either leave you buoyant or sluggish depending on your ABV capacity. It's also very difficult to go into full on histrionics when Stoke City are standing in front of you and you're dying for a piss. It's equally tricky when you're looking at another cross float harmlessly into the stand or the back four are passing it round at 0-0 with ten to go. Atmosphere isn't always easy and not everyone can get one going. I can't.
Anfield now has a singing section. I was against the idea of that at the time. Well, not against as such. More 'embarrassed'. The whole ground should be singing, not just those standing at the back of the Kop. It's great singing away and pausing to realise that, yes, even the Main Stand is doing it too. (For those who don't know, the Main Stand is famed for, shall we say, less than enthusiastic people who prefers tartan blankets to scarves and colours. I love it) A singing section seemed like an acknowledgement of failure throughout the ground. 'We have to do something.' I feel differently now. It's become a focal point so when Blocks 305 and 306 get going elements of the Kop look around and join in.
Sometimes.
A mate of mine calls the average Anfield patron 'atmosphere voyeurs'. A photo here, a video there but nothing like actually joining in. We've all stood next to people who take photos of every corner and we've all frowned at them at some point. Live and let live and all that but I did bring this up with someone who had clearly travelled thousands of miles to watch Steven Gerrard score a penalty through the lens of his video camera rather than jerk his head around to watch the real man do the real thing. Each to their own, obviously, but it can detract from the atmosphere if whole blocks are basically watching telly.
This is not to criticise our global support (I've co-edited a book about it after all (http://www.amazon.co.uk/Were-Everywhere-Us-Liverpools-Through/dp/1785310429  at somewhere between £9 and £12 with an introduction from John Barnes. Yes, John Barnes!) – or those who want to take keepsakes of that famous square of grass, but by not joining in (or being too scared to join in) the thing that makes Anfield a great Anfield is somehow reduced a notch. That fear thing is as real as it is stupid. That worry that you may not be doing the right thing is ludicrous. I've had two instances of this. At the Arsenal Champions League game in 2008 some dickhead told me 'not to come here again' after I advised Dirk Kuyt to try passing it to one of our lads this time. I went nose to nose with him, calculating that I'd been in the ground hundreds of times before his own Dad had even considered having children so he had no right to advise me on my level of support, but that all went nice once we scored and I got to jump on his back in the celebration. The other time was against West Ham years ago when again I was keen to provide some feedback or other. The lad next to me was about to square up to me before he inexplicably looked at my footwear (Adidas Samba), nodded and silently decided that my point was valid. Absolutely ridiculous.
If you've not been to the ground very often you may not always know what to do so you stay quiet. The noise quotient is thus further reduced.
Incidentally, he could have battered me so I'm glad I left the K-Swiss at home.
So we're all to blame to some degree. Those who want everyone to sing don't always want everyone to join in. No one wants to see Soccer A.M seal claps on the Kop.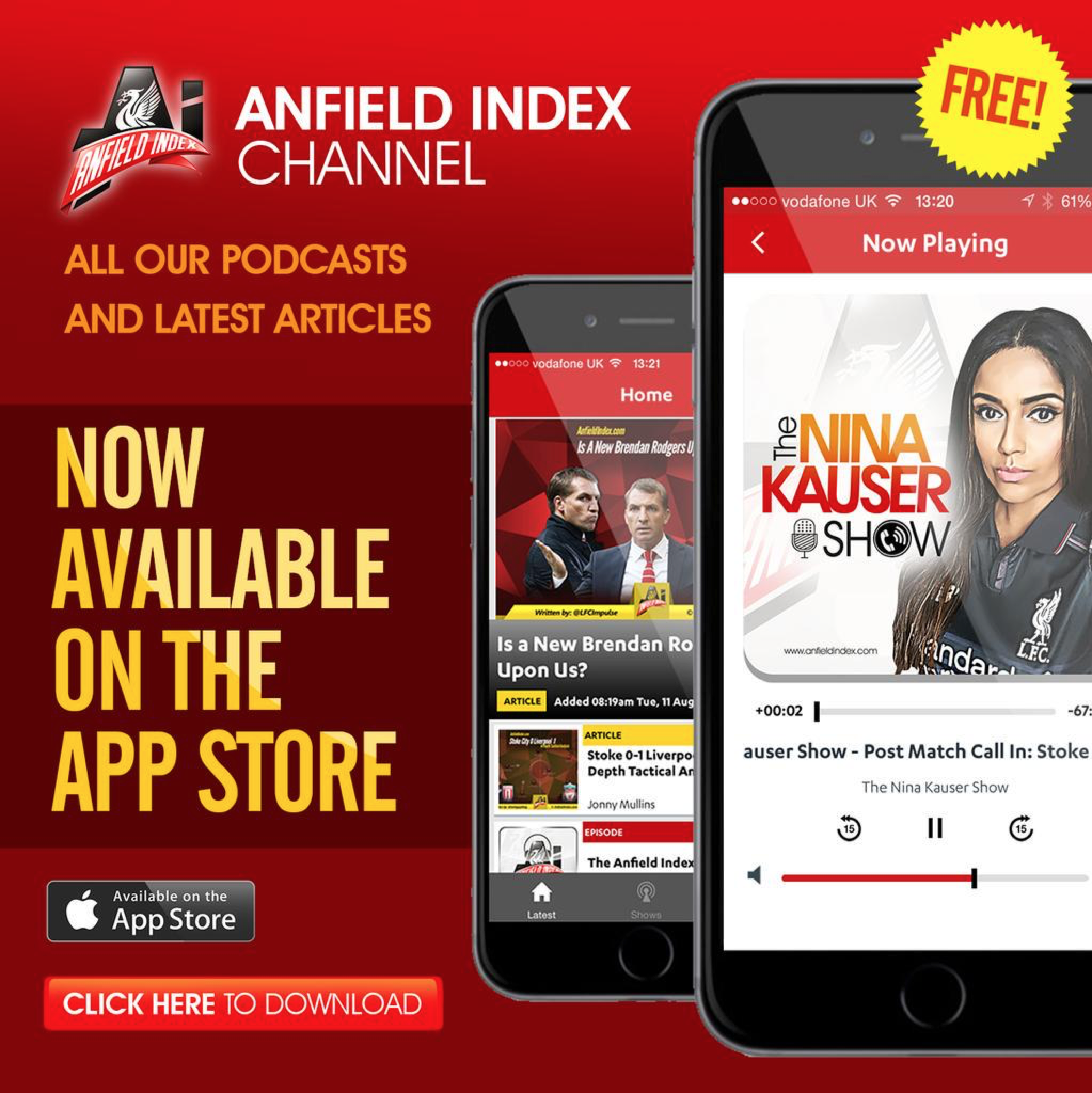 There's someone else to blame too.
Those other lads.
Yes, them.
This is a symbiotic process. They play well and do great things – we sing them home and everything is great. They do whatever Dejan did last week and the crowd are too fucked off to get involved. If we know we're clearly the better side and this is going to be great then we're all up for it. If we don't, we don't. Look at 13-14. In the early months, specifically Palace at home, it sounded like the entire ground was collectively doing a crossword such was the quiet mumbling around the place. Fast forward a few months to the Tottenham game and minutes before the teams come out when, for absolutely no reason, the entire ground just decided to roar. There aren't many league games where that happens but that minute will always stay with me. As one we decided to just roar as we knew what was coming. You're getting battered today, lads. Absolutely battered. And we're part of it. Two minutes into game we were a goal up and Roberto Soldado was looking to get off the pitch as soon as possible.
But if that doesn't happen, if Liverpool are either struggling or underwhelming, that atmosphere dissipates. This isn't a recent thing. It's a myth that the Anfield of the 70s and 80s always resembled the St Etienne game. Often as not crowds were low and singing was at a premium. My first ever game in November 1981 was almost silent. A case of 'come on then, show us something.' They did too. They showed us a 1-0 defeat.
Things became really bad during the Hodgson tenure. Red was at war with Red. Some wanted Rafa gone and openly celebrated the decision to let him go while others pointed at the pitch, at Cole and Konchesky and reminded others of being careful what you wish for. Hodgson's last home game against Bolton saw a crowd of just 35,400 and people still sat down when we scored the winner in injury time. No one cared until things changed.
The same can be said today albeit it not of Hodgson proportions. Ours is a fractured fanbase and has been since 2008. For every anti-Brendan shout there are equal zealots in the other camp. During the Arsenal game I tweeted that the first half was the best we'd played in 15 months. Two people instantly accused me of not backing the manager. Even praise is taken poorly in some quarters. This constant need to berate others even when we're doing well. I'll never understand it.
We all want Liverpool to do well, don't we? Well, I'd say so but there's the call for some people actively wanting us to fail to show that they were always right about the manager. That's probably true in some cases but it does nothing to build up that bastion of invincibility that Shankly spoke of. We each mistrust the views or agenda of the other now. There was only the first few months of Kenny's return and the last few months of 2013-14 that made Anfield a laugh again before even that was cleaved in two before too long.
So, is Anfield dead?  No. It never can be as we have this unerring quality of self-surprise. I didn't see 'that' season coming as much as I didn't see that Arsenal performance coming, but gone are the days when atmosphere is guaranteed. It purely relies on how the team are doing now and that's a real shame. Away games are different. Always funnier, always with a stronger sense of camaraderie and always, always, always louder. These days at least.
But something has to change. If we can't be arsed how can the players be? Yes, they earn billions and all that but it helps if they love their work too. Getting out and playing in front of a mardy gang of bastards isn't going to help. Everyone needs to step up. Everyone needs to do a bit more. Everyone needs to make the match day interactive.
Oh, and as if I've ever owned a pair of K-Swiss.