The optimism around Liverpool's 2015 summer transfer window is not without due: a decent calibre of players arrived all well before the competitive fixtures kicked off, and there was an excellent attempt to rid the squad of its deadwood. The optimism was only marginally dampened by the losses of Gerrard and Sterling; but poor form and a high fee respectively, mitigated the disappointments of those departures. Despite these positives, Liverpool's early season performances have not inspired. A solid but unspectacular defence and an impotent attack have been the dominant characteristics of the team for this season and last. Performances have been slow, tepid, and sadly predictable, and it has left fans trying to decipher why.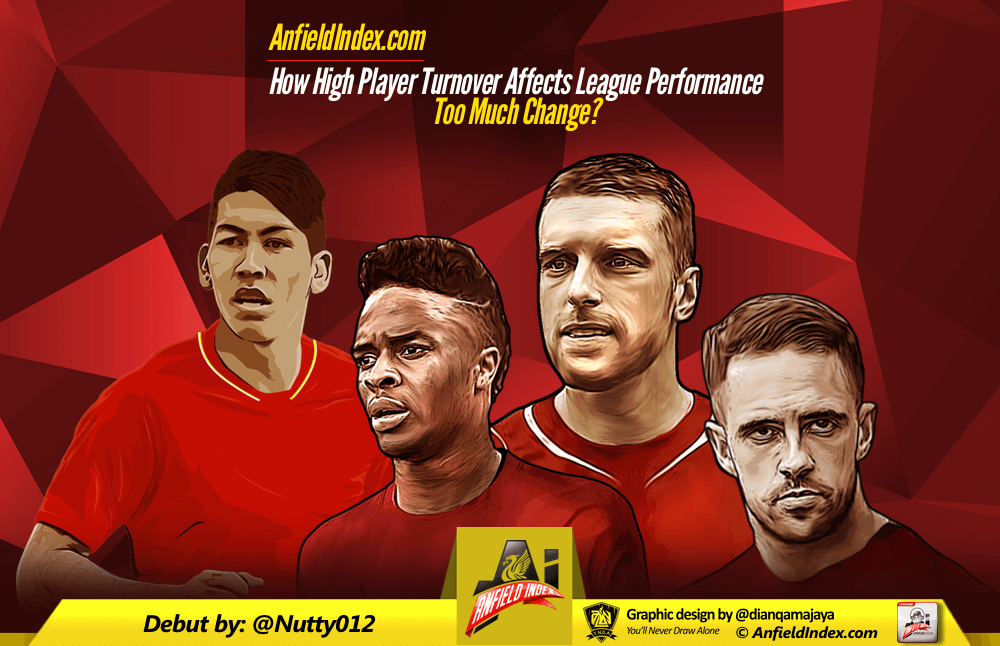 Another recurring theme this time though has been the large numbers of players coming and leaving. In fact, in the past 15 months there has been a staggering turnover of 35 senior players in or out the club. It occurred to me that maybe these immense efforts to re-shape the team could seriously affect performance levels. It is almost a cliché to say that players need time to adapt and build "on the field relationships", to get used to their new manager and new teammates' style of play. I wanted to see whether there was any truth in this idea.

To do this, I looked at the cumulative turnover (players in and players out, including loans) every season for the last 10 years including this one. I only recorded players that were deemed part of the first team squad. In the case of loans, a player is recorded as leaving for the first season they played for another club – for example Alberto Aquilani "left" the first team squad in 2011, and was only recorded as leaving for that year, and not every year thereafter. Here were my results:
The trend is obvious: in the nine seasons of results (from 05/06), Liverpool have finished in the top three on four occasions. On each occasion, there has been a total turnover of 12 players or under. The two 2nd place finishes came with the lowest and third lowest turnovers. By contrast, the five seasons with our worst point totals have all had incredibly high turnovers of between 14-16 senior players each year. Two of the three largest turnovers have been this season and last, matching up with poor performances.
Clearly one reason behind this correlation is that the players being signed are not of sufficient quality. That is why they failed to make a positive impact on our league performance when they arrived, and it is also why they have to be offloaded and then replaced so soon after coming.
However, I also want to suggest that the high player turnover is not just a sign of bad recruitment, but is also a negative agent itself in performance level. Looking through recent squads, the best form of almost every player – regardless of the magnitude of their success – did not arrive in their first year. The lack of faith in the current squad, and the club's naïve belief that it can find better players elsewhere, means that new personnel have not been given sufficient chance after poor starts.
Some of the greatest knee-jerk "rectifications" in that table include Robbie Keane, Alberto Aquilani and Lazar Markovic. These players were all of international and European quality, signed for big fees, and then jettisoned after they couldn't immediately match our lofty dreams for them. Even lesser young players who could have developed into useful roles, like Tiago Ilori, Andre Wisdom and Suso were cast away after not making the grade immediately.
Clearly, Liverpool have suffered from cases of terrible long-term squad building, and transfer ineptitude. 77 senior players have been acquired in 10 years! Dozens were given up on after one season. Every season, bar the two title challenges, have boasted significantly different first elevens. Players simply cannot adapt as well as the fans, the club, and the managers want them to. Liverpool would be wise to look at two examples elsewhere from the Premier League era to really calibrate how poor their planning has been, and how we should proceed.
Firstly, after Manchester United's early 00's success, Ferguson knew he had to consolidate and rebuild an aging team; after signing a raft of youngsters between 2003 and 2006, the team did not challenge in competitions but the manager, club and fans had patience. Player turnover slowly dropped off, and the resulting squad was stable, filled with many world-class players who had largely been playing together for two or three seasons. That team managed to beat Arsenal 8-2 and won the league with Tom Cleverley in a starting role, amongst other lesser achievements like the Champions League.
Next, we love to laugh at him, but Arsene Wenger managed his squad immaculately during the move to the Emirates, and now they are challenging for silverware yearly. In terms of transfers, his staunch refusal to bow to fickle public opinion has been rewarded with the slow but extraordinary bloom of players like Aaron Ramsey or Francis Coquelin. The closest Liverpool have is Jordan Henderson, the player who we showed no absolutely no faith in, who we tried to force out the door after a bad first season in exchange for Clint Dempsey.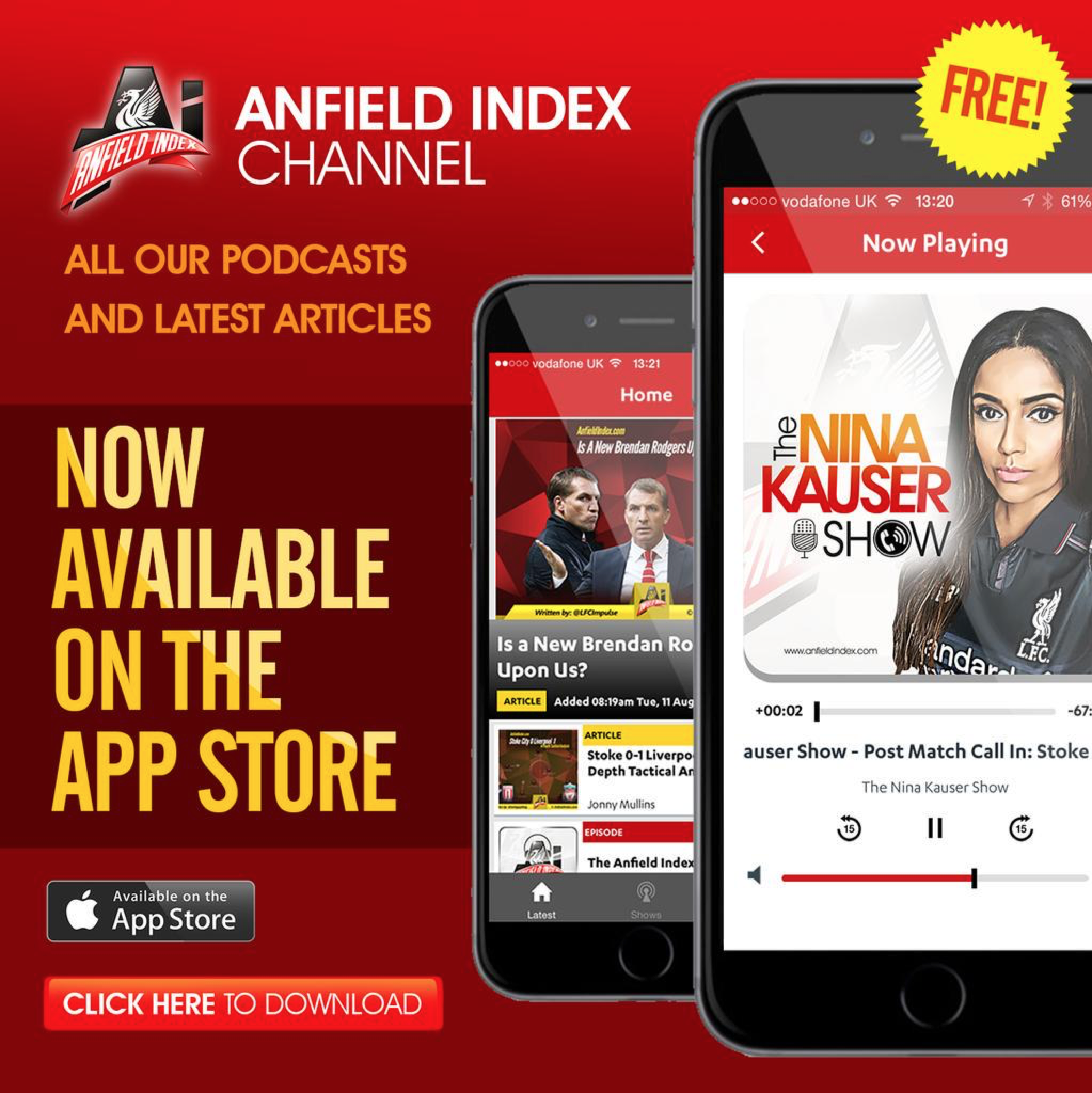 In the four years following Istanbul, Liverpool finished above Arsenal three times; we have significantly outspent them in the next ten years too; yet despite these advantages, our club finds itself in a worse place than Arsenal, and fans should rightly question why. I've shown that one reason (of many) is the astronomically high player turnover. It highlights both the club's unwillingness to persist with often very young players through a tough start, and their abysmal player recruitment and general long-term squad management.
It is 2015 now and the squad has been butchered and pieced back together for two years in a row; this transfer window has seen 20 senior players come or leave, Liverpool's highest in the modern era; the average age of the squad is a ridiculous 24.5 years old, and senior players seem few and far between. It should be no shock to anyone that such an inexperienced, young and newly formed team have not been gelling on the field for this period, regardless of the manager's tactics or selection.
We can be hopeful though. If this young side is kept together for two or three years more, it can certainly grow into a formidable squad. For this season though, we must hope that the team can find form and fluency faster than the struggling rivals around us. We must remember as fans to be patient with these players, many of whom are still young and new to the team and the club. We have a responsibility to help them settle, but maybe with greater patience and support, they can help carry this club to glory sooner rather than later.