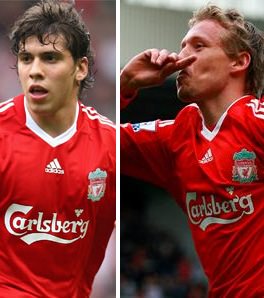 Prematurely writing off youngsters like Emiliano Insua...
…is a habit we must shake
"We've got the only Brazilian that can't play football!"
"It's clear that he's not going to make it."
"Not Liverpool class."

"We're not going to win a title with him in the squad!"
"Would he get into our rivals teams? No."
Are just some of the comments I've heard or read. Others can't be written down…
Now, it's always struck me as odd that we spend so long arguing that the talented youngsters should be given a chance, only to write them off soon after they do finally get that chance.
To be fair, we have been spoiled at times with some youngsters who came into the team looking like they had been top level players for years. Rob Jones, Robbie Fowler, Michael Owen, Steven Gerrard and Steve McManaman all performed more or less immediately upon making their debuts.
But surely we should be aware that this isn't the norm? Most youngsters that come into a team can be inconsistent until they gain the confidence and maturity that can only come with an extended run in the first team. Sometimes, this process can take several seasons, with several dips in form, before finally establishing themselves as a proper player.
Now this doesn't always happen. Youngsters that look amazing at reserve level often fail to make the grade. Some of the youngsters we have let go – Danny Guthrie, Adam Hammill, Steven Warnock – have become premiership players, but most haven't.
But there is an argument I think that we write players off too soon at our peril. Look at Jamie Carragher for the best example of this. After he spent several seasons orbiting both full back positions, Rafa Benitez gave him the chance to move into the middle and be our starting centre back. The rest is history – he has gone on to be one of the best centre backs we have ever had. The point here though, is in his first few seasons he was seen by many as – at best – a useful squad player that could fill several roles, but one who wasn't cut out to be a first teamer.
Surely we should bear this in mind when evaluating the young players that have been given regular games in recent seasons. These include:
Emiliano Insua – looked excellent in his first season with us, but following Fabio Aurelio's injury in his second season became over-exposed and targeted by opposition managers. He was shipped out so quickly at the start of this season, you have to wonder if his confidence will ever recover. Which would be a shame, because (a) going forward he was pretty good (he claimed 4 assists in 30 games in the 2009-10 season, 1 more than Patrice Evra did in 38 games), and (b) full back is a difficult position to learn as it relies on good decision making (when to get tight, when to back up your centre back, when to get forward) and you are expected to play both attack and defence. Surely with more experience he would have got better?
Lucas Leiva – ah, the pin-up of the boo boys. Lucas was ridiculed in his early days, which I always thought unfair given he was being directly compared to three players who were amongst the very best in the world. Its tough being merely promising when you are lining up with Mascherano (a world class destroyer), Alonso (a world class playmaker), and Gerrard (legendary midfield general). Since then, he has been consistently improving and working hard at his game, to the point where statistically he is one of the best tacklers (the 125 he has made is more than any other player in the league this season) and passers in the league. This doesn't seem to shake off the detractors though, many of which are still convinced he is awful player who wouldn't play for any other premiership club. That he has managed to overcome such stick and continue to work and improve is massively to his credit.
David N'gog – now, this is tricker, given that playing understudy to Fernando Torres isn't going to be easy. Lightweight and ineffectual he may often be, he still has pace and is sometimes capable of dazzling skill. His league scoring record since he joined – 9 goals in 21 starts and 38 sub appearances – is not bad for a youngster learning his trade in a new league. I feel a loan option to the Championship might be the best thing for him, if he can put on some muscle and gain some confidence, he might still be a good player for us.
Now, I think all three could be good players for us. You might have different views on the merits of these players, and you might be right – potential is hard to judge and they might not make it. But that's not the point I am trying to make. Which is, that most youngsters are not going to come into any football side and look the finished article, and therefore, we should support them as much as we can while they learn.
Barracking someone on their first day at work when they are desperate to make an impression, isn't going to help. For that matter, in any walk of life, anytime you start a new job or a new hobby, it takes time for you to get the hang of things. For goodness sake, it took me years of trying before I could even achieve basic level competence when asking out a girl!! I can only imagine how much harder it would be to do it with an audience of 40,000!
Now, we now have what looks like a golden crop of youngsters. We have seen Martin Kelly (19 appearances this season, after 3 last season, and he hasn't looked out of place once), Danny Wilson (7 appearances), Jonjo Shelvey (15 appearances) and Jay Spearing (10 appearances) have all impressed this season. Behind them we have what seems like unheard-of riches in the form of Suso, Sterling, Coady, Roberts, Flanagan, Robinson, Pacheco, Gulacsi, and others. Now is the perfect time to blood these youngsters – the pressure is off given we are not expected to challenge for Europe qualification and we finally seemed now to have shaken off the unthinkable prospect (relegation, in case you were wondering) that seemed very thinkable under Roy. If we strengthen in the summer, then first team chances will be more limited. I'm not saying start all the under-18s in every match, but surely we can give one or two a start alongside the established professionals to see how they do, and have a couple on the bench ready as needed. If they play and succeed, like Kelly has done, then we will save quite a bit of cash.
It's not going to help them if we write them off and get on their backs like so many did with Lucas Leiva or Emiliano Insua. Instead, let's sing their names, build them up, and see what happens.
And while we're at it, can we please have a song for Lucas?