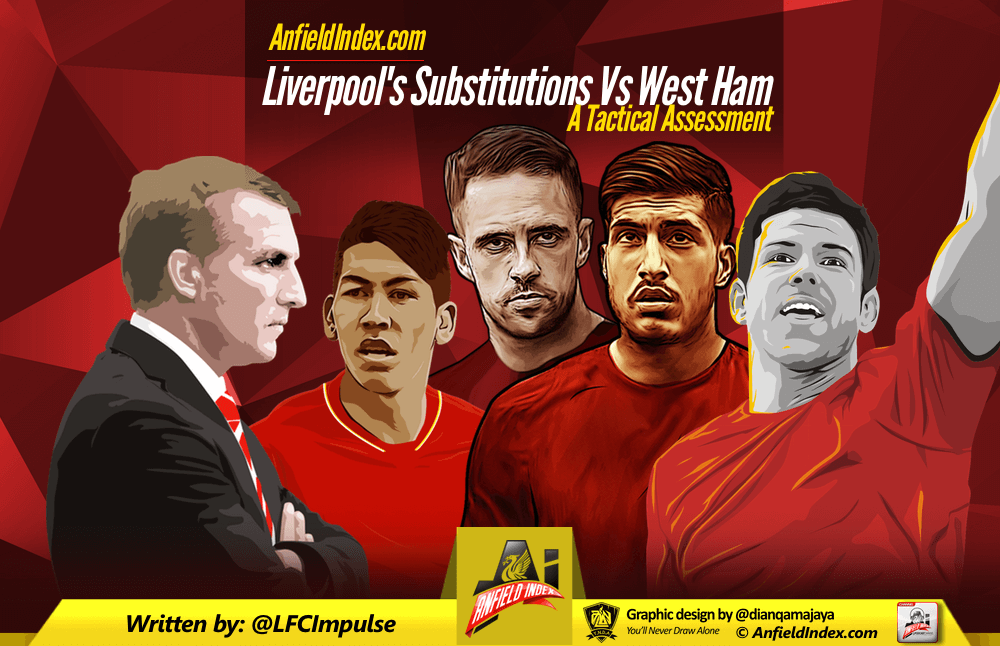 Liverpool's Subs vs. West Ham - A Tactical Assessment

Your team is down by two goals (in embarrassing fashion, no less). The system and tactics, if any, are hardly clicking. The personnel have not fully, truly settled into the game. The home support roar as they demand more from their beloved club, yet over in the opposition's end, they rightfully cheer.
In football, when things don't click, a shift has to happen – a shift in personnel, a shift in tactics, a shift in playing-style – any shift. When the going gets hard, desperate measures come into play, and ironically, so do substitutes. With only three substitutions, a manager and his right-hand men have to make the right call at the right time. There's no such thing as 'testing the waters'.
Being unbeaten for the first three match days, with two of those games being away games to Stoke City who promise hardship on rainy nights and the relentless Arsenal who, on their day, can batter their opponents down to crumbs, Liverpool FC went into the fourth game of the season expecting yet another weekend of football with the result going their way.
…but this was not 'just another weekend', as the scenario above implies.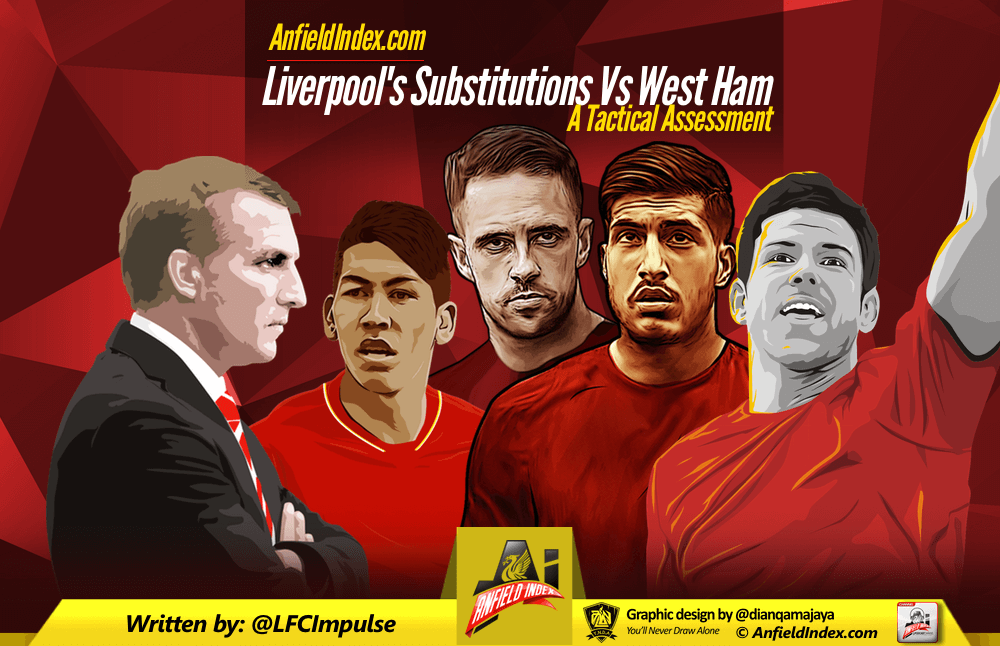 An atrocious first-half which saw the Reds being down two goals heading into the interval meant that it was time for Brendan Rodgers to put on his thinking cap. The line-up that remained unchanged from the goalless draw against the Gunners suffered from the unchanged tactics as well. Needless to say, changes were required.
However, the end result still read '0-3' to the Hammers, indicating that there was a severe lack of efficiency and effectiveness in chasing for the equaliser, possibly due to the substitutions. Here, we'll focus on the first two substitutions as they were made earlier in the game and arguably, made the biggest impact on the team.
1st Substitution
Alberto Moreno – In
Rodgers immediately responded to the half-time whistle by preparing the Spanish left-back for the second-half of the game. On a tactical stand-point, this was an excellent choice indeed.
Joe Gomez who played at left-back since the beginning of the season has failed to provide any attacking threat on the left against West Ham. By simply having a player just ahead of Gomez, it forced the young Englishman to stop his run forward and start looking infield to assess his passing options much earlier on the left-flank.
(The above shows how Joe Gomez was stopped by West Ham – by sticking anyone to block his path further down the flank as represented by the parallel, yellow lines. As soon as Gomez comes to a halt as per the black-coloured circle, he starts looking in towards the pitch to look for passing options instead of trying to get past his defender or wait for a chance to play someone else in behind.)
This meant that Bilic's men simply had to halt Gomez –a relatively straightforward task – and then focus on defending Liverpool's right side. This effectively meant that Liverpool was an open book – attack half-heartedly on the left, shift it to the right side, and put in a cross from there. West Ham simply followed suit – defend against Gomez, and then overload the middle to force Liverpool to go wide-right, and defend from there.
(As soon as Gomez halts and passes infield, West Ham simply waited for the ball to move from left to right as indicated by the white arrows, and it ultimate ends up with Nathaniel Clyne attempting to put in a cross on the right flank, be it by carrying the ball on his own to put in a cross or wait to be played in by his supporting teammates.)
With Alberto Moreno's attacking prowess and his tendency to run vertically down the flank rather than just cut horizontally infield, it was an obvious choice for Rodgers; that's fine.
Emre Can – Out
The potential problem from the first substitution lies in who went off in place of Moreno, and Brendan's choice was Emre Can which is an iffy pick for sure. The now-German international was a weird exclusion for the start of the season, but earned a place in the starting XI against Arsenal and again versus the Hammers.
The combative midfielder was admittedly having a subpar first-half against West Ham, often misplacing passes and was ultimately unable to produce the types of performances that earmarked him as a box-to-box midfielder. However, his presence in midfield was still vital – opposing midfielders will always have to remember to keep Emre Can within sight in order to prevent him from bombing into their defensive third freely.
Against a team who was set-out to sit deep and absorb waves and waves of attacks from the get-go, the Reds could've done with Emre Can getting more minutes considering that he can contribute to attacks. Instead, it was Lucas who remained who was arguably the better choice if someone were to go off.
Reverting back to the earlier point about West Ham's tactics, playing with Lucas who is primarily a defensive-midfielder (putting how good or bad he is at it aside) could be counter-productive, especially with James Milner, his midfield partner, being instructed to playing more of a holding role as well.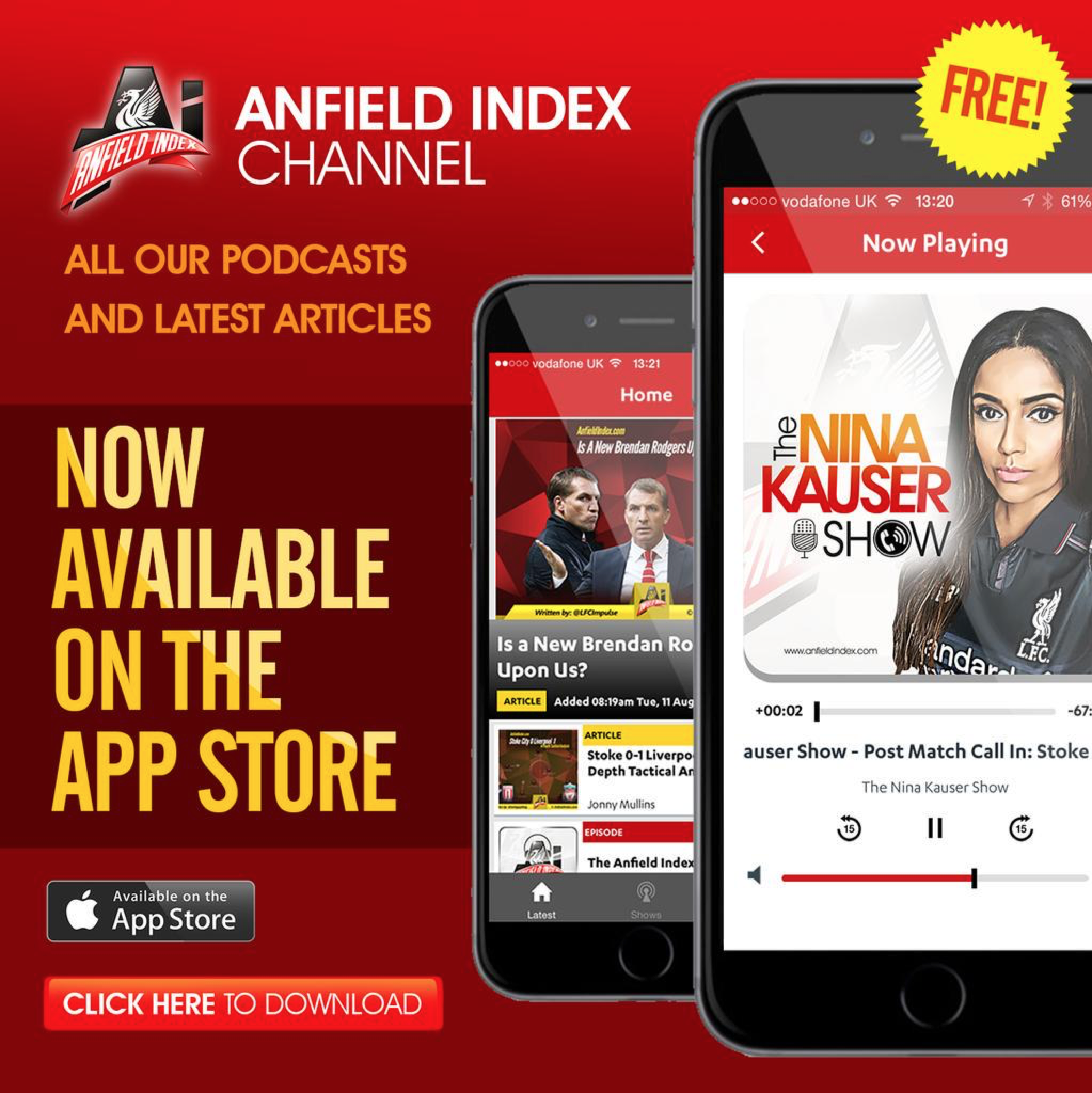 2nd Substitution
Danny Ings – In
Yet again, the decision to bring in a second striker was a wise choice by the gaffer. Struggling for goals, with big-money signing Christian Benteke having a less-than-imposing game, the obvious choice is to have someone supporting the Belgian – someone who is more accustomed to playing closer to goal.
Playing a target-man like Christian Benteke meant that he would be tasked with occupying defenders and occupying space within the opposition's box so that space can be created elsewhere for other players to exploit.
Debutant, Danny Ings, was perfect in that sense. He's quick, he's intelligent in his movement, and overall, he's someone who could potentially make use of the space in and around Benteke. With a smartly passive and structurally compact West Ham team being set-up against the Reds, this substitution, as with the one above, made sense.
Roberto Firmino – Out
Following the dismissal of the Reds' very own magician, the team was in disarray going forward. The creative spark being off the field meant that the rest of the team had to up their game, and Roberto Firmino could be the catalyst given his skill-set as an attacking midfielder.
Instead of being given additional minutes, Rodgers opted to swap Firmino out for Danny Ings. The benefits of Danny Ings being brought in as mentioned above still holds true, but does it have to be at the expense of Roberto Firmino who could potentially change the outcome of the losing game?
Whilst chasing for goals when the team is still 2 goals down, perhaps it could be a wiser choice to take off a defender (either one of Joe Gomez or Dejan Lovren), revert back to a back-four, and keep as many players up-top as possible? Why only have Danny Ings to support Christian Benteke when Firmino can do so as well?
Or perhaps it was a question of match-fitness in regards to Roberto Firmino? He hasn't played full-games for Liverpool yet, so if that's the case, then fair enough, but only Brendan would know. There are plenty of arguments and cases to be made for other players to go off instead of Firmino – from Lucas, to Benteke, to Lovren – and with the benefit of hindsight, either could be plausible shouts for various tactical reasons.
Conclusion
Brendan Rodgers has never been seen as a tactically-astute manager, let alone one who can guide his team to victory after conceding a goal or two from the managerial hotspot at the sidelines. Set up high walls and attack when least expected and that's where teams can get Rodgers in a chokehold.
In-game management has never been his strong suit, but that's fair to him as all managers have their pros and cons. Maybe what can help Rodgers going forward is to have a customised blueprint for every upcoming game instead of starting each game the same way as the last; not every game can play out the same way with the same team and tactics.
However, it's still early in the season, and things may just change for the better as the season progresses. Either that, or we're doomed to frustrating, hair-pulling substitutions and tactical changes from Brendan Rodgers for the rest of the season. Please, oh please be the former.