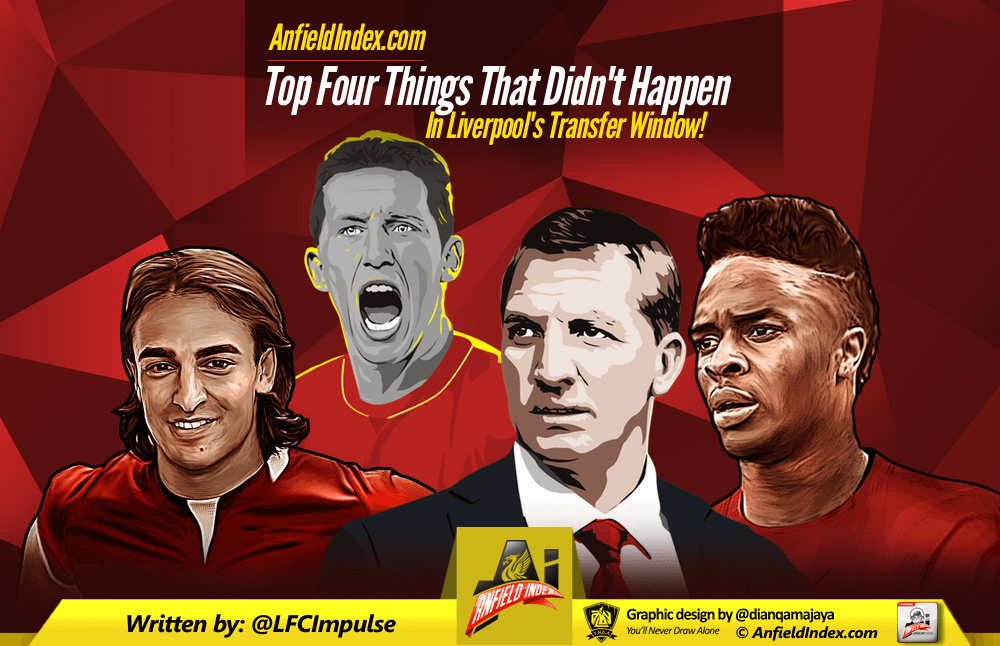 Top Four Things That Didn't Happen in Liverpool's Transfer Window
Another crazy summer draws to a close. Gone are the rumours. Gone are the ITK's putting one and one into two. Gone are the mornings where one would scramble for his or her smartphone to catch up on what happened in the transfer window.
As soon as it's transfer season, fans go nuts about the idea of new acquisitions in hopes of bolstering the squad for the upcoming season. The summer window is where most of the major transfers take place, so it's no wonder why there is a crazed obsession with it. With a reported 4% increase from last summer's expenditure, £870 million – a figure fuelled by the massive TV deal – proved to be the underlying figure spent by Premier League clubs.
Liverpool (fans) are not exempt from that torture either (or excitement, if that's your kink), and the Reds proved to have a pretty busy summer themselves. Raheem Sterling's £49 million move to Manchester City triggered what would be a trio of signings for Liverpool in the form of Nathaniel Clyne, Roberto Firmino, and Christian Benteke – all deserving of the hype, but doubts are sure to still linger. Other additions like Danny Ings, Adam Bogdan, James Milner, and Joe Gomez aren't the biggest of summer signings for Liverpool, but all have their respective roles to play for the upcoming season. On the other hand, the departure list for the Reds isn't too different from that of summers before, with loan moves making up a majority of the numbers.

While the words on everyone's lips are about the new signings and the departures, there are still some things that can be seen in a different light – the ones that got away, and the ones that didn't go away. So, in honour of the aim for Liverpool FC this season, what are the Top 4 things that didn't happen to Liverpool's summer transfer of 2015? Continue scrolling.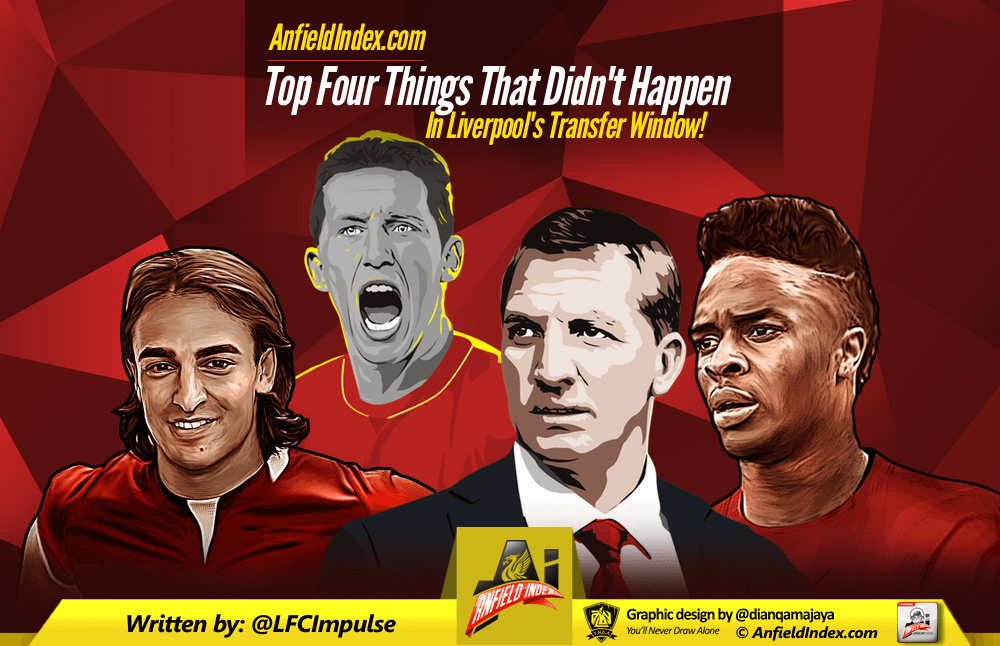 #4: Rafa's Man Was Not Moved
As imposing as Brendan Rodgers wants to be on the Liverpool squad he inherited, it appears that more than half of the players that were brought in during his tenure left. Only a handful are still with the club and even then, a portion of them are out on loan. While Rodgers has offloaded many players from previous managers, there are still two players who remain, one of them being the much-loved Lucas Leiva.
It seems like a constant cycle of events when it comes to the Brazilian – Brendan Rodgers starts the season off with what-should-be an upgraded, innovative midfield with new signings being implemented into the team; we've seen that with Joe Allen, Emre Can, and more recently, James Milner. Lucas, by virtue of not getting much game time, seeks to leave while Rodgers, by not having Lucas in his plans, looks to offload him. A European club (or in the case of the 2015 transfer window, Beşiktaş) look to get Lucas on loan or permanently then shows interest, talks get underway but without coming to a conclusion.
Then, one of the players in midfield gets injured or under-performs, desperate times calls for desperate measures, and Rodgers throws Lucas Leiva into the fray out of nowhere. He puts in a good shift, gets played for another game or two, and he's now happy with the minutes he's getting. After just weeks since attempting to shift Lucas out of the club, Rodgers praises his quality and what he adds to the team, and they live happily ever after…
…until the next transfer window.
While Lucas has some qualities to him that could benefit the Reds, the honest truth is that there are younger and/or more talented players who can fulfil his role, and more. Being Liverpool's only recognised defensive-midfielder means that when the going gets tough, Brendan looks to Lucas Leiva for comfort. When Javier Mascherano left, the team was screaming out for a defensive-midfielder who can be the anchor in midfield once again, but Lucas was the only "true" replacement yet not an upgrade.
"Rodgers won't get a defensive-midfielder, so why bother?!"
Well that's true, but then again, if Brendan keeps reverting back to Lucas Leiva whenever the midfield calls for a defensive-midfielder, then why not get an upgrade? Will Lucas Leiva ever be a staple in a Liverpool midfield which constantly gets changed by Brendan Rodgers? Will Lucas be willing to go through another cycle whenever a transfer window comes along, let alone stay and serve the club until his career comes to a close? Only they will know.
#3: No Way (You're Still Here), José!
Another season for the Spanish left-back at Liverpool, another year of Instagram posts. Despite signing Alberto Moreno last season who is a younger, and (let's be honest) a better version of his Spanish counterpart, as well as Moreno being almost nailed on to play a massive part of the Reds' season, José Enrique still expressed his desire to remain at the club to fight for a starting berth. Moreno himself has hardly racked up many minutes on the pitch due to Rodgers's choice in starting a more passive, defensively-minded player like Joe Gomez, so how does José Enrique still stand a chance (bar unexpected injuries)?
Since the days of Kenny Dalglish, it was clear that the most expandable part of the team was at left-back, which put José Enrique's starting spot in jeopardy. Brendan Rodgers's time in the Anfield helm saw plays like Stewart Downing, Jon Flanagan, Glen Johnson as well as the two aforementioned players above – Moreno and Gomez – play at left-back while José Enrique remained side-lined due to injuries, or just remain on the bench.
With the 29-year-old entering into the phase of his career where he might want to consider playing as much football as he can, a move away was frequently brought up in the closing stages of the 2015 summer transfer window. West Bromwich Albion were the biggest suitors of José Enrique, and a deal for the Spaniard to move to the Midlands was imminent before talks broke down at the last minute. There were other Premier League clubs who went after him soon after, but he ultimately planted his roots by stating that he was simply happy to stay in Merseyside, and that he's happy to fight for his place.
(José Enrique's tweet, "clarifying" his intentions.)
Whether or not he will have a role to play for the Reds in the 2015/16 season still remains unseen. Being excluded from the Europa League squad, but not from the Premier League squad sends mixed signals to José Enrique himself, let alone the fans looking in from the outside.
#2: Youngsters Did Not Remain
"I believe a young player will run through a barbed wire fence for you. An older player looks for a hole in the fence."
Brendan Rodgers has been heavily praised for giving youngsters a chance and developing the likes of Suso and Raheem Sterling, albeit in unorthodox ways. Let's not forget how the two talented stars were thrown into the fray in the early stages of Rodgers's tenure, and how they took time to settle down despite being really good at first. Consistency, or the lack of, got the better of them, and their performance was a victim of that.
Regardless, Rodgers himself believes in the value of youth players, which is a philosophy that many can get on-board with. As Reds, we'd love to see "the next [insert famous player's name here]" coming through the ranks and finally solidifying his place in the squad before closing out his chapter at Liverpool as a club legend. However, with how foreign leagues start to pick up on their coaching calibre and methodology at the grass root level, it is undeniable that young players from abroad have seen a more favourable learning curve compared to those in England.
With that said, it's no wonder why Portugal's star performer in the U21 squad, Tiago Ilori, was brought in for £7 million. It's no wonder why Sebastián Coates who had relatively same credentials as that of Ilori was brought in for about the same amount. A more recent acquisition of potential talent is Lazar Marković, the speedy wide-man who cost the Reds £20-million. However, fast-forward to the 2015 summer transfer window, both Tiago Ilori and Lazar Marković were loaned out to Aston Villa (with a clause to buy, no less!) and Fenerbahçe respectively, which were puzzling moves indeed.
With the Reds being a top-heavy side without having too many consistent centre-backs, it would only make sense to retain someone like Tiago Ilori. While still being "untested" in the Premier League, there is a case for keeping him as a rotation option alongside Joe Gomez for someone like Martin Škrtel or Dejan Lovren who could use a breather every now and then. Being able to play competently anywhere across the back-line is a sight to behold and a great asset to have, thus making the loan move away from Merseyside one that we should hope is not one worth crying over.
The other player who could've had a stellar second season for Liverpool is Lazar Marković, the only natural winger or wide player that Liverpool have (or used to have) bar Jordon Ibe. A stellar start from last season which unfortunately ended with him playing as a wing-back didn't see his best attributes being put on display. While he has definitely under-performed, he still had a role to play for us given that him and Jordon Ibe playing simultaneously could've been a tactical move that will force oppositions to cover their wide areas in defence.
Regardless, only time will tell whether or not these loan moves will see Ilori and Marković be better players for the benefit of Liverpool FC, that is, if they even make it back.
#1: Liverpool Still Don't Have A DM!
This is going to be repeated over, and over, and over again until the Reds do sign a proper defensive-midfielder. Another window goes by and it's another window without a defensive-midfielder, though, so maybe it is still wishful thinking for the some of us.
The 2015 summer transfer window has seen some of the best defensive-midfielders make moves, especially talented, rising stars like Mattias Kranevitter (to Atlético Madrid) and Lucas Silva (moving to Marseille on-loan from Real Madrid). The calls for a defensive-midfielder doesn't come in vain, because some of the best teams in the world of football operate with one (I wrote about the benefits of having a defensive-midfielder here, listing out some of the tactical aspects of it than just the run-of-the-mill, cliché reasons).
Instead, the Reds opted to stick with Lucas Leiva as the only true, recognised defensive-midfielder, with the double-pivot in midfield looking likely to be the staple midfield structure in the team throughout the season. The signing of James Milner to partner Jordan Henderson also seems to be the preferred midfield duo for Brendan Rodgers, with the two versatile players plugging gaps in midfield wherever and whenever necessary. Emre Can rotates for either of the aforementioned players above, while Joe Allen's role in midfield still remains to be seen (as mentioned by Srikanth Bala in the Anfield Index Global Podcast: Episode 15).
Without having a midfielder who specialises in the defensive-midfield department, we could still see more devastating results like the 0-3 loss to West Ham United as there is a lack of personnel who truly understands the role and ultimately, someone who can shield the back-line whilst assuring that other players can push higher up the pitch with lesser defensive worries. Four games into the season undoubtedly means that a relatively small sample size compared to the 38-game season is presented, but one can only hope for defensive solidarity when a team has two calamities in defence without anyone to provide a safety net.