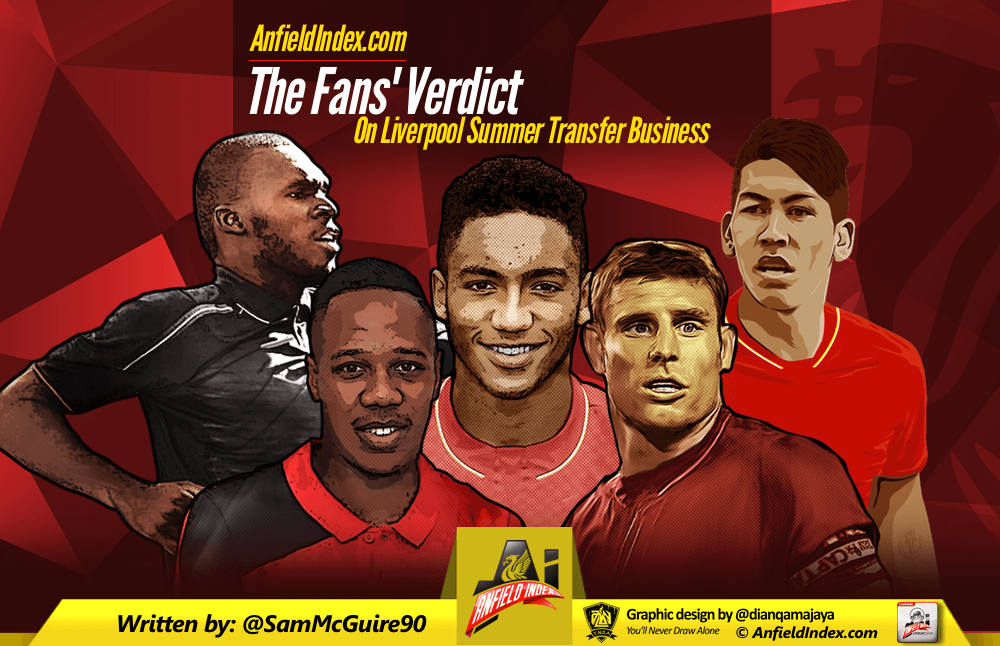 The Fans' Verdict on Liverpool's Summer Transfer Business

Liverpool fans rarely agree with something as a collective. Nobody is alike so it's obvious opinions will differ. I could write an article summarising how I thought the transfer window went for Liverpool but plenty of others are doing that so I decided to ask different people what they thought of our business. There will be no 'agendas', just honest answers from a variety of fans. I spoke with Kev Kelly (@KevKelly92) a writer for FanFeud, Jay Riley (@Jay_78_) co-host of our very own Red Room Podcast and does Interviews for AnfieldHQ and , Patrick Moloney (@CalvLyfeson) who talks too much sense on Twitter at times, Sikander Najib (@AttackoftheKop) who is a talented writer just not consistent enough and a certain Mr. Jack Lusby (@JackLusby_) one of the best football writers out there, in my opinion anyway, the home for his work can be found here.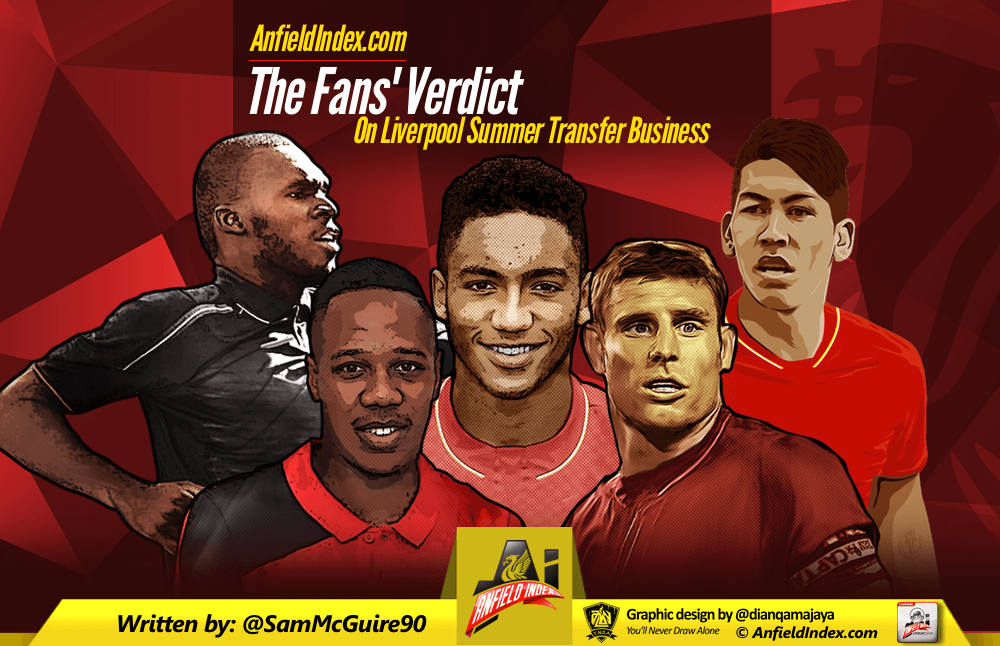 Are you happy with the transfer business Liverpool have done on the whole?
Kev Kelly: Yeah certainly. The manner of the West Ham loss will cloud the judgement of the kneejerk masses no doubt, but in the cold light of day the summer business has been clever and effective, if not very exciting.
Nathaniel Clyne in particular is the sort of readymade signing Liverpool rarely make, and compared with who he replaced, you have to be very pleased. Whatever business we made this summer though I always felt we'd never get in anyone of the class of Raheem Sterling, and as it stands I'm pretty sure that'll remain the case, despite the likelihood of Roberto Firmino improving.
Jay Riley: I'm happy with the transfer business in the main, but I do feel we could have, and should have, signed a commanding centre-back who can organise. I also think a proper left-back is lacking, we can't rely on an 18 year old centre-back playing there.
Patrick Moloney: I think Liverpool have done relatively solid business in this window. The temptation is to try and justify any new signings. Try and see how they're going to fit in. It's early days and I think the new additions have probably been our most impressive performers. I'm looking forward to seeing more of Ings and Origi. I'm hoping one of them gives us a pleasant surprise.
Sikander Najib: I'd say the business done in the transfer window is indicative of where Liverpool football club is at, at the moment. It was OK. Losing Raheem Sterling, arguably the biggest English talent in the country, to Manchester City was disappointing, but the capture of Roberto Firmino quickly restored fan belief. The right-back position needed strengthening, dare I say I would be an upgrade on Glen Johnson, but the club got it absolutely spot on with Nathaniel Clyne. 
Jack Lusby: To an extent, yes. But I feel it's been a somewhat incomplete window with the failure to sign an adequate right-sided centre-back and a defensive midfielder. Another attacker would have been ideal, too. Having said that, I'd say the squad is in much better shape at this stage than it was at the end of 2014/15—so I'm reasonably pleased!
Who was your favourite Liverpool signing and why?
KK: It has to be Firmino. Despite me never seeing the chap play (at least I'm admitting it), the deal is drenched in the sort of excitement which all football fans love. A skilful Brazilian for a lot of money. It's the sort of thing which made me fall in love with the game back in 2002 World Cup.  The day it was announced I couldn't have been happier. Dancing around the room. And I'd never seen him play! Football is crackers, really.
JR: James Milner, his experience will help this young team and he's a winner as well. I liken him to an older Jordan Henderson, has goals, assists and a great work ethic in his game. A true professional.
PM: Most supporters were elated with Firmino. They were pleased that we'd secured a coveted player. I was pleased with Milner but felt we needed another midfielder too. Looks unlikely. But the Clyne deal was superb business. A good price. A gigantic upgrade on our previous number two. I'm still surprised we managed to get him. Think he's my favourite deal.
SN: Tough one. It'd be out of James Milner and Roberto Firmino. Although I hadn't actually seen the latter play, his name created a real buzz around social media. Those who had seen him, were full of rave reviews. I've been an admirer of what James Milner offers for a few years. He's a player in that Dirk Kuyt mould. Quietly goes about putting a solid shift in, and we've missed that since his departure. Here's hoping he chips in with a few extra goals
JL: Obviously Roberto Firmino was the most exciting, but it's between James Milner and Nathaniel Clyne for me. Both addressed clear flaws in the Liverpool squad and added immediate consistency and quality to Brendan Rodger's first team. I'm going to go with Clyne.
Is there a position or a role that you think we've potentially overlooked? If so who would you have liked to see brought in?
KK: A DM! Oh god we do need one! Well, I'm not actually funny so I'll let you know now that was a joke. But in all seriousness I would probably have liked a Lucas replacement. The current squad isn't light in numbers really bar backup full-back but I've no interest or worries there. Where I would have liked is a proper winger. In retrospect Jordon Ibe doesn't look near ready nor perhaps will he ever be? No one knows yet. The furore surrounding Lazar Markovic is ludicrous but that is the nature of internet football fans. He doesn't look to have the attributes to play out wide – and despite that people will say, he is not ahead of Adam Lallana for a central role. The loan will play some part in indicating whether he is right for Liverpool or not. I have no name for you because I'd prefer not to blag it but someone who is more winger than attacking-midfielder would have quickly found a place in the current side.
 PM: I have a slight concern over the lack of cover/competition at full-back. I get the feeling Rodgers is hoping to get by with Clyne, Gomez & Moreno until Flanagan returns. That worries me. We don't know when Flanagan will be back. What level will he be at? Can he ever get back to where he was in 13/14? He wasn't the fastest in the first place. We need another full-back. I think we lack real class in midfield. I'd like us to sign someone who can control a game from there. But it's obviously not on the agenda for Rodgers. In general, I think we lack a sprinkling of magic. Coutinho & Firmino will be our go to players when it comes to creativity but if we're honest we'd have to admit we don't have anything resembling a world class performer as it stands. You could upgrade most positions in truth. That's where Liverpool are right now sadly.
SN: I feel we've neglected the defensive midfield position. It's been a weak area ever since the departure of Javier Mascherano and in an ideal world, a deep lying midfielder like Mateo Kovacic would've been perfect for us.
JL: There are three, for me: centre-back, defensive midfield and left wing. I would have loved to have seen Liverpool pursue the availability of Nicolas N'Koulou, Geoffrey Kondogbia and Andriy Yarmolenko…but perhaps seven signings was enough for Rodgers this summer.
Has any of the business other clubs have done concerned you?
KK: Not at all. Man City aren't Liverpool's rivals – nor Chelsea, despite them not doing anything of note. Arsenal have only bought Cech, and while he's shown first-hand how good he still can be, he won't do it consistently. Arsenal will still need a striker, but with Wenger I'm sure they'll still just do enough for 4th regardless of signing someone great, or indeed someone pretty bad. Let's not forget they weren't actually any better off with Alexis Sanchez. Ended the season with less points than the previous campaign! I think Man United are the likely rivals for fourth place and they've bought well; but without a better striker than Rooney on their books most of the additions are nullified. Liverpool may not do enough for 4th, but it won't be down to Man United's additions widening the gap .
 JR: I wouldn't say other clubs have me worried. Forget Manchester City and Chelsea as they're the main title contenders. Our aim is 4th and Arsenal have only signed Petr Cech. Man United have been busy and Depay and Schneiderlin are good signings for them but I feel that Schweinsteiger's legs are gone and Guardiola isn't daft by letting him leave Bayern, and (Anthony) Martial, the big money forward, is still only raw potential at 19 years old.
PM: I tend to look at our nearest rivals. The rest are irrelevant in some respects. Southampton seemed to have done some reasonable business but they've lost too many big players this time around. Not concerned about them. Spurs look a bit of a mess. Son could be good for them. Can't see Kane having as successful a season this time around. Same could be said for Eriksen. But I wouldn't say I'm concerned. That leaves United. Started well. Darmian has been their most impressive new signing I think. Schneiderlin could prove to be a massive player as the season goes on. Not concerned about Schweinsteiger. Bayern sold him for a reason. I think Depay will be a superb signing with time. Martial obviously has potential but the money is insane. They needed a centre half and have so far failed to get one. Their window seems to be more about the players they've lost out on. They're arguably a weaker squad. I do think 4th place is there for Liverpool but much like last year I think we could be the architects of our own downfall.
SN: Manchester City. They've taken arguably the best English talent in the country from us and added Nicolas Otamendi and Kevin De Bruyne for £80m. Chump change. They look to be on their way to their third title in five years. 
 JL: In the context of the race for a top-four finish, not wholly.
Manchester United started well by signing Morgan Schneiderlin, Matteo Darmian and Memphis Depay, but having failed to address glaring problems in defence and attack they've shot themselves in the foot somewhat. The same goes for Arsenal signing Petr Cech and ignoring their perennial need to sign a defensive midfielder and a striker — I think they have the quality in their first team to challenge for the title, but there are many "ifs"…
Chelsea signing two Football Manager 're-gens' at centre-back instead of John Stones is hilarious, and I think Manchester City adding Raheem Sterling Kevin De Bruyne, Fabian Delph and Nicolas Otamendi kind of puts them out of our league anyway. We stand as good a chance (ie. very slim) of a top-four finish now as we did at the start of the window. More concerning is that the likes of Swansea City, Stoke City and Southampton have continued to prove that their transfer operations are so much more sophisticated than ours!
Aside from Liverpool, who do you think is the signing of the summer?
KK: Andre Ayew
JR: Petr Cech
PM: Pedro
SN: Arturo Vidal (There is always one!)
JL: Pound for pound it's Andre Ayew.
Do you agree with what these guys have said? Who do you think is the best Liverpool signing this summer?