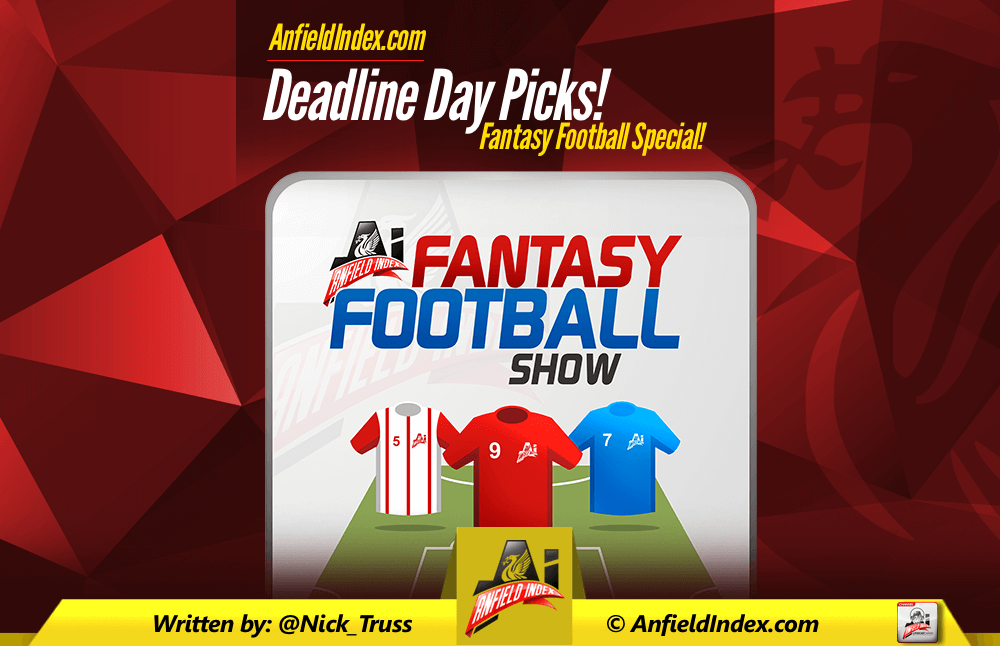 Anfield Index Fantasy Football Show Extra - Deadline Day Picks
The transfer window is over, Premier League squads have been submitted, time for a bit of consistency in the Premier League? Right? Probably not but one thing is for certain and that is Gameweek 5 will see several new faces take the to field for their new teams but will any of the last minute purchases make their way into your fantasy team? This article takes a look at a few top picks from the long list of new signings from a recording breaking transfer window.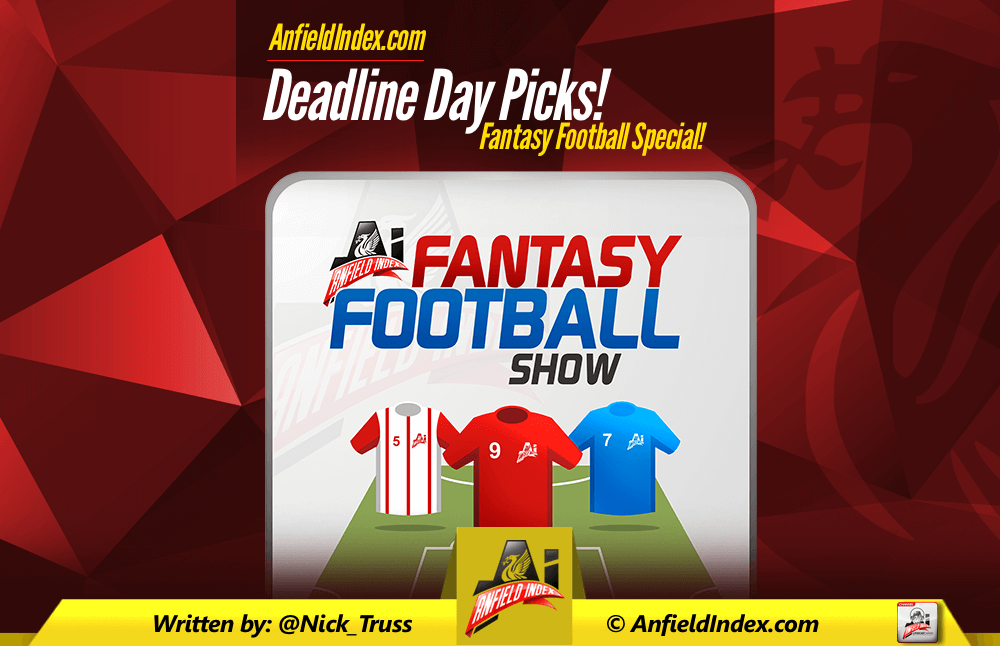 David De Gea – £5.3m
Bit of a cheat here but the big story on deadline day was the news that David De Gea would not be leaving Manchester United. His Fantasy Football value has dropped from 5.5 to 5.3 as it looked certain he would be on his way, however a PDF mix-up means the goalkeeper will be staying at Old Trafford at least until January and with the Euro Championships on the horizon I doubt he will want to spend his days sulking on the bench. At 5.3 million you could earn yourself 0.2/0.3 million if you have Cech/Hart or if you have a bit of extra in the bank you could get hold of one of the best keepers in world football for a cut price.

Transfer Rating – Single handily got Manchester United back in to the Champions League last year. Top keeper at a cut price; get him before it rises. 9/10
Virgil Van Dijk – £5.5m
Southampton haven't hit the form we've all come to expect from them, but after another summer of key departures is it really that much of a surprise? The loss of Morgan Schneiderlin to Manchester United coupled with Victor Wanyama's absence has left Southampton's defence vulnerable. Manager Ronald Koeman has reacted to this by bringing in Van Dijk from Celtic.  Van Dijk has been added at the same price as Jan Vertoghen (13pts) Hector Bellerin (15pts) and John Stones (15pts).
Transfer Rating – He will probably slot straight into the team against West Brom, and having kept 2 clean sheets in 2 games Southampton will look to start to build up some form to challenge for those European places. 7/10
Anthony Martial – £8.0m
Manchester United needed a striker. Wayne Rooney isn't firing and they've sold the rest of their front line. Despite Martial's ridiculous price tag, he has been added to the game at £8.0 million. It remains to be seen whether he will get the starts but £8.0m for a striker who will potentially be starting every week for one of last season's top 4 could prove to be a bargain (Diego Costa £11.0m, Lukaku £8.2m, Benteke £8.5m, Aguero £13.2m, Rooney £10.4m and Kane £9.4m). On the flip side he has only scored 11 senior goals and is coming in with that price tag over his head, will he be the next Thierry Henry or end up whispered under the same breath as David Bellion as one to forget?
Transfer Rating – Big challenge ahead for the teenager, are you a risk taker? If so Martial is definitely one to think about, for me it's a bit too much of a risk after my terrible start. 6/10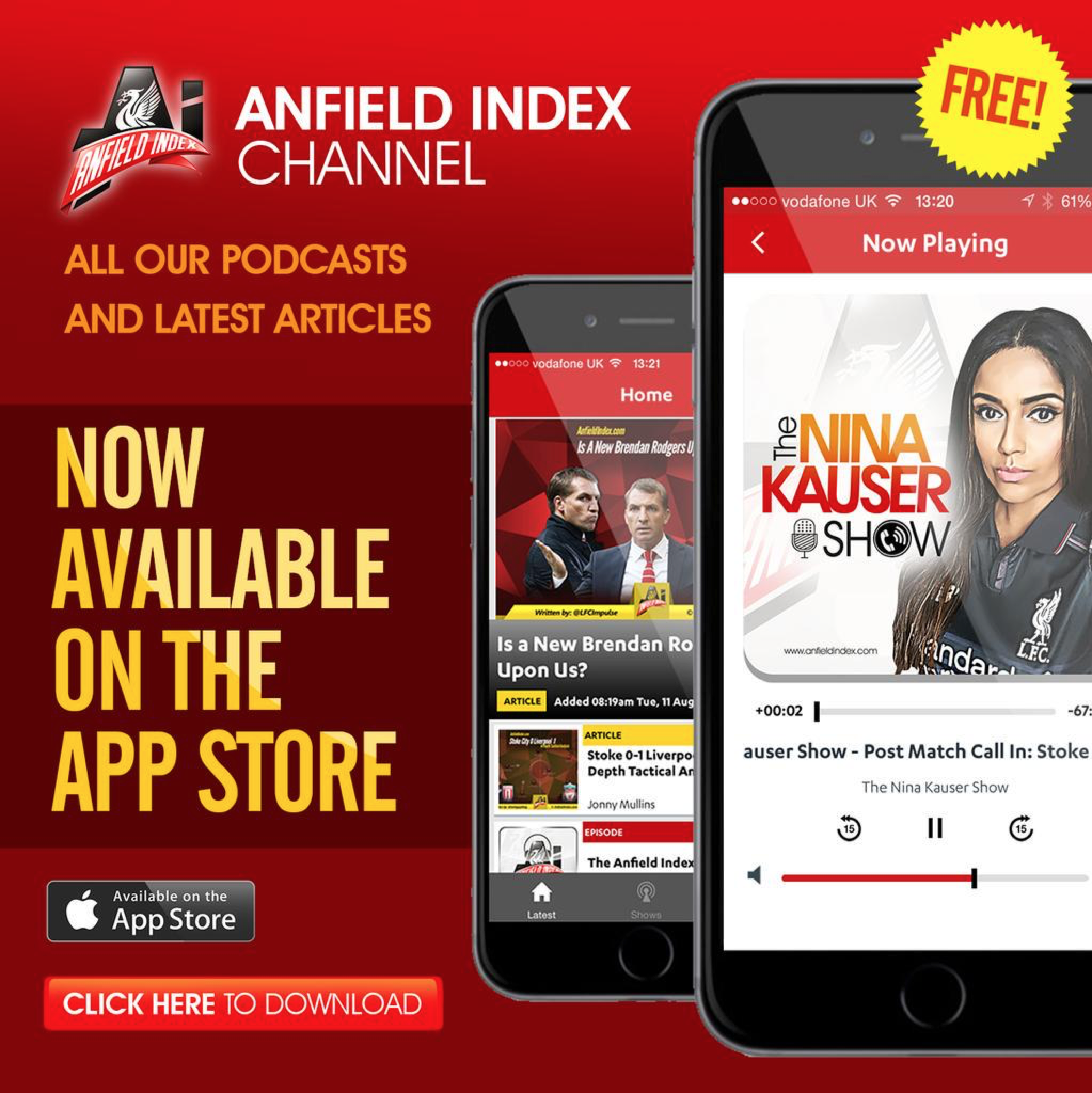 Nikica Jelavic £6.0m
Another return to the Premier League for Nikica Jelavic, once dubbed better than Suarez by the Goodison faithful the Croatian striker has bagged goals for each club he's played for including 12 goals in 42 games for struggling Hull City. With West Ham's current injury and suspension crises he could play a lot of games for the Hammers as the bid to stay in the Premier League ahead of the move to the Olympic Stadium next season.
Transfer Rating – Having played under Slaven Bilic before at International level you'd expect there to be some form of understanding between the two, could get a lot of games, and with Callum Wilson being the only player striker under £6.0m to be performing at the minute if you are looking for a 3rd striker with a relatively low value, Jelavic could be your man. 7/10
Fabio Borini £5.4m
Due to Liverpool's lack on incomings on deadline day, one of the outgoings makes the list. That man is Fabio Borini who sealed a moved back to Sunderland two years after a successful loan spell in which Sunderland reached the Capital One Cup Final when he scored, beat Newcastle (again he scored), avoided relegation and of course became the first side to beat Mourinho's Chelsea at Stamford Bridge, thanks to a Fabio Borini penalty. Little wonder why the fans on Wearside love him and he should fit right back into the side.
Transfer Rating – At £5.4m he could work out to be an absolute steal; its increasingly difficult to scrimp on your frontline in fantasy football, Callum Wilson being a prime example moving up 0.2m from his original £5.5m price tag to £5.7m despite a brief drop to £5.4m after Gameweek 2, as over 61,000 people removed him from their teams after a slow start, he proved them wrong and scored a hat-trick the following week meaning over 320,000 scrambled to put him back in. The price tag could release some funds to go and spend elsewhere in your team, maybe on a Hazard, De Bruyne or Aguero! 7/10
The AI Fantasy Football Team will be back next week with a podcast looking at all the deals and the upcoming gameweek, look out for that on the AI App available now from the App Store!
Follow the AI Fantasy Football Team on Twitter – @AIFantasyFooty
*All prices, points and stats correct at time of writing.