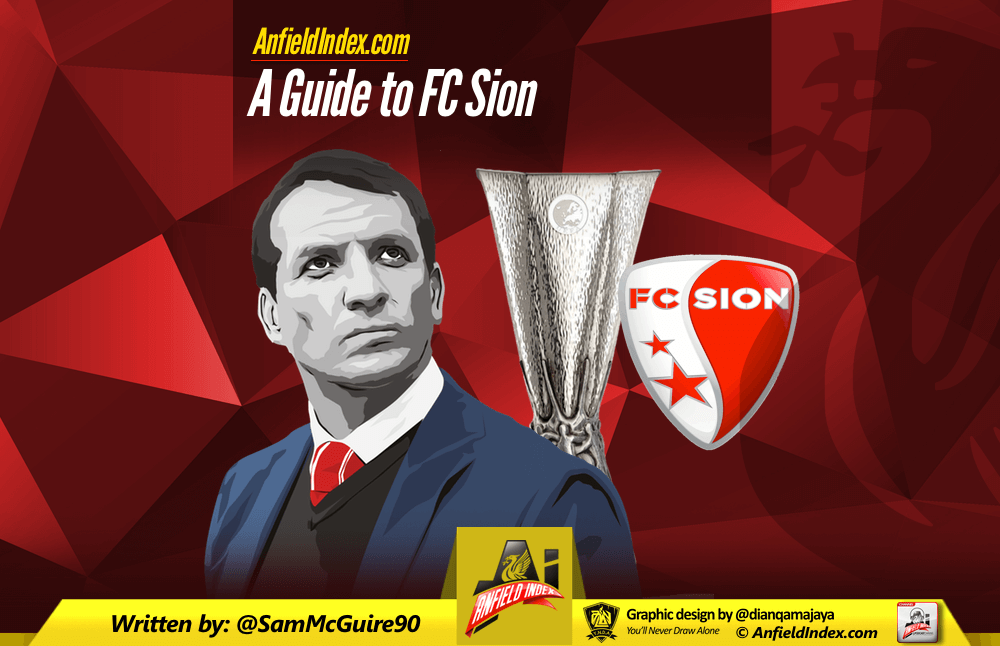 A Guide to FC Sion

Liverpool's Europa League draw wasn't the toughest all things considered. Barring the trip to Russia there shouldn't really be anything there to concern us. There's no reason The Reds shouldn't top that group but It'd be foolish to take these matches for granted. Many fans won't be familiar with FC Sion, I doubt many are avid watchers of the Swiss Super League. So for my benefit and anybody who wants a quick outlook on the Swiss side I spoke with Football Manager Researcher for the Swiss League, and FC Basel fan, Oliver Zesiger. For those interested his Twitter handle is @aulit_z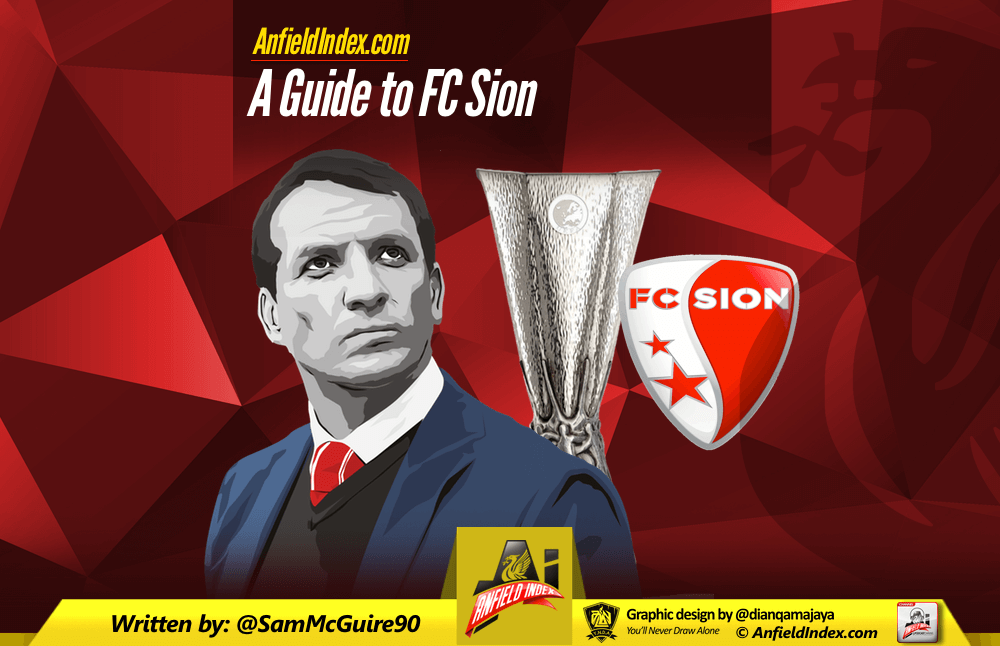 How do FC Sion play? Are they a possession based side or a counter attack side etc?
That depends on the opposition. They're a good team, but not good enough to play their style against every opponent. Their basic idea of the game would be to attack quickly and in a diverse manner. Not only wing play or through the middle, but well spread across the pitch. One of the best matches I've seen them play in recent memory was the Swiss cup final of last season, when they dominated FC Basel in Basel's own stadium. In that match, everything their manager wanted worked out perfectly and Sion won 3-0. Their 13th cup win in their 13th final. You could say they're cup specialists. But at the moment the team seems too fragile and not established enough to repeat such a performance.
What formation do they tend to use?
They used 2 different formations this season. At the beginning of the season, they played a 4-4-2 with Assifuah as second striker. After about 3 matches, and 2 red cards, they changed to a 4-2-3-1 with Konaté alone upfront. The results haven't changed drastically with the change in formation. The team is built around a core defensive midfield of Veroljub Salatic and Xavier Kouassi. Those two do not contribute as much offensively as they do when the opponent has the ball. They add a lot to Sion's defensive stability. But it hasn't clicked a hundred percent yet this season. The two red cards I mentioned earlier were received by Kouassi and Salatic.
Sion has bought 2 new players from Belgium on transfer deadline day. A striker and a winger. I don't know them yet, but this could be a sign that Manager Didier Tholot wants to go back to the 4-4-2.
Who are their key players?
First and foremost it's their top striker Moussa Konaté. He came into the club a year ago and it took half a season for him to adapt. Then he went off. After winter break he scored 13 goals in 17 matches. He is a threat in front of goal and hard to keep in check. He is an interesting player for mid-table Premier League sides. There were a few clubs interested in him this summer, Hannover 96 among them, but the chairman of Sion made it clear he would not sell for cheap. Which sounds to me that as soon as Konaté is available for a work permit, he'll be off to England.
Carlitos is Sion's playmaker. He mostly plays on the wing but cuts inside a lot. He has the ability to beat a man and to send Konaté deep with a through ball. He is also a threat from set pieces and when you let him shoot from distance. Another good player is Martin Zeman from the Czech Republic. His crosses could well be the best in the Swiss league. Though it's early to judge, because he only came in this summer.
I've mentioned Salatic and Kouassi in your second question. They're very important, but not as eye-catching as the others. When they are playing well, they're interrupting many attacks and keep pressure off the defence (see weaknesses). Also important is their goalkeeper Andris Vanins. A 63-times Latvian international. He may have been the most consistent keeper in Switzerland since he joined in 2009.
Who could be their surprise package?
Me personally, I like Edimilson Fernandes a lot. A tall Swiss attacking midfielder with pace and good composure for a 19-year old. He did not have the best of starts to this season, but he's slowly worked his way into the team. Another player I personally like is Daniel Follonier on the right wing. He has good workrate, speed and he links up well with his teammates. He is good in front of goal too. Unfortunately, he only started twice this season and it seems like he isn't in the first team plans for now. The one central defender I most like is Leo Lacroix, a really tall former Swiss under-21 international. I can see him joining a foreign club in a bigger league and becoming an international in the next couple of years. Overall, Sion has a good mixture of veteran and young players.
Do they have any weaknesses?
In my eye, Sion is lacking in defence. They have good defenders, but at the moment, former Spurs player Reto Ziegler is playing as a centre back. He is a natural left back. They just don't have enough centre backs. One of those who would be good enough, besides Lacroix, is Birama Ndoye. He is a natural defensive midfielder who began playing as a centre back when Salatic came to the club last winter. And he did well in defence. Unfortunately for Sion, he was injured so far this season.
How do you think the group will finish?
Unfortunately, I can't see Sion surviving this group. And I'd really like them to go further for the sake of coefficient points for Switzerland. I like Swiss clubs to do well in Europe too. I think Liverpool will win this group. Then it's an open battle between Bordeaux and Kazan for second in my books. Sion might be able to get a win and snatch a draw. I'd like to be surprised though. So surprise me and prove me wrong, FC Sion!
I'd go with 1. Liverpool, 2. Kazan, 3. Bordeaux, 4. Sion.