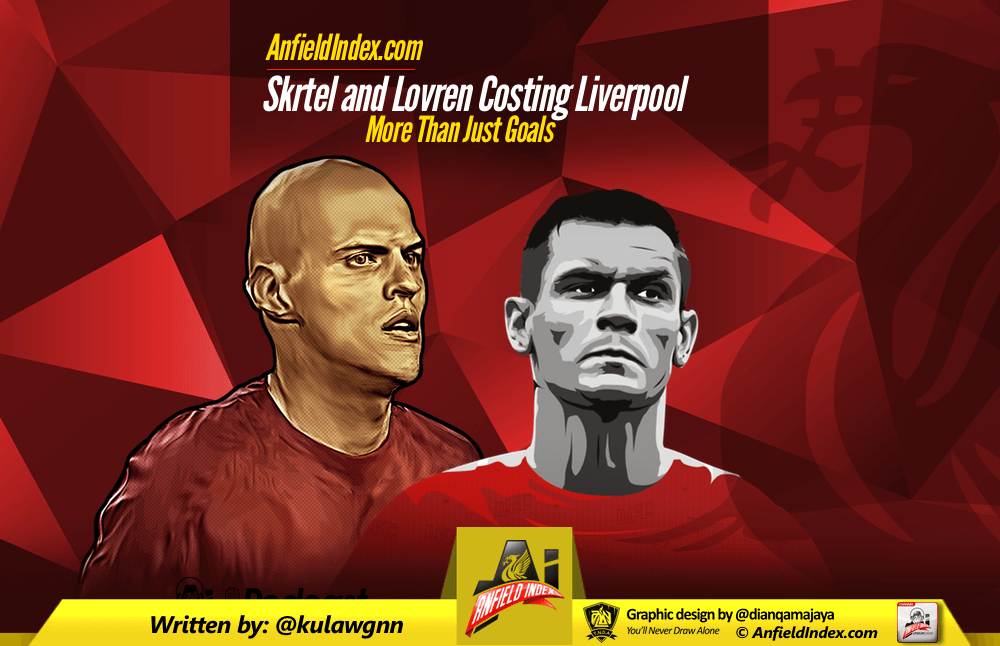 Skrtel and Lovren Costing Liverpool More Than Just Goals
In some clubs central defensive pairings form the basis of championship winning seasons. But the Skrtel and Lovren hardly gives a platform for even a top four challenge. The three clean sheets of the season while welcome, should not deceive anyone. They have serious defects with their individual games and their pairing. Clean sheets are not conclusive proof of solidity of a team's defence. What is the point is racking up three clean sheets and conceding three in the next few matches? Last season LFC recorded 13 clean sheets but conceded 48 goals. By implication the team conceded these goals in 25 matches. So when LFC was not keeping clean sheets it was conceding almost 2 goals every match. That is hardly impressive. They are just not leaking goals; their pairing is having adverse effect in other areas, some of which I discuss below.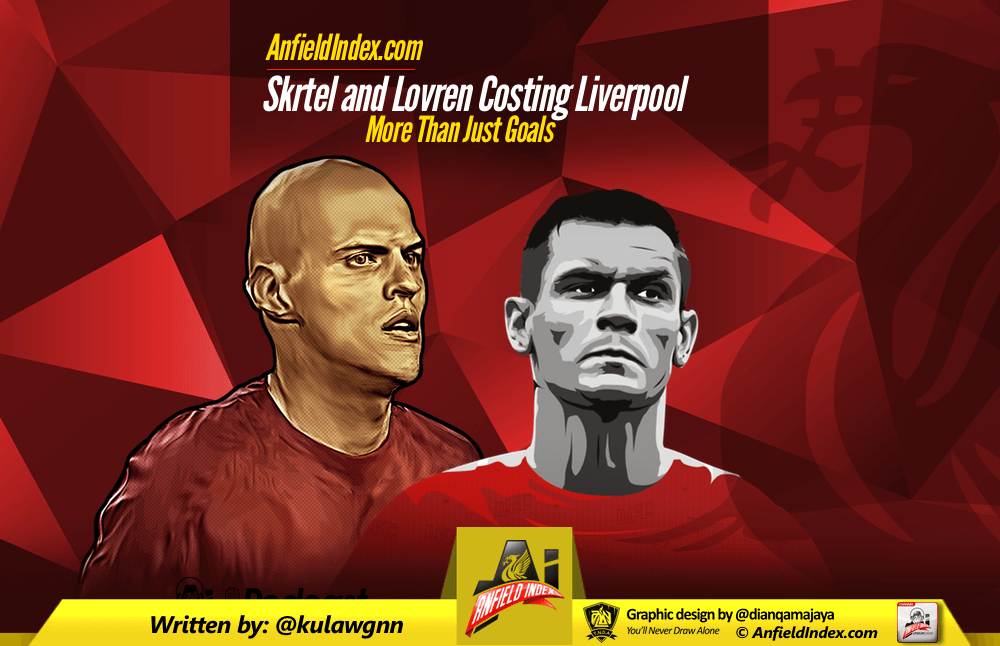 Caging the attacking threats of the full-backs
The first three clean sheets were largely built on LFC's full-backs essentially babysitting the centre-backs. Clyne and Gomez stayed close to Skrtel and Lovren to help defend. While this achieved clean sheets and was impressive especially in the game against Arsenal, it was at the cost of limiting the attacking contribution of LFC's full-backs. Liverpool played with minimal width in those games as the full-backs did not join the attacks regularly. The effect of the full-backs not joining the attacks regularly was even more pronounced as Coutinho and Frmino tended to drift inward. Skrtel and Lovren are not up to the task when they have to cover wide areas vacated by full backs so having Clyne and Gomez high up the park would have exposed the two centre-backs. Essentially the team was set up to cater for the inadequacies of two centre-backs rather than attack. In the only match that the full-backs went high up the pitch, the centre-backs had a very poor day.

Blocking the path of better and potentially better players into the team
Back in 2013 when LFC signed Tiago Ilori and Mamadou Sakho, Brendan Rodgers talked about protecting the future of the club with those acquisitions:
"I wanted to try to protect the present and the future of the club. Centre-halves are so hard to find. You look at some teams and they have ageing centre-halves because it is a struggle to get a really good one. We were fortunate in that two became available, one that we had been tracking for a year in Tiago Ilori, a young talent but who can be a big talent."
At the time Skrtel had endured a torrid time in Rodgers' first season, being bullied by Oldham Athletics' Matt Smith limited his game time for the rest of the season. New boy Kolo Toure was the preferred partner for Daniel Agger. Toure's injury gave Skrtel a route back to the team for the home match against Manchester United. He went on to be a regular in the team chipping in a few goals and was his usual "hard man" in defence. The hard man reputation aside his positioning sense and the tangling with opposition during set pieces highlighted major flaws in his game. When Liverpool had the chance to sign another centre-back after a season that had seen poor defence among others let down the club's title charge, the expectation was that Skrtel who had looked to be on his way out since every window under Rodgers would be replaced. The club had two decent left sided centre-backs in Sakho and Agger. There was Kolo Toure for cover.
Rodgers instead signed a partner for Skrtel in Dejan Lovren. The manager upon the Croat's signing installed him as the defensive leader his team had lacked since Carragher's retirement. This view was probably informed by the decent first half season the defender enjoyed at Southampton. His stay in France was far less impressive. So much so that some French football analysts expressed surprise the Saints paid as much as £8 million for him. Had the Northern Irishman read accounts of the defender's time in France (examples: http://www.just-football.com/2013/06/dejan-lovren-southampton-premier-league-transfer-power/, http://bleacherreport.com/articles/2253895-dejan-lovren-reliving-lyon-nightmare-at-liverpool ) he would have been guarded in his praise singing. A recent piece by Anfieldindex writer, Sam McGuire also ( http://anfieldindex.wpengine.com/15640/lovrens-actions-speak-louder-words.html) highlighted the weaknesses in the Croat's game. Rodgers made it clear his preferred partnership was Skrtel-Lovren. Overloaded with three left centre backs, Agger was forced out in a way that drew criticism from the Dane and sections of the fans. Modern football has little place for loyalty but LFC fans expected some from Sterling and Suarez so it's not out of place to request a better treatment of a faithful servant. So Agger became the first casualty of the Skrtel-Lovren defensive partnership. But for £20 million, to say Lovren was not an upgrade on either Agger or Sakho, is a massive understatement.
The Skrtel-Lovren partnership struggled throughout the first half of the season. When Liverpool turned to the back three, Sakho and Emre Can came in to solidify the defence. Rodgers resisted very little the opportunities to revert to his preference. Time and time again Skrtel and Lovren were not up to it. At the team's last home game at Anfield, Rodgers could not bear to watch the horrific displays of Lovren.
Fans who had endured this sight all through the season may have thought finally Rodgers had also had enough. Not quite. Despite Sakho's best efforts in preseason and superior talent, Rodgers was not going to break up his preferred Skrtel- Lovren partnership. Three clean sheets in the first three matches got Rodgers talking up Lovren, claiming he will grow to become an exceptional defender. But it was too hasty as West Ham highlighted.
After Agger and Sakho, Tiago Ilori is the next to suffer from the determination of Brendan Rodgers to make Skrtel-Lovren his undisputed first choice centre-back pairing. Last week he was sent on loan, perhaps never to return if you believe Echo's James Pearce. It was reported that Rodgers does not rate the player. No disrespect to the manager but it says a lot about his appreciation of defensive talents more than it says about Ilori's talent if he rates Lovren and Skrtel and not Ilori. There is no guarantee Ilori was going to turn out a Hypia or Alan Hansen. But you don't spend an entire summer chasing after a player, as LFC did in 2013, pay £7 million for him and not give him a chance. A section of the LFC fan base who thinks the club cannot do worse than giving Ilori a chance if Skrtel and Lovren are considered first choice. I go with this persuasion as against those who say he is untested and not ready. The "tested" Skrtel and Lovren have done little to justify their place. No one claims Ilori is world class. However he was one of the best defenders in the recent Euro U-21 tournament, showing great potential and more composure than Lovren has ever exhibited in a red shirt. He has also had good experience from loan stints in Granada and Bordeaux. Ignorance of his performance at these two clubs cannot be used to justify his supposed lack of readiness to step up to first team football at LFC. Some fans always raise the "most have not seen him play before" banner anytime a discussion is going on about a player not based in England. It is even commonplace in the mainstream media. That attitude seems to suggest all fans are ignorant about what goes on beyond the English game. This is wrong. Twelve months before LFC signed Roberto Firmino contributors on various Anfieldindex podcasts banged on about him. Such insight was gained from more than causal interest in the Bundesliga. I watched Tiago Ilori at Granada as did many other fans. One match stood out at his time at Granada. Against Barcelona he was pivotal in thwarting the attacks of Barcelona. He may be young and short on top level experience but in terms of positional sense, reading of the game and playing the ball from the back, he trumps those Skrtel and Lovren display in a red shirt. But such a talent has to be sacrificed because the manager rates Skrtel-Lovren.
Inhibiting the development of Emre Can as a top DM and Moreno as a top left-back
DMs shield the defence. But what happens when the best person in the team suited to the role is inexperienced and has to grow into the role? Lucas Leiva may help out there once in a while but the future as far as this role is concerned is Emre Can, at least for now. This where the central defensive partnership play a great role in his development in the sense that they are capable and always prepared to step up to cover his inevitable mistakes. But the Skrtel- Lovren partnership lacks the capacity and leadership to offer any such support for the growth of Emre Can into the DM role. A similar situation is playing out with Alberto Moreno. He has a lot of improving to do as a defender. But there is none in the team better than him at providing attacking thrust from left-back Joe Gomez has been very good in the left back slot so far. But against West Ham he exhibited the limitation most right-footed players have playing that position. It was not the teenager's fault. He is not a left-back and he is not left-footed. He struggled to have any attacking threat in the match. Despite this weakness, he still offers a better option beside Lovren as the latter lacks the leadership to guide Moreno or ability to deal with a full back whose strengths are more attacking than defending. Moreno's potential would have come on in leaps and bounds if he is sat by a capable central defender who can help develop his game. Lovren is clearly not that player. It is no coincidence that Moreno has looked better defensively anytime he has played with Sakho.
Skrtel comes across as your hard man defender but that's not enough. He is regularly dominated by centre forwards. Against Bournemouth he showed that he has not done away with his wrestling antics during set pieces. Lovren has consistently shown his inability to deal with one on one situations and a lack of ability to manage spaces vacated by full backs. Yet with Rodgers around, LFC seems stuck with them. The end does not seem nigh for leaking in goals and limiting the ability of this LFC team to be better especially defensively.