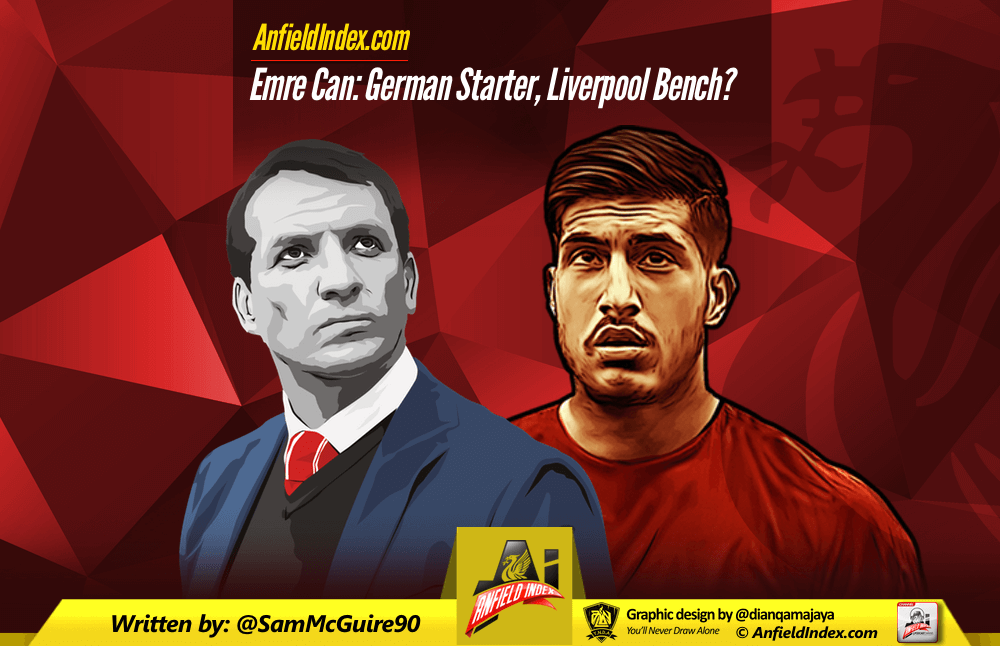 Emre Can: German Starter, Liverpool Bench?
Emre Can is a bit of an enigma to some Liverpool fans. They just can't understand the furore that surrounds the Liverpool number 23. I've seen plenty of fans say he's overweight, unfit, slow, poor positionally and a hindrance to the team. Bold claims considering the natural centre-midfielder has played that role a mere 10 times for Liverpool. These are the fans who can't see a starting role for the player.
You then have the fans on the other side of that Emre Can fence. The ones that see past his mistakes and see that Liverpool could have a serious player on their hands. When I say mistakes, I mean when he carelessly gives the ball away from time to time because unlike other players he seems to make up for these mistakes. He doesn't just give up on the ball and expect somebody else to cover for him, instead he tries to win the ball back. The more playing time he gets the less mistakes we'll see him make, right? So it's no wonder people want Liverpool, and Brendan Rodgers, to persist with Emre Can in midfield.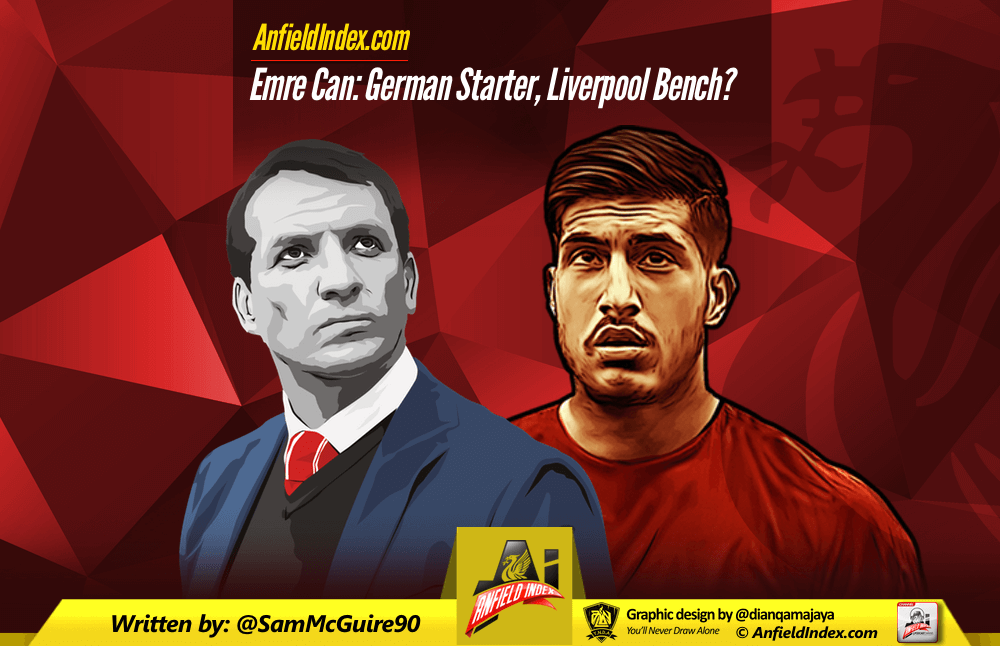 The midfielder's debut season at Liverpool wasn't the best for both club and player. He rarely played midfield, but he put in a few impressive performances when he did play there. He then found a home as our right centre-back in the 3-4-3 formation and his inclusion seemed to coincide with Liverpool's upturn in form. The system didn't last though and Brendan Rodgers started to use Emre as a right-back that drifted infield to take up a defensive midfield role. Let's be honest here, in that role he was offered very little protection and was slaughtered and this was excruciatingly obvious against Stoke in the 6-1 humbling.
Against Stoke City this season however we saw it come full circle and his cameo turned the tide in The Reds' favour. His early season form saw him get called up to the German national side. I understand many fans don't value international football and belittle it but if the current World Champions call up a player that doesn't start for Liverpool then you've got to question what's going on. How can he start for his national side and not for Liverpool?
Before the match against Poland Germany manager, Joachim Low, was very complimentary when talking about Can "I like the way he plays"
"Technically he is clever, he plays clean, simple passes and has a good positional sense."
 "Emre had a good development at Liverpool and is a versatile player. We like his presence on the pitch and his dynamism. Now we want to get to know him a bit better."
For those who didn't see the match against Poland, Emre put in a solid performance at right-back. He used the ball well, offering a calm presence on the ball that a right-back usually lacks. He finished the game with 89% pass success rate, having attempted 71 passes. An impressive stat when you consider he only had 77 touches all game, so that highlights how Emre didn't waste time with extra touches on the ball. He acclimatised well to his right-back role winning 5 headers, something he seemed to struggle with for Liverpool last season.
Emre doubters will say Germany have a better side, dominated the ball so he wasn't put under as much pressure. This is a valid point but having watched Can why would Low put his trust in him at right-back in a must win game if he wasn't convinced?
It's not like Germany don't have alternatives to Emre Can at right-back either. Seb Rudy, Shkodran Mustafi, Jerome Boateng and even Karim Bellarabi could all fill that position. Granted none of these players are natural in that role but Rudy, Mustafi and Boateng have all played that role for their clubs in the past. Then you have Bellarabi who plays for Leverkusen, a player with explosive pace so he'd be able to support the attack but then track back and recover. Alternatively, Low could have used Matthias Ginter at right-back, the young defender seems to have had a new lease of life at right-back under Thomas Tuchel at Dortmund.
If Emre Can is ahead of these players for the World Champions in an unfavoured position then how and why isn't he trusted to start for Liverpool?
You also have to consider the fact Bayern Munich are still bitter at losing Emre Can to Liverpool. If Pep Guardiola wants a player then you can guarantee he's somebody you should take notice of. Guardiola could have moulded Emre Can into his Xavi or Sergio Busquets but Can wanted to play from the off and with the likes of Toni Kroos, Bastian Schweinstiger and Xabi Alonso ahead of him he knew it'd be a scarce game time. Bayern Munich though are still peeved about missing out on Emre Can. This summer Leverkusen showed an interest in Pierre-Emile Hjojberg, a talented midfielder that really needs game time and with the signing of Arturo Vidal he knew he wouldn't be getting it. Hjojberg wanted to move to Leverkusen for Champions League football, everything seemed to be in place but Bayern dragged their heels and prolonged negotiations until Schalke made a late bid for him on loan, offering less money to Bayern but Bayern just didn't want to help Leverkusen out.
The fallout of missing out on Emre Can.
Liverpool may be in a tricky situation once again here. We could have a Mamadou Sakho situation. With the Euros at the end of the season Emre Can won't be happy sitting on the bench now he's had a taste of being involved in the full German national side.