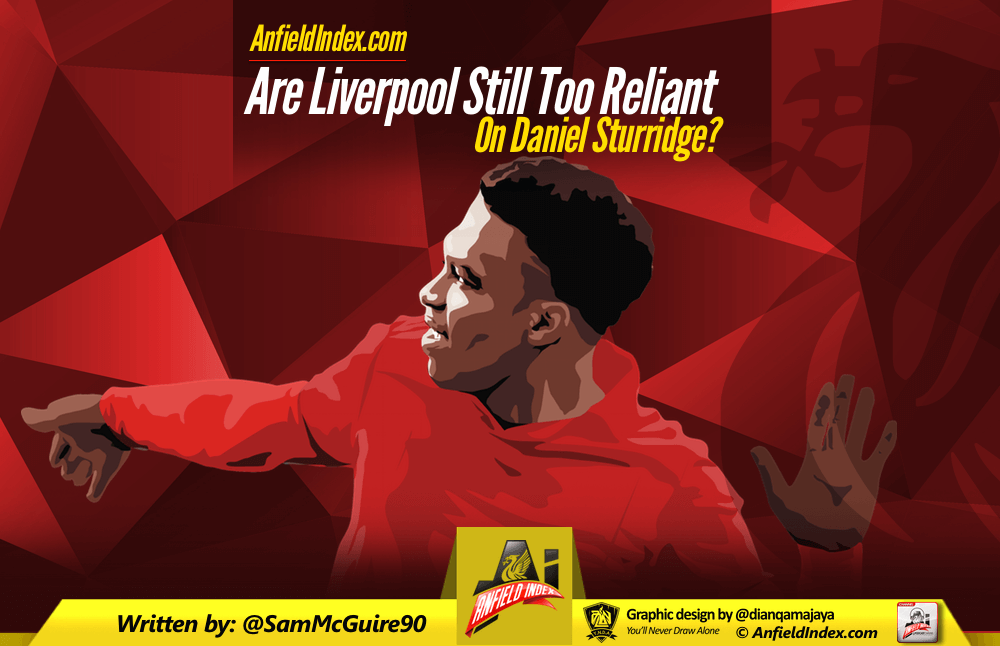 Are Liverpool still too reliant on Daniel Sturridge?
Eight new signings, near £90 million spent and it took a mere 4 games before it all started, yet again.
"When Daniel Sturridge returns we'll start smashing teams."
"We're just lacking Sturridge now, then we'll be putting teams away."

Absence makes the heart grow fonder.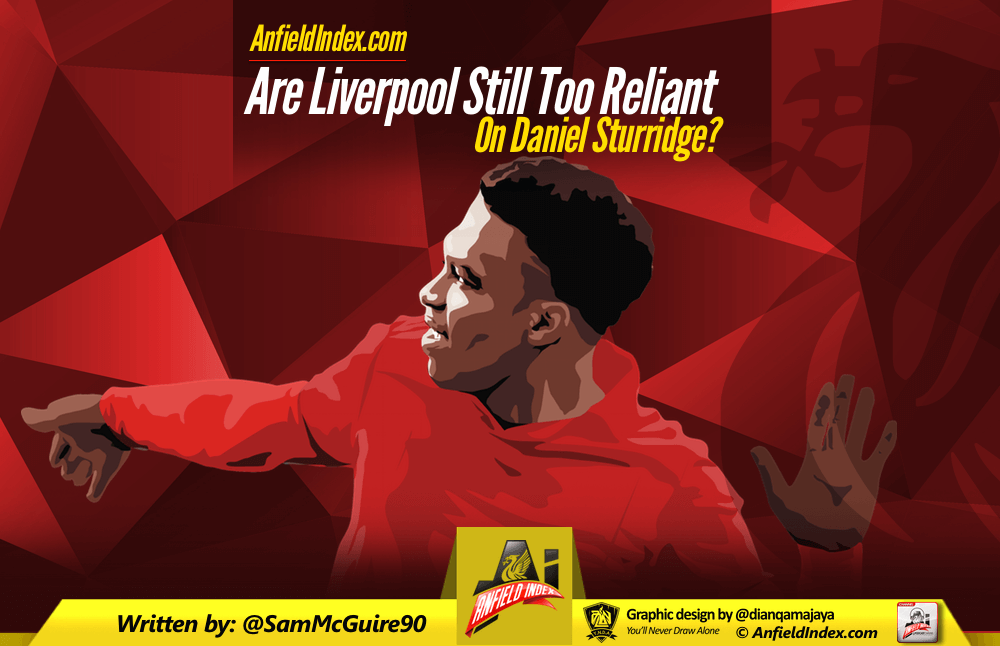 Scrolling through Twitter I felt like I'd seen all of this before. I spoke about this last week, how the start of this season felt very familiar. Liverpool not being able to find a way through a low block. Dejan Lovren getting too confident on the ball and costing us a goal. Liverpool fans putting the weight of our season on Daniel Sturridge's shoulders.
It seems like an easy excuse for fans who are worried about the lack of potency in the Liverpool games so far this season but are too scared to admit it. They're living in hope that Sturridge returns, Liverpool start firing and they'll feel some sort of vindication for not airing their concerns.
Liverpool really haven't got going this season as of yet. New signings and new backroom staff means it may take a while for it all to click, but The Reds can't afford to fall behind whilst the team gels. Will the temptation be too much for Brendan Rodgers, will he throw Daniel Sturridge back into the starting XI as soon as possible? Which is the opposite of what Andy Wales said in his article (which you can find here) in which he states Sturridge should only return when he is 100% ready.
It would be a fairytale conclusion. Injured strike returns and fires Liverpool to the top 4. Yet If we're being honest with ourselves, should Liverpool be this reliant on Daniel Sturridge to spark their attack into life having spent £70 million on attacking talent, plus Divock Origi coming back from his loan at Lille.
Will Daniel Sturridge be tasked with masking the deficiencies in the Liverpool attack? On paper we've got everything that's needed to annihilate teams but we seem to be lacking cohesion at the moment.
Can we afford that much money and *still need* Sturridge for it to all work?
That's like spending hundreds of thousands on new parts for a car and then still using a reconditioned engine that's been repaired time and time again. You only get to give the car a spin a few times a year.
Even then there's no guarantee it *will* work.
People are assuming Christian Benteke and Daniel Sturridge will work. It's all theory obviously, unless they've used that combination on Football Manager or FIFA, then of course it must be legit, right…?
Let's look at a few facts.
Benteke hasn't really played in a two for club or country. His most prolific time at Villa came when he played in an attacking three as the focal point. I have no doubt Daniel Sturridge could play one of those wide roles but will he want to? He left Chelsea because he didn't want to play that role and we as a club aren't  in a position to be shifting a 20 goal per season striker out wide, are we?
Players will say "I'll play anywhere for the team", they won't, and even if they play there it's almost like you're nullifying the player yourself which saves the opposition a job. Like when you play Lovren, you don't have to rush him into a mistake, he just does it.
Secondly, on paper of course, It's hard to properly balance a side that includes both Sturridge and Benteke as both players don't really press the ball. If you want a high press you need to push midfielders forward and there's a risk of being countered if the press is bypassed and we've seen how Liverpool struggle with no protection from midfield. It's a team game and you can't really afford to play two attackers that do very little work off the ball. That's not a knock on them either, that's just how they are as players.
I've then seen people say we'll rotate the two. This could be a viable option, but would we really have spent £32 million on a player to be a rotation option? Likewise, if Sturridge is fit will he be happy with a place on the bench alongside Danny Ings and Divock Origi? Doubtful.
Then what would be impact be on the team if you were to rotate the two? You'd be changing tactics and formations weekly to accommodate the different strikers, it's not ideal for momentum or form is it? I know teams are interchangeable and fluid but I imagine changing the style of play every other week would disrupt partnerships players build.
Foreseen issues.
Wasn't this going to be an issue all along if we only started with one striker? If Benteke started the season like he finished last season and started to form an understanding with the likes of Philippe Coutinho and Roberto Firmino then how do you change that to accommodate Sturridge? Ultimately Benteke's done a good job as a lone forward but we've lacked goals as a team so Sturridge is once again viewed as our saviour.
I'm not for one moment saying the Sturridge and Benteke double act won't work, we've seen these types of partnerships prosper at Liverpool before but why are we dependant on Sturridge once again? Is this not a risk given Sturridge's injury record and Rodgers being reluctant to field two strikers in the first 4 games of the season? Why, if we were going to play two upfront didn't we use Benteke plus Ings/Origi in the opening games to get used to that formation? Football is about adapting and evolving but going from one extreme to the other seems a little excessive to me.
I'm sure this had all been thought through by those in charge but I can't help but feel a little cautious having spent so much money on attacking players and yet still needing Daniel Sturridge for it all to work.