After Jonjo Shelvey's man of the match performance for England against San Marino on Saturday, I can't help but wonder whether Liverpool let him go a little bit too soon.
When Liverpool signed 18 year old midfielder Jonjo Shelvey from Charlton Athletic in May 2010 for £1.7 million, it quickly became apparent that Liverpool had signed an extremely talented youngster. Despite his talent, it was still clear that Shelvey was somewhat a rough diamond and still had a lot of work to do before becoming a first team regular. He therefore made a loan move to Blackpool in September 2011 to gain some much needed first team experience. He went on to perform brilliantly for Blackpool, scoring 6 goals in just 10 appearances for the Seasiders. Due to a combination of Shelvey's eye catching form and a midfield injury crisis at Anfield, Liverpool hastily recalled him from his loan just 2 months after leaving.
On his return, Shelvey's early displays showcased his superb range of passing, dynamism, tackling, physicality and eye for a long range shot. He impressed me so much initially that I started to draw parallels with the early performances of a young Steven Gerrard. I remembered back to how Gerrard also used to frustratingly give the ball away too often as a keen youngster and possibly tried a bit too hard to impress when sometimes doing the simple thing is the best option. But much like Gerrard, I had faith that Shelvey would eventually iron out the creases which plague his otherwise excellent performances.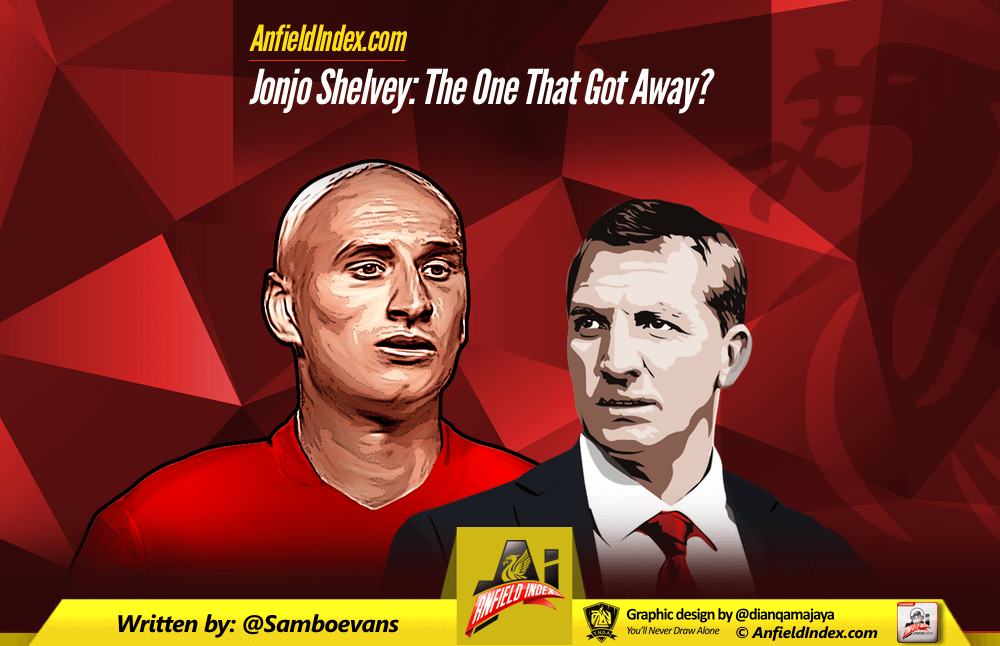 Despite reservations about Shelvey's decision making and sometimes inconsistent performances, Brendan Rodgers decided to put his faith in the powerful midfielder, singling him out as the key man in the heart of the Liverpool midfield in his first season in charge. Shelvey impressed Rodgers so much that he signed a new long term contract with Liverpool in July 2012.
Shelvey started the 2012-13 season really well and started to show why he was so highly rated despite being only 20 years old. But despite his blistering early form, the same old problems of poor decision making continued to plague Shelvey's performances. This was highlighted in the worst possible way when Shelvey got himself sent off for a reckless tackle in the 2-1 defeat to Manchester United at Anfield in September 2012. I was at that game and Liverpool started much the better side that day with Shelvey pulling the strings, but it was his lack of discipline and over eagerness that led to him letting his team down by getting sent for an early bath. More parallels with a young Steven Gerrard there, but for all the wrong reasons. Getting sent off! It was great to see another young midfielder with fire in his belly in the centre of the park at Anfield, but it was clear that Shelvey's aggression would need to be channelled in the correct way in future if he was going to have any chance of success at Liverpool.
Despite his performances continuing to improve, it became more and more apparent that Shelvey was still unable to eradicate the errors from his game. Whenever Shelvey seemed to make an error, it tended to be an enormous error where he would end up costing the team a goal or missing an easy chance. The errors started to become so frequent that Brendan Rodgers had a decision to make.
Should he continue to let Shelvey "learn on the job"? Or was it time to accept that Shelvey was never going to be quite good enough?
The problem Brendan Rodgers had was that his team was under-performing badly and he could not afford to have a player on the pitch who was prone to making so many mistakes while his job was on the line. Although Rodgers clearly rated Shelvey and had high hopes for the player, he wasn't able to wait any longer for things to click for him at Anfield. On 3rd July 2013, Rodgers' faith in Shelvey had finally gone. Shelvey was sold to Swansea City for £5million where he signed a 4 year deal.
Shelvey started his Swansea career well, but it wasn't until Liverpool faced Swansea at the Liberty Stadium in September 2013 that Swansea fans got to see exactly why Liverpool could no longer afford to spend any more time waiting for Shelvey to become the finished article. The match was a microcosm of Shelvey's career at Liverpool. Just 87 seconds into the match against his old club, Shelvey opened the scoring with a delightful curling shot into the corner. But before Rodgers had the chance to start pondering whether he made a mistake letting Shelvey go, he gave a slack backpass which Daniel Sturridge intercepted and scored the equaliser, just 2 minutes after. Later in the first half he then gave the ball away again and Victor Moses gratefully took advantage and scored to make it 2-1 to Liverpool. Liverpool took a 2-1 lead into the half time break, but Shelvey came out in the second half with a clear determination to make up for his earlier errors. Just when you thought he couldn't have a more eventful evening, Shelvey then went on to head the ball on to Michu who scored the equaliser in the second half. One goal, one assist and two huge errors which cost goals. Quite the night for Shelvey against his old club. He showed what he can do at his devastating best but yet again it was these lapses of concentration which ruined what was an otherwise excellent display. At this point, it appeared that Rodgers had made the right decision in letting him go.
Later that same season in February 2014,  Shelvey and Swansea came to Anfield in what turned out to be a 4-3 thriller. Shelvey again shone and this time without making any glaring mistakes. He even managed to rifle in one of his trademark long range efforts into the top corner to drag Swansea back into the game in the first half. Liverpool managed to hold on for a victory in the end but Shelvey could leave with his head held high.
Shelvey's performances have continued to improve since his move to the Swans and has established himself as the heartbeat of the excellent Swansea side that has taken the Premier League by storm. In the 2013/14 season, Shelvey made 3 errors that led to goals but made zero in the 2014/15 season. Shelvey also made an impressive 41 interceptions in the 2014/15 season, a huge increase on the 32 interceptions made in the previous season. Further proof that Shelvey was beginning to develop in to an excellent all-round midfielder. Despite often being written off by pundits year on year, Swansea continue to prove the doubters wrong. That is in no small part down to the excellent performances of Jonjo Shelvey. His hi-octane, all action performances have become a trademark in the centre of the Swans midfield.
Shelvey has continued his improvement in the current season and has managed to create an astonishing 14 chances in the first 4 games of the 2015/16 season, including 1 assist. He has managed this whilst making zero errors leading to goals and zero defensive errors. Has Shelvey finally eradicated the lingering mistakes from his game? It was this early season form that earned Shelvey his first England call up for nearly 3 years to play in the match versus San Marino. Shelvey played a deeper role in the match, allowing him to display his impressive array of passing skills and to dominate the match from the centre of the park in a man of the match performance.
The thing I find with Shelvey is that he has the bravery to try the more difficult pass. The killer pass that can carve open a stubborn defence. The tricky pass which is made on a high risk, high reward basis. It is this bravery to play the forward pass instead of taking the "safe" option that can make the difference between drawing a game and winning it. You have to accept that sometimes these difficult passes won't come off and will lead to possession being lost, but when they do come off, they are likely to lead to a chance or a goal.
With Liverpool's midfield recently floundering against the physicality of the West Ham engine room in the 3-0 defeat at Anfield, I can't help but wonder whether Liverpool could do with Shelvey's presence in the centre of their midfield. With more and more teams coming to Anfield to "park the bus", maybe Shelvey's physicality, bravery and willingness to try the more difficult pass would be exactly what Liverpool need to break these stubborn defences down?
With Brendan Rodgers' job constantly on the line, it is understandable that he didn't feel that he had the luxury to allow Shelvey to make his mistakes in a Liverpool shirt while he was learning on the job. But with Liverpool's current midfield apparently lacking in steel and creativity, I can't help but wonder whether a loan move would have been the wiser option? A little over two years after leaving Anfield, is Jonjo Shelvey finally the player that Liverpool thought they had signed back in 2010?
With Jonjo Shelvey now looking more and more like the complete midfielder, and with the recent departure of Steven Gerrard, I can't help but feel that Shelvey might just be "the one that got away".