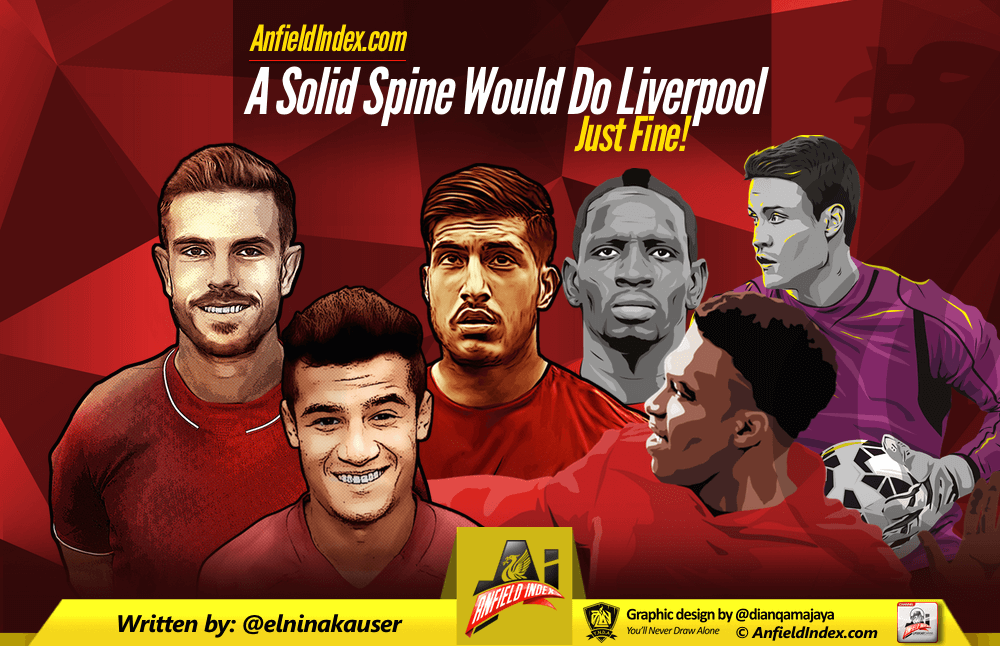 A Solid Spine Would Do Liverpool Just Fine!
I've watched a lot of football over the best part of nearly 20 years and I've seen some great sides, some played beautiful expansive football, whilst others adopted a more defensive approach where they'd be ruthless on the counter attack. I've witnessed so many great managers and tacticians orchestrate various formations such as 4-5-1, 4-4-2 and 4-3-3. But rest assured their teams had one thing in common, and that was a solid spine.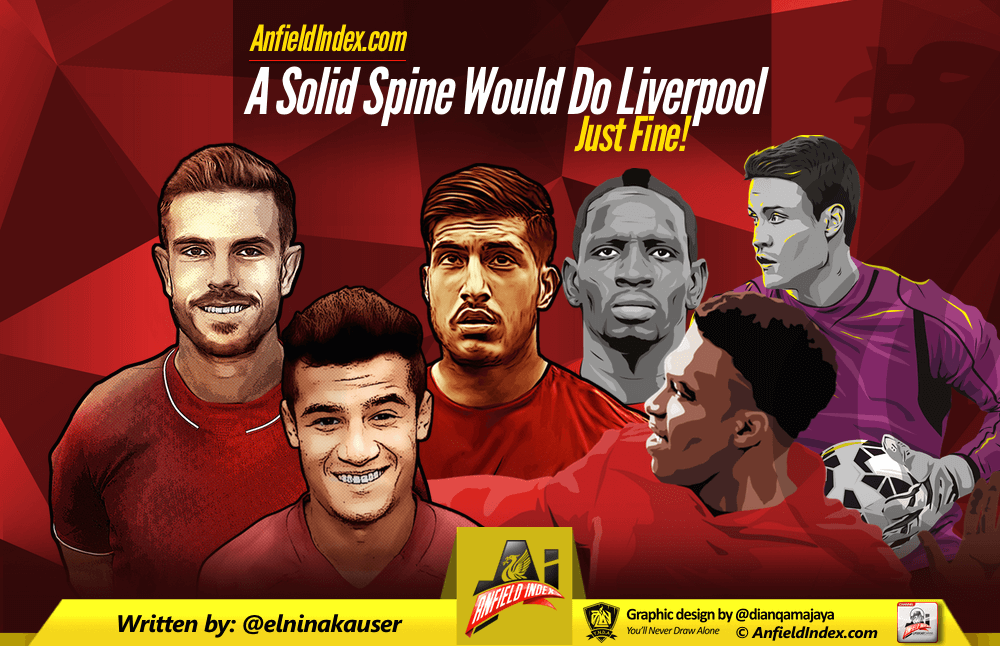 A trend in football, which has always been constant, a strong core running through the centre of a team which enables balance, strength and makes it near impossible at times for your opponents to break you down and get the better of you. Each player having a role and function but dependent on their team and one weak element could potentially mean the whole spine collapses quicker than a house of cards being blown by a gust of wind.
As a Liverpool fan you only have to look to the 08/09 season where we challenged for the title and Rafa Benitez had one of the toughest teams to break down. A no brainer when you have Reina, Carragher, Mascherano, Alonso, Gerrard and Torres within your spine. That was arguably the strongest team any Liverpool supporter could boast about in a long time. Even former captain Steven Gerrard himself posted a team sheet picture from that era on Instagram recently with a caption that said "Spine". We were so good but as the saying goes all good things must come to an end; we saw Alonso leave for Real Madrid that summer and the following season it all went to pot. I don't think we've ever recovered from those luxury players leaving nor have I seen a more balanced team since those good old days. Sure you can argue the 13/14 season was incredible but for me it was more of a one-man show. Our star Uruguayan too like so many before him moved on to greener pastures and the cycle repeated itself again: we fell apart.
Unlike Rafa, Brendan Rodgers has been given another lifeline so how does he put the wrongs right? It would be unfair to compare his squad to the one that Rafa assembled given the lack of experience within the current Liverpool squad. Nor is it fair to compare his achievements to Rafa's, again Rodgers is a young manager still learning his trade. What the current manager must do is to play his strongest eleven available to him. In my opinion Rodgers has got an abundance of talented players that he could get the best out of. One of the biggest criticisms that has always been levelled to him during his tenure in Merseyside is that his teams have no fight, they simply roll over and are there for the taking. Hence the obscene amount of goals we conceded last season and we looked pretty poor offensively too. For those wanting a repeat of the 13/14 season and wanting us to "buy" goals – well it's not the solution and is not sustainable.
Quick fix solutions are not the answer because effectively that's what they are, they get used, they do well for a period of time and then the opposition find them out and Brendan has no back up plan; same shit, different season. But it doesn't have to be this way anymore. I think it's fair to suggest that Rodgers has spent a fair bit of money on players and some have looked promising others not so much, the promising bunch are stereotypically a young crop of players with a vast amount of talent and potential if played in the right position.
During Brendan Rodgers' three year tenure at Liverpool we've seen him try all sorts of formations and he's even experimented with different players in various positions. The one thing he's not done is try forming a spine within the squad. If I were Brendan this would be my spine.
Mignolet – Every spine in a footballing sense starts with the keeper, granted he's not everyone's 1st choice but we've seen a vast improvement within him. He's great at shot- stopping but a little suspect with his feet. However don't expect Reina-esque balls to Torres like the good old days – that ship sailed a long time ago.
Sakho – Arguably our most competent defender, the more I watch him on the ball the more I become a fan of his. What you need in the heart of the defence is a natural leader and Sakho is just that guy, always marshalling his defence and great at passing the ball too. You sensed last season that Mignolet was most comfortable with Mama just ahead of him to calm things down. In my opinion Lovren can walk back to the bench.
Can – considering Brendan Rodgers is not a fan of a defensive midfielder, he should use Can as the deepest midfielder (preferably in a diamond), cleaning up and sweeping up any errors made by his teammates. We know he's very technical and did a great job as right centre back but his preferred position is midfield and he's not really been given a fair amount of opportunities in his desired role. We have a very special player on our hands, he is still very young and raw but how else do you expect him to develop if he's constantly benched?
Henderson – The captain will always put in a shift, you often see him run himself into the ground before his head hangs low. With Can providing the steel and support behind Henderson, the newly appointed captain can go on and play a more advance role to link up with the front men after-all he assisted the most goals for Liverpool last season and he can be very creative in the final third. Jordan's also an excellent presser of the ball too as stated on many AnfieldIndex podcast's from the 13/14 season – the former Sunderland man was vital in forcing the opposition to make an error and we'd capitalise.
Coutinho – The Brazilian is not your average playmaker, he's not afraid to put in a challenge and some of his best performances in a red shirt have come from playing an 8 role in a diamond. He's more than capable of setting up an assist as well as scoring an absolute screamer. His pace and skill on the ball is unquestionable but imagine how ruthless he could be in front of Can and Henderson? They would do all the dirty work and the little magician could just focus on terrorising defenders.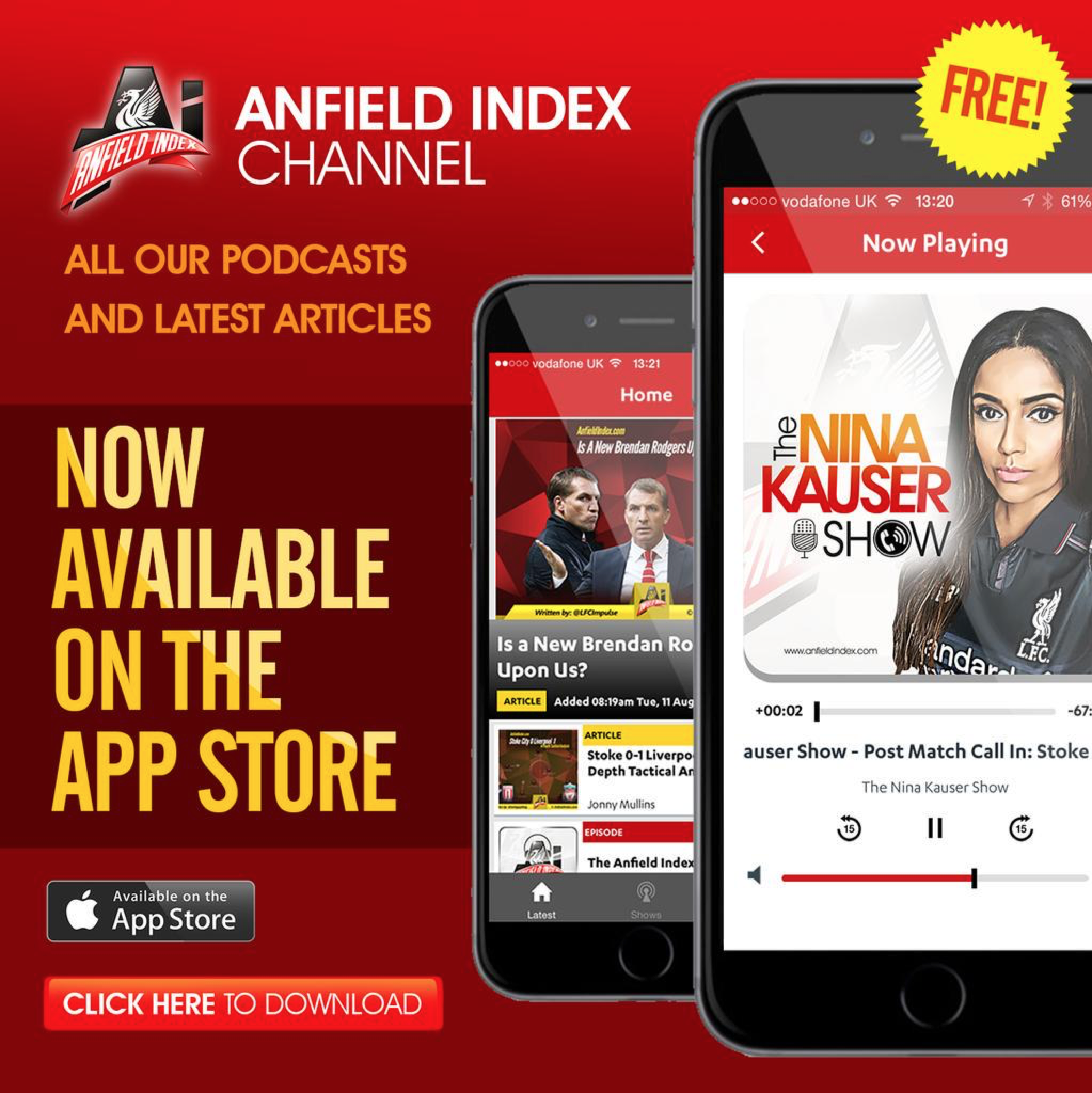 Sturridge – A fully fit Sturridge is as good as any top striker in Europe. His awareness and anticipation of his teammates is something to marvel at and the link up play between him and Coutinho has been nothing short of breath taking at times. They have this telepathic understanding that leaves opposition defenders bamboozled at the best of times.
So picture this, Mignolet throws out to Sakho, he then plays a short but incisive pass to Can, Can casually brushes off any challenges, holds the ball and plays a tidy pass to Henderson, who runs into the final 3rd of the pitch and releases Coutinho, Sturridge anticipates what Coutinho is going to do and they toy with the defence as they play a one-two pass thus ending in Sturridge finding the back of the net. Sounds good, right?
Now, don't get me wrong I'm fully aware that there might be a few teething problems and they'd make a few errors before they ticked. However, this is a spine, albeit in its infancy but if Brendan believes and sticks to these players as being pivotal. Then I expect great things from this squad.