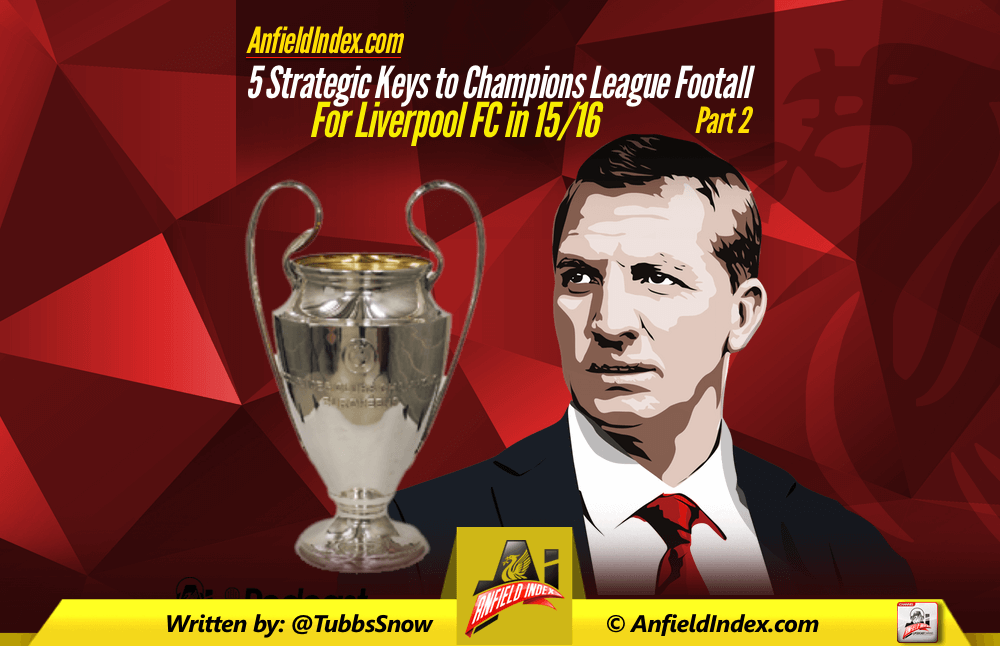 Five Strategic Keys to Champions League Football | Part 2
In Liverpool FC 15/16 | 5 Strategic Keys to Champions League Football – Part 1, we discussed two of the five strategic keys that Liverpool will need to fulfil in order to attain a top 4 finish and Champions League football, including; 1) the need to excel and execute in our plan to play vertical attacking football and 2) to improve our positional discipline and ability in defensive transition. In Part 2, we'll explore the final three strategic keys; 3) to dominate in midfield, 4) to physically and psychologically overachieve, capitalise in '6 point fixtures' and improve our ability to score set-piece goals and, 5) to effectively manage the squad.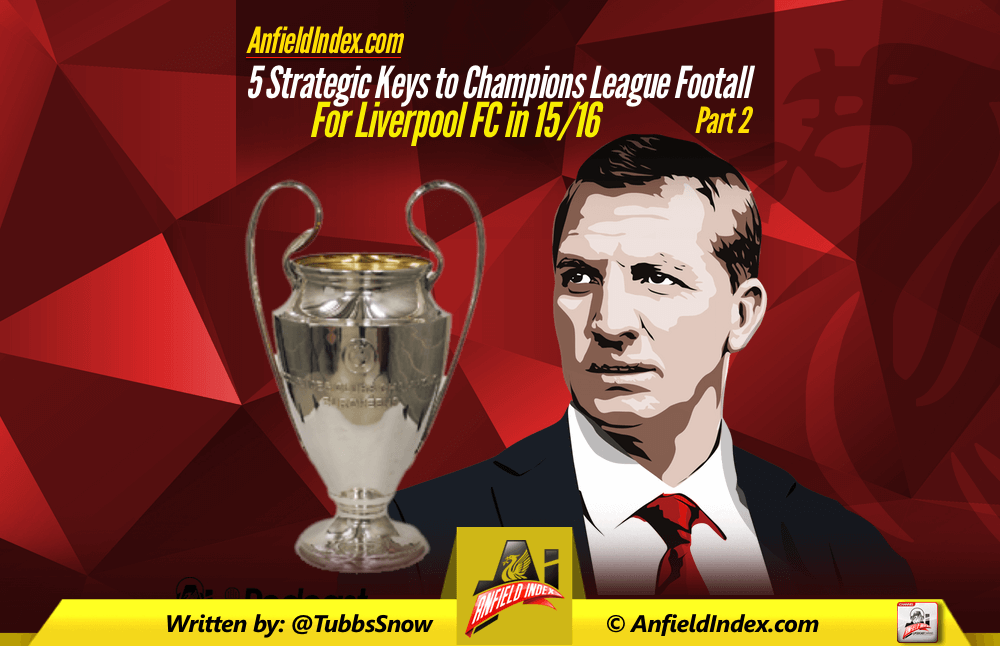 3. Dominate in Midfield
"Get the good players inside, hold on to the ball and be aggressive." – Josep Guardiola
The age old adage romanticises that you win a game of football in midfield, for as much as it is the engine room that dictates your defensive and offensive patterns of play, it's ideally where your most intelligent, aggressive and influential players are; and not influential in the grand elements of creativity and goal-scoring, but most importantly, in dominating possession and space.

Andres Iniesta & Yaya Toure are manifestations of this theory put into practice as they themselves laud the importance of two simultaneous midfield actions which are key to their play; effective decision-making when receiving and making passes and being mobile in your positioning to exploit space and help move the team forward.
Andres Iniesta (FFT Interview):
"Before I receive the ball, I quickly look to see which players I can give it to. Always be aware of who is around you: if you feel them closing down, take a touch to move the ball away from them. Try and put yourself in space to get the pass: the more space you have, the more time you have to think. And when you get the ball, don't move it towards the opponent. That said, sometimes I'm happy to run at a player and just hold the ball in front of him. That way I've moved the team forward."

"Every pass is important. A bad pass loses possession and puts the team under pressure. Short passes build momentum and if you have the ball then the opponents can't do anything. Know the time to make a killer pass. If you need a goal, search for the space to make the pass. If you're protecting a lead, keep possession and play safer. Because we have played together for a long time to a certain system, everyone knows where to move. That makes my job easier, knowing where Xavi or Leo [Messi] will be."
Yaya Toure (FFT Interview):
"At Barcelona, I started in midfield and finished in midfield. They did not need me to go forward. My job was just to hold the midfield; to take the ball from one player and give it to another. You must only do it at the right time, though: you have to do whatever creates the most space. If you see space, go into it. If not, hold your position and pass the ball to create space that way. You cannot just run forward for the sake of it. Sometimes it is good to drive, and sometimes you have to be clever and play it quickly."
Where these two midfield stars differ in their playing styles is in how they use their physicality to their advantage; Toure has a regimented conditioning program to ensure his core and plyometric strength is optimal for shielding the ball and challenging aggressively for it, whilst Iniesta aims to play at a higher pace, trying to turn explosively whilst dribbling or when receiving a pass, and hence exploit the slower turning speeds of bigger opponents.
But in order for Liverpool to channel the archetypal styles of Iniesta and Toure – to control space and have expansive and purposeful possession – they need to incorporate a combination of key elements and instead create an autotelic midfield dynamic; one that doesn't necessarily rely on the brilliance of any one player but instead on the collective skills of many to create a sum greater than each individual part. This involves having; 1) hyper-mobility, acute positional awareness, lethal vertical passing and strong defensive ability emanating from the deep-lying midfield zone, 2) a staggered midfield corridor that can constantly exploit space in-between an opposition's midfield and defensive lines and 3) a combination of eclectic skill-sets of specific players who are defined in specialist roles.
In order to fulfil these three criteria, an interchanging, fluid midfield of Joe Allen, Emre Çan and Philippe Coutinho may very well allow Liverpool to once again dominate purposefully in midfield, despite the lack of a dynamic defensive midfield destroyer or shield that is usually fundamental in the strongest teams.
In Joe Allen, we have an agile player who excels on the ball as a recycler and shuttler; one who can dictate play and build momentum through his purposeful, short passing, whilst having great ability in retaining possession under pressure and capitalising on moments to play incisive vertical passes in the offensive phase. Spatially? He is a non-static, deep-lying midfielder who has a natural psyche to actively search and occupy central pockets of space in the deep midfield zone, to constantly act as a hyper-mobile passing chain between central defenders and fellow midfielders/advancing fullbacks.
In Emre Çan, we have a more powerful box-to-box type player who is an aggressive tackler, dribbler and physical presence who can excel in both the defensive and offensive phases of the game. Spatially? Çan is a vertically-charging midfielder who occupies narrow areas of midfield and always looks to carry the ball into the interior channels or burst from the interior channels into the half-spaces of the opponent's box.
In Philippe Coutinho, we have a dribbling playmaker who excels as a nimble ball-carrier from the left-central midfield zone where he can cut inside, evade and jink past pressing opponents to individually destabilise opposing defences before executing a lethal through-ball, whether in fast break phases or in attacking build-up where he is adept at playing one-two passes to advancing players who are moving in-between the defensive lines of the opponent or who are charging into vacant spaces behind defensive lines. Spatially? Coutinho is a roaming, dribbling midfielder who is constantly looking to create in left-central areas of the pitch and rather than calmly control the offensive entropy of the game akin to a trequartista, he frequently serves to increase the offensive entropy by 'being the play' as a dribbling midfielder.
With Henderson and Firmino as supporting attackers now in advanced midfield positions, they can defensively initiate an effective high-pressing game, create diamond overloads (see Part 1.) and focus their on-ball contributions in the final stages of attacking plays (via releasing full-backs, crossing, shooting, penetrating into the half-space to create goal-scoring chances or intricate one-two passes), perhaps truly allowing Rodgers to maximise the skill sets of all players under their best positions and roles.
So under the ideal tactical direction to play vertical attacking football with specialist midfield roles, this 1-1-1 midfield corridor of Allen, Coutinho and Çan may finally provide Liverpool with an autotelic midfield dynamic; a midfield that can dominate possession and space.
4. One, Big Strategy: The Science of Overachievement, Capitalise in '6 Pointer' Fixtures and Set Piece Goals
Given the relative strength of Liverpool's top four rivals as well as the footballing limitations in the talent of the squad and its coaching staff, it is imperative for Liverpool to overachieve – a term that I scientifically perceive in an almost metaphysical and psychological manner, whereby an individual is excessively dedicated to harness all necessary resources to maximise performance and demonstrate one's talent, thus being successful beyond expectation – and this involves three key elements: 1) repeatedly producing elite performances in high pressure situations and hence conditioning players to physiologically react well to difficult game states, 2) using enhanced mental training to allow players to fulfil their potential – by appeasing their anxiety and tension, strengthening their volition to overcome hardship and psychological protest, enhancing their ability to mentally collaborate with their fellow teammates and reduce their mental fatigue via relaxation training methods, and 3) avoid a 'self-handicapping psyche' whereby one's concern for the attributional implications of failure outweighs their desire to succeed.* As Liverpool under Rodgers have shown a reverence towards sports psychology, with Dr. Steve Peters acting as a specialist consultant available for the players, the physical and psychological aspect of overachieving can and must be actively and deterministically enhanced upon, to allow Liverpool to overachieve in a manner that isn't privy to fatalistic circumstance.
In concordance with extrapolating upon the necessity to overachieve, Liverpool must strategise to specifically win 6-pointer fixtures; that is, difficult away matches against direct top-4 rivals that if won, actively deny them an expected advantage in their points tally towards a Champions League position.
Furthermore, the importance of set-pieces cannot be underestimated in providing a team a source of goals via dead-ball situations, where the balance between luck and tactical advantage must be swung in Liverpool's favour; as on average, the team that finished fourth in the EPL over the last five years scored at least 10 set-piece goals, which is perhaps the same number of goals that Liverpool needed to score (or not concede) to claim fourth spot last year. But in order to improve and consolidate our ability to score via set-pieces and exceed this 10 set-piece goals benchmark, Liverpool must ensure they have;
set-piece specialists in play for high quality delivery from corners and indirect dead ball situations,
a purposeful height advantage for set-piece situations with powerful aerial threats,
designated plans to tactically exploit any opposition weaknesses and fallible tendencies when defending set-pieces, especially in zonal systems,
a variety of thoroughly-practised set-piece routines for dangerous direct set-piece situations and,
to aim to penetrate the penalty box often via dribblers and fast runs into the box.
5. Squad Management – Rotation and Tactical Integration
Do you ever ask yourself why certain things had to happen? Like Iago Aspas short corners or aimless Victor Moses passes?
Or have you ever wondered why certain enigmas occurred? Like avoidable soft tissue injuries to Sturridge or mid-season Caribbean holidays for an understandably exhausted Sterling?
And did you ever find yourself, many weeks after a West Brom game, waking up in the middle of the night, confused and enraged, thinking,
"Wait. Where the **** did Assaidi go???"
Could all these harrowing questions and experiences be avoided through a more strategic squad rotation and integration policy? As Liverpool face a gruelling fixture schedule of at least 46 games with commitments to four different competitions – the EPL, the FA Cup, the Carling Cup and the Europa League – squad management via rotation will become crucial; firstly, to optimise player recovery and prevent the accumulation of fatigue for crucial first team players or injury-prone players and secondly, to allow for the tactical integration of players in competitive environments (games, as opposed to training).
Manchester United won the EPL and the Champions League in 2007/08 without playing the same XI in consecutive matches. Guardiola's Barcelona of 2008/09 made an average of 5 changes to the starting line-up in every league game. For every club playing a high density of matches, the need for squad rotation to maintain a consistent and high level of performance, to enhance the competition within the squad via tactical integration and to avoid overuse injuries, is almost a necessity to allow any team the chance of achieving their aims.
Conclusion
So there you have it! An analysis of five strategic keys to Champions League football for Liverpool this season, with many of them tactical – 1) to excel in vertical attacking football, 2) improve our positional discipline and ability in defensive transition and 3) dominate in midfield by actively controlling space, having purposeful possession and an autotelic midfield dynamic – but many of them revolve purely around strategy – based on scientific research in sports and historic trends in the EPL – to create advantages in favour of your team; 4) to actively overachieve physically and psychologically, capitalise on '6 point fixtures' and improve our ability to score from set pieces, and 5) to purposefully manage the squad via rotation and tactical integration.
The only pertinent question you have to ask is – do you think we can do it?
Sources:
*The Functions and Methods of Mental Training on Competitive Sports. J. Xiong (2012)
Subjective Overachievement: Individual Differences in Self-Doubt and Concern With Performance. Oleson et. al. (2001)