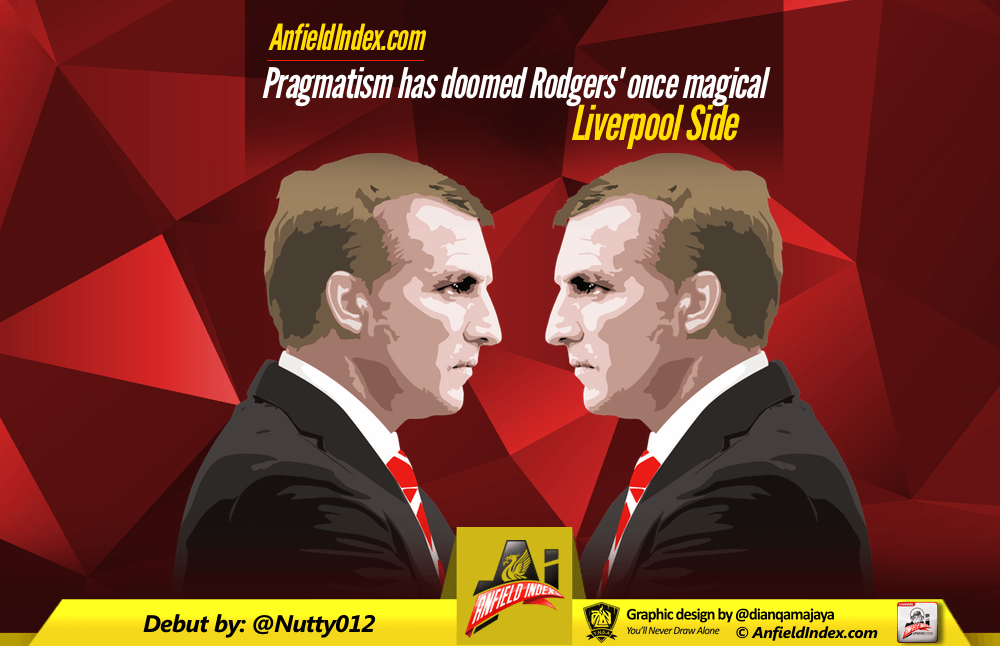 Pragmatism has doomed Rodgers' once magical Liverpool side
Clubs like Livepool, Man Utd or Barcelona have their own 'way', by which their club is meant to operate. These clubs have principles that define them; their identity empowers its players and managers to play a certain way, it strikes fear into visiting clubs, and it inspires jealousy in rival fans. Bill Shankly embodied the 'Liverpool way', and so when Rodgers was compared to him many laughed. It seems silly now, but the 2013/14 Liverpool did play the way its fans expected, and it possessed a manager whose principles seem to finely match those of the club.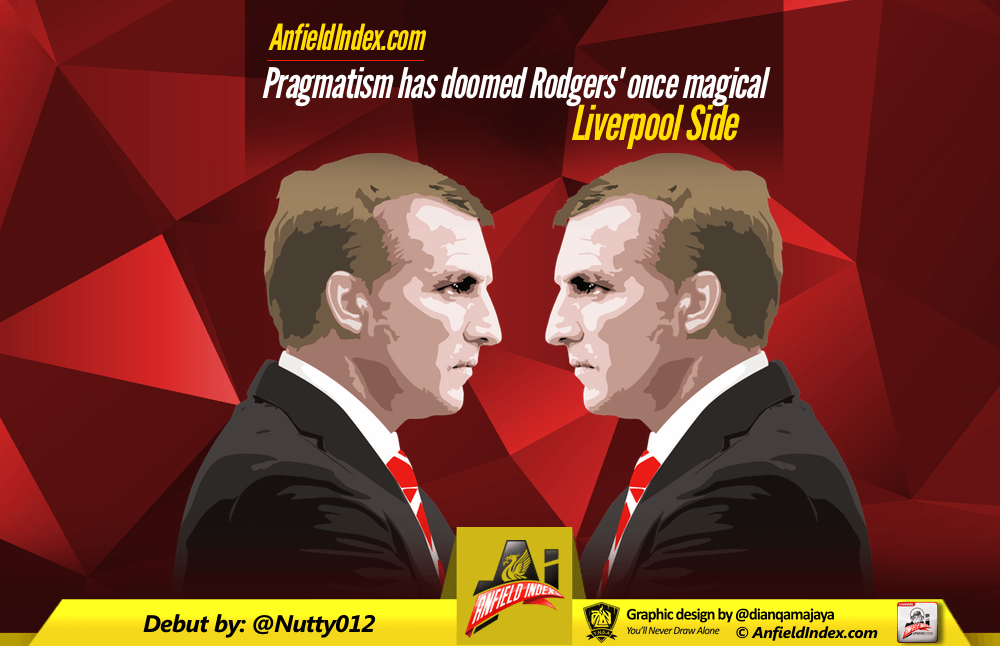 For these managers of principle (which include the likes of Alex Ferguson and Pep Guardiola), pragmatism and cynicism are their arch-nemeses, undermining their pure footballing ideologies. When the philosophies of manager, fans and club align, it has magical consequences, and Liverpool fans above all know that. Like those managers, being Liverpool supporter has never been about being pragmatic or cynical. It is about believing in miracles, it is about believing that this year could be the year when something extra-ordinary happens. We believe in the sublime, we believe in footballing heaven, we are naïve and it is brilliant. The intensity of performances during Rodgers' title charge ignited a dormant passion in the Liverpool fan base that eclipsed anything seen in England in the last ten years.

Liverpool fans believed that year that in Brendan Rodgers, they had someone who could bring a footballing ethos that we felt we deserved. His flaws have always been apparent. We know Rodgers has a poor transfer record; we know he ruffles feathers with his favouritism; we know he plays people out of position; we know his substitutions are sometimes dodgy; we know he says silly things in the media. The worry though is that Rodgers' previously redeeming attributes, his footballing philosophies and mantras, are now absent. In this piece I look at three tenets of the 'Rodgers way' that must be rediscovered if he is to ever turn around his Liverpool reign.
The technical profile of players has been compromised
One of Rodgers' first moves as a Liverpool manager was to jettison Andy Carroll and build his attack around Luis Suarez, a move that attracted criticism at the time but proved correct. It was an immediate sign of the manager's intent for the type of players he wanted. Technical ability was valued over physical presence.
Three summers later, the technical theme is manifest in the side's trio of international attacking midfielders, Adam Lallana, Philippe Coutinho, and Roberto Firmino. The club has just sold its best winger, Raheem Sterling, and seemingly given up on fellow wide-man Lazar Markovic. All indications would be that the Liverpool team is best suited to play with the ball at their feet through the middle of the park, given the lack of natural width of our current players.
The arrival of Christian Benteke does not make any sense given the profile of the rest of the players. A huge proportion of Benteke's goals had come from crosses, but with Joe Gomez at left back and Jordon Ibe on the bench, the team only has Nathaniel Clyne who wants to provide any natural width. Liverpool have unsurprisingly played the least crosses in the league, but despite that, Benteke still has won the most aerial duels in the league. Benteke's aerial ability is clearly his greatest strength, but the current crop of players is not suited to take advantage of this ability, pumping balls straight down the field rather than into dangerous positions from the wings.
By compromising on the technical profile of just one player in the system, Rodgers has undermined the attacking potential of the whole unit. Whereas Liverpool may once have been a team greater than the some of their parts, their parts now more resemble a crude abomination of Lego bricks and Mega Bloks – it's a hideous mess to see.
Pragmatism has corrupting a daring and bold system
The general style and tactical approach of Rodgers is changing. Sure, this is natural to some extent with the changing technical profiles of players, as illustrated above. However, it is also a conscious decision from Brendan Rodgers. By persisting with Simon Mignolet, Rodgers has given up on the idea of a goalkeeper who can play with the ball at his feet. By ignoring the distribution statistics of Mamadou Sakho, Rodgers has shown that passing ability is not valued in his centre-backs. By acquiring a target man, and by sacrificing a deep lying playmaker, Rodgers no longer demands the skill or bravery from his defenders to receive and pass the ball. Instead, they can take the easy route and pump it long to Benteke.
As well as sacrificing his passing game, Rodgers also seems to have given up on his pressing game. Some of Liverpool's best away performances in the last three years were undoubtedly those against Tottenham and Manchester United in our 2013/14 season. Then we showed no respect for home advantage, from the first whistle we harassed and disrupted the opposition's defence and midfield deep in their half. We drew mistakes, won the ball high up the pitch, and quickly broke and scored. This season performances have more resembled Chelsea at Anfield in 2014; Nowadays, we sit deep, absorb pressure, and try and counter-attack or score from a set-piece. Rodgers allows the other team to settle and impose themselves; he does not believe his side will win a football match against the opposition. That is not how Liverpool are supposed to play. That is not how a Rodgers side was supposed to play. This new method goes against all the success that Rodgers ever had as a manager.
An air of pragmatism has infiltrated the Rodgers system. The Liverpool of 2013/14 was utterly devoid of such pragmatism. We were bold and fearless, and Rodger's belief in the ability of his players to out-perform the opposition empowered those players to perform better than any had previously. No players are empowered in our current system. Our performances are a self-conscious and laboured struggle, a poor version of that cynical Chelsea side. Two years ago our performances were a serene and simultaneously destructive waltz, which scared Jose Mourinho into negative football comparable to what we played against Arsenal. Liverpool should be aiming to better our rivals, not bow down to their superior abilities.
Youngsters have not been trusted at centre-half
The final Rodgers principle compromised has been his belief in youngsters. This is perhaps a mystifying statement when you consider just the list of youngsters he has played in Premier League games: Andre Wisdom, Suso, Raheem Sterling, Jonjo Shelvey, Jordon Ibe, Jaoao Teixeira, Jordan Rossiter, Jon Flannagan, Brad Smith, Jerome Sinclair, and Joe Gomez.
Rodgers clearly believes that his young players are good enough. Except, he doesn't quite. How many of these players have been played at centre-back? Andre Wisdom and Joe Gomez have not yet been given the chance to perform in their favoured position; Tiago Ilori has come and departed despite a pedigree that initially seemed to impress Rodgers. Emre Can's success there (out of position) only lasted until his first bad performance.
Meanwhile no other senior centre-back in Rodgers' reign has proved that they are capable of performing well for 35 games a season. The league was arguably lost in 2013/14 from the mistakes of Kolo Toure, who was mystifyingly above Mamadou Sakho in the pecking order for the first games of this season. Martin Skrtel has survived at Liverpool for a decade by being slightly better than our third-choice defender, but done nothing more. Dejan Lovren has proved his Southampton season was a positive blip either side of horrendous form. Given all this, why hasn't Rodgers given a youngster with proper potential a shot in the first team?
Whilst having faith in your players can be rewarded, any faith in Dejan Lovren is as well placed as faith in Jose Mourinho to not be an incredibly unpleasant human being. Who is to say whether or not Ilori or Wisdom or Gomez or Can would do a better job there this season, but to categorically assume that none of them are an upgrade on Dejan Lovren is a laughable suggestion. Liverpool are suffering because Brendan Rodgers won't try a youngster in this one position, and that goes against his own mantra.
Is there any way back?
Many people have recognised Rodgers' departure from his previously bold and perhaps naïve footballing principles. Many cynics of the game welcomed that approach. However, the best iteration of Brendan Rodgers, flaws included, was when he was at his most principled and naïve. For eighteen months, Liverpool were once again Liverpool: manager, club and fans were aligned like they had not been in decades. Rodgers needs to rediscover his own penchant for attacking football, and believe in the skill and bravery of all of the players at his disposal to execute his bold ideas for how football should be played. Sure such an approach was flawed, but what approach isn't? At least Rodgers then showed intent to win in a manner that fans could get behind. Until he does this again, Liverpool will suffer. Unfortunately for Rodgers and his fans, as every game passes it increasingly likely that he will never rediscover those managerial traits that made Liverpool fans dream again.