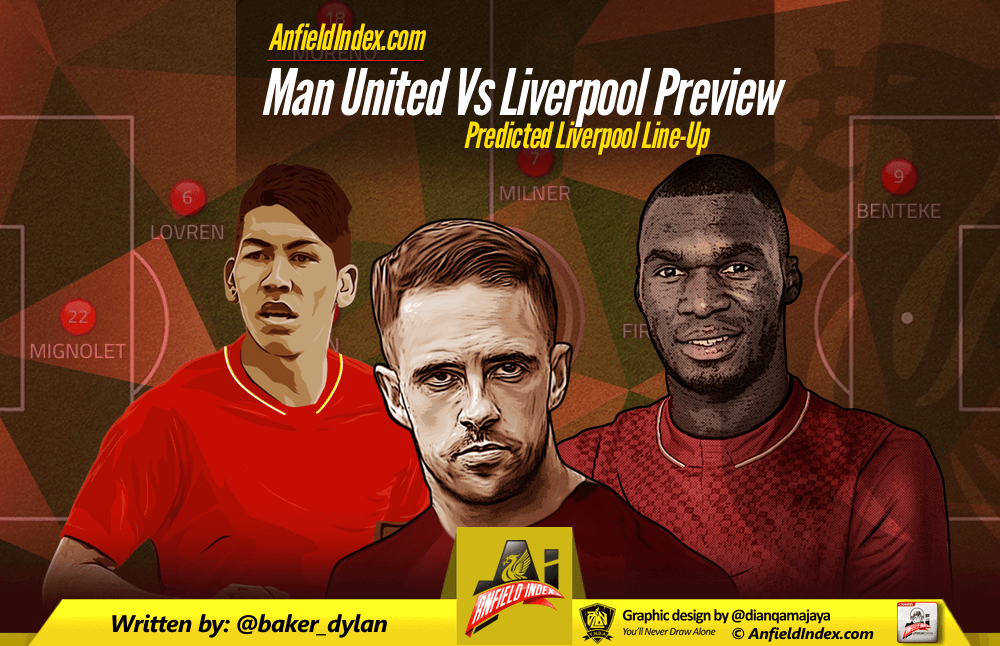 Manchester United v Liverpool Preview | Predicted LFC Line-Up

It should be a bloody holiday.   Even if it's not ascended to the reverie of a day we can take off work, there surely will be bloodshed this weekend.  In one of the greatest rivalries in the history of football, we find mediocrity at the moment. Manchester United have yet to win convincingly in England, and Liverpool's bubble might have been crushed against West Ham two weeks ago.  Neither side will be down for this match, however.  It's better than Christmas – it's the Reds and Red Devils.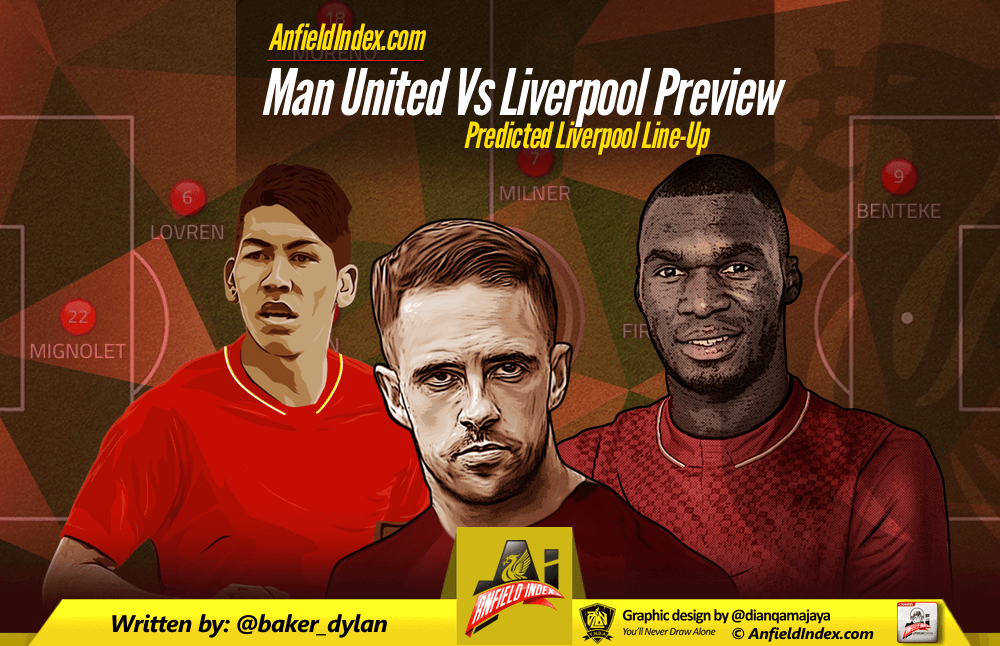 Where Things Stand
Both sides are fixed near the top of the table, but the bolts holding them there are loose.  Early days in the Premier League coupled with unimpressive performances thus far means that either team could drop hard out of the top half.  A result at Old Trafford could mean a bump into the Champions League places or a drop as low as twelfth.
A big ask for both squads, since neither look capable of putting in a stellar performance.  United have forced three goals, only two of which have been scored by their players.  A draw to Newcastle and a loss to Swansea City, apparently the new bane to the Red Devils, are the results leading up to this fixture.  Both were deserving scorelines at the end of the day: the United attack is stale and the defense, while not poor, certainly does not look solid.
The same, of course, can be said of the Liverpool squad.  A 0-0 draw at Arsenal was the most convincing fixture of the season.  Following the trip to London was the devastating 0-3 defeat to West Ham in their first win at Anfield since the sixties.  Another weak attack amidst a defence that put up a great disguise of being solid for three weeks have created quite the conundrum for Liverpool moving forward.  Confidence was high even after the Arsenal draw, but has since been shattered.  Hopefully, those sentiments have not spilled over into the squad.
Talking Point: Ca$h
As a collective, boy have we splashed the cash.  £78.34m spent by Liverpool is a load of money, even considering that we spent more last year.  That number is also dwarfed by Manchester United's spending over the summer.  £97.75m was dropped by United, including £36m up front for 19-year-old Anthony Martial from France.  As a quick shout for fun, here's the "in" transfers for each squad.
Liverpool:
 Manchester United:
Predicted Lineups
Liverpool
There should be little change at the back again, because Rodgers fears change like I fear spiders and noises after dark.  Mignolet will continue to start in goal with Lovren and Skrtel slotted in front of him.  Regardless of the mare that both had against West Ham, see the previous point to understand why they're still starting.  I think Gomez sits this one out to make space for Alberto Moreno.  Rodgers will want more attack coming from the left side, and an actual left-back might help with that more than a right-footed centre-back (don't take as criticism – have loved young Gomez so far).  Clyne will provided an outlet from the right-back position.
Henderson will come back in for this fixture beside Milner.  He won't want to miss this one.  Can will slot in behind and refill his holding role rather than Lucas.  Though Sturridge will reportedly be back for this weekend, it'd be mad to try and start him for even a hour.
What will require some revamp coming into the weekend is the Liverpool attack.  Without primary creator/wondergoal scorer Phillipe Coutinho due to suspension, Rodgers will have to experiment a little with the attacking formation.  I expect a look back to the diamond, which fans have been shouting about for a while now.  Benteke should retain His starting position as he leads the line, but reports are saying the Belgian will have a partner on Saturday: one Danny Ings. Firmino may get his first look in a central role as well by playing in behind those two in a more creative role.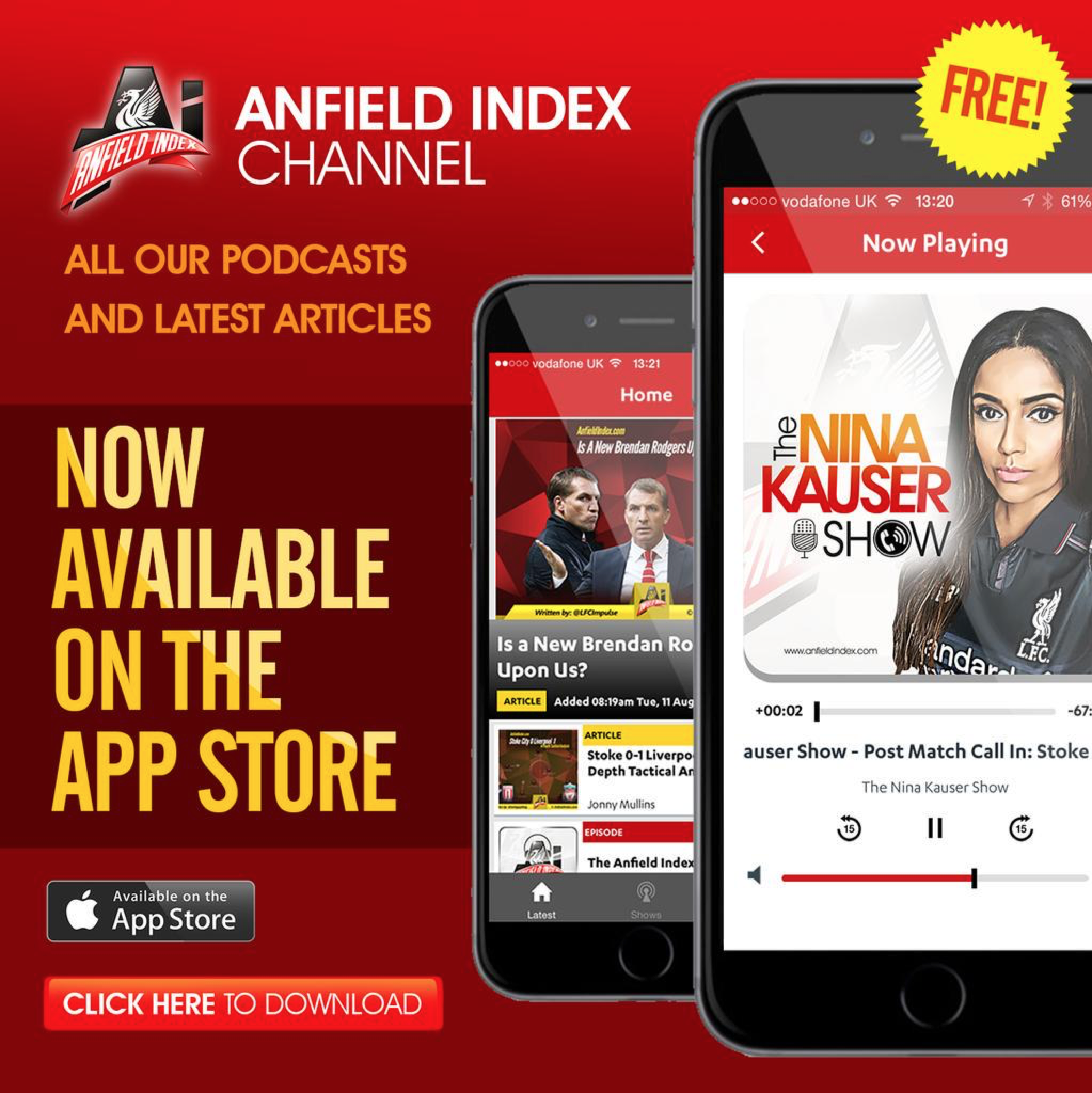 Baker Forecast
This is the hardest one to call of the season.  After completely missing the last match against West Ham, it's tough to try and make a big call.  At the same time, neither of these teams really look like winning.  There's always an added element of surprise when Manchester United and Liverpool play one another.  Because the match is at Old Trafford, it's makes sense to call a United win.  But with their lack of firepower up front, it's a tough call.  Due to fear of being wrong again (because I'm a weak-minded human) as well as an odd-looking start to the season for both sides, I'm going with a 2-2 draw.  Yes, I just said there's no firepower for United.  And I said before that Liverpool didn't either. But the magic of the fixture will mix well with the desire by both sides to pull themselves out of mediocrity.
We'll leave you with an Infographic of the big Man United v Liverpool by the team at Free Super Tips