 Falling Out of Love with Brendan Rodgers' Liverpool
I can pretty much pinpoint the moment when I thought to myself 'fuck me we're back'. Tucked away in the far corner of a cosy Whitehaven golf club for my nephews christening, surrounded by family, pint in hand, transfixed by that most beautiful of things – the Reds in full flow. Christmas was a few weeks away, and at White Hart Lane, a sullen Andre Villa-Boas looked on like a befuddled uncle chaperoning at an underage disco – the Redmen were killing it. Absolutely fucking killing it.  Yuletide festivities getting into gear and we were rampant. My family ties to the North-West are strong, two of my mum's sisters emigrated to Manchester in their youth, and as a result I have a large smattering of lovable Mancunian cousins across the Irish sea, they are genuinely wonderful and great people, but steeped, sadly, in the heinous United way. They were all there, all quiet, and I could sense they were hating this.
Rampant, relentless, full of pomp and passing Spurs to death, we were going for the throat. Henderson for what seemed like the millionth time had burst beyond their lines onto a pass, he tried an instant first time ball, its blocked initially but before you could say face-cream he'd nutmegged the full-back with a back-heel to Suarez who chipped a typically precise beauty of a cross into the path of the Scouse Cafu who controls it magnificently on the half volley. One of those Yeboah-like finishes, down, off the cross bar and back into the roof of the net. 4-0. Marvellous. The Redmen are all running to him, Suarez with that big goofy toothy grin is first on top of him, the rest pile on, bedlam. The travelling Kop are going ape shit and all was right with the world. I thought we were on to something. Big-time. As that next five months proved, we were too, so nearly onto that most elusive of things, so fucking close…and yet.
It's sometimes easy to forget how unreal the transformation was from that day. It was the day Sterling really arrived. Stepping up from pacey youth team prospect with no end product to the devastating incisive attacker that City would break the bank for. Suarez was mercurial, the signs had always been there from him to be fair, he just had it, that magic stardust in the boots, we knew it from the day Dirk got his hat-trick against the Glams. His first that day denied Luis the goal of goals, tapping in from a yard as the ball was dribbling over the line after the little Uruguayan mentalist had dribbled around 20 Utd players in the space of about 1 yard, or something like that. I've forgiven Dirk, because, you know, he scored a hat-trick against them…. but that was a little peak into what we had in store with the little fella.
Books have been written about that title tilt season, some people laugh at the very idea of capturing it as a big story, because ultimately we won diddly squat, but for the first time in forever it felt real again. Style, swagger and big wins, smashing the blueshite to pieces, going to Old Trafford waltzing to a 3-0, taking the piss and being fucked off because we all knew it could have been half a dozen. The goals. The fucking goals. Cardiff, Arsenal, Suarez almost dismantling the crossbar at the Annie Road end. Suarez at home to Norwich (I'm still moist thinking about it). The Gerrard moments at West Ham, QPR, destiny, and all that wonderful shit.
Brendan then seemed perfect. An inspired choice. Plucked from Swansea after a decent season, establishing them in the Premier League, some pretty football, some scalps. His CV didn't offer much else, sacked at Reading, underwhelming at Watford. By all accounts a bright young coach he represented an FSG punt. A punt that nearly delivered the Holy Grail. He talks a lot does Brendan, with that Carnlough dialect of his, a hybrid of lilting North Antrim coast drawl, mingled with a harsh west of Scotland twang. He talked big when he came. Death by football, his dossier, those Anfield Wrap podcasts where he attempted to communicate his philosophy to a fascinated fan base. His talk of "how we will work" seemed clear and certain. His vision for football development, schooled from a youth spent trampling around the continent, observing Spanish and Dutch academies, always focusing on working with the ball, a self-confessed Tiki Taka convert. A believer in merging the battling virtues of the British player with the tactical nuances of the continental style. He talked. I liked it. He believed in himself. Absolutely no doubt. He was managing Liverpool now. To me, the manager of our club should be cocky. Confidence and self-belief – you have to it to get anywhere at this level. Look at the bastards you're competing with. We all knew Shanks had it, with his catalogue of gems, even Bob for all his understated genius "all these problems at the top of the league" had his moments. Kenny's withering put-down of Fergie when he pointed to his 4 year old "you'll get more sense out of her" It's a thing of ours isn't it. A very Scouse thing. Be bold, be brash, you're managing Liverpool Football Club now. Let them know we won't take shit. That we bow to no-one.
When he said he wanted to make a match at Anfield the longest 90 minutes of an opponent's life I found myself nodding. That's what we all want. Build that fucking fortress again Brendan lad I was thinking. When the dust settled after a debut season of unspectacular mediocrity there were shoots of hope. Sturridge and Coutinho had arrived. We looked a side after that transfer window, the football was good, Phil and Sturridge were linking up (most notably at Newcastle) Suarez was starting to emerge as a one man wrecking ball but ultimately we never saw 2013-2014 coming – maybe some of you did, not me though. Not those giddy heights. It buys a lot of time a season like that, a lot of time. Playing an irrepressible brand of football, one of style and pace, a swagger about us, blowing teams away and competing against the best in England without spending bat-shit crazy amounts garnered from the ill-gotten gains of sinister oil-rich parasites, Russian or middle-eastern.
Then came last season. The hangover of all hangover seasons. From the dizzy heights to the bottom of the ditch, like waking up from a drunken session finding you'd pissed yourself and all you're grasping is a mouldy cup of poitin with a dribble left, eyes glazed, paranoid and shaking like a leaf. It was that fucking bad. We lost the 2 top goalscorers in the league. I'll repeat that. We lost the two top goalscorers in the league. In one summer. One went to a stage befitting his unique genius, the other, was not for the first time, crocked. We suffered. Badly. The performances were dire, the defence was still leaky as it always is with Brendan, but we weren't blowing teams away anymore. The whirlwind which blew sides away was replaced by something more akin to the whimpering puff of an asthmatic lung. It was fucking grim. We'd spent cash, loads of it, but really badly. We needed to replace the best player in the league by a country mile, we'd gone with Adam Lallana. A 26 year old playing for Southampton. If you're 26 and playing for Southampton, chances are you might not be worth £25 million. Potential was secured, Can, Markovic and co. but it just didn't work. Listen – I'm not going into the mind-numbing tedium of picking apart that summer's transfer business in forensic detail, those dealings have been dismantled & dissected by thousands of rabid bloggers, respected journos, and plenty of thoughtful and very rational footballing intellectuals. It all came down to one thing. It was just shite. Nowhere near good enough.
I have one main issue with Brendan's Liverpool team now above all others, forget the awful defence which he has never shown signs of being able to fix. Ever. Forget the stubborn fixation with Lovren over Sakho, which I find utterly bewildering. Forget the fact that a team that had just been smashed at home by Bournemouth and Leicester came to Anfield and won for the first time in 43 years at a canter. That's all bad of course, but this is what's worse. Much worse. The man with the plan, the dossier, with the blueprint on how to build a system of play, has built a team, HIS team, with absolutely no identity. Just what do we do? What is our plan? We have no pace, we aren't direct, we don't counter. What DO we do? We pass laterally and aimlessly. Where is the pressing? When he came in the door the talk of Anfield as a fortress was very much to the fore with Rodgers. He said it, again and again. We won't allow teams to settle, we'll be relentless. Yet now we just don't press cohesively. Ever since that incredible one man workhorse, that magnificent little genius packed his bags and headed off to win everything at the Nou Camp that pressing game has mainly vanished. It remerged recently for a half hour spell at the Emirates. That's it. Can one man alone set such a tone? Maybe he can, but by now a season later after the money that's been spent surely there should be signs of some solution to coping without him? Surely being able to press effectively requires organisation and fitness qualities which should be the absolute minimum for a manager who built his blueprint on it. Rest with the ball he said, we rest with it alright, as do the fucking opposition when we have it.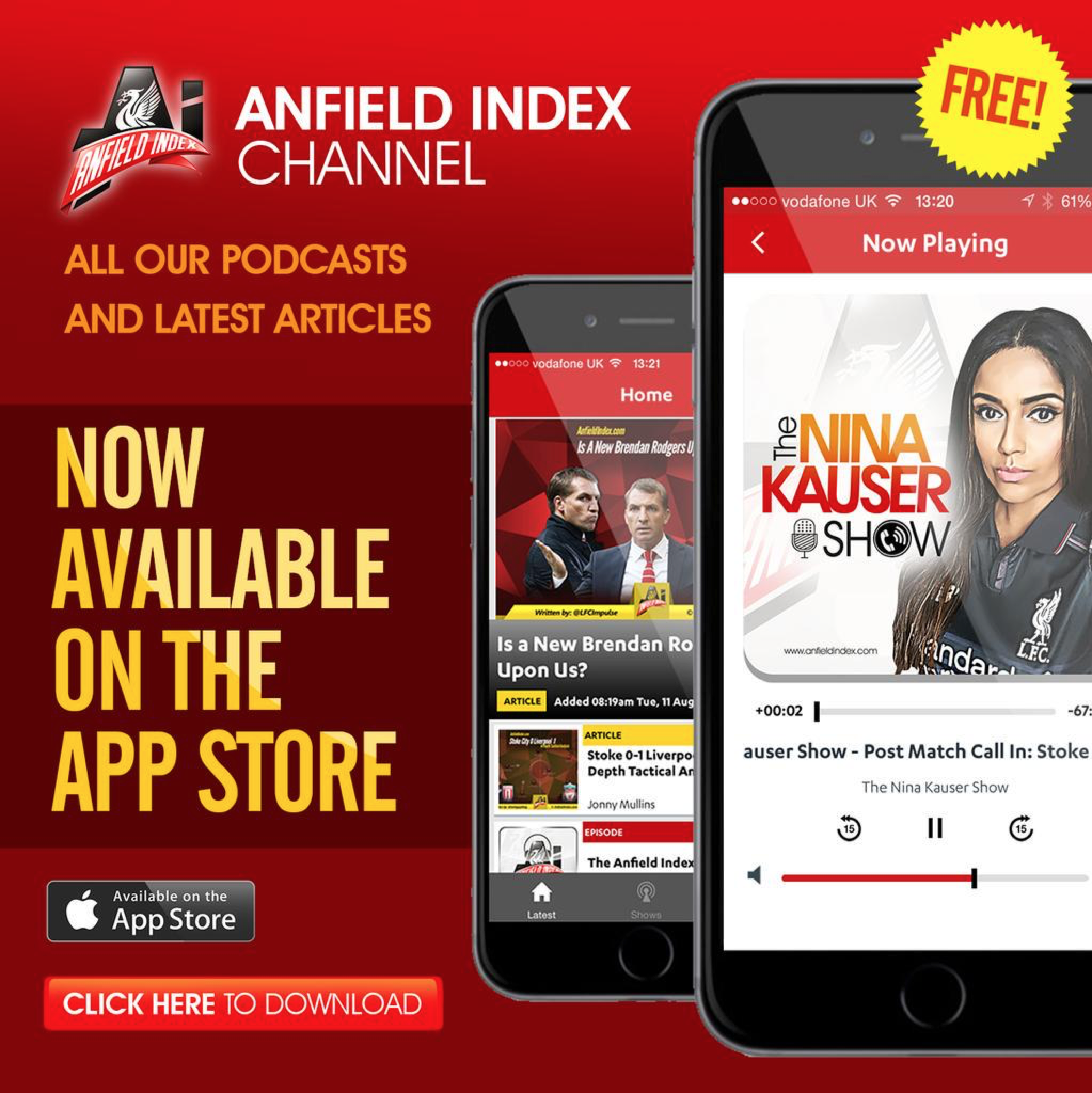 I see nothing there to suggest he will change it. West Ham came to Anfield and sat smoking bloody cigars. One shot on target. One. No pace, no urgency, no plan. It's his fourth season now. It would be churlish to say the first three games weren't decent. I said it on the podcast after Arsenal, seven points from those three was an excellent return, we defended well, dug in when needed, a moment of magic done at Stoke, a linesman taking leave of his senses helped see off plucky Bournemouth, but that's fine – we'll take those breaks, throw in a genuinely good display at Arsenal, it was encouraging. West Ham though, in one afternoon blew most of that good feeling away. The onus was on us, to take the game to them, to build on the start and get 10 points in the bank. We failed, but it was the manner of the failure that was so abject. Creating nothing, no tempo, no urgency and for what felt like the umpteenth time a team came to Anfield, sat deep, picked a weak spot (on this occasion the left side of our defence) ran at us hard on the counter and killed us. Easily. This isn't knee jerk- I hope it doesn't come across as such, I was with Rodgers 100% last season, even when it was going tits up. He needs to learn though, learn from mistakes, and the facts don't make good reading. We've scored more than one league goal just once in the last 12 league matches, against an already relegated QPR. We still concede far too many. Not just over a season, over an entire reign under Rodgers.
I hope I'm wrong about Brendan. I'm hoping we learn from that game, that we can establish an effective pattern of play, be more organised defensively and find a way to get the best out of the potentially magnificent pairing of Phil and Firmino, they could, with the right plan to accommodate them effectively, tear the Premier League up. I really do believe that.  Brendan though, the time to step up is now, what is the plan? In that big fat dossier that so impressed the Yanks in Boston I hope you had a section on fight, organisation and passion. Because looking at what's up the next few away games we are going to need that- in spades. White Hart Lane, Marco Flan Basten and that all conquering swagger we had for 6 months seems an awful long time ago now. Prove me, and a lot of others wrong.