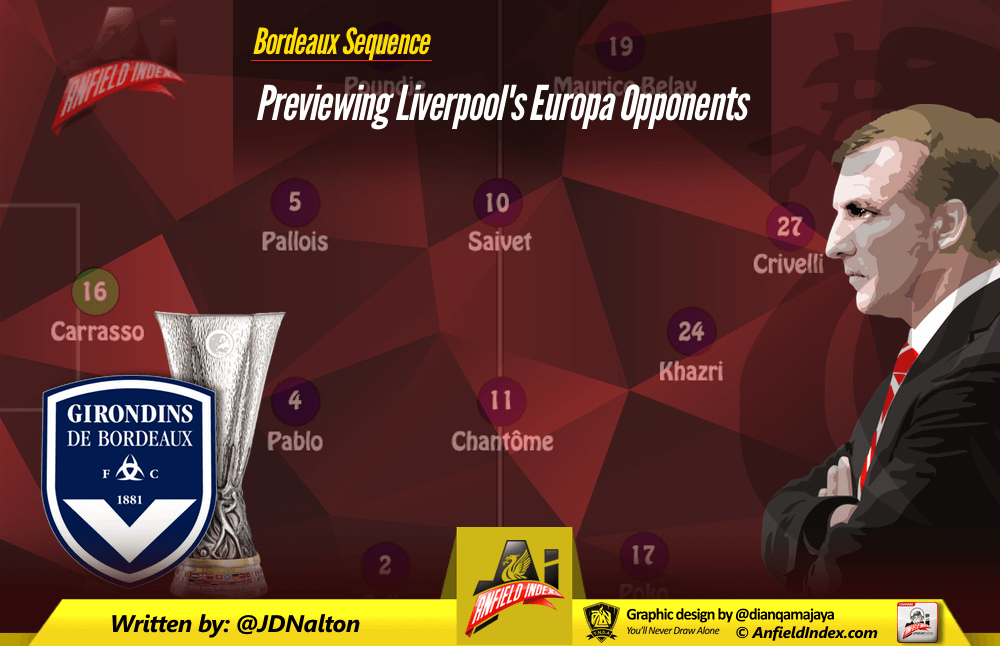 Bordeaux Sequence - Previewing Liverpool's Europa Opponents

Liverpool travel to Bordeaux this Thursday on the back of one of the most uninspiring derby defeats in recent memory.
Brendan Rodgers' men will be looking to add some spark to what has been a flat start to the season, but wily Willy Sagnol's side will be looking to pile further misery onto The Reds in this Europa League Group B opener.
Bordeaux made several changes for their game against Paris Saint Germain last Friday. They drew 2-2 with the French champions, becoming the first team to score past them this season. Their rotation, coupled with the fact they'll have had almost a week's rest by the time they play Liverpool on Thursday, means their players will be fresh.
The rest time and rotation is important for a team who like to press, while their shape lends itself to efficient coverage of the whole field which means the workload is shared.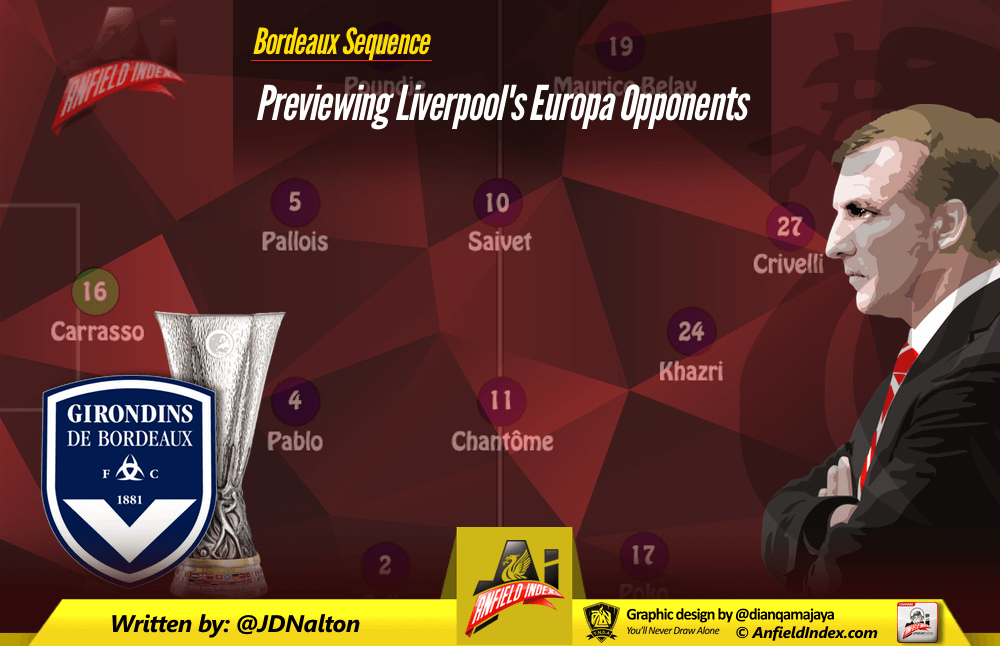 Their tactical set-up is usually built around a back four, with full-backs who'll get forward given the chance, and two central midfielders.
The four players in front of them have a certain amount of flexibility, and to give the formation a traditional numerical label would probably be misleading…
…The formation generally moves from a 4-4-2 when defending to a 4-2-4 with the ball. This 4-2-4 then morphs into various different formations as the attackers, midfielders and full-backs move into space.
It relies a lot on the wide players being willing to motor up and down their flanks, fulfilling the role of an attacker as well helping out defensively.
They'll also be involved in Bordeaux's pressing along with the two central attackers and the midfield duo behind them. The team have pressed fairly aggressively so far this season, and in a home game against a shaky Liverpool defence they're likely to take any opportunity to put opposition players under pressure.
In terms of personnel, Henri Saivet has dropped back into a pivotal role in the centre of midfield, and is likely to be partnered by Clément Chantôme who could return after being suspended for the game against his former club PSG, but it's the man ahead of them who's likely to trouble the Liverpool defence.
Tunisian attacking midfielder Wahbi Khazri has been one of the club's stand-out players so far this season, racking up three goals and an assist in his four Ligue 1 appearances. He'll drop back into midfield to receive the ball, but will also venture forward to become a second striker.
Only Saivet and defender Nicolas Pallois have played in all five of Bordeaux's games this season, and they still have the return of injured captain Ludovic Sané, and Mali international forward Cheick Diabaté to look forward to. However, midfielder Grégory Sertic is a long-term absentee as a result of a cruciate ligament injury suffered last month.
In the game against PSG, Gabonese midfielder André Poko played on the right of midfield, perhaps in an attempt to add more defensive solidity in the middle of the park, and this could be a tactic employed against Liverpool, with Nicolas Maurice-Belay being slightly more adventurous on the left.
Bordeaux have the potential to cause Liverpool problems, but their set-up could give Liverpool a way in if they can bypass the initial press with quick passing in midfield. Pace out wide might also be a way around the French side, and it's a game in which it might be good to play both Jordan Ibe and Roberto Firmino in the same attack.
Whatever happens, Liverpool will need to show signs that they can stop the rot which is beginning to set in. They'll be hoping that a midweek trip to France, away from the toxicity of Anfield and the pressure of the Premier League, could be the tonic they need to invigorate their season.