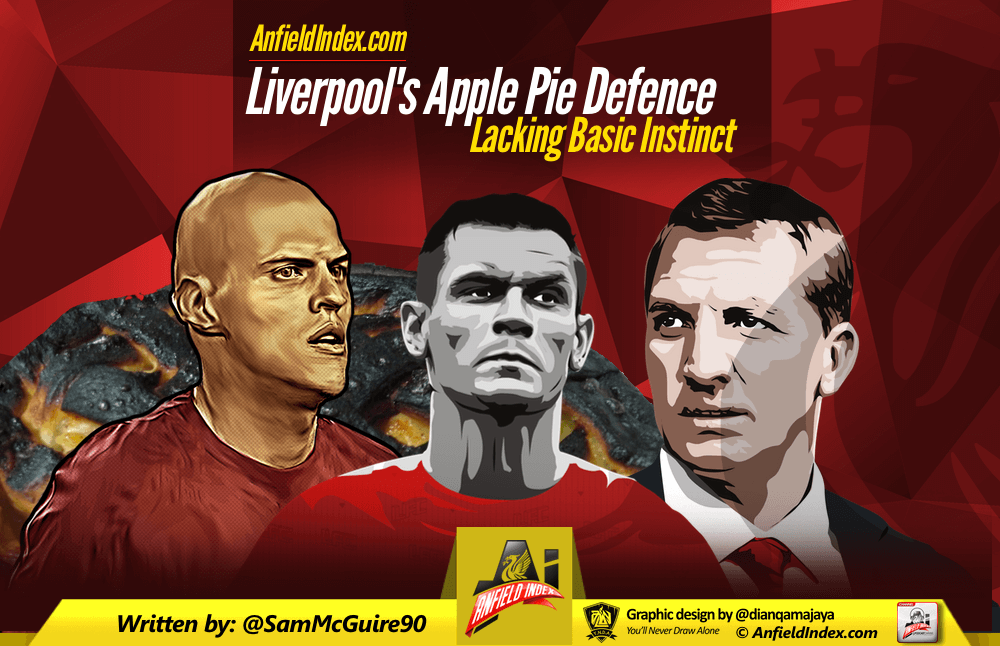 Liverpool's Apple Pie Defence Lacking Basic Instinct
I should've been mad but that anger and resentment after a humbling loss subsides when it becomes a weekly occurrence, and it has with the Reds as of late. In the last 12 games we've conceded 2 and 3 to Manchester United, 3 to Crystal Palace, 3 to West Ham, 4 to Arsenal and 6 to Stoke City. I'm not used to this as a Liverpool fan. I grew up with Liverpool under Gerard Houllier and Rafa Benitez, we may have occasionally been spanked but it was hardly frequent.
As I was watching Anthony Martial waltz through our defence and curl the ball past Simon Mignolet to make it 3-1 to Manchester United I'm not ashamed to say I found myself laughing at the movie scene that popped into my head. It's almost like I go to my happy place to escape reality that Liverpool are abysmal lately. The scene from American Pie when Jim asks Oz what third base feels like and Oz's reply is "like warm apple pie." Liverpool's defence is like warm, burnt apple pie.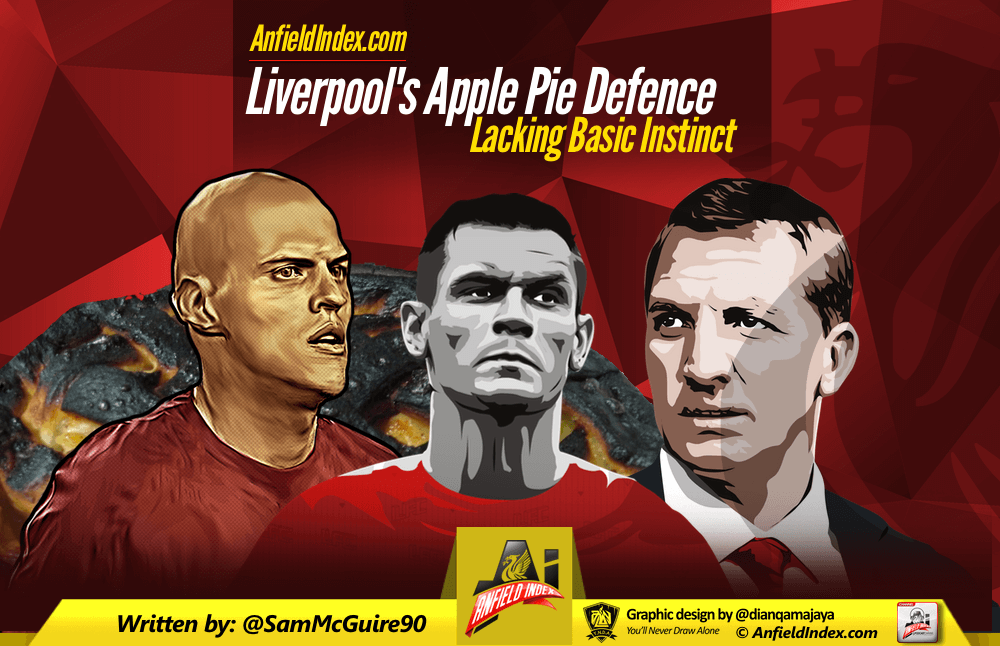 I've purposely called it a burnt apple pie because when an apple pie is left in the oven for too long it's a little harder to get into. It no longer crunches as you carve your way through the pastry but instead it cracks. I speak from experience as I consider myself an apple pie connoisseur. Liverpool's defence at times is tough to break through as shown in the opening three games but when a team eventually breaks through our soft, warm apple-pie-filled middle is obvious for the entire world to see. Just ask West Ham and Manchester United.
Neither West Ham or United played great, exhilarating attacking football yet they've both come away from games against Liverpool having scored 3 goals. You can point to individual errors but no matter what personnel we use we seem to concede. That to me is a system failing and ultimately lies with the manager.
American Pie has a few memorable scenes but staying with the use of apple pie I remembered the part with Jim and the pie. I want to say spoilers but it's a 16 year old film so if you haven't seen it yet you probably won't see it. Jim returns home from school to see an apple pie on the kitchen side. He seductively eyes it up before sliding two fingers cautiously into the middle of the pie. The realisation on his face is clear for all to see and probably one that many United players has after Blind curled in the first goal.The scene cuts to his Dad arriving home and walking in to find Jim gyrating in the middle of the kitchen, apple pie being thrust into his crotch area, pants around his ankles and arse on show. Not the imagery many people wanted but I feel it's important. Liverpool in this scenario are the apple pie and the opposition is Jim. Straight through the middle of the pie and you can have your way with us as there's nothing stopping you. Once the defence is breached there's no need to throw caution to the wind.
As I've mentioned in previous articles Liverpool aren't resilient in defence. When we concede 2 it's more than likely, in fact its 65% likely we'll concede more. As soon as there is a finger in our pie you can near enough guarantee what's happening next.
What did annoy me was the fact Anthony Martial joined the Premier League and his baptism of fire was to embarrass Martin Skrtel, our most senior defender. Anybody with any knowledge of the young French striker knows he loves to pull the centre-back out into the left channel before squaring him up and cutting inside. He's used that same move for Monaco nearly every game but Skrtel allowed it to happen. Was Skrtel not briefed beforehand as to what to expect from Martial? Why allow a right footed attack to come inside on his right foot? Poor defensive coaching so might say…
"It's that new defensive coach we've got in that everybody thought we needed."
Remember that Brendan Rodgers beauty? It came after a 2-0 win at Southampton when Simon Mignolet played out of his skin to keep a clean sheet but that was overlooked because Brendan made a funny. It stirred all those fans so against a defensive midfielder into life and became one of their favourite go-to quotes. In my mind Rodgers regrets plenty of comments but this may be number 1. Since this famed comment Liverpool have played 17 games and kept 7 clean sheets. Looking a that stat in isolation I wouldn't blame you if you nodded your head in approval. Not bad, right? Then you look at goals conceded in that time and it's 25. Yeah, twenty five. That works out that when Liverpool do concede then average 2.5 goals against and that's over a sample size of half a season. Carry this type of form on and we're hitting that magic 50 goals conceded mark that many Liverpool fans expect.  If we're conceding 50 then we need 80 plus goals to get near top 4 football. After four years a project should be along far enough to have realised 80 plus goals is a big ask without world class players, of which we currently possess none.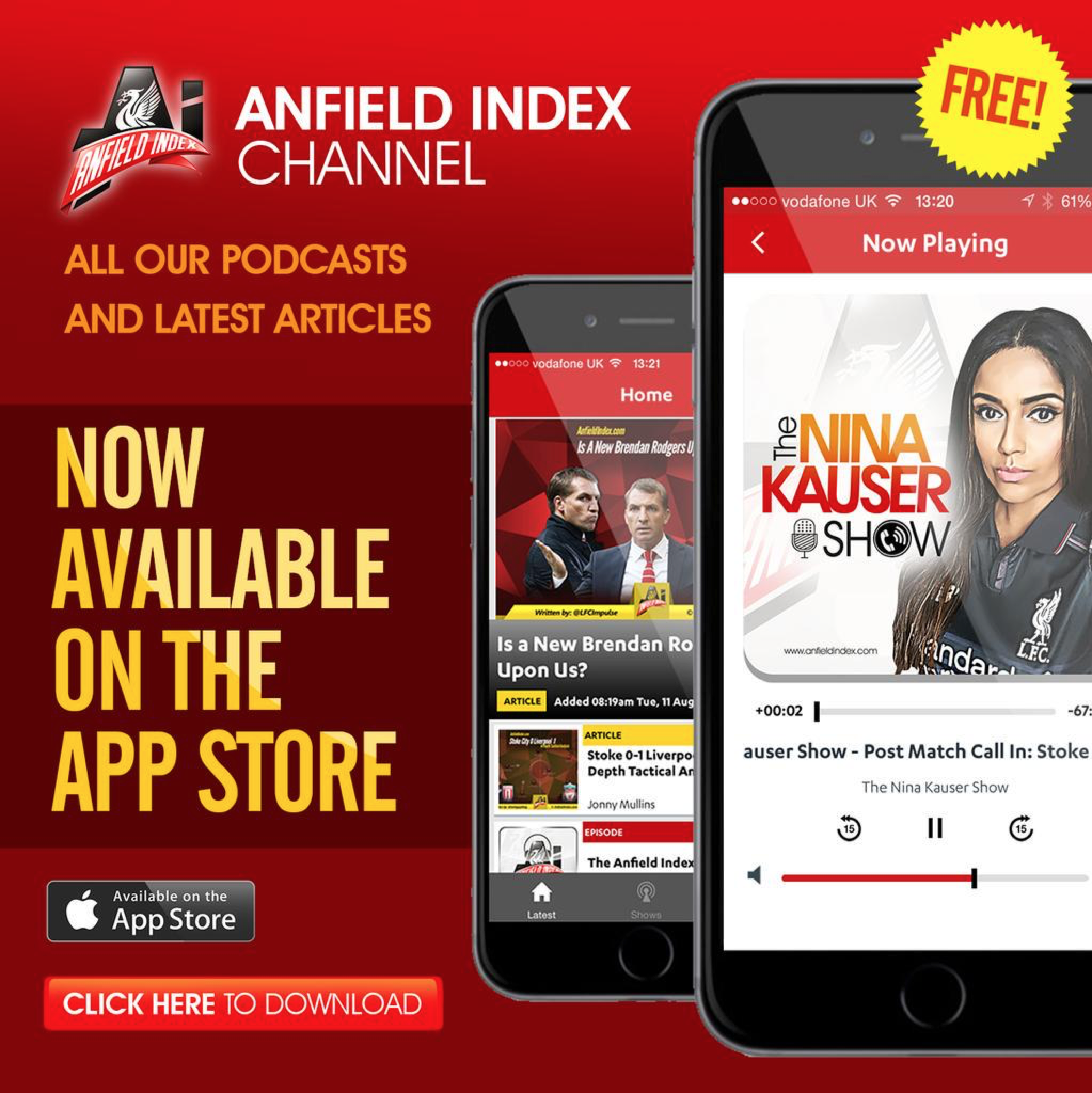 Another movie reference coming up but first let me explain, I'm not pinning this all on the defence. It's the team and the tactics. I realise Liverpool are trying to dominate space and hit teams on the counter but we're constantly inviting pressure onto ourselves and then having to put the ball up field to regroup. It's like we're Sharon Stone in Basic Instinct. We want to give the opponents a little flash and tease them into over-committing so we can break on them but we forget to shut our legs and we're just exposing ourselves.
Something needs to change, sooner rather than later. I don't want opponents gyrating all over our defence on a regular basis. Liverpool need a cheesecake style defence.