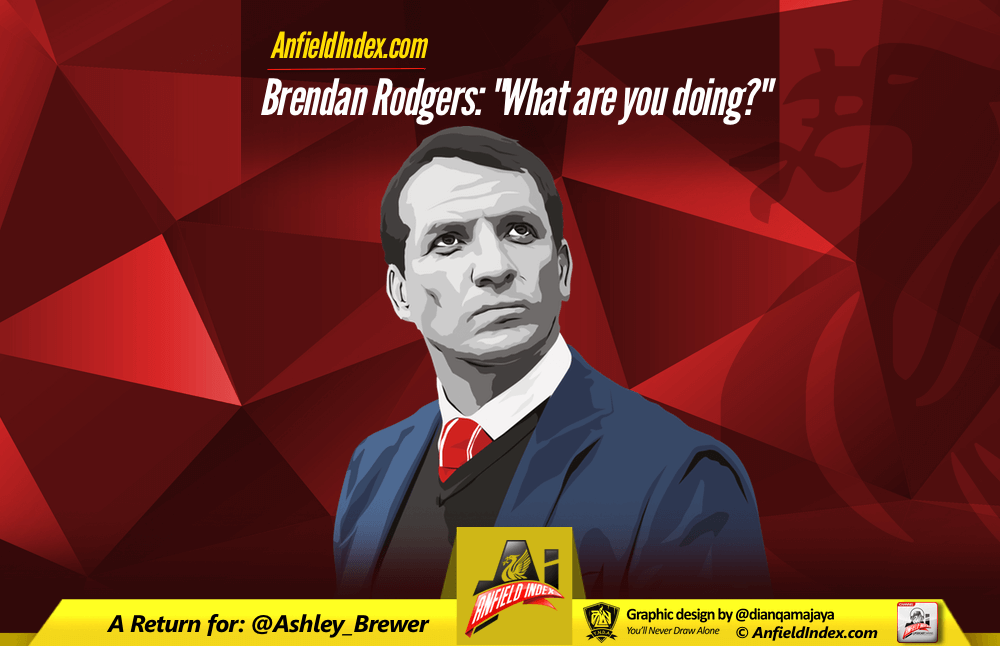 Brendan Rodgers: "What are you doing?"
Stood in the middle of a bar in Huddersfield. United fans surrounding me, but my Liverbird proudly making it's presence felt, or more putting on a brave face as I begin to believe a comeback was on the cards for a split second. Christian Benteke's over head kick momentarily stunned the Mancs, maybe they believed too.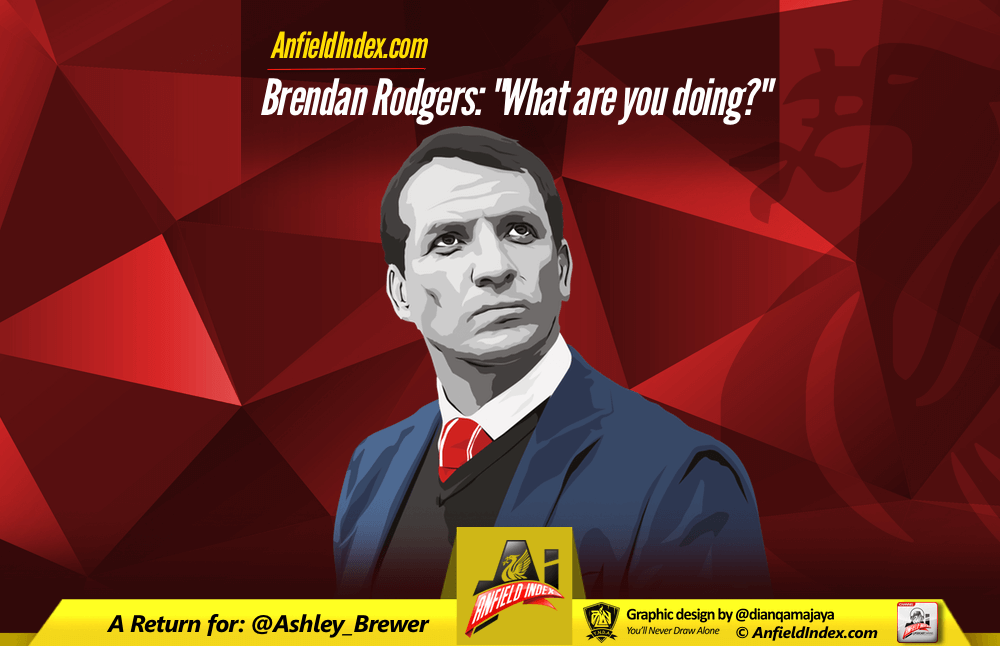 I don't know if it was the excitement, the Carlings I had been forcing down or a cocktail of both, but something came out of me. I had cooked up my inner Delia Smith. "Let's be having you" I said to the screen. Fortunately nobody heard me, even if they had, I haven't been in town long enough for anyone to know me.

The players definitely didn't hear me, as Martin Skrtel did that thing where he keeps backing off and backing off and fluffs a tackle allowing the striker to score. Game over man, game over. I laughed. The pain was so great I could only react by laughing at the inevitability and ineptness on show.
The first half gave us nothing, barring the heart attack when Simon Mignolet decided to throw the ball at Juan Mata. Another hyped up disappointment leaving the Sky Sports lot looking a bit red. The second half was a complete shambles. Liverpool were clueless.
This is nothing new however, we have looked this way for a very long time. Too long. No player knows their role or what they should be doing within the structure. At the beginning I was happy to see the on screen graphics shown us lining up in the diamond variation of 4-4-2. The formation which gave Luis Suarez and Daniel Sturridge license to terrorise defences week in week out. The formation which made Mario Balotelli look like he could be a hit alongside our crocked reminder of those glorious days. But then the game kicked off. It was actually 4-3-3.
Danny Ings was on the left wing but didn't seem to have a single run towards David De Gea's goal. Roberto Firmino spent the majority of the game far too deep, and Emre Can was the man who was filling in for the Brazilian, the only player trying to make something but was mostly unsuccessful. From the most ardent of Rodgers sympathisers to the hardest Rodgers out drum beater, we were all united by one phrase: "What are you doing?".
Every needless long ball. Every moment the ball was given away needlessly. Every unnecessary foul. They were all met by that question. And it's a good question. it's the question that needs asking to everybody connected to the club, not least the gaffer.
There was a time when we wouldn't have to ask that. He sung his philosophy to us and the media like a canary, waxing lyrical about keeping possession and tiring the opposition out by making them chase us for 90 minutes. God forbid, it even made José Enrique look half decent before his change of career in to social media and cramping the Liverpool youth player's cool; and careers.
His next track was a bit more rock and roll, as the team pressed up high and countered on defenders who didn't have time to think about how they can stop them. It nearly won us the league.
Even with three at the back we had a sort of idea of what was happening, it was a little bit of a hybrid of the two and it worked for a while. The tri-vector of Mamadou Sakho, Alberto Moreno and Phillipe Coutinho worked together wonderfully and most of the good things that happened in that period of time came through those three players.
We have had our faux-Barcelona. Our tribute to Klopp's Dortmund. So what is it now? What are you doing now lads? A cover of Big Sam's entire back catalogue?
Rodgers needs to be decisive. He needs to revisit one of his greatest hits and take note of why it was successful and use it with the current squad, the majority of whom he paid big money for to use wrongly.
I hope he does and he's successful. I'm not in the brigade yet, although with every week of seeing Martin Skrtel and Dejan Lovren partnered up together, every week of clueless play, I begin to wonder if he will rediscover his mojo.
If the thought of making a team that can defend has baffled him, then he should just scrap it. He can play Lovren alone as a back line if it means that the teams attacks are fluid, deadly and effective once again.
It isn't made easier by the fact that an ex-girlfriend has reappeared with a flashier bloke, the goatee beard still as glorious as the last time I saw it. The football under Rafa may not have been much of a spectacle, he may have also blew money on shite, but at least his players knew what they were doing. We knew what they were doing. The opposition knew what they were doing but found it difficult to stop. Instead of bags of trickery, we had footballing intelligence, Dirk Kuyt coming to mind. Players who may not have been the most talented were used in a way that was useful to the system. A small number of players in the current crop can match the brains on show in a Benitez side.
If you asked them what they were doing, they'd know.