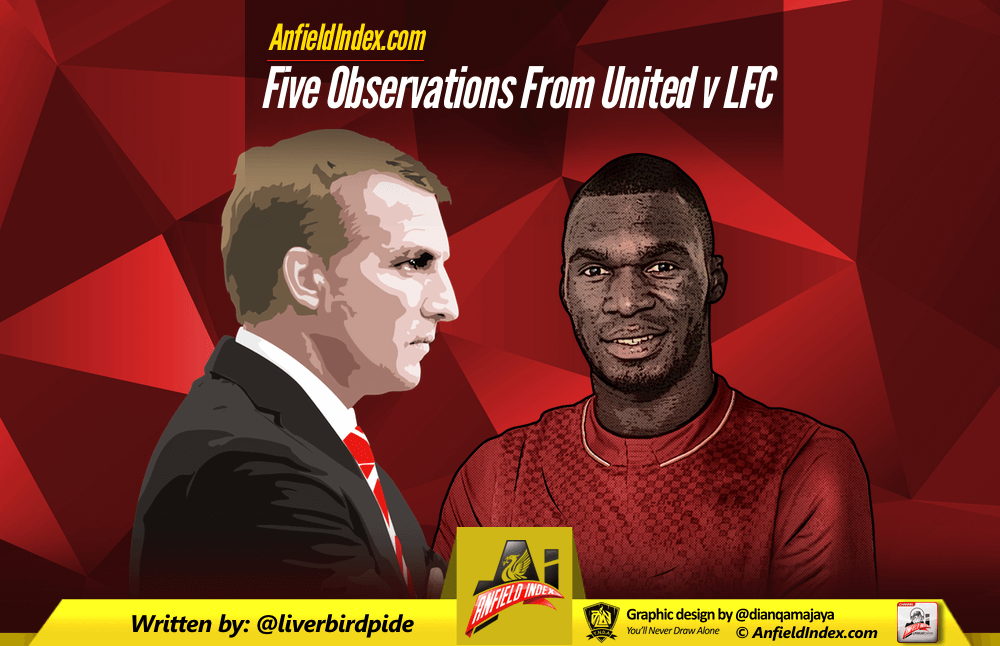 Five observations from Man Utd vs Liverpool
Writing an article like this is never easy after a horrific viewing of an abysmal display against one of your biggest rival's both for league positions and pride. To make matters even worse, I was surrounded by a family of Manchester United supports who jumped on my back (not literally) when it came to every decision and goal which went their way. So, without further ado, let's see what us as fans gathered from the meeting between United and Liverpool at Old Trafford.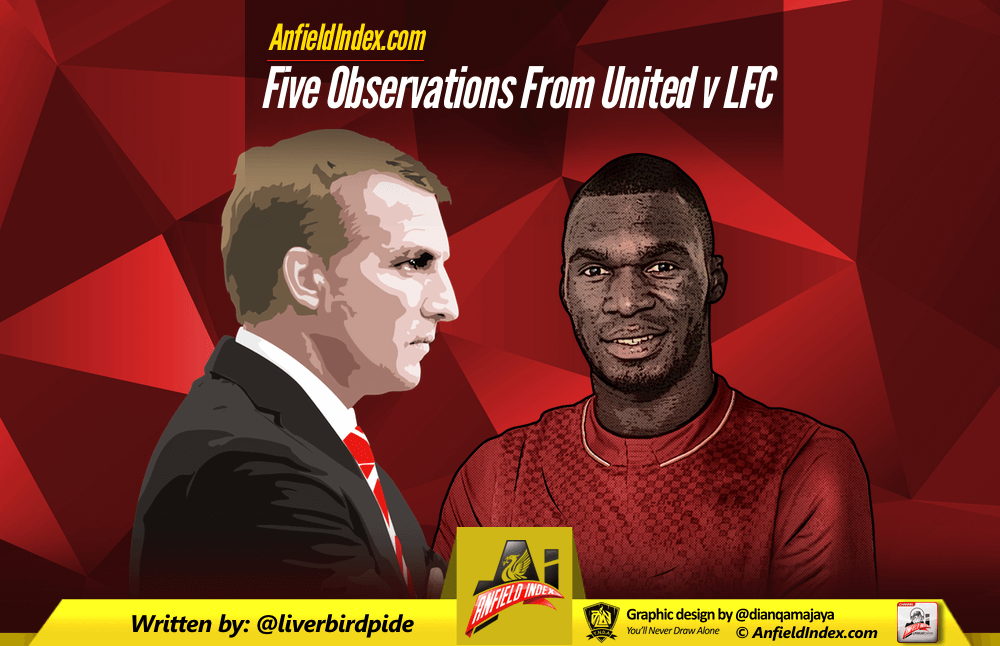 Tactics still aren't utilized correctly
Approaching this game, many fans wouldn't have assumed we would commence the game in the way which we did. Playing a narrow 442 diamond with Ings in place of suspended Coutinho and Lucas at the base seemed like the way to go. With our lack of squad depth, it appears that the way we approached the Arsenal game was our strongest, match fit midfield and attack.

From the go, it was evident we sat back, "parking the bus" if you will, and tried to let no goals into our net. Much of the pressure we sustained and the countless unforced errors made (6 in 15 minutes), was proof that even though we conceded no goals, this was not the way forward. Eventually, 49 minutes into the game and our back-line crumbled. With Clyne conceding a dangerous free-kick at the edge of the box, a training ground set-piece was enough to send our defenders to crisis mode and our faces into our hands as we went one nil down to a good strike from Dutch man, Daley Blind.
Things only went from bad to worse as inexperienced Joe Gomez gave away a penalty which added to the defensive problems, which Ander Hererra put away with ease. Liverpool to their credit showed a bit of fight and in the 84th minute Benteke scored what can already be said to be goal of the season, but it was too late. The euphoria did not last long however as Anthony Martial made Martin Skrtel and the rest of our defence look like a group of Alex Bruce's and softly placed his effort in the right bottom corner to end a dismal tactical display from Brendan Rodgers and Liverpool.
Squad depth is in crisis mode
Every fan from Liverpool City to Queensland Australia loves a great, full squad, filled with players of talent and experience alike. When the clock ticked onto the team announcement however, only then were we given a warning signal, showing to us fans, how desperate we are in terms of squad depth.
Lining up alongside Adam Bogdan on our bench was our best defender in Mamadou Sakho, old aged Kolo Touré, inexperienced Jordan Rossiter, Alberto Moreno and new boy Divock Origi. Anybody can see that this bench would have made little to no impact in how the match would inevitably end up.
Benteke isolated is a big ugly problem we've all seen before
Does the name Mario Balotelli ring any bells? Yes, the isolated striker that not many people took to heart. Benteke in this tactic is the Balotelli of 15/16, nowhere near his counterparts behind him, and that is to no fault of his own. His hold up play and in air play is some of the best in the league and we've seen from his goal that he is capable of being more than just a target man that a lot of people thought, but with his lack of link-up play and passing to men making runs, this makes for bleak times for our £32m Belgian.
Brendan Rodgers still can't crack big games
It is safe to say that Brendan Rodgers hasn't been the man and manager we all hoped for when he led to near cup glory in the glorious season of 13/14. The football played in that season was some of the best football some of will have seen in the last 30 years or so, with SASAS, we were unstoppable. Fast forward 12 or even 24 months and Rodgers still hasn't figured out the correct method or formula to get 1 or 3 points from any of our rivals, something Rafa Benitez excelled at.
| | | |
| --- | --- | --- |
| Manchester City   P6 | W2     D1     L3 | F11         A12 |
| Chelsea           P8 | W0     D4     L4 | F4           A12 |
| Manchester United P8 | W2     D0     L6 | F8           A13 |
| Arsenal           P8 | W1     D3     L4 | F11         A15 |
Maybe Rodgers' time at the KOP is topped
The time struck 19 minutes past 7 and LFC fans all around the world reached for their devices to voice their anger and frustration towards our manager. Some more hate fuelled that others and some with a more sensible and statistical approach. Nevertheless, even the most die-hard of Rodgers' fans have admitted defeat and that it should be time to look for a replacement if things do not drastically improve performance wise in the next few matches. Also called into question was the ironic lack of disposition in our current squad and the simple fact that the players quite simply look like they did under Hodgeson and the fact they are playing for just the fans and not the manager also.
Time's they are a changin'.