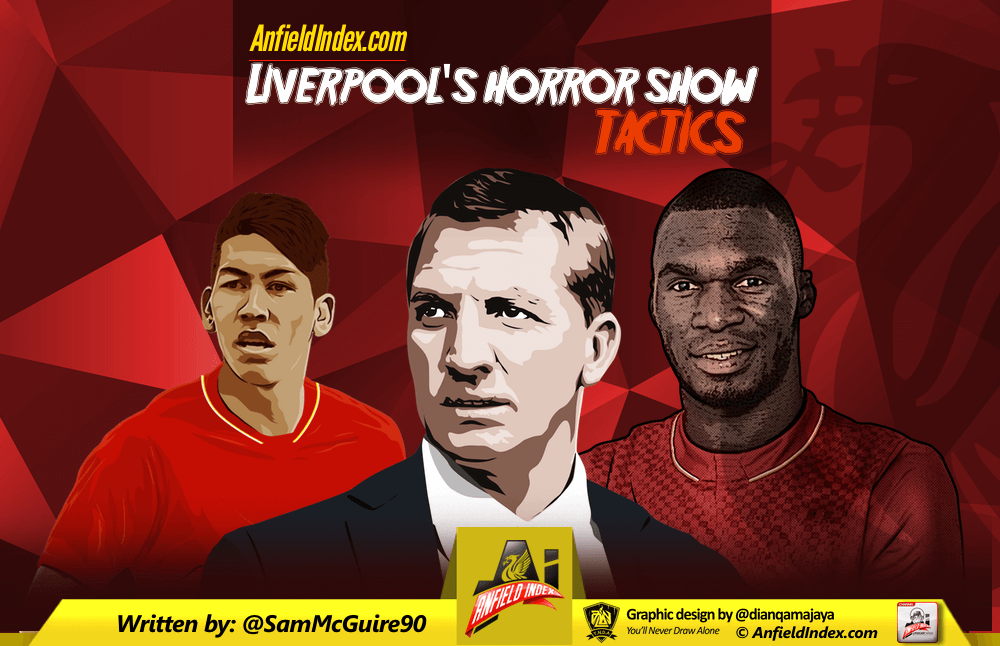 Liverpool's Horror Show Tactics

From a very early age we're all exposed to the 'happy ever after' theory.
Beast gets the Beauty. Pinocchio ends up being a real boy. Rocky Balboa defeats everybody. Danny Ocean and his 10 friends get away after robbing the Bellagio Casino, and a random player winning a jackpot at Red Flush online casino. Liverpool beat AC Milan in Istanbul. Hard work, bravery and a bit of luck and you can achieve anything.
We all harboured hope that Steven Gerrard would bounce back from the slip against Chelsea and equalise, sticking one Scouse hand on the Premier League trophy in the process. We all hoped Steven Gerrard would step up, once again, against Basel and send us through in the Champions League. We all secretly thought Liverpool would win the FA Cup in 2014/15, the luck of the draw and the final falling on Gerrard's birthday seemed like fate.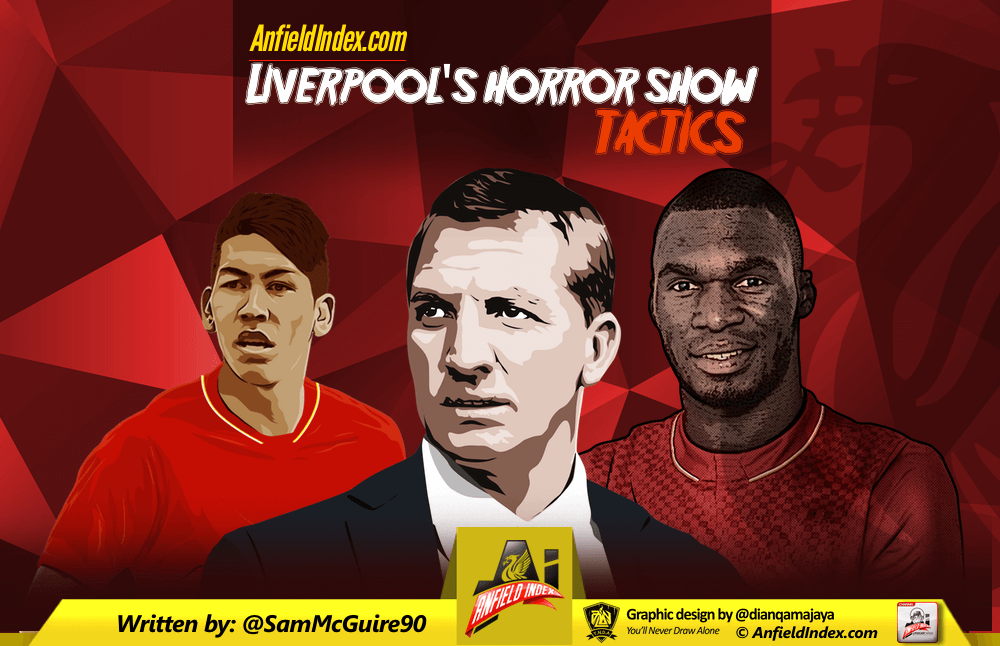 We're all kind of expecting a fairytale finish after everything that's gone before and It really is the hope that hurts. Against United we hoped Liverpool would show more. We hoped Brendan Rodgers would come to his senses and go at United like he did in his most successful season at the club. The line-up fooled many into believing we'd see the return of the diamond. It made a lot of sense. Lucas as the deepest midfielder, Emre Can and James Milner on the sides and Roberto Firmino behind Danny Ings and Christian Benteke. We didn't though. Brendan Rodgers is currently like the cowardly Lion in the Wizard of OZ and he's lacking much needed courage to take this Liverpool side forward. The lion is brave enough to go on the quest and his bravery is rewarded. This is a trend in many of this happy every after stories. The characters take a risk. Why isn't Brendan Rodgers brave enough to attack teams?
Has Cinderella not disobeyed her family and not gone to the ball she wouldn't have met that fella she married. In Independence day had Will Smith and Jeff Goldberg not flown into the mothership, knowing full well they could die, then Earth wouldn't have been saved. If The Avengers hadn't have trusted The Vision then Ultron would still have them all on strings. You get my point.
We won't know much about this Liverpool side if we're so reserved.
How things are currently Liverpool are like a horror movie. You know the ones you watch even though they'll be predictable and boring like every other movie yet you persist with it on the off chance you're surprised? It starts and you think this has potential and then you see the cliche scene of the young girl hearing a noise in her empty house but instead of ringing the police or tweeting about it like any normal person would she decides to investigate and inevitably gets stabbed. That's how it feels watching Liverpool lately. Line up shows potential and then you quickly realise it's the 4141 formation and Danny Ings and Roberto Firmino are playing as your wide midfielders.
You can't draw your eyes away from it though can you? You watch the whole thing expecting it'll get good at some point and maybe, just maybe, we'll see Liverpool remember how to play football. Similarly to how you continue watching the horror film because you have a pretty good idea on who the killer is but on the off chance you're wrong you keep watching. Before you know it the film is over, you're disappointed with how it ended and you're even more disappointed in yourself for wasting 90 minutes of your life.
You can't tell me that doesn't feel like watching Liverpool?
Sticking with the movie theme for a moment, playing Roberto Firmino as a right-midfielder is like whatever went through the minds of the casting agency when they decided on the actors for Batman and Robin. You've seen their past performances, you know what they're good at and you know what doesn't suit their strengths. Plenty will judge him on this performance when in reality those that should be criticised are the casting agency, or in the case of Liverpool, Brendan Rodgers. We paid £21 million upfront for a player that is a pressing machine, loves to drift and carry the ball forward and we stick him in a side that doesn't press, is fairly rigid with their formation and carrying the ball is a foreign term to this Liverpool side at the moment. It's like it's a hot potato. We're nullifying him ourselves and saving the opposition a job. In a supporting cast we have Danny Ings and Christian Benteke. Both new players to the Liverpool side and need to bed in but instead of playing to their strengths and letting them in at the deep end. Danny Ings was expected to help Joe Gomez at left-back, track the runs of Darmian but at the same time support Benteke when the Liverpool defence hoofed it forward? It's impossible for him to be in two places at once. Christian Benteke was a monster for Aston Villa when he had support around him, so for his baptism of fire we play him 30 yards away from any support and just hit aimless balls in his proximity.
I spoke to Tim Lees last week on players being comfortable and he said had this to say –
"I was discussing systems with Roberto Martinez a few years ago and he said 'any time the players are comfortable, change the system, change the depth of the block, tell them they have to defend deep for 15 minutes, tell them they are defending with 5 players for 10 minutes; I want players who are tactically flexible with game management'."
I'd understand Liverpool shifting Ings to left-midfield if we were defending a lead or under pressure. I'd get if we went long to Benteke to relieve the amount of the work the defence has to do. After-all you need to chip in with team work and help out. This shouldn't be our primary tactic though and the fact it is, well it's worrying to me and it's wasting the talent we have at our disposal, again.
We all hoped for a fairytale but nothing in fairytales is predictable. Liverpool are predictable. It's currently a horror show and a rewrite is required to save this season.