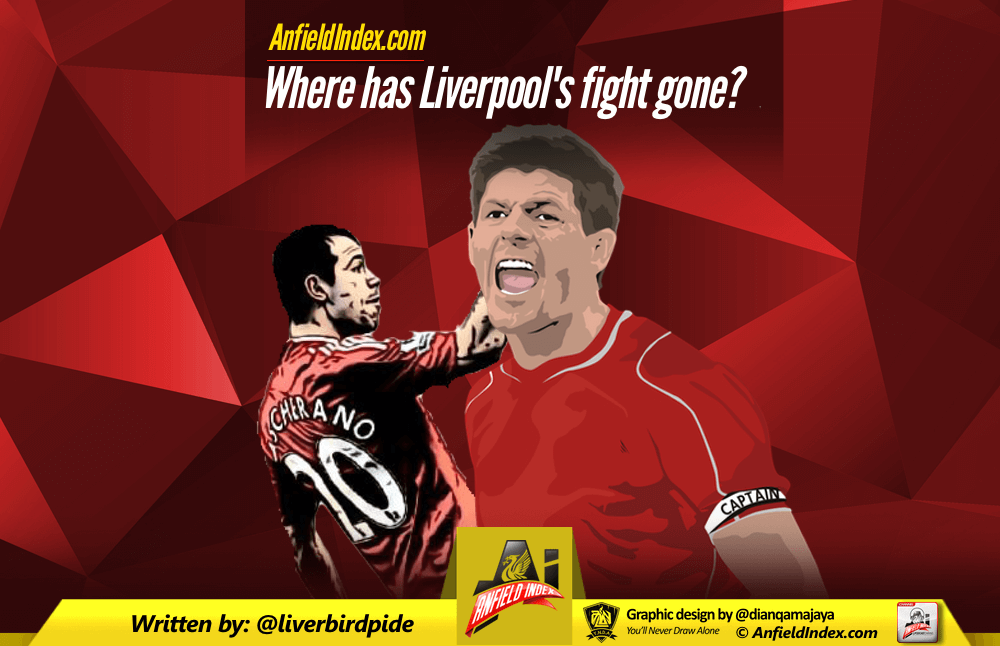 Where has Liverpool's fight gone?
May, 2005, 49 minutes past 11 was the first time in my life I cried at a game of football on television. Being 7 years old, it was the first time I was of conscious mind when my beloved Liverpool got their hands on some silverware, and better yet, the 5th European Cup. Doesn't get much better for your first time!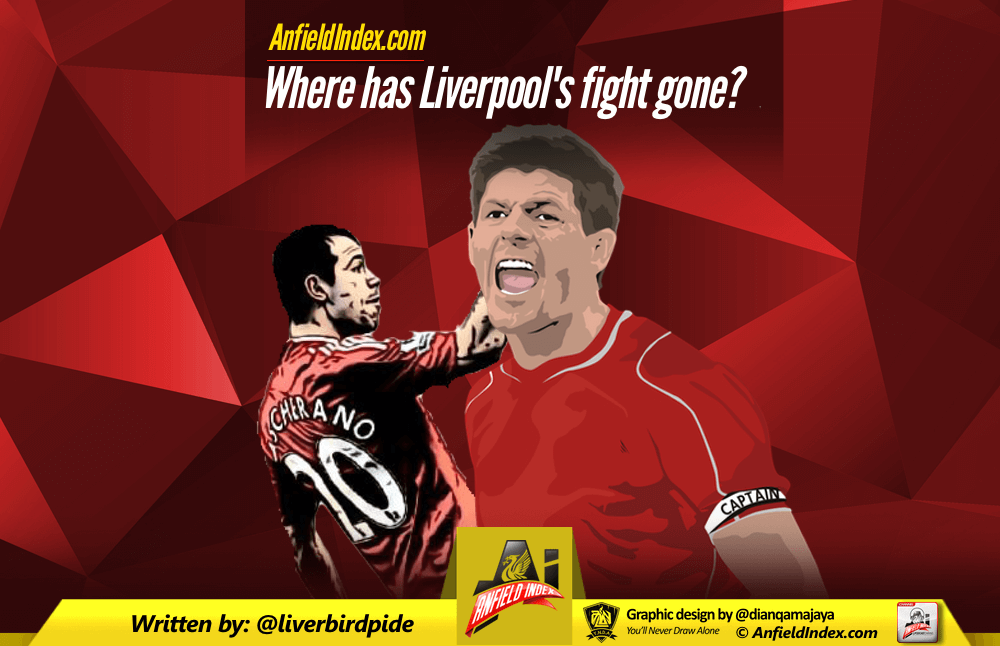 More to my point, I also remember how cold I was in my grandmother's sitting room, sipping on a cup of tea, 3-0 down at half time with no sign of any remorse from what was dubbed "The best Milan team in years." 15 minutes later, Out marched the red men lead by the Goliath Steven Gerrard. The look in the eyes of each player showed their will and determination to fight for the 30,000 fans who had travelled 2120 miles to blow their voice boxes, screaming You'll Never Walk Alone with more passion than ever before. They fought for us.

"Riise, to Gerrard! Hello, hello, here we go!" The famous words of Clive Tyldesley as Gerrard slotted home a perfect headed goal past Dida. Note his confidence in Liverpool's ability to perhaps make something of this game. Next up was Vlad Smicer. Calmly passed ball from Hamann and to the confusion of many, he had a go… And my oh my, what a hit. 3-2. Suddenly less than two minutes later, Gerrard bursts into the box, gets clipped, PENALTY! If Xabi Alonso sinks it, the impossible will have become possible. Penalty missed, but never fret, it's still in the net. 3-3, the Miracle of Istanbul has been completed!
Nevertheless, by far the most defining moments of that night in May, was the completely broken, hamstring torn, Jamie Carragher, bursting a lung to recover back and successfully tackle Andriy Shevchenko. The other, you may have guessed, Jerzey's remarkable and truly unbelievable double save. That was the first time incidentally that I screamed through a television set to a player thanking and praising him.
The moment Dudek danced the Grobbelar legs and dived to his right, only to still save a penalty which was hit down the middle was a moment of pure euphoria. Out came my screams, out came my tears, out came my passion. I will never forget that day, and probably, will never witness anything like it ever again, but had the mentality of Rafa or his red army been any different, my tale would be completely different.
Cult Heroes
Fast forward 3 years, and Liverpool are lining up with heroes such as Pepe Reina, Fabio Aurelio, Carragher, Agger, Alonso, Mascherano, Gerrard, Torres, Kuyt and a grade A manager in Rafa Benitez. These players are the players that absolutely anybody would kill to have in their team, and funnily, those players would kill for the bird of their team. That personality, that commitment, that is what it is all about. Very rarely would you see a bunch of players, so dedicated to the shirt, crumble and fall in any given game. This is the correct use of the term "character".
Exactly 7 years to the date when I'm writing this article (13th September), Liverpool produced an incredulous display against the recently crowned champions Man Utd. After conceding three minutes into the game, we became enraged. We we're gifted a goal from Edwin Van Der Sar after the Dutchman deflected a Xabi Alonso cross onto the head of Wes Brown. Eventually, promising star, Ryan Babel burst into the game and scored the winner to send the KOP wild! A terrific comeback with a terrific attitude.
Present Day
The word "character" has been thrown around far, far too many times, both in joking terms and in our manager's diagnosis of our matches. The only thing that is baffling to me is, where is this character? Why can't the fans see what Rodgers is talking about?
Our current crop of players are a group of really talented individuals who try and try again to fight for the shirt. The one common denominator sadly, is the manager who orders them. Sure, the character is there among them, but they have lost the fight for the manager and the constant crumbling behind a conceded goal is evidence enough for me to prove that. Maybe if we are to see this mythical disposition, first we need to lose one factor.