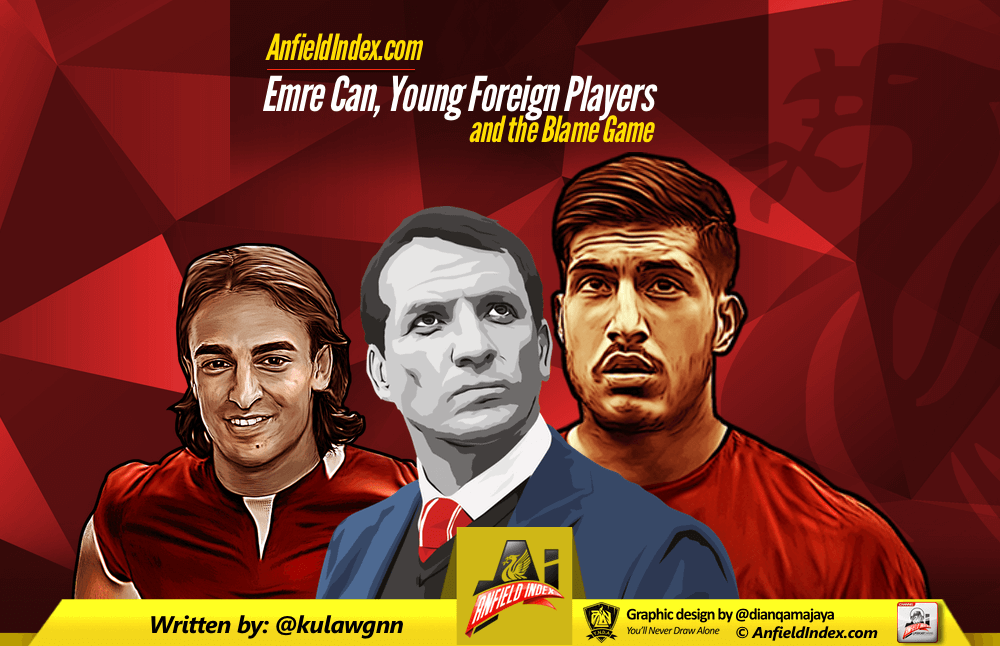 Emre Can, Young Foreign Players and the Blame Game

On September 4, 2015 Emre Can made his debut for the German national team. It is not often you have a young Liverpool player make his debut for the World Champions. So the rarity that this is calls for celebrations by all fans. Instead I found myself reflecting on a tweet of some days earlier. It was in the wake of Liverpool's horrible defeat to West Ham. The tweet was from the @AnfieldHQ account and read: Emre Can needs to start justifying the excitement that has built around him (Paul Joyce). The tweet was a line from the Express's Paul Joyce article on Liverpool's defeat to West Ham. The tweet obviously does not give the context of the article. The comment on Can came in the midst of the review of the difficult game Joe Gomez, Christian Benteke and Roberto Firmino had.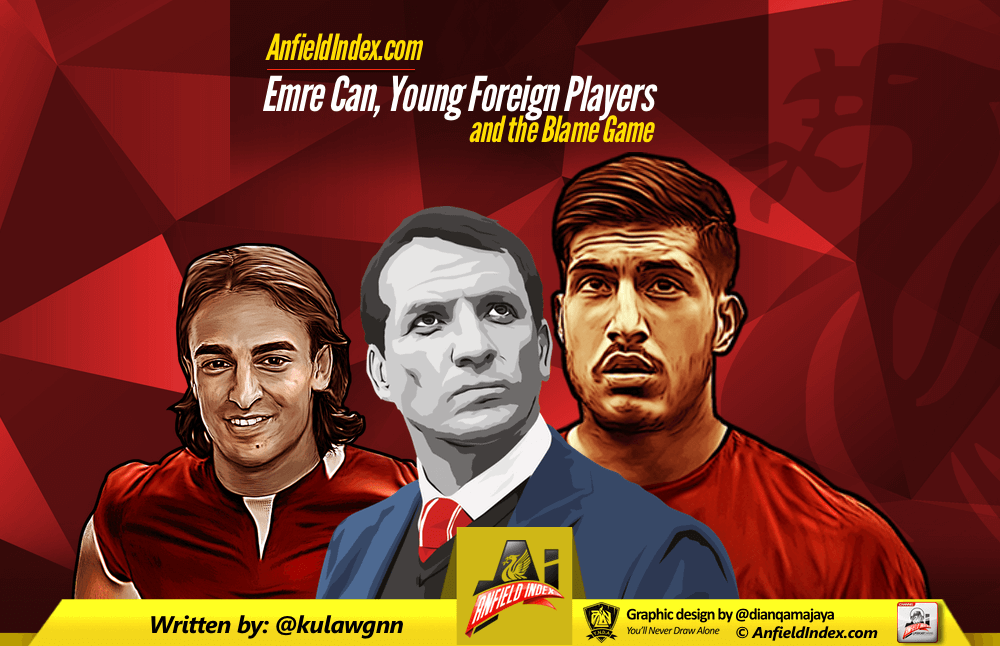 Nonetheless, the tweet was sad and laughable in equal measure; sad because like the cases Markovic, Moreno and a host of other young foreign players, impatience is suddenly being unnecessary directed Can's way. It was laughable because Can was considered good enough for the World Champions whiles his place in Liverpool was being questioned. Can did not have a good day against West Ham and so did the rest of the team. It was shocking that in the midst of a tame Milner performance( please don't tell me at least he kept running through the game), error-strewn displays of Lovren and Skrtel, Coutinho's red card and tactical failure, Can's underwhelming performance was picked on. Similarly, after the United match, Can's performance was again picked on in an article in the Telegraph even though he was one of Liverpool's better performers. He was the best performer in Liverpool's midfield that comprised experienced players like Milner and Lucas. No reference to Lucas' errors or Milner's continued struggle as a central midfielder in Liverpool. In an insightful piece on the ESPN FC website, Tony Evans referred to a club insider calling Can a stroller.
A new season and it seems the search for new scape-goats to blame Liverpool's poor performances on. Criteria? It shouldn't be an English player; it shouldn't be Lovren or Rodgers or his tactics. A young foreign player is ideal; transfer committee also preferred. Last season Markovic, Balotelli, Moreno etc took turns to personify the failings of the transfer committee whenever Liverpool suffered a loss. Balotelli did not cover himself in any glory with the Liver bird on his chest. I wouldn't defend him. But too many defeats were blamed on either his misapplication to Rodgers tutelage or the excesses of his personal life. Defeats that stemmed from inability of technical team to tactically overpower teams especially mid and lower table opposition were blamed on him. Poor team selection and questionable tactics like the ones for the Basel match (Anfield) brought the transfer committee more into focus than the manager. Poor results were inevitably followed by a raft of articles about how the transfer committee had let down Rodgers. I don't remember reading any on how the Northern Irishman let himself down by his tactics or his preference for Lovren or Lallana when he could have gotten much better in the market.
It is not the first time blame or praise is being apportioned disproportionately in Rodgers' Liverpool. Some fans are adamant the magic of 2013/14 was all down to SAS. That orientation has been reinforced by the struggles of the team since SAS was broken up. However Rodgers deserves his due. He was a huge factor in whatever happened that season. His tinkering and tactical switches contributed to the performance that season. Perhaps the goodwill from that season directed most blame for last season to anybody else apart from him.
But this lopsidedness in apportioning blame is unfair and helpful to the development of young talents especially the foreign ones. I am yet to see any call for Lallana to justify his hype let alone fee. Yet these young foreign players like Markovic and Can are regularly picked on. We want players with football abilities first and foremost not those with experience in British football culture or those acclimatized to British weather. This is a football club. When there is talent, an environment can be created for players to better cope with football culture and British food and weather.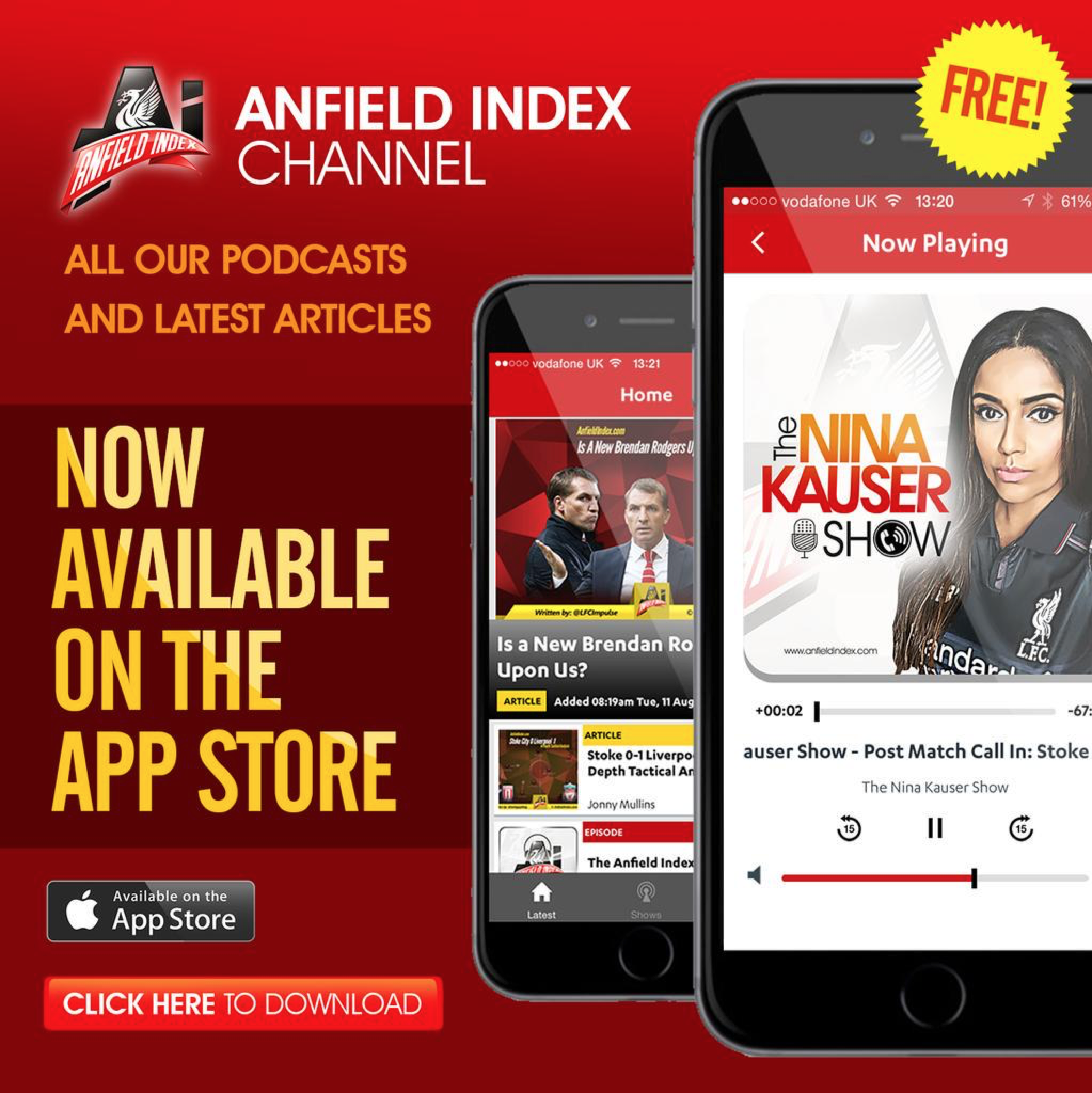 I don't know which page of Rodgers' 180-page dossier this season is based on, but the philosophy he lays claims to favours the possession-based, pressing attacking football, and that is not traditionally British. So if he is to succeed he needs more than just British talents. How far can Liverpool go if all they do is give up on top young foreign talents after 12 months just because they are struggling to eat British food or are taking longer in adjusting to the weather in Britain or just because as the media likes to put it, they are "too lightweight" for the Premier League? It is worth noting that Manchester United put De Gea on a programme to bulk him up when he first went to the club.
"His first six months were horrendous," he says. "One issue with him was that he was just 71 kilos. We worked with him on and off the field to make him more powerful. We changed his lifestyle. He would finish training and want to go home. When I told him to come back in the afternoon he'd ask: 'Why?'
"There were lifestyle issues. He'd sleep two or three times a day. He'd have his main meal late at night. He'd eat too many tacos. We pushed protein drinks on him straight after training. We physically made him drink. We had him in the gym a lot. He hated it. They don't do the gym in Spain as much. We needed to build his core strength."
This was Eric Steele, ex-Manchester United goal keeping coach speaking to the Guardian in September, 2013. Manchester United saw the talent and put in a programme to get the best out of it. Why can't Markovic be on a similar programme at Liverpool instead of constant reference to his physicality and unsuitability to the Premier League?
In Markovic, Can, Origi, Ilori etc Liverpool has attracted some of the bright young stars in Europe. However creating an atmosphere for them to flourish is just as important as getting them in. There will be little return on the investments in these players if they are the subjects of leaks and reports about how they run, how they can't eat British foods etc. Protecting these players from these leaks and scrutiny in the press is very essential. In Can, Liverpool has on its hands a great talent-one coveted by Bayern Munich and rated by a World Cup winning coach- who should be treasured. An LFC fan (@TomMc_Sports) captures it well in his tweet on September 4, 2015: So Liverpool signed a German international for under £10 million. Absolute bargain in today's market. #Can.