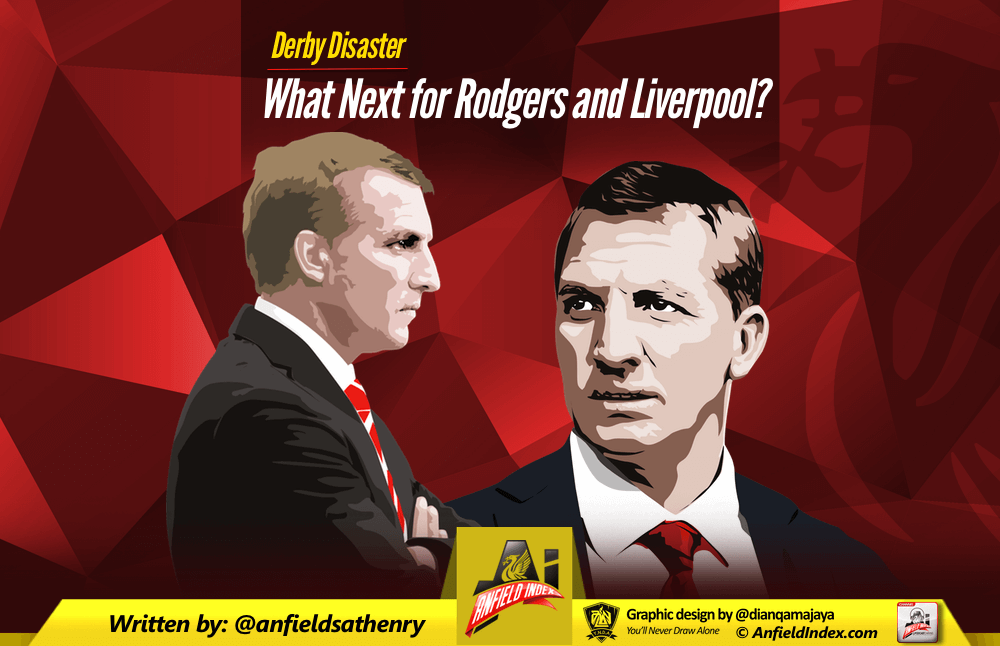 Derby Disaster: What Next for Rodgers and Liverpool?
After watching the game on Saturday, many are wondering what next? Where does Liverpool go from there and specifically, where does Brendan Rodgers do now?
Many a Rodgers fan has seen their faith rocked by Liverpool's recent performances. Twitter erupted with anger and disappointed. Hordes have heaped themselves on the 'Rodgers Out' campaign after such a dismal display against, let's face it, a ridiculously average Manchester United side.
A better team would have hit Liverpool for four or five. It's a blessing it was United and not their neighbours.

A split future awaits: stick with or ship out Rodgers.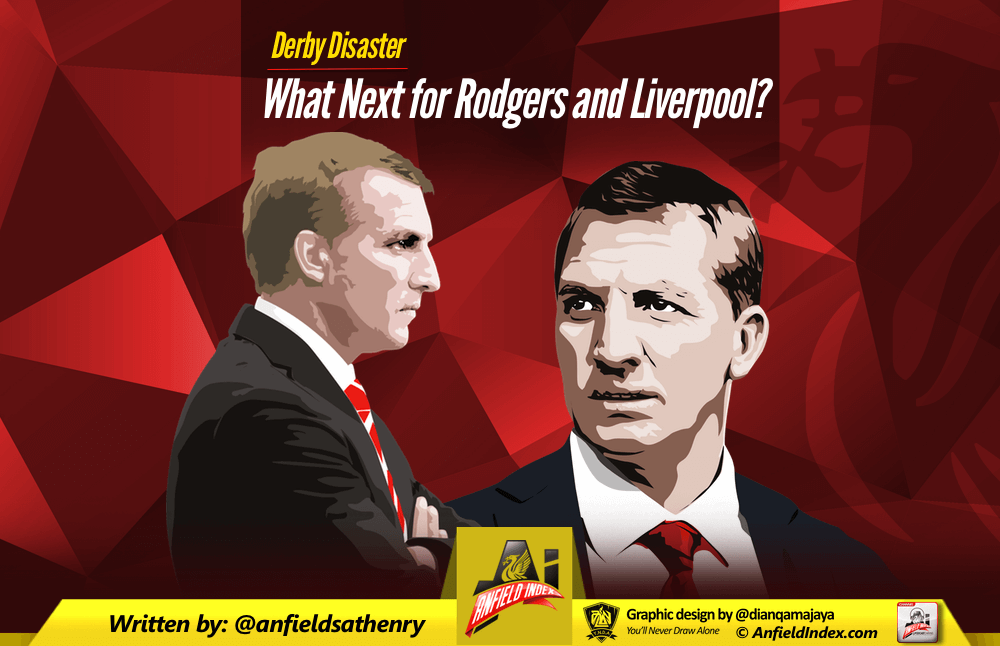 Stick With
The wildly unpopular choice, sticking with the Northern Irishman is the more likely outcome. FSG have already given them their backing and might just let the next three months go by before they reassess.
So what are Rodgers' options? For one if he wants success, he will seriously have to reevaluate his love affair with Dejan Lovren. The defender briefly repaid his faith in him, but after two quite shocking performances, Rodgers should drop him. He also has to think whether Martin Skrtel is the man to build the Liverpool defence around.
Skrtel has been far from adequate. He is 30 and has been so lacking in leadership that no Liverpool defender noticed that Daley Blind was completely unmarked when United scored from their free-kick. Communication is an alien concept to this centre-back pairing and individually they are making mistakes. At West Ham United each of their errors led to a goal.
At this stage bringing in Kolo Toure and Mamadou Sakho couldn't possibly turn out to be worse than losing 3-0 to West Ham at home.
When the teamsheets were released on Saturday, nobody foresaw that it meant Danny Ings and Roberto Firmino would be playing out-wide. Neither are wingers and neither were remotely effective. Rodgers tactical idea killed Liverpool's attacking potential and surrendered the game before it even began.
Furthermore, he wasn't interested in trying to win the famous derby, but was focused on not losing. Against Louis Van Gall's United, everyone should be looking to win. Especially if you are suppose to be challenging for a Champions League spot. Rodgers is well-known for tinkering and altering line-ups, but his instructions sucked all the energy and creativity out of Liverpool.
Simply, he needs to stop thinking of himself as a tactical mastermind and play to his side's strengths. Firmino wasn't bought to provide width and Ings will never be a winger. Rodgers demands too much from his players' technical ability (cough Emre Can) and should build his team around their natural strengths.
In short to stay, Rodgers' thinking needs to drastically change. He needs to stop this crazy favourtism and give up on trying to turn midfielders into wing-backs. The time is over to be complaining that he doesn't have the players he wants.
The key question in this scenario is whether anyone thinks Rodgers is capable enough to change and find solutions? He hasn't found them since Luis Suarez left, maybe he can't.
Most Likely Future: Middle table finish, sack at end of season.
Ship Out
Rodgers has been at Liverpool for three years, spent over £200 million on players and made the same mistakes. He is still losing matches to the big teams and it has become a regular occurrence for Liverpool to be battered by a Crystal Palace or Stoke City.
Most would say Rodgers' end is near and no one would call the sack a knee-jerk reaction. The squad has been massively overhauled two seasons in a row, the only thing that remains is Rodgers. The results remain the same.
If he does go, who are the candidates?
Jurgen Klopp is the obvious best choice.  He was sensational at Boruissa Dortmund and plays exciting fast football. He is keen to build clubs rather than his reputation.
Klopp likes a challenge and with a side so devoid of confidence and defensive awareness he could be an excellent replacement. Where Rodgers seems to have abandoned the high press, Klopp is famed for it. Klopp's focus is on energy and counter-attacks, something that was clearly missing yesterday.
Klopp is the bookies' favourite and Rodgers is currently 3/1 for the sack.
There are few other possibilities, or at least there are few that would be better than Rodgers. All of footballs exceptional managers are with big clubs. Perhaps Frank De Boer, but even though he is respected, he has only ever coached in the Dutch league and with always title contenders Ajax.
He is also very like Rodgers in beliefs, but FSG seem to have stuck with Rodgers because of his football ideas (rather than results) and might be  more keen on a similar kind of manager.
Other men linked are Gary Monk, Ronald Koeman and Rafael Benitez. All extremely unlikely and rather than long-term managers would probably be a hopeful injection of change.
Most Likely future: Anyone who isn't Klopp wouldn't be able to do better than a initial energy boost.
Maybe the thing that saves Rodgers will not be himself, but the lack of any other real options?
Unless FSG are content to see Liverpool fall deeper and deeper into footballing nothingness until we are compared alongside Leeds United, something has got to change.
Question is what?