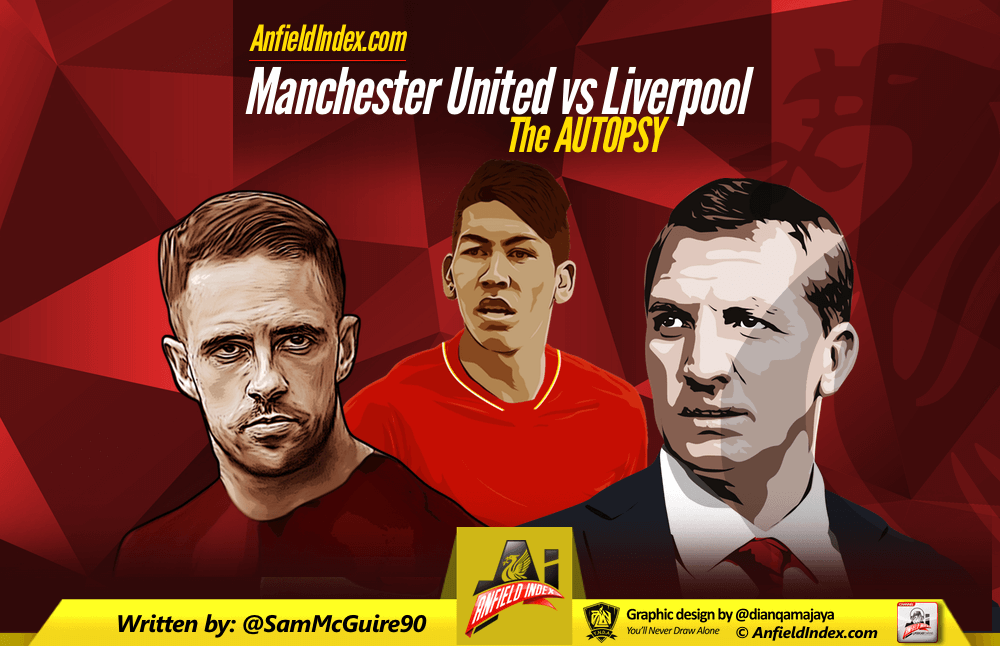 Manchester United vs Liverpool: The Autopsy
At the start of the season I thought I'd do a weekly tactical piece on the previous game. Primarily looking at the attack and how Christian Benteke and Roberto Firmino were bedding in with their new teammates.
The United game was horrific to watch and although I tried I couldn't really find anything tactically to be positive about. Instead, my notes happened to be filled with negatives and I hate it because usually I find a few things that I thought can be taken as positives. Coaches would use a video of that match to highlight what not to do in certain matches. So other than the obvious (losing 3-1) what actually went wrong?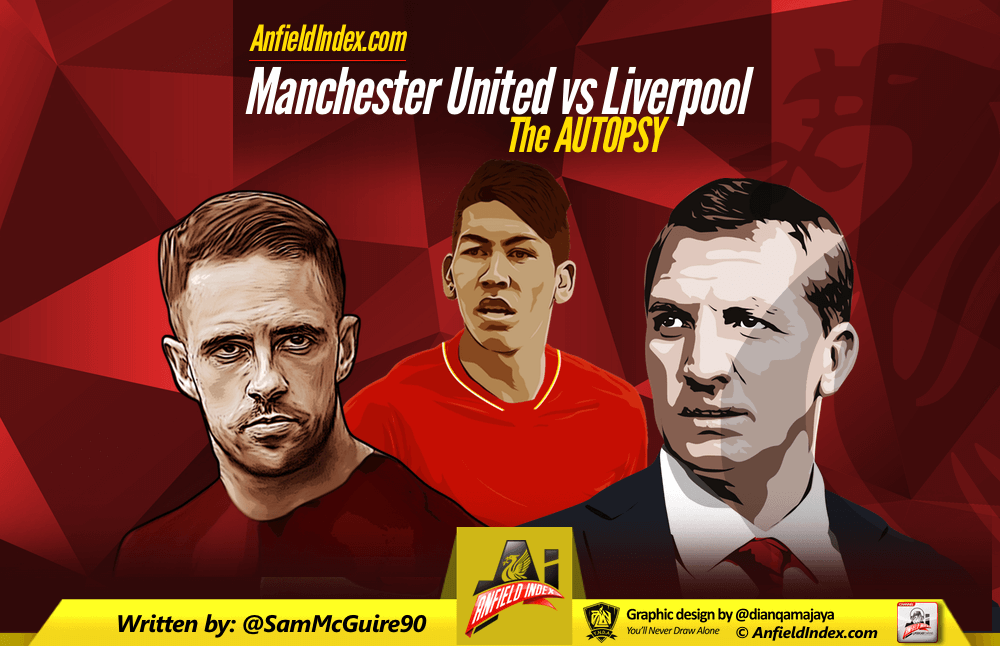 Formation
Sky had it down as the diamond. Reliable in the knows had us down as a diamond. Unfortunately for Liverpool Brendan Rodgers didn't read the script and instead of the successful diamond we used a 4141 formation.
I know many will argue about that, whether it was 4231, 433 or 4411, it's irrelevant as the crux of it all is Liverpool didn't ever once utilise the two strikers. This despite having two strikers on the pitch in Danny Ings and Christian Benteke. You may not rate these players but you can't really argue with facts. They're both strikers and they both hit double figures in the league last season and they were part of the #BuyGoals movement that picked up a lot of coverage on twitter. We bought goals and decided stop creating goalscoring chances and the goals we bought aren't the type to create their own chances. Whenever selecting a formation one of the first things on your mind should be how can you score, right? I'm all for a solid defence but coupled with that you need to be able to get your attackers involved.
Tactics
Ha, what tactics I hear you laugh. Like many of the other games this season it's my belief we set out not to concede and potentially grab a goal and sit on that lead like a bird protecting it's eggs. A bigger bird ate our bird though and we were left exposed.
Earlier in the week I spoke with a few on Twitter and the general consensus was Liverpool would sit deep and try to counter. Sitting deep may seem like a lazy job but it takes a lot of energy to 'dictate space' and boss the opposition into doing what you want them to do. You also need to pick players with pace/acceleration for when you do get a chance to counter. There seems to be a misconception that to hit a team on the counter you need to go long with the ball. You don't. You just need to move the ball quickly. Look at Arsenal vs Liverpool at Anfield in 2008 when Theo Walcott set up Emmanuel Adebayor for a tap in. He picked the ball up in his own half and within 10 seconds the ball was in Pepe Reina's goal. Walcott's pace annihilated us.
Liverpool lacked pace against United. For all of Firmino's strengths great acceleration isn't one. Danny Ings may be tenacious but he's no Jordon Ibe. So how exactly were Liverpool expected to counter when their quickest player starting was at right-back, Nathanial Clyne.
Not only did we have no pace we had no control either. How many times did Liverpool just hoof the ball long to relieve some pressure? Part of sitting back is being able to control the play. You expect to see 40% or less of the ball so when you do eventually get it you're supposed to use it wisely, not treat it like a hot potato.
It made no sense to me to use these tactics in this game when you didn't have the personnel. Round pegs in square holes springs to mind.
Use of Personnel
"Rodgers isn't the reason Firmino can't pass a ball 5 yards". Somebody actually said that. It's a legit quote.
Roberto Firmino hasn't really impressed in his Liverpool appearances so far. He looks a little unfit to me still, he's playing in a side that is sitting deep and rarely dominating the ball and he's being asked to help out defensively. If you had the pleasure of watching him for Hoffenheim you'll know he does his best work in the final third. He was allowed to float and make things happen and one of his biggest assets was how he was a pressing machine. Unfortunately for him Liverpool don't press as a team anymore, Liverpool don't like to or aren't able to play football and he's been asked to play a disciplined role.
If you want to see the real Firmino then Rodgers is going to have to bite the bullet and let him off the leash and not be afraid of the consequences.
The image from whoscored.com shows the average position of the players throughout the match. You'll quite clearly see Firmino (number 11) almost on the half way line with his other 3 midfielders for the match. It's not where you want to see your Brazilian attacking midfielder.
Another stat from the site highlighted how United attacked down their left 49% of the time. It's little wonder we didn't see much from Firmino as an attacking threat if he was forever tracking back to assist Clyne with Depay/Young and Shaw. He's doing a good job, just not in the way many expected him to be used.
Similarly Christian Benteke is being mishandled in my opinion. Brendan Rodgers supposedly had to write a report on how he'd use the big Belgian to convince FSG to pay the release clause. If I were FSG I'd be examining that report a little closer right now because it doesn't look like Brendan knows how to use him. He thrived at Villa with runners around him so instead we decided to have no player within 20 yards of him from time to time. You can actually see how it's getting him down too. The Benteke against Stoke and Bournemouth, adrenaline fuelled and chasing everything, is doing the bare minimum right now. A few times when the ball did reach him his touch let him down and he looked disinterested. Why wouldn't he be? He's the one that'll come under scrutiny after arrived for such a big fee. He'll be criticised when he doesn't score and not many will take into account the lack of service or support he's been getting. One moment sticks out in my mind, Benteke is chasing a bouncing ball against Daley Blind and the United makeshift defender just nudges our number 9 out of the way and it dawned on me that we'd tamed Benteke. Pre Liverpool he'd have floored Blind with his sheer strength and megged De Gea.
Then we had Danny Ings making his full debut. A striker with movement that'd be a good partner for Benteke but instead of taking that position he was played as a left-midfielder and a makeshift left-back at times when Liverpool were really deep. After we went 1-0 down and Rodgers loosened the leash a little we saw what a nuisance Ings could be in the area as he had an effort cleared off the line and another that had De Gea at full stretched. He showed the urgency we'd lacked in the 18 yard area.
That's our three main attackers all being misused/out of position. Is it any wonder we look like we aren't going to score? 3 goals in 5 games, 2 of which have been absolute worldies and the other was offside. People may want to defend Brendan Rodgers but it's him and him alone that gives the players the individual instructions for the game. He's the reason we had Firmino and Ings as wing-backs at times. He's the reason we decided to start playing out from the back again despite what happened in the West Ham match. Mignolet, Skrtel and Lovren all invited pressure onto the team early on with sloppy passes. Usually a team plays out from the back to advance up the field a little but our team knows how suicidal it is so our midfield doesn't even advance so when we do go long it's Benteke vs 3 players.
There's only so much blame the players can take when they're being used poorly. If you're getting the formation, tactics, personnel and even the scouting of the opponent (look at Martial drifting into the channels and then cutting inside. He did it numerous times for Monaco yet Skrtel acted like his mind was blown at such movement )wrong then you're going to be in trouble and there's only one place to look.