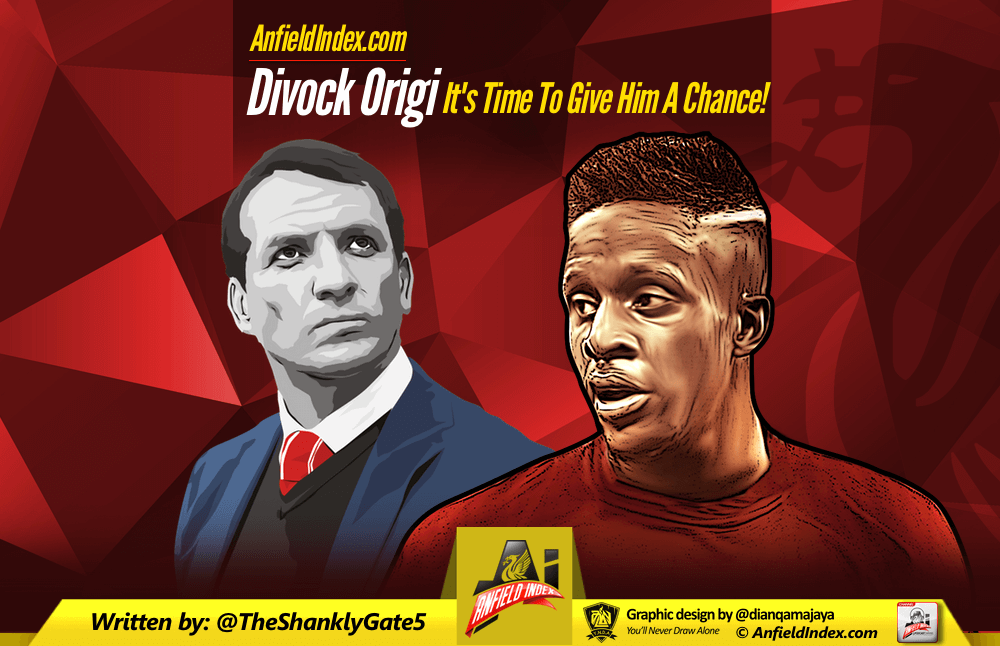 Divock Origi - It's Time To Give Him A Chance

Five Games in to the season and there are already calls for Rodgers head. 3 goals from 5 games is poor, however when you see that Liverpool have scored 2 or more goals in only 6 league games since January 2015, there is a deeper problem. The lack of creativity and general naivety from the manager is part of the reason for the poor form and fans want a change. The change many fans want is a new manager, however a change that could turn around the club's fortunes is to start with a second striker. Benteke has been solid. He's not been amazing and his movement is sometimes lazy, but with him scoring 2 of Liverpool's 3 league goals, he is our biggest threat. So who could partner him? Ings had a good game against Man Utd (albeit at left midfield), and Sturridge is almost ready to return. One forward who has been forgotten though is Divock Origi.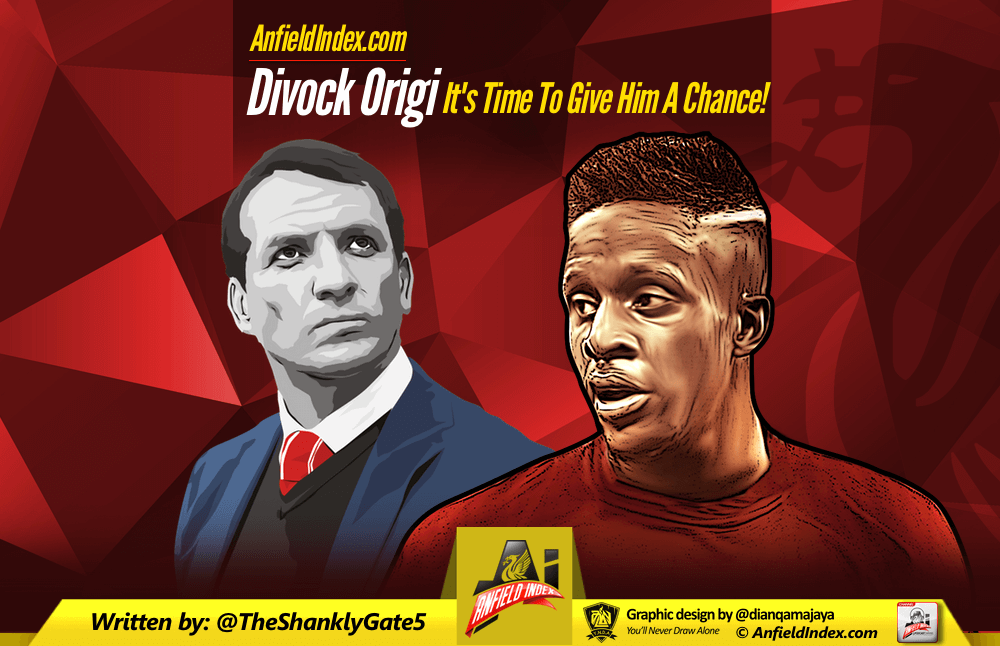 When Origi was bought for £10m from LOSC Lille in 2014, many considered his signing to be a coup. One of the best young forwards who had just scored in the World Cup at only 19 years of age, all for £10m? Bargain! However, it's not all gone to plan for the forward. Part of the deal to sign Origi included a loan clause where the Belgian would continue to play for LOSC Lille for another year. This loan was supposed to further develop the young forward in the hope that when he finally arrives at Anfield, he would be ready to compete for a first team spot. However, Origi was embarrassingly named in the Ligue 1 'Worst team of the season' by a French newspaper in 2014/15 despite scoring 8 goals in 33 appearances – a better ratio than 4 out of 5 of Liverpool's strikers last season.
This underwhelming loan move and a stop-start pre-season means that Origi is currently the fourth choice striker at Anfield. So far this season, he has totalled up just 16 minutes in the league in a substitute appearance against Manchester United. We have yet to really see the Belgian this season, and with Sturridge soon to be returning from injury it will make it even harder. So is it time to give Divock the chance to impress for the Reds now before his chances become limited further?
Liverpool's next 5 games see one away trip to Bordeaux in the Europa League before a run of four home games against the likes of Norwich City, Carlisle United, Aston Villa and finally FC Sion. This run of fixtures is arguably the easiest run the club will have this season. It is the perfect time to try something new and take a risk. All the fans are screaming out for a change in formation to a 4-4-2 diamond, as this was used during the 2013/14 season where we finished 2nd. Sure, this would be a diamond without Luis Suarez, but Divock Origi could suit a two striker formation perfectly. With his height and pace, Origi could be used as either a target man or the striker to run in behind and collect knock-ons. This means that whether he was played alongside the strength of Benteke or the movement of Ings, Origi could be the perfect partner. This is how Origi should be used, starting against Girondins De Bordeaux.
Whatever your opinion is on the Europa League, it has been a good place to give some back-up players a chance with Andre Wisdom being given his debut in the competition 2 years ago. Origi could also make his full debut in the competition on Thursday night against Girondins De Bordeaux. The feeling is that Rodgers should have a squad for the Europa League that has a mix of first-team players along with a few players who are not getting many minutes in the league. Origi, Sakho and Moreno are all likely to start on Thursday, and this could be the chance for all of them to stake a claim to start in the league against Norwich City. Origi featured against Bordeaux last year, so has experience against this team which could be an advantage for him. Whether he is the sole striker in a 4-3-3 or part of a two in a 4-4-2 diamond, Origi should be aiming to put in a commanding performance and give Rodgers a selection dilemma.
What if Origi doesn't start against Girondins De Bordeaux?
The reality is that if the 20 year old does not start in France on Thursday, then realistically he will struggle to get any game time for the rest of the season. In reality of progressing through the Europa League, the Bordeaux game is not a 'must win'. But with the start that LFC have had, this game may be a 'must win' in Rodgers head. This could see the manager stick with Benteke as the forward. This would again probably shove Origi to the bench. The general feeling is that Benteke would need time to adapt to a two striker partnership as he hasn't played in this type of system before. Therefore, with Rodgers maybe preferring safety over risks, we could see Benteke being the lone forward. This limits the chances for the other forwards.
There was some talk that Origi may be loaned out in January if he struggles for minutes. This could make sense as with Sturridge shortly returning, chances would be very hard to come by. However, there is the potential for Origi to become a top forward at the club. The number of players who have joined Liverpool with 'potential' and have failed to be developed by the management is staggering. Lazar Markovic, Luis Alberto, Tiago Ilori, Jonjo Shelvey – the list goes on. With Markovic, Alberto and Ilori all being shipped out on loan this season, it could be that we never see these players wear the LFC shirt again. If Origi is loaned out, we need to ensure that it is to a team where he will be guaranteed first team football. Most importantly, we CANNOT allow there to be a clause which allows the loanee club to purchase him. This mistake has already been made with Ilori; it is a no win situation for the Reds.
Origi's prospects for this season will become much clearer on Thursday. If Origi starts the game, this could mean that Rodgers is willing to give the Belgian a chance in the less important games. Furthermore, if Origi has a good game, it could lead to him getting a run of games in the team in the league as well as the cups. However, if Origi is benched again for the Girondins De Bordeaux game, he could struggle for action this season. In this case, a loan move may be beneficial; as long as we ensure he is given a real chance to establish himself once he returns.